Majors Committee
Mission Statement
The Drama Majors Committee (DMC) serves as a resource and support system for all members of the Drama Department. Acting as a bridge between the student body and the faculty, the DMC facilitates communication throughout the department. The committee also strives to build community through programming for faculty, drama majors, and all students involved in drama courses.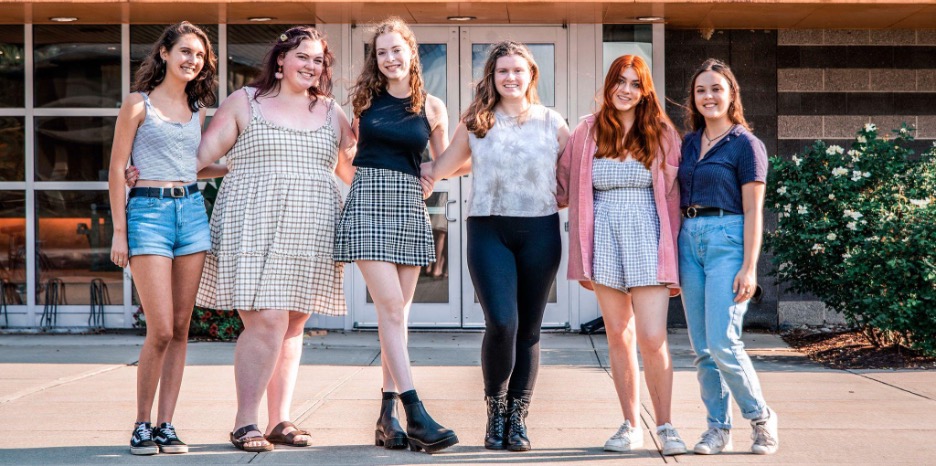 Sarah Berry Pierce (she/they) is a senior double major in Drama and Women's Studies from Mississippi. Throughout their time at Vassar, Sarah Berry has served as the Stage Management Intern for the Drama Department and has worked as a Director on multiple productions including the drama department's production of Fefu and Her Friends. She is a member of Idlewild Theatre Ensemble and is looking forward to directing her senior project Our Dear Dead Drug Lord. In their final year as Chair of the Drama Majors Committee, Sarah Berry looks forward to working with new students and engaging with faculty to promote a more inclusive and equitable department. Sarah Berry hopes to bring a little more glitter to the department for last year prior to attending graduate school.
Jessie Marasco (she/her/hers) is a senior double major in Drama and Hispanic Studies from Amherst, MA. Jessie has stage managed several department productions and previously worked on the Electrics Crew. She is currently serving as the Production Management Intern and the DMC's Technical Liaison. In the world of student theatre, Jessie also serves as President of the technical theatre org, VCATT (Vassar College Alliance of Theatre Technicians).
Keira DiGaetano (she/they) is a junior double major in Drama and English with a correlate sequence in Religion serving as the DMC's Programming Director. She is primarily a director and dramaturg, but has enjoyed exploring other areas of theatre with the department. She is a member of Idlewild Theatre Ensemble, a radio show host with WVKR, and co-president of the Underground. She is currently working on dramaturgy for the department's upcoming production of Our Dear Dead Drug Lord.
Erin Mee (she/her) is a prospective Drama and Astronomy double major from Houston. She is the sophomore representative on the Drama Majors Committee and is passionate about prop creation, lighting design, production management, and acting. She is currently lighting designer for the department's upcoming production of Mercury, and is also the vice president of The Philaletheis Society, student fellow in Cushing house, and co-president of The Underground. She loves crafting, reading, and watching Wes Anderson movies, and is excited to spend the next three years making theatre on the Vassar campus!
Lucy Postal (she/her) is a senior Drama and History double major currently serving as the Senior Class representative. In the Drama Department, Lucy has largely focused on acting, but has also worked on several of the department's technical crews including Electrics and Set Crew. She will next be seen in the department's upcoming production of Our Dear Dead Drug Lord, which is also her Senior Project and was most recently seen in the Drama Department's production of As You Like It. Lucy is from New York City, which inspired her love of theater, and is also interested in studying history and the decorative arts, travelling in the post-pandemic world, and baking in her free time.
Emma Skinner (she/her) is a sophomore prospective Drama major from Virginia, and the sophomore representative for the DMC. As an actor, stage manager, and musician, she has participated in many productions across campus, and also serves as the Tech Director for Merely Players. Currently, she is serving as stage manager for the upcoming Playwriting Festival. She enjoys spinning fire with the Barefoot Fireflies and making puns of questionable quality.