Vassar Education Collaboration
The Vassar After School Tutoring Program (VAST)
For the past 15 years, Vassar College has operated an afterschool tutoring/mentoring program at the Poughkeepsie Middle School, designed to increase educational opportunity in the City of Poughkeepsie and foster a connection between Vassar College and its immediate community.
The Vassar After School Tutoring Program ("VAST") recognizes that teachers, parents, Poughkeepsie Middle School scholars, and the Vassar community are important partners. VAST provides individual mentors between 30-40 scholars to promote interest in academics, love of learning, and creative self-expression. VAST also helps prepare students for high school and Vassar College's Exploring College program, which is offered in Poughkeepsie High School to support students throughout highschool and beyond.
For Students/Parents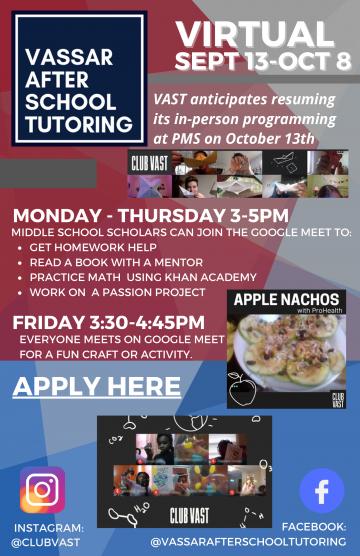 VAST is a one-on-one academic mentorship program between Vassar College students and Poughkeepsie Middle School (PMS) scholars. Scholar applications are received and accepted on a first come first served basis. Apply here. Once accepted, applications are valid for the whole school year, and scholars must reapply at the start of each academic year.
The program aims to provide not only homework help, but access to fun and exciting curriculum through collaboration with Vassar College organizations. Tuesdays are reserved for academic work; if a scholar does not have homework, or has finished work early, then they must be engaging in an academic activity. In years past, these activities have included: art, cooking, debate, theater, and sports.
If you are a parent who would like to enroll your scholar in VAST, please email vast@vassar.edu or fill out an application here.
For the Fall of 2021, VAST will be engaged in online programming until October 12th when we anticipate being able to once again resume in person programming. Homework Help & Reading Buddy Drop-in hours will be Monday-Thursday from 3-5pm. On Fridays from 3:30-4:45pm, we will do a fun group enrichment activity over google meet. Any required materials will be delivered directly to the students home.
For Vassar Students
The VAST Mentor plays an important role at the program. You will:
Assist scholars in their homework
Promote academic engagement through VAST activities and making personal connections.
Act not just as tutors but as mentors, building a relationship with your scholar, and perhaps share your experiences with pursuing higher education.
VAST also offers paid work-study positions per year, as well as many volunteer and field work positions. If interested in work-study, please look for the VAST Mentor application through the Off-Campus Job Search on Jobx. Applicants will be interviewed and accepted based on merit and prior experience with the program.
Those interested in receiving field work credit should speak to Elizabeth Cannon in the Community Engaged Learning Office in Main 165, or at ecannon@vassar.edu .
Students interested in volunteering should email vast@vassar.edu.