Plan Your Visit
Everyone is welcome to visit the Preserve, and we hope you enjoy all that the space has to offer! 
The Preserve is open between sunrise and sunset for the majority of the year, with periodic closures to the public during Vassar's winter break. If/when the Preserve is closed to the public, notices will be made available online and posted at the entrances to the Preserve.
During your visit, please be respectful of the local wildlife and Preserve staff by adhering to the rules, which can be found below. Dogs are more than welcome at the Preserve, provided they and their owner(s) heed the Preserve's dog policy, which can also be found below.
We recommend planning your trip using our trail map, which includes trail ratings for difficulty, distance, and altitude shift. Please also check out our special events calendar at the bottom of this page!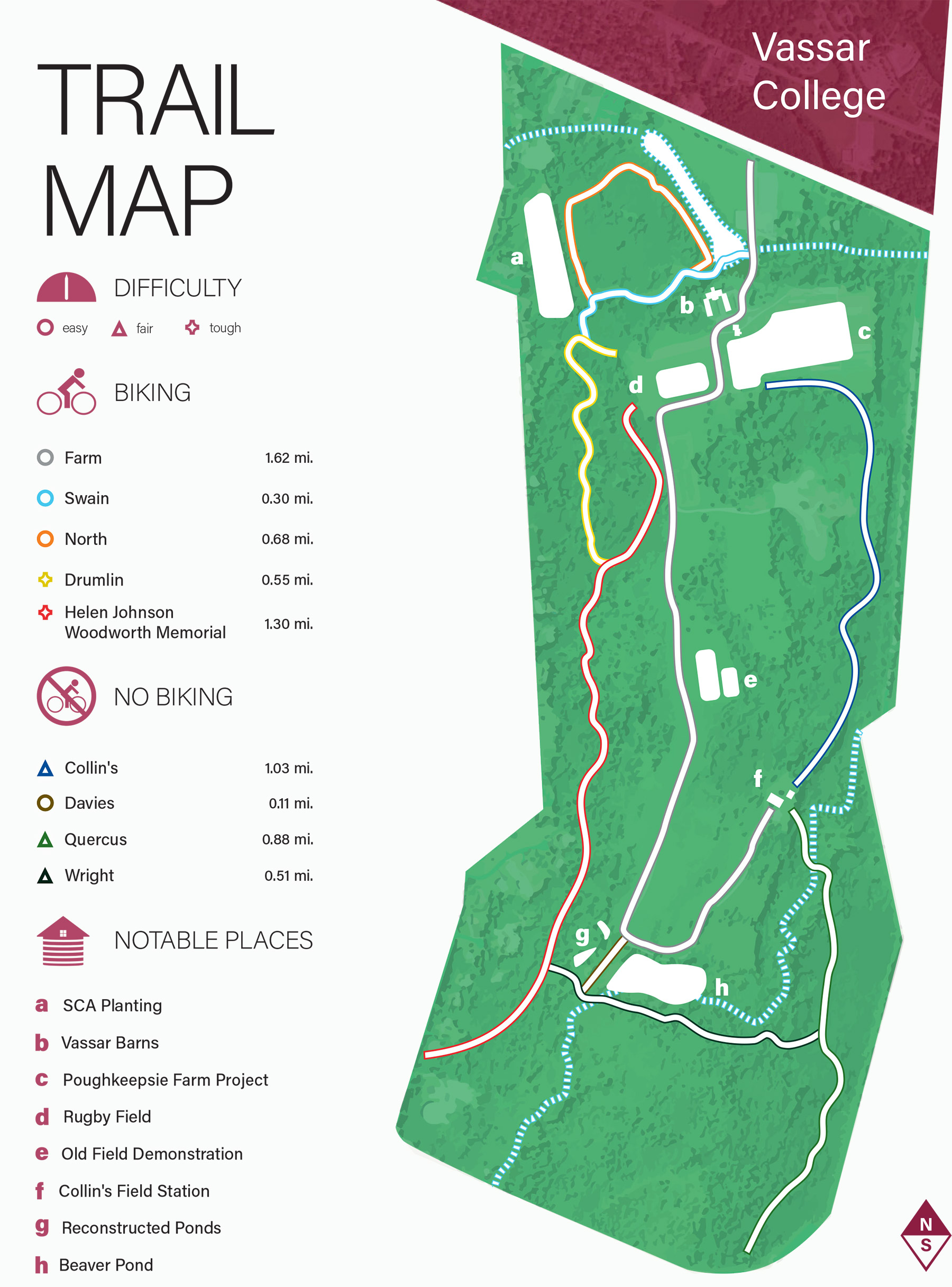 Rules
The Preserve is open to the public for walking, jogging, bird watching, and hiking on marked trails. Biking is allowed on trails that are designated for that use. Visitors and their dogs must stay on marked trails, roads, and in designated parking areas.
Special events, meetings, and gatherings require prior approval from the Preserve Manager. Authorized groups must show proof of liability insurance.
Groups, organizations, and individuals using the Preserve and/or facilities will comply with the laws of the State of New York, Town of Poughkeepsie, and City of Poughkeepsie.
All activities shall be properly controlled and supervised. Whenever persons participating in a planned activity are under 18 years of age, adequate adult chaperones must be present.
No visitors shall create loud or excessive noises that will disturb other users of the Preserve.
This is a carry in, carry out facility. No person shall throw or discard any litter, debris, or objects.
Vassar College will not be liable for injury or damages resulting from or arising out of the use of the facility or premises.
No visitors shall carry firearms, knives, explosives, or other dangerous instruments while visiting the Preserve.
No person shall kindle, build, maintain, or use a fire on the Preserve.
The Preserve is open for public use between sunrise and sunset. No person shall be on the property between sunset and sunrise, with the exception of groups that are granted special permission by the Preserve Manager.
Camping is prohibited.
All motorized vehicles are prohibited, except for authorized vehicles on the farm road and in designated parking areas.
No person shall add, remove, or harm any plants, animals, or artifacts. No person shall deface or disturb equipment or facilities. Altering the landscape or aesthetics of the Preserve is prohibited.
People must obtain a permit for their dog prior to visiting the Preserve. To obtain a permit, a driver's license or other form of identification is required. A dog license and valid rabies certificate must be presented at the Vassar College Safety & Security office. Permits are valid for 2 years. Dogs must be restrained by a leash not exceeding six feet in length and always be under the physical control of the responsible person. Feces left by a dog shall be picked up immediately. Owners are responsible for carrying feces to a waste receptacle on or off of Vassar property. Pet owners that violate these rules will have their permit revoked and will be trespassed from the Preserve. We are using cameras to record violations of these rules and reporting violations to Vassar Security.
Rules will be enforced by Vassar Safety & Security. For each and every violation of the provisions of these rules, the person violating may be issued a warning, trespassed from the property, and/or subject to arrest.
Dog Policy
All dogs MUST be on a leash and restrained at all times while at the Preserve. If your dog is not, you will be asked to leave the property.
Your dog MUST be registered through Vassar Security.
To register, please bring a photo ID, dog photo, valid rabies certificate, and a dog license.
If you are in violation of these rules, your license will be revoked and you will be prohibited from entering the Preserve.
If violations of the leash policy persist, all dogs will be prohibited from entering the Preserve.
Please report violations of this policy by calling Vassar Security at 845-437-5221.
Reasons for the Dog Policy
Leashes keep dogs on trails and safe from hazards such as wild animals, ticks, poisonous plants, farm equipment, and vehicles.
Unleashed dogs can wander into research areas, harming the subject area and/or your pet.
Some other hikers are afraid of or disturbed by dogs, depriving them of the peace of wilderness.
Dogs can chase and/or harm wildlife such as deer, rabbits, and turtles.
Keeping your dog near you will enhance your experience on the Preserve.
VFEP and Coop Public Events