Students Recount 'Empowering' Research Experience at URSI Symposium
Robots, ribbons, and RNA were among the topics discussed at Vassar's annual Undergraduate Research Summer Institute (URSI) Symposium on September 27. The event showcased the 55 science projects completed during the 10-week session this summer by 89 students in collaboration with 33 faculty members in seven science disciplines. Eight students presented their findings during the event in the Villard room, and all of the researchers displayed their work on posters in the College Center and Multipurpose Room at the conclusion of the program.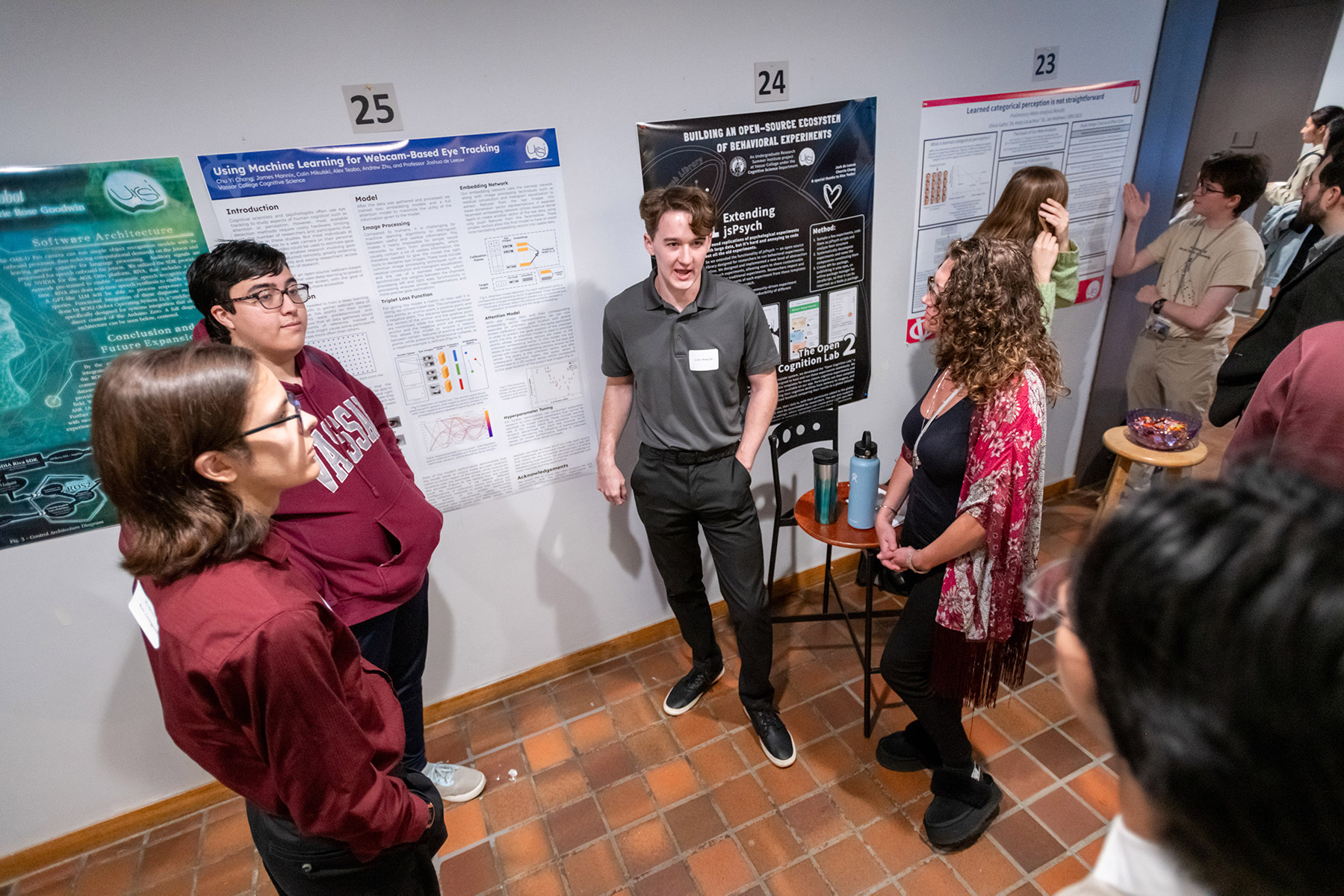 URSI Director and Professor of Mathematics Benjamin Lotto congratulated the students and their faculty mentors for the work they had produced. "URSI provides an opportunity for students and faculty to spend time not only learning technical skills but also meeting informally and trading advice," Lotto said. He noted that for the first time this year, URSI had created a partnership with the College's Grand Challenges program to develop several projects that addressed issues of diversity, equity, and inclusion in STEM-related fields.
Dean of Faculty William Hoynes said he had witnessed the fellowship among URSI participants throughout the summer. "Through your research, you demonstrated the resilience, flexibility, patience, and uncertainty that are all part of the scholarly experience that illustrates the value of a liberal arts education," Hoynes said.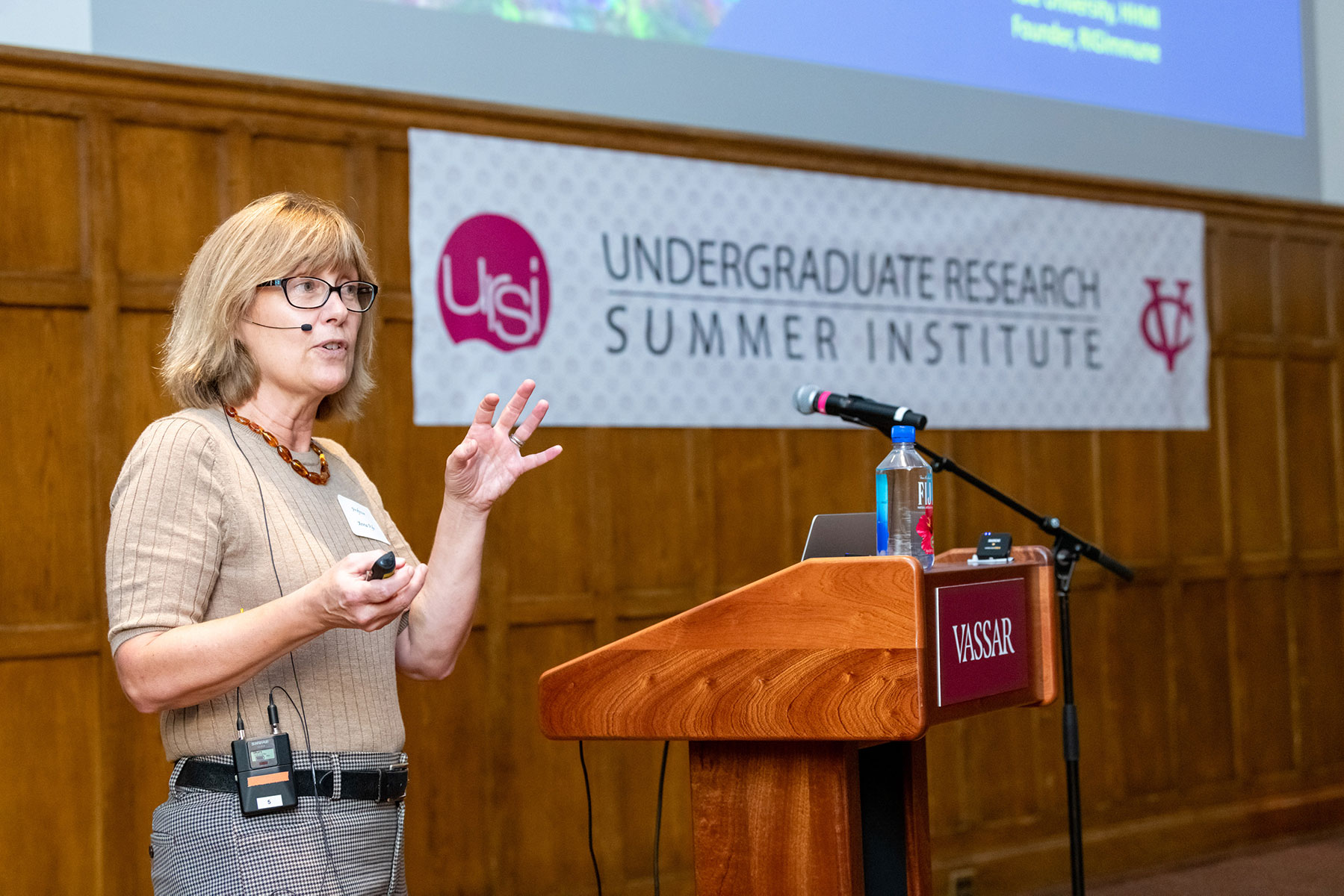 The symposium's keynote address was delivered by Anna Marie Pyle, Sterling Professor of Molecular, Cellular, and Developmental Biology and Professor of Chemistry at Yale University. Professor Pyle told those gathered at the symposium that she and her team of researchers have been working with RIG-I (Retinoic acid-inducible gene I) receptors to find ways to combat coronaviruses. Pyle called these proteins "tiny nanomachines that can protect us from viruses."
Two of the student presenters at the symposium, Vaughn Ramsey '24 and Alexandra Carr '25, explained how they had applied mathematics to measure the curvatures of an elastic ribbon that was twisted into a Mobius Strip.
During the poster session following the symposium, Ramsey, a mathematics and physics major from Denver, CO, said the experiment had required plenty of trials that resulted in plenty of errors. "If you enter a math formula into the computer and one of your signs is a minus instead of a plus, it might take a while to figure out your mistake," he said.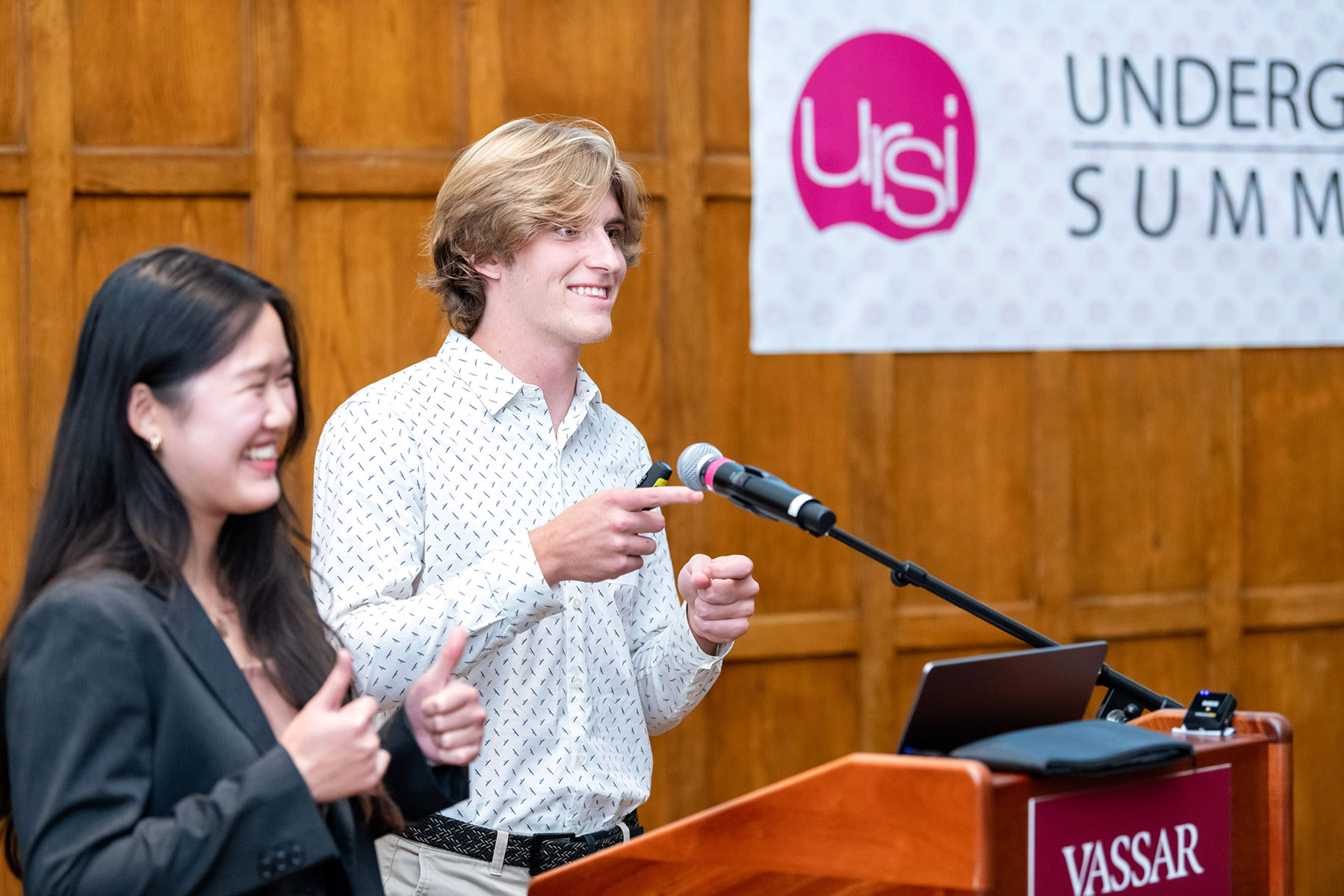 Carr, a mathematics major from Brooklyn, NY, said she and Ramsey had struggled with measuring the curvature of the ribbon when it was stretched but figured out a way to obtain the data they needed by compressing it instead. "It was a really interesting idea, applying math solutions to this problem," she said.
Two other students at the poster session described some of the challenges they faced re-engineering a humanoid robot that had been partially built by three other URSI students last summer. Some preliminary experiments with the robot that involved interaction with young people had revealed that its size had scared some of the children, so Professor of Cognitive Science Kenneth Livingston tasked members of this year's URSI team, Jasper Smith '25 and Shivani Pandey '24, to reduce its size by 50 percent.
Smith, a cognitive science major from Brooklyn, said he had first worked with robots when he was in high school but he had never faced the challenge of creating its components with a 3D printer until this summer. "We messed up a few of the parts before we were successful," he said.
Pandey, a cognitive science major from Pune, India, said she hadn't had any experience with robots until she took a class with Livingston last spring. She said designing and building a hand, elbow, and shoulder for the robot had been "really rewarding starting from scratch and seeing the hand being able to grab things." She said she would continue to work on the project throughout the school year.
The creativity and flexibility of URSI students was evident during a project overseen by Assistant Professor of Psychological Science Payton Small. Small had devised a series of experiments to measure the validity of test subjects' contention that they "don't see color" in interactions with people of different races.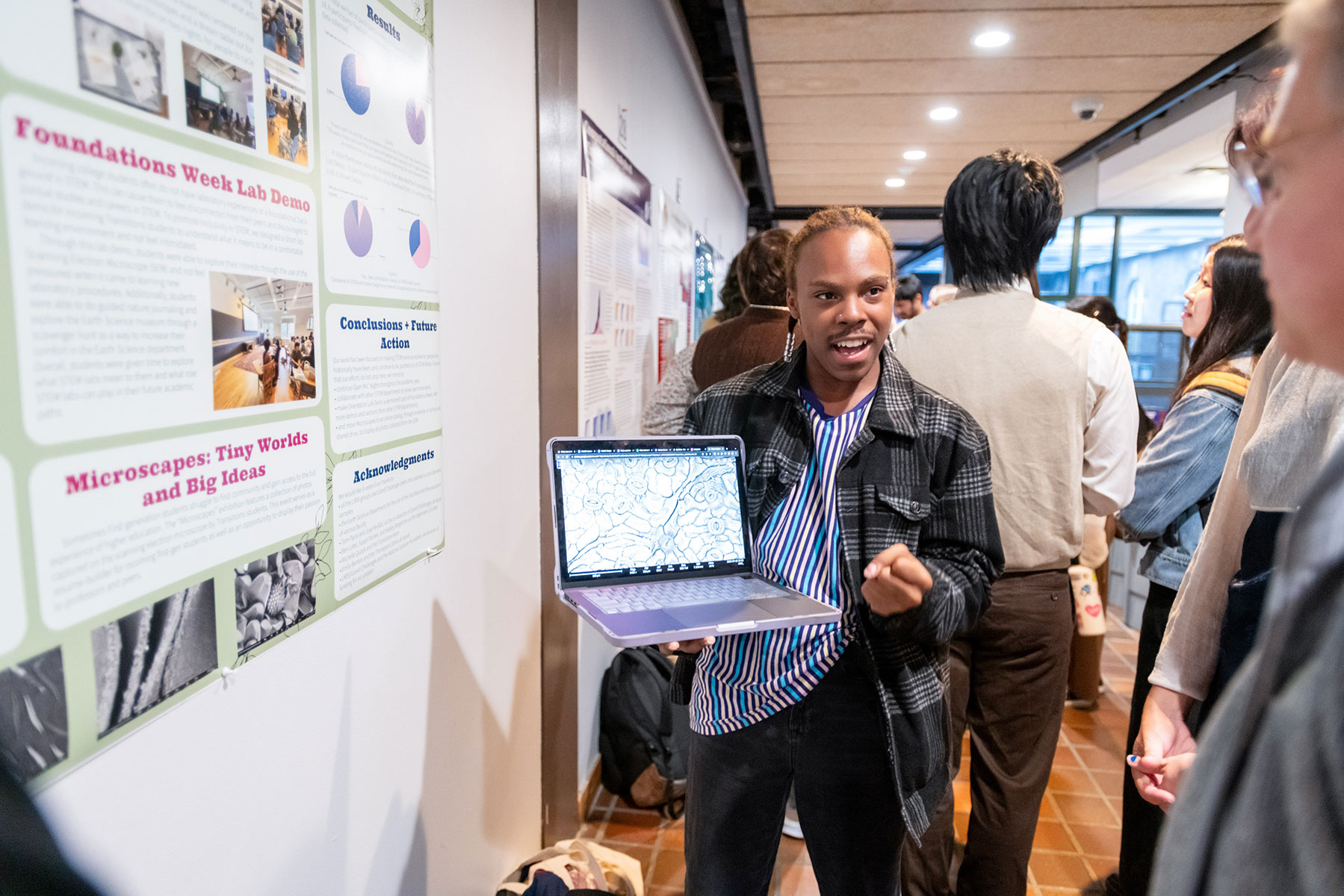 About five weeks into the URSI session, the U.S. Supreme Court issued its ruling barring colleges and universities from considering race as a factor for admission. Small's students, Jacqueline Lui '25, Mariam Eshetu '24, and Dimple Kangriwala '25, re-purposed the experiments by creating a scenario in which the test subjects pretended to be college admissions officers. Some of them were told about the Supreme Court decision while others were not. "One of the results that we found in this study was that students of color were rated as less qualified and were less likely to be recommended for admission when the university explicitly mentioned the Supreme Court ruling compared to a control condition," Kangriwala said.
"It was rewarding," Kwafo said, "to be able to put into practice some research on such a relevant topic."
Eshetu agreed. "Rather than study a problem a professor gave us or an idea out of a textbook, we were able to postulate our own," she said. "It makes me want to do more research like this, to pursue this path. I plan to turn this into a senior thesis."
She added that her URSI experience had made a difference in her life at Vassar. "Vassar is predominantly white; in some of my classes I'm the only person of color," Eshetu said. "But this project involved a group of women of color, and we saw that we had the capacity to be just as successful as anyone else. I have spoken to friends about this experience. It can be hard to speak up sometimes if you're the only person of color, and this has made it easier for me. It was empowering."
José Perillán, Co-Director of Grand Challenges and Associate Professor of Physics and Science, Technology, and Society and the Pauline Newman Director of Science, Technology, and Society, said this summer marked the first time the Grand Challenges program, funded by the Howard Hughes Medical Institute, and URSI had combined their efforts to address issues of accessibility to STEM-related fields by non-traditional students. "This collaboration represents an evolutionary arc from a grant-funded program created out of necessity to a long-term program that encompasses an existing structure at Vassar," Perillán said.