COVID-19 Updates
Dear all,
I am writing with an update to Phase 3 and some early information about community care expectations about spring semester. Our last weeks have been amazing, with only one or two positive cases of COVID-19 and no evidence of on-campus spread. This is in large part because we have been able to keep the boundary to the campus largely closed and you have been masking and social distancing as needed. Thank you!
Therefore, effective immediately, the following will be opening up more.
Gordon Commons indoor dining: This will be available in Gordon Commons (beginning with the second and third floors this week and expanding to include the first floor of Gordon Commons next week). Students must reserve a time through the Waitwhile app through the Vassar mobile app. Reservations will be for one-hour slots (45 minutes to get food and eat; 15 minutes to clean and prepare the table for the next reservation). Inside, spaces where you can sit are marked off and traffic flow will be carefully controlled for health and safety. Because density will be restricted, grab-n-go will continue to be an important option.
Indoor social space: The College Center MPR, the Old Book Store (basement of College Center), the Villard Room, and the parlors on the second floor of Main (Rose Parlor, Gold Parlor, Jade Parlor, and Ordan meeting room) will be open until midnight daily for informal socializing indoors. The Gold and Jade Parlors as well as the Ordan meeting room and College Center MPR must be reserved ahead of time through Campus Activities using eSARC. As is true in all indoor spaces, masks and social distancing are required at all times, unless only your pod is in the room. Do not exceed the posted COVID-19 room capacity in any space. Doors and windows where possible should remain open, and food is not permitted.
Indoor quiet and meeting space: Rockefeller Hall (Monday through Friday is open until midnight), and the Library is open until midnight Sunday through Thursday night and until 10pm on Friday and Saturday nights.
Affinity spaces: These spaces (ALANA, LGBTQ+, Women's Center, International Student Services, and the Veteran's Lounge) will be open until 8PM, Monday-Friday. Please check in with the respective centers for slight variations based on staffing. Some centers also have Google forms for reservations.
Community Care Team (CCT) form: When submitting a CCT Assist Form, email addresses will now be automatically collected to help understand patterns and effectively follow up on concerns. These will be seen only by Dean Maragh Taylor and Sarah Garijo-Garde and will be kept private.
Campus is still closed to non-essential visitors: Given the spikes in COVID-19 outside our county, we regretfully cannot allow visitors, including parents and families, at this time to come to campus except in extraordinary circumstances.
Leaving campus: Students still may not leave campus; however, off-campus trips that involve minimal possibility of COVID-19 exposure and are supervised by a faculty member as part of a class for academic credit may be permitted, pending pre-approval by the Dean of Faculty Office.
Availability of mental health support
We have an array of counseling services available here. Please visit the website and reach out if needed. Here are the types of resources; more information is listed on the website.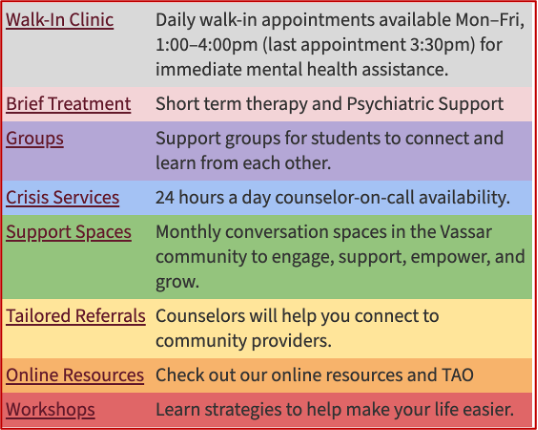 Planning for spring semester community care expectations
We will announce the dates of spring semester the week of October 26. What will campus life be like?
Podding: We anticipate that we will move to pods more quickly in the spring, if our on-campus COVID-19 incidence is low, particularly given the winter weather and the need to socialize for health and wellness purposes. In general, we will require everyone to have received the results of two on-campus COVID-19 tests before podding.
Gordon Commons: Pending the success of Gordon Commons indoor dining this semester, we anticipate we will move to indoor dining more quickly in the spring.
Spring break: We will have a modified spring break built into the spring academic calendar, and students must stay on campus during these breaks.
Athletic facilities: We anticipate opening the pool and general use athletics facilities earlier, depending on the number of cases of COVID-19 on campus.
Work Study: I understand students have questions about Work Study. Our goal is to ensure you can earn what is allotted in your Work Study for the Academic Year while balancing the ability of departments on campus to schedule work hours. If you have questions, please discuss with your supervisor and/or contact Student Employment.
Thank you and congratulations on keeping the Vassar community safe. Let's stay healthy!
Elizabeth H. Bradley, President
VASSAR COLLEGE
Poughkeepsie, NY 12604
@EHBVassar