President Bradley Reflects on the Anniversary of the Rev. Dr. Martin Luther King Jr.'s "I Have A Dream" Speech
Dear all,
I was reminded that today is the anniversary of the Reverend Dr. Martin Luther King's "I Have A Dream" speech. This reminder prompted me to reflect.
I was very young when he spoke to a country seemingly on the verge of real change, delivering his message at the largest civil rights movement gathering in US history. I remember my parents talking about the images of this moment that played across black and white TVs, as the nation sat poised to make history—overturning centuries of unjust treatment of African American people on our soil. There was hope and promise.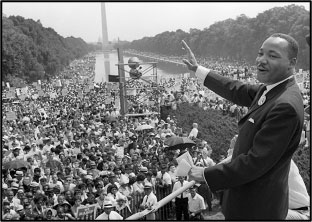 Here we are, more than a half-century later, and our nation continues to grapple with racial injustice. In this past year, we have been reminded again and again of the tragic consequences of systematic racism in this country. Millions of people have raised their voices in peaceful protest, in response to current and historic silence about these injustices.
MLK knew the fight would be long and hard. John Lewis and so many others who lived their lives to push progress forward knew the fight would be long and hard. Sometimes it seems the status quo will never change. But change is possible. I have seen positive change on our campus, in our local community, and in the many places where Vassar graduates work to promote justice of all kinds, and so much more is possible.
I hope that you have a moment today to reread the "I Have A Dream" speech and talk with friends (at a social distance) about its meaning, so that we each are nurtured for the work ahead to create a more just and equitable world.
Enjoy your weekend,
Elizabeth H. Bradley, President
VASSAR COLLEGE
Poughkeepsie, NY 12604
@EHBVassar