Summer and Fall Updates and News
Dear All,
I am writing before I depart for vacation to New Hampshire for two weeks. Happily, my internet connection there will be fragile and hard to use. So, I will be checking my email from time to time, but I will be Zoom free! If you need me, please contact Wes Dixon (WDixon@Vassar.edu) or Angela DePaolo (AnDePaolo@Vassar.edu) and they can find me. Scheduling emails should go to Veronica Peccia (VePeccia@Vassar.edu). Following are some updates.
Please know that during this time of uncertainty and risk, we continue to seek guidance from the state, regional, and local health officials and are re-assessing systems regularly. Students continue to have full choice as to whether to study remotely or in-person, and we are working regularly through email and open forums with students and parents to provide transparent information about our plans including inherent risks. Thank you for your support through this unprecedented time.
Debrief from the July 15 (off cycle) Board Meeting
The meeting went as expected and the Board re-approved our budget for this year, with the extra draw from the endowment needed to cover COVID-19 related costs and losses in revenue, as well as the flat salaries and 5% reduction in non-salary, operating budgets, and a commitment to retain all existing faculty and staff. We expect to hold with these responses for the year unless we have unforeseen problems in the fall, and we start discussing the 2021-2022 budget in the October Board meeting. The Board was also briefed on the VassarTogether plan for the fall, and our current and planned ideas in the areas of racial justice as we have discussed at previous College Forums. In general, the Board was supportive of all.
Student move-in

Move-in dates are from August 8-25, and each student has a specified date and time to return, staggered with no more than 300 students assigned to any single day, and COVID-19 testing for students in the Aula. International students and students from states with travel advisories are returning the earliest, with first-year students returning after August 20 so that house teams, house advisors, and house fellows are here to welcome them and manage the hybrid orientation planned. A huge thank you to the Dean of College area as well as House Fellows for supporting this very complicated and constantly changing process to help keep everyone safe.
Faculty teaching
Faculty members are preparing their courses—in-person and remotely. Thank you so much to all of you who have been designing and redesigning courses in various blended formats to ensure each student has the individual support that Vassar is known for—all while circumstances including physical space, class time, who will be in the class, etc., are shifting. I really appreciate the extra care you have taken to think outside the box and adapt to the changing conditions. Many thanks to Associate Dean Kate Susman and Dean Bill Hoynesand the faculty and student contributors to VassarTogether, as well as the Pedagogy in Action programming and the extra CIS support for cameras/microphones to support blended teaching.
New cleaning protocols in place
The Facilities team has been hard at work preparing for return of students and employees.  New cleaning protocols are in place, and we are adding capacity to the custodial team so we can clean and disinfect regularly.  PPE and disinfecting materials have been distributed to offices working on campus.  High-traffic service areas have been altered to allow for safe operations (plexiglass, social distance markings, etc.).  Occupancy limits are being added to classrooms, bathrooms, and meeting spaces.  In addition to the work in response to the pandemic, the facilities team has been braving the heat in masks to prepare the campus for the fall term as they do every year. THANK YOU to the facilities staff!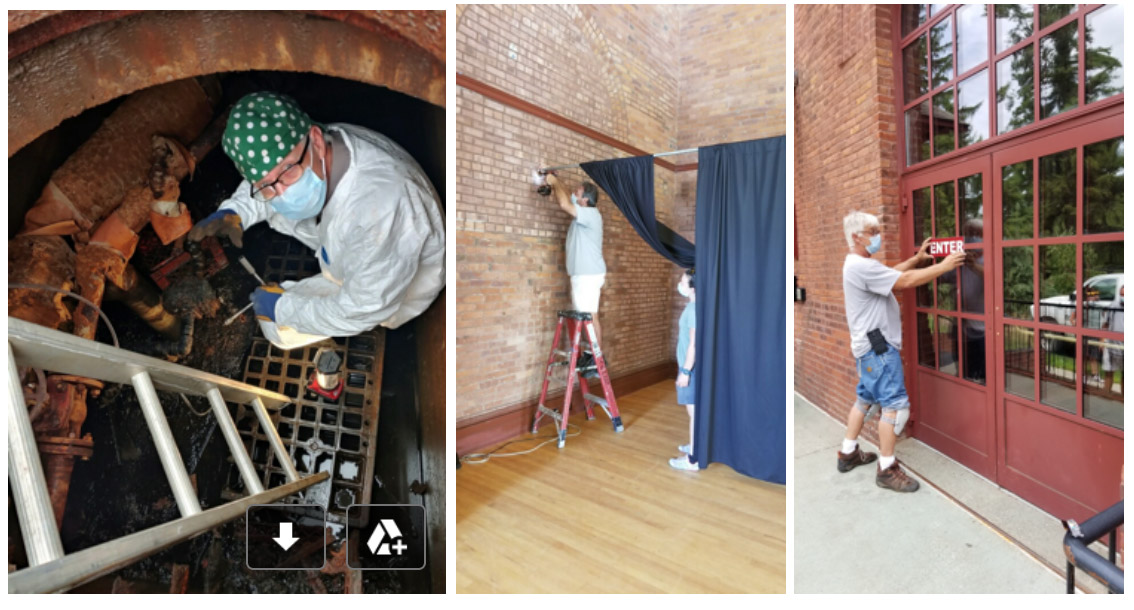 COVID-19 testing
Students are required to have a pre-arrival COVID-19 test within 7 days before move in, and they will have two additional tests in the first two weeks on campus. Students arriving without a pre-arrival test will not be able to move into their rooms and will be directed to previously set aside beds to await the results of their on-campus test (Westchester Medical Center, our testing service, will do everything possible to get these tests back in 24-48 hours). We will continue testing with Westchester Medical Center through the fall, with the periodicity driven in part by our experience on campus (likely every two weeks). We are also in discussion with a company that is making a rapid point-of-service COVID-19 test for mass distribution—which would greatly increase the feasibility of frequent testing, and we hope they will have FDA approval by October.  I am grateful to Rosaleen Cardillo, Jim Kelly, Bridget Romani, and Ming-Wen An who have worked tirelessly to ensure we have the best testing possible. And welcome to Margot Schinella, who begins August 6th as our new director of Health Services!
Employee testing
It is a good idea for employees to get tested, and it is free at Rite Aid on Main Street in Poughkeepsie. You sign up online, get a specified time, drive in, and they do it easily. I just did it—was simple and easy. Test results come back in 2-7 days.
Employees on campus
Many of us are working on campus already, and many more will start to once classes begin August 31. Please remember, you MUST wear a mask or face covering unless you are alone in your office or outside stationary and at least 6 feet away from anyone else. If you see a colleague without a mask, politely say "I think you forgot your mask." And if you are reminded by someone else that you have forgotten your mask, please respond with "Thank you so much for reminding me!"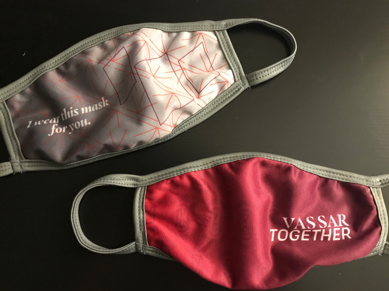 This is the heart of VassarTogether. We need each other to help us stay safe and healthy. We have cool new Vassar masks, which will be made available for your personal use. They are pretty comfy and cool looking. Thank you to Amanita Duga-Carroll, Gladwyn Lopez, George Laws, Aiden Gallagher, and Communications for designing these masks as well as all the signage to remind us of our community expectations, and congratulations to Daria Robbins and the web team for the exceptionally up-to-date and helpful web resources we have. We are still encouraging employees to work remotely if that is possible and agreed upon by your supervisor.
Daily health screen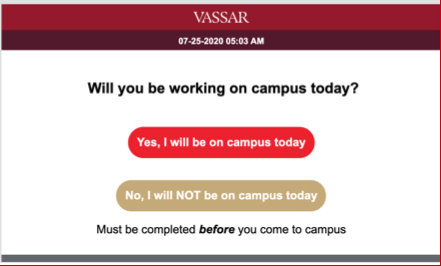 Both students and employees who live or work on campus will be taking the daily health screen. It will come to your email between 5AM and 6AM each morning (see below), and you can click through the four questions on your phone or computer. You can also access it from the Vassar mobile app.  It is easy, required by public health guidelines, and keeps us all safe. If you neglect to do this, you will get a message about it and after three days, your card access will end, so please do this. Also, if you are someone who is working on campus sometimes but on a particular day you are NOT coming to campus, you still have to complete the health screening question (one click). Thanks for attending to this. Many thanks to Jean Tagliamonte, Dave Osburn, Candice West, Sarah Bakke, and Bridget Romani, and others in CIS and HR who quickly put together this app and many other supports to facilitate this fall semester.
Summer Immersion in the Liberal Arts
The program launched last year, and was designed primarily for incoming first-generation and low-income students who have demonstrated leadership in their home communities. This year, as a result of the COVID19 pandemic, the program is taking place online.  About 8 administrators, 17 faculty members, and 11 student interns are introducing 60 students, from eleven time zones, to Vassar's curriculum, resources, and community practices through a new online platform.  Feedback from incoming students has been very positive so far; thank you to Professor Candice Lowe Swift for conceptualizing the program with the Summer Immersion Advisory board and directing, and to Henry Molina for his administrative leadership.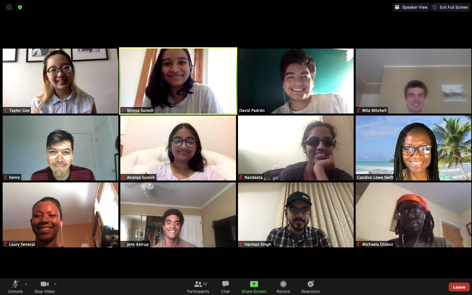 Administrative and staff forums are back!
We will begin these (as Zoom webinars) monthly, rotating the times so people on different shifts can make these. We will also have an all-College Forum including faculty once per semester. Faculty meetings will continue as they have been, using Zoom.
Annual Fund News
We hit and surpassed our Annual Fund target, completing the year with $10.2 million given by very generous alumnae/i, who responded particularly to the needs for students and employees during the COVID-19 pandemic. These funds help support salaries, financial aid, and other routine operating expenses. Congratulations to Tim Kane and the OAAD team.
Summer Institute for the Liberal Arts
This summer, we will be offering an "Institute" session as we have the past two summers. The topic is "Protest and Progress: Higher Education and Racial Justice." It will be August 18 (on Zoom) and open to all.  I am grateful to Mia Mask, Eliot Schreiber, Tom Pacio, and Wesley Dixon who envisioned the event, and a special thanks to Wesley for translating it to a Zoom event. Please join!
Fall program on "Votes for Women" September 26, SAVE THE DATE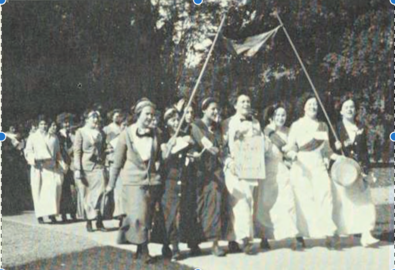 Please us for a Zoom symposium commemorating 100 years of women's suffrage and interrogating current issues in voter rights: "Votes for Women": Vassar and the Politics of Voting Rights: Past, Present, and Future. Our keynote will be Sherrylin Ifill, Vassar alumna and President and Director-Counsel of the NAACP Legal Defense and Educational Fund, Inc., the nation's premier civil rights law organization fighting for racial justice and equality. Joining her will be Taniesha Means, Assistant Professor of Political Science on the Class of 1951 Chair and Miriam Cohen, the Evalyn Clark Professor of History.  Below, Vassar students in a campus suffrage parade circa 1912. 
Athletics
As you know, the Liberty League has canceled league athletics this fall. Our athletes will be staying in shape and practicing, with scrimmages as it becomes safe to do so within our own teams. We will not travel outside campus for athletics for the fall, and discussions about winter and spring are underway. I am grateful to Dean Marianne Begemann and Athletic Director Michelle Walsh for shepherding the complex questions about this programming throughout the summer and fall. You will get additional announcements about what sport and recreation facilities are open as we know more.
Alumnae/i programming on racial justice
Alumnae/i and faculty are also active in considering their roles in supporting racial justice. Among the many offerings, Chip Reid '77, CBS News correspondent; Jasmine Brown '10, ABC News Nightline producer; and Phil Griffin '97, MSNBC president, will host A Conversation on Current Issues in Journalism: The Presidential Election, Racial Justice and the Pandemic in September; Molly McGlennan, Associate Professor of English and Director of American Studies will present Decolonial Practice as Anti-Racist Labor: Reflections on Indigenous Minneapolis through Poetry as part of our on-demand series in August; and Eve Dunbar will give a special alumnae/i class on Another Country by James Baldwin.
VassarTogether
I want to give a special shout out to everyone who participated in this massive design and community-building effort, led by Deans Alamo and Hoynes. The outcome has been an exceptional plan for re-opening college in the fall, a plan that many in the state see as setting the bar for liberal arts education in the midst of a pandemic. It is truly an honor to be here with you, and I think we have the opportunity to practice community care in new ways and to embrace our interconnectedness in new and life-giving ways.
See you in a couple of weeks!
I will be back on campus August 15 and hope to see you (in a mask) if you are around then. I remain humbled by how much this College has come together in the hardest of times, stretched, and found the mettle to continue—together. Thank you!
Elizabeth H. Bradley, President
VASSAR COLLEGE
Poughkeepsie, NY 12604
@EHBVassar