Students Rise to the Grand Challenge of Equalizing STEM Education
Many students who enroll at Vassar have attended a high school equipped with well-designed science laboratories, and they've learned how to use the equipment and conduct experiments. But some first-year students, especially those from underfunded school districts, arrive at Vassar without these skills because their high schools had poorly equipped science labs—or no labs at all.
Predictably, such students who enroll in science classes where they are expected to have basic lab skills quickly fall behind in class—and often decide not to enroll in any more STEM-related courses.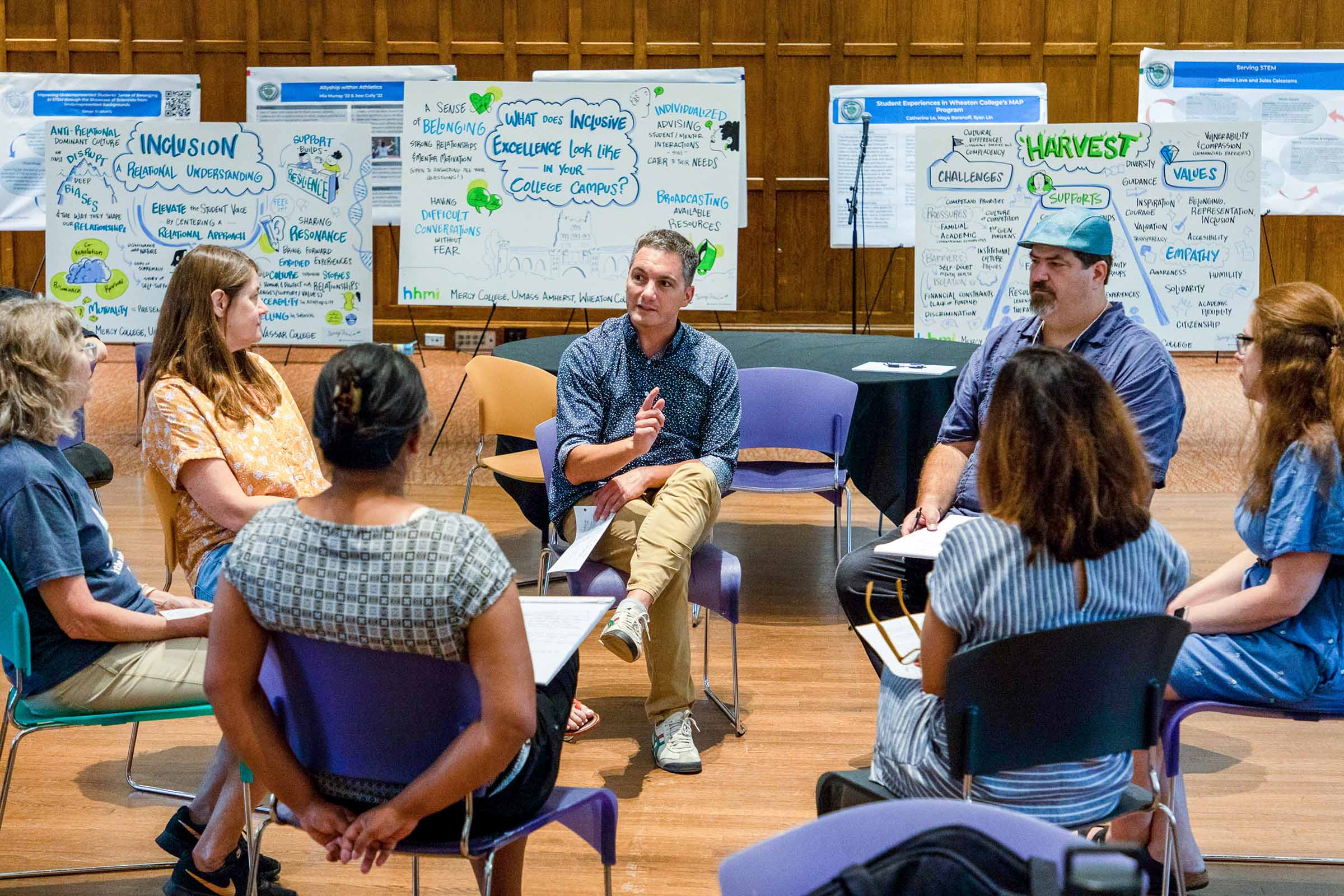 Thanks to funding provided by the Howard Hughes Medical Institute, Vassar and other colleges and universities are mobilizing to ensure that students facing such challenges get the support they need to succeed. At a three-day symposium this summer, aptly named Elevating the Student Voice, 32 students from four institutions convened on the Vassar campus to trade ideas on how to accomplish this goal. Students from Mercy College, Wheaton College, and the University of Massachusetts at Amherst joined Vassar students at the symposium.
"All of us at this conference are focusing on fostering institutional change that leads to inclusion and equity in STEM," said José Perillán, Associate Professor of Physics and STS, the Pauline Newman '47 Director of Science, Technology, and Society, and the current Faculty Director of the Grand Challenges Program. "As faculty members, we need to rethink what it means to be teaching first-generation students who come to college without many of the resources that other students have and then expect them to thrive without really meeting their needs."
Perillán said faculty and students at Vassar and other institutions began to address this issue when the HHMI grant was awarded in 2018. But due to the COVID-19 pandemic, many face-to-face events had to be postponed. The symposium marked the first time that students from the four institutions, who had been generating ideas on their own campuses, had met face to face to, in Perillán's words, "cross-pollinate."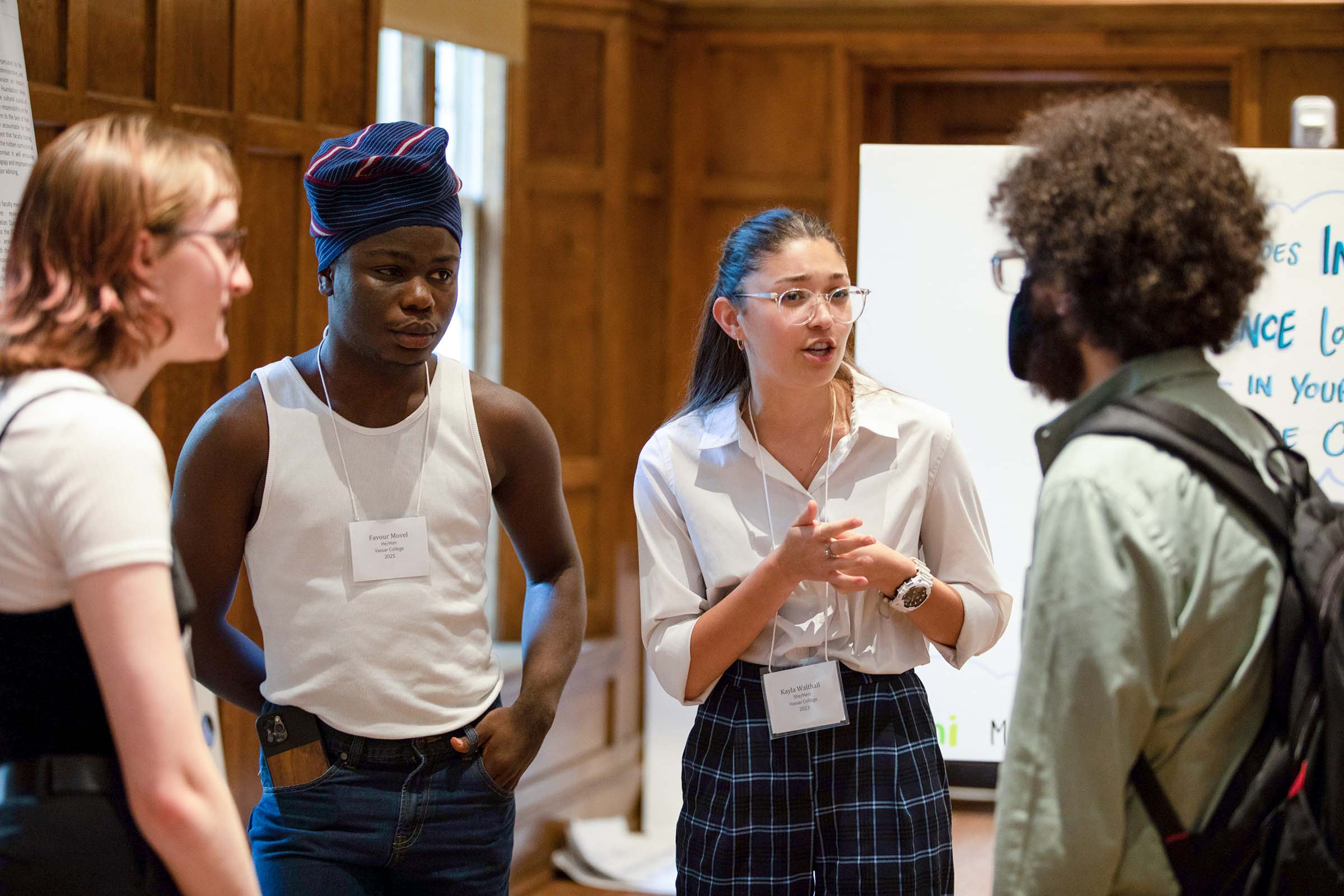 Vassar student Kali vom Eigen '23, a biology major from Windsor, CT, said she looked forward to seeing how some of the ideas she and others at the symposium had generated would be implemented. "The work was intimidating at first, gathering all the information, but it's rewarding to know that we may be contributing to a process that will have a real impact on students across the country," she said.
Vom Eigen and two other Vassar students, Kayla Walthall '23 and Favour Movel '25, suggested that STEM faculty members take a more proactive role in identifying students who come to college without lab experience. "There should be more faculty training so underrepresented students get the help they need early in the semester," said Walthall, a Science, Technology, and Society major from Texarkana, AR.
Movel, a physics and computer science major from Nigeria, agreed. "Especially in introductory courses, early intervention (for such students) is important," he said.
Vom Eigen, Walthall, and Movel developed their idea during Vassar's Summer Catalyst Research Experience, an eight-week program, earlier in the summer. Perillán said one idea that had been generated at last summer's session by Vassar students Michaela Olabisi '23 and Gissette Noriega '24, will be implemented as a pilot program in the Spring 2023 Semester. Selected students in STEM classes who came to Vassar without basic lab skills will enroll in a course that teaches them such skills.
Associate Professor of Biology Jodi Schwarz, who served as the first Faculty Director of Vassar's Grand Challenges program, said she looked forward to continuing to involve students in addressing the issue. "It's exciting to see all of these students together, in person, for the first time as we share our ideas," Schwarz said. "They are seeing science as an enterprise that involves sharing the joys and challenges together."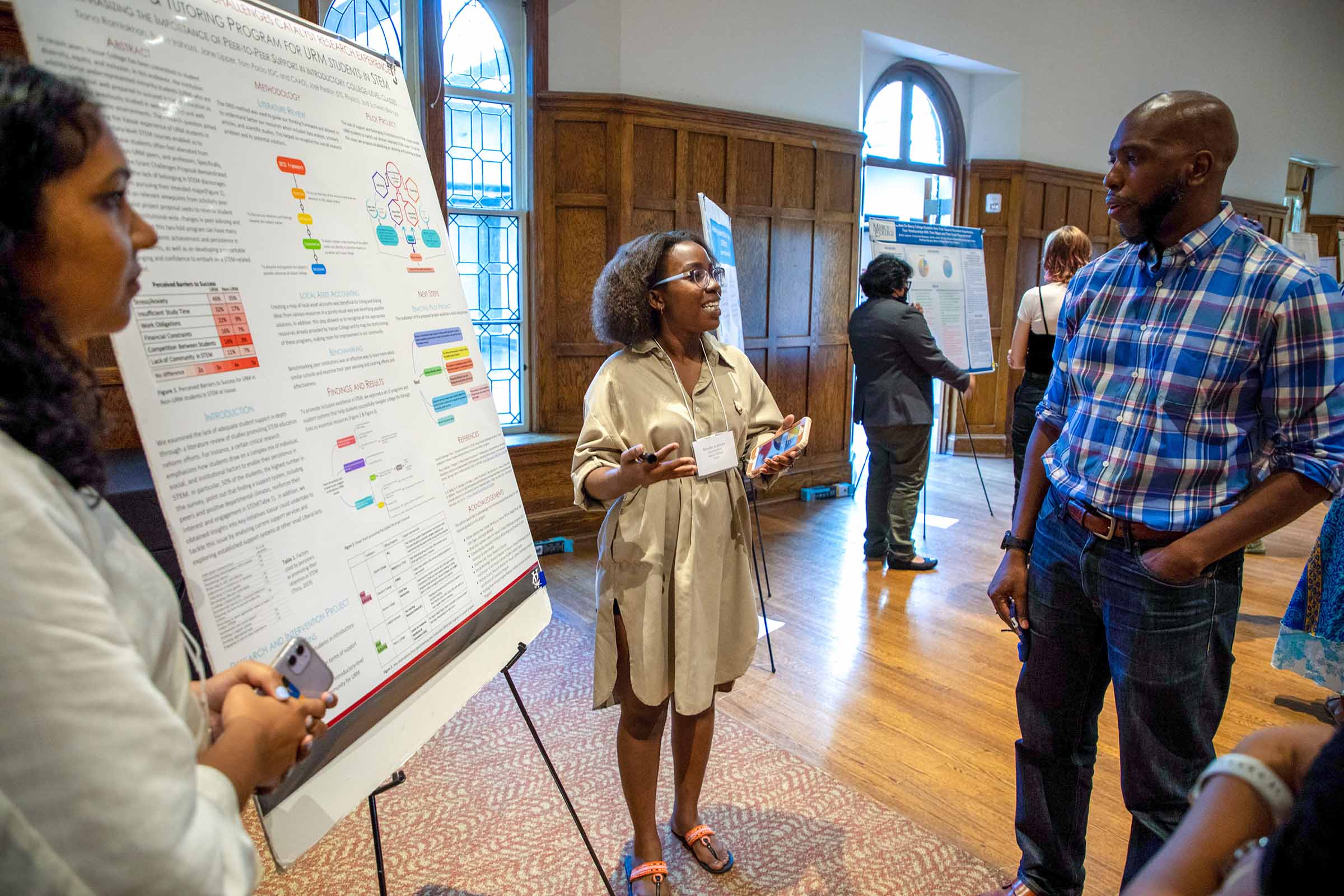 Perillán said he was looking forward to continuing to work with students to find ways to help all students succeed in STEM. "These are thorny and complex issues that have no easy answers," he said, "but seeing the passion and creativity these students are bringing to the process has been rewarding."
As part of the symposium, the Grand Challenges team worked with graphic facilitator Sasha Brito, of Image Think who distilled concepts and ideas presented throughout the day, made connections between them, captured them all using visual representations—all in real-time. This dynamic recording of the symposium was intentionally woven into the facilitation designed by Cedar Landsman and Lucien Demaris from Relational Uprising who then used the four large poster boards filled with graphic representations as springboards to further conversations.