AAVC Announces 2023 Honorees
The Alumnae/i Association of Vassar College (AAVC) has selected five alums to honor for their impact on the College, their communities, and the larger world. Two of these awards were given at Reunion 2023 in early June. The other three will be presented in the coming academic year.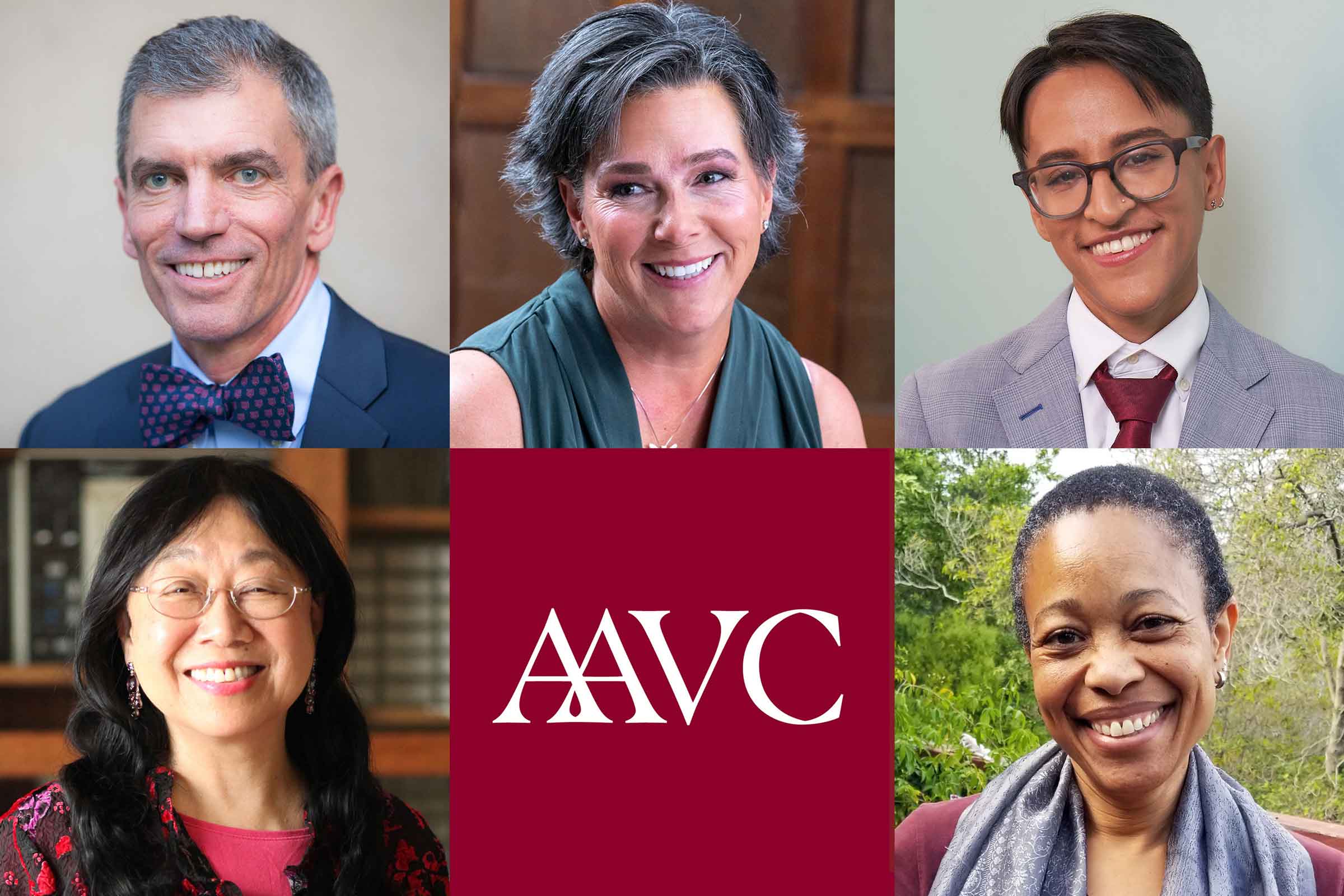 Sau Lan Wu '63 – Distinguished Achievement Award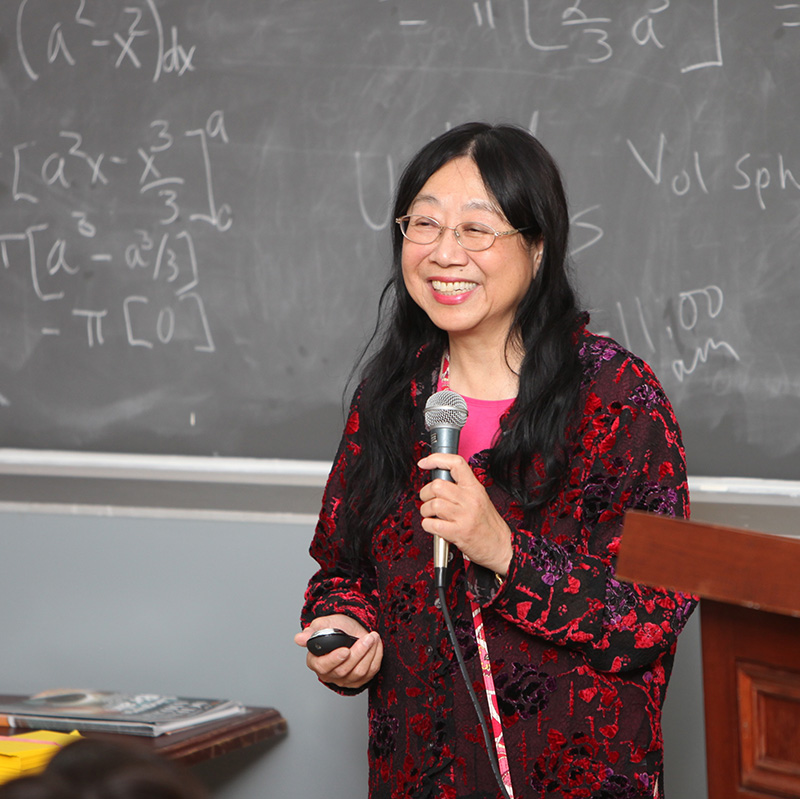 Wu is a giant in the field of particle physics. Affiliated with the world-renowned CERN laboratory in Switzerland, she is also Enrico Fermi Distinguished Professor of Physics at the University of Wisconsin, Madison. In 2012, she achieved her lifetime goal of contributing to at least three major physics discoveries when her research team confirmed the existence of the Higgs boson—also known as the "God particle" due to its importance in imparting mass to matter. Her work also featured prominently in discoveries of two other particles: the charm quark and the gluon.
Along the way, she nurtured successive generations of brilliant scientists with more than 50 graduate students receiving PhD degrees under her supervision. For her contributions to revealing the building blocks of the universe, Wu has received numerous honors including election to the American Academy of Arts and Sciences. Recognition of her career soared to new heights last year when the International Astronomical Union named a minor planet in the asteroid belt between Mars and Jupiter, "Saulanwu."
"The committee was taken by Dr. Wu's distinguished career in particle physics, which began at Vassar and propelled her into being the first woman to earn a PhD in Physics from Harvard University," said Dr. Amy Pullman '71, chair of the AAVC committee that oversees the selection process for awards. "She went on to have an inspirational leading role in scientific discovery."
As Vassar's 2014 Commencement speaker, Wu told the graduates that her journey from new immigrant college student to preeminent physicist "is a story of blossoming from a Vassar education, sustained by fierce determination.
"Vassar really made sure I would succeed and graduate," Wu elaborated. "They trained me to have perseverance, persistence, and if you have that, you basically cannot fail."
Pamela Harris '92 – Spirit of Vassar Award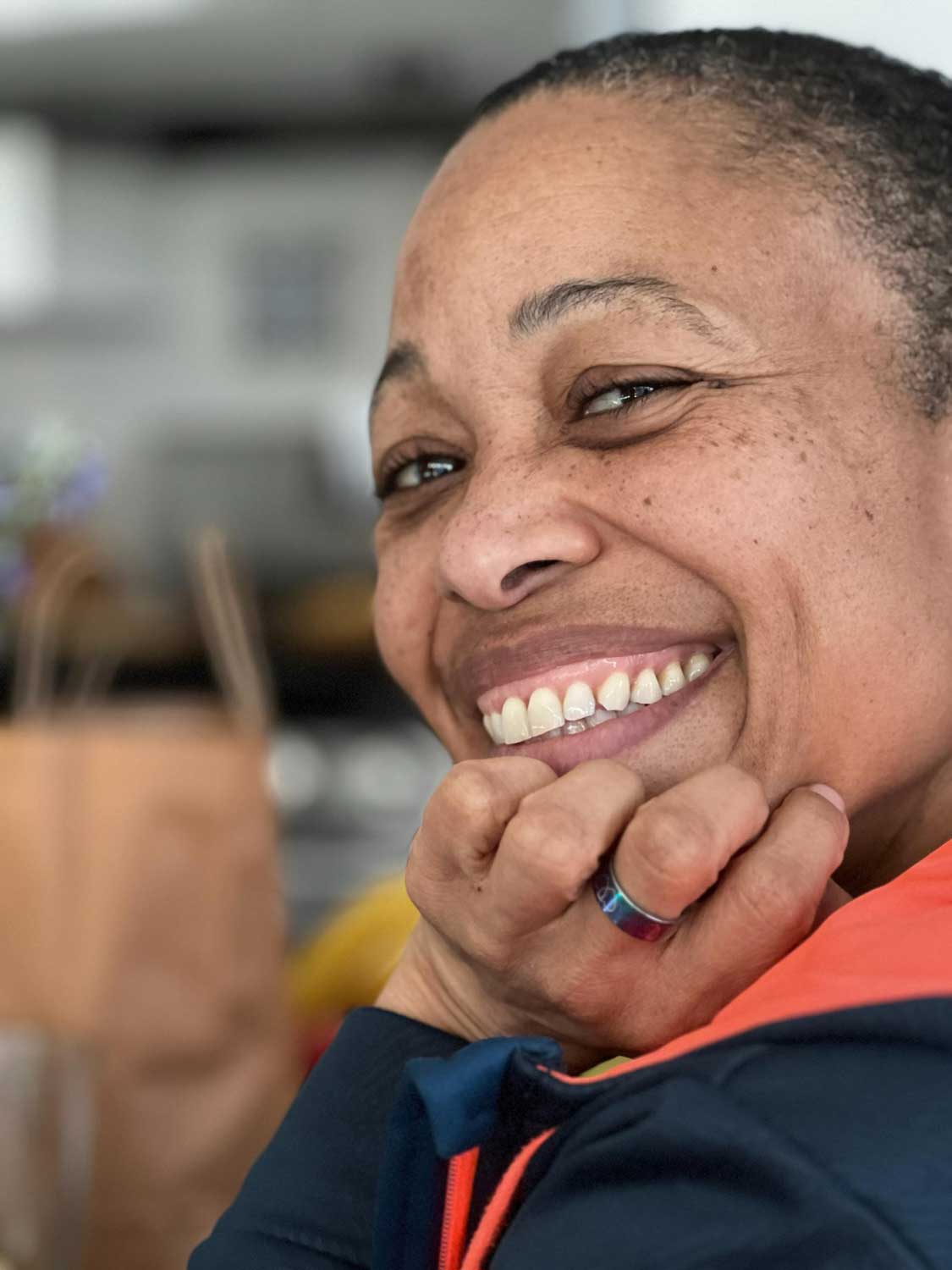 Harris is a filmmaker and nonprofit management advisor dedicated to advancing racial, economic, and gender justice. Through her consulting company, Pam Harris Productions, she provides financial and operational expertise to social justice movements so they can become more effective. She also serves as Chief of Finance and Operations for UndocuBlack Network, which supports current and formerly undocumented Black immigrants, and was Director of Finance and Operations for the Movement for Black Lives.
Her film projects include co-directing the award-winning PBS documentary Waging a Living (2005) about the struggles of four low-wage workers to lift their families out of poverty. Harris was also a volunteer rape-crisis counselor and sat on the Planning and Oversight Committee of the Oakland Fund for Children and Youth.
She is the recipient of a Social Justice Champion Award from California Assembly Member Rob Bonta, a Mildred Massey Legacy Award from U.S. Representative Barbara Lee, a Fulbright Fellowship, and a Reel Sisters of the Diaspora Award, among others.
"Pamela Harris is an icon in the nonprofit sector, using her experience to advance marginalized communities of all kinds," said Pullman. "What is amazing about Pam is the breadth of her activism: racial, economic, health, immigration, media."
"I am deeply humbled, honored, and remain a bit shocked," Harris declared upon learning she had been selected for the Spirit of Vassar Award, adding that her time at the College was foundational to the way she approaches her work.
Harris elaborated that there are two things she takes to work every day: her spiritual practice of tikkun olam ("repair the world" in Hebrew) and the teachings of her Vassar mentor James Farganis, the late Professor and Chair of Sociology, who introduced her to social theorists who have long wrestled with "our disaffection, our cruelty, our moral obligation to one another, our cohesion, our lack of cohesion, our violence and what inspires violence, what inspires reconciliation, why we marginalize certain people, what does power look like—all of those things. His pedagogy was really elegant, and he just had this beautiful way of taking you deep into the heart of these thinkers."
This macro understanding of "who we are and how we are together or not together" is crucial to approaching society's toughest problems, Harris said. "We're just not as isolated as people often feel. Staying in community is really critical, and staying in places where you can engage intellectually and spiritually is absolutely critical, and I think that's where the liberal arts education really comes in."
Stephen Hankins '85, P'13,'17 – Outstanding Service to Vassar Award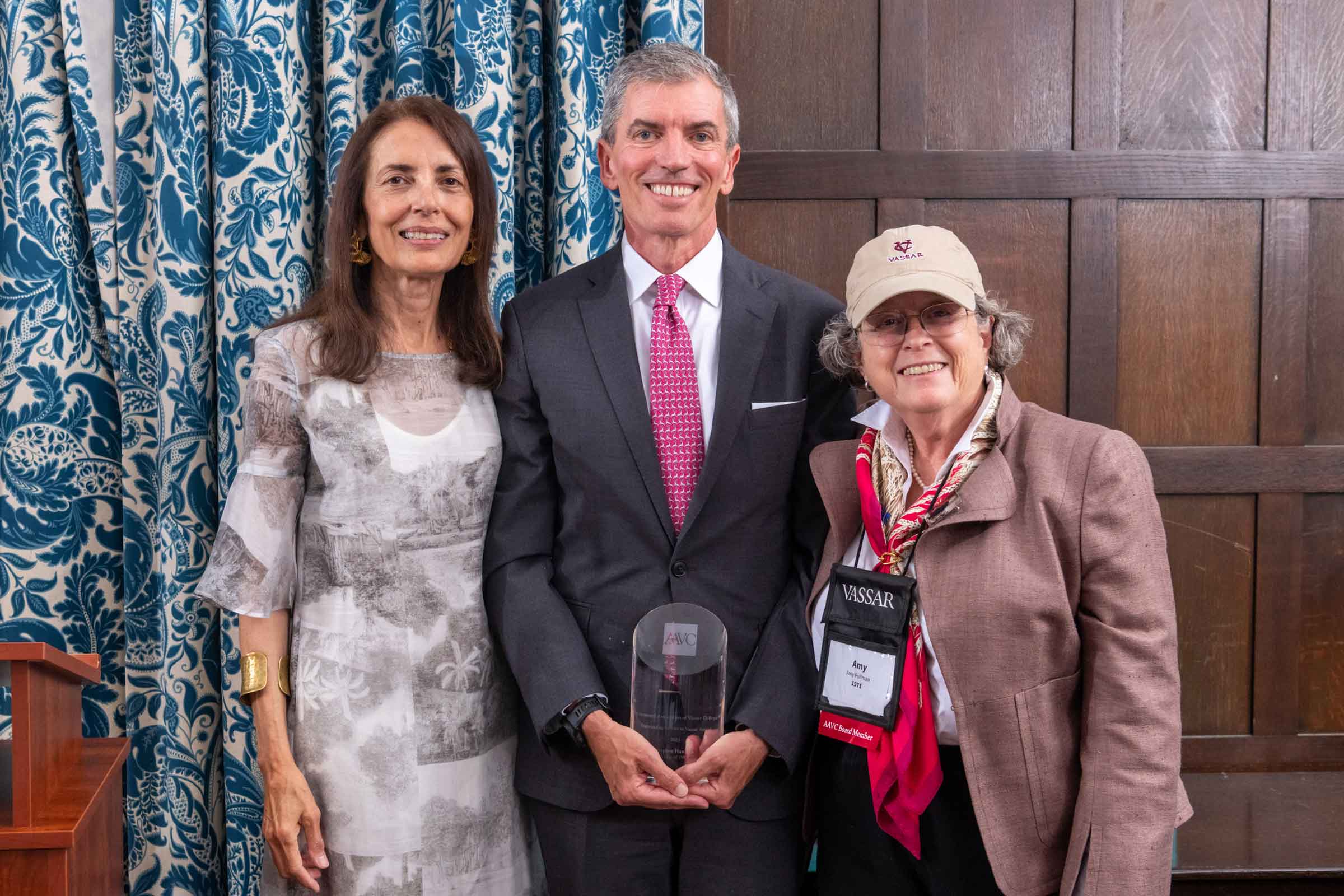 Hankins, a trial attorney and law firm partner, is familiar to a great many alums, having just completed a four-year term as AAVC president. His tenure included the very challenging early pandemic years, during which he kept spirits up and momentum going with what colleagues describe as characteristic energy and grace. He served two stints as a trustee of the College, for a total of 17 years. Upon his retirement from the Board of Trustees and the AAVC Presidency in June 2022, Vassar created the Stephen Hankins '85, P'13,'17 Spirit of Student Philanthropy Award, which was presented for the first time this year by Hankins to Chase Engel '23 and will continue to be awarded annually to a graduating senior. Before rising to the very top of Vassar's volunteer pyramid, Hankins served in just about every volunteer role existing at the College over the course of more than three decades. The span of his service to Vassar is exceeded only by the length of his family's ties to the College, which began more than a century ago when his great-grandmother enrolled in 1902.
As AAVC President Monica Vachher '77 presented the award to Hankins at Reunion in June, she told Hankins that his "charismatic leadership, thoughtful mentorship, and unwavering devotion to this College are unparalleled. We are indebted to you for so much, and grateful for all that you have done since the moment you graduated to sustain this extraordinary community of Vassar alums and the College we all love."
Hankins began his acceptance speech by handing out Vassar gifts to family members in attendance, including his baby grandson, who received a tiny Vassar sweatshirt. "If anyone was counting the generations, this could be six," the awardee remarked. His gift to himself was a pair of "retirement slippers" that Hankins joked he would wear to "shuffle around the house as I think of all of you and carry my award around at night." On a more serious note, Hankins concluded by thanking the alum community for support during the difficult final years of his tenure as AAVC President. "You guys all just kind of came around me. It was the most amazing experience," he said. "You've listened to me and you taught me how to listen. And you made me want to come back, and so here I am. I can't thank you enough for tonight."
Abigail Baird '91 – Outstanding Faculty Award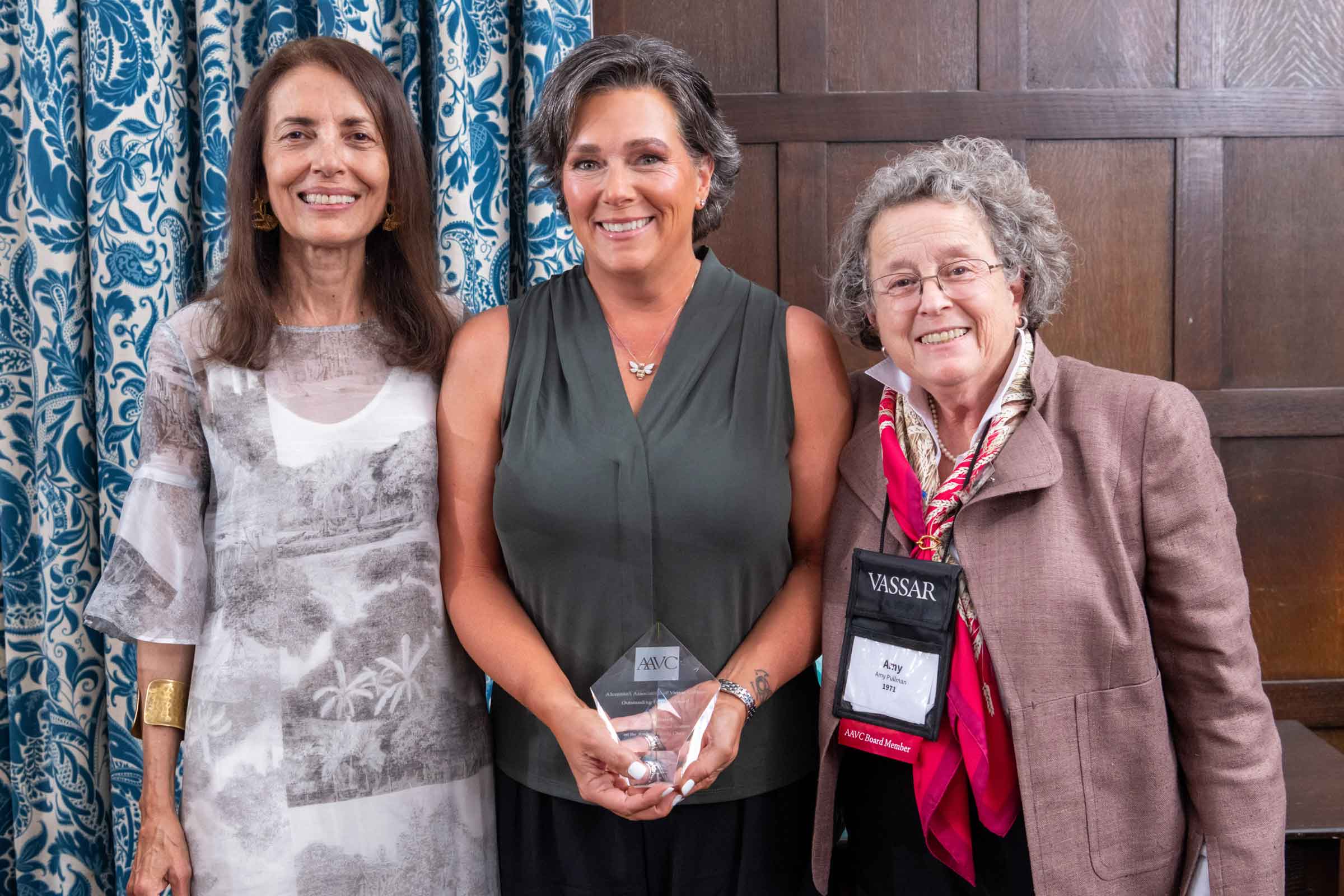 Baird is Professor of Psychological Science on the Arnhold Family Chair, which she was awarded in 2018. A beloved educator with a doctoral degree from Harvard University, Baird has been described by her students as "literally incredible" and "one of those professors that you go to college for." Baird's research interest is developmental neuroscience, with a particular focus on adolescence. At Vassar, she directs the Laboratory for Adolescent Science and conducts research on the ways in which social, emotional, cognitive, and brain-based factors drive the processes by which adolescents become adults—the goal being to better identify and prevent psychopathology, and to inform legal and educational policy. For example, her work on adolescent brain development was included in amicus briefs before the United States Supreme Court when it ruled to abolish the death penalty for juveniles and, more recently, to abolish automatic life sentences without possibility of parole for juveniles. Baird is also the author of two books and numerous peer-reviewed and popular press articles. Beyond teaching and research, Baird has dedicated much of her spare time to leading countless alum engagement programs from Poughkeepsie to Tanzania.
"Professor Abigail Baird is a prime example of a faculty member who goes above and beyond, not just for her students, but also for Vassar's alums," said Vachher at the Reunion award ceremony. "What a gift to have an extraordinary Vassar alum like Abby Baird teaching and mentoring our students, while also engaging our alums in lifelong learning."
"Teaching in a Vassar classroom is Formula 1 racing," said Baird in accepting the award. "It is the adventure and privilege of a lifetime. And please know that without the alums, without the experience I was given, and without the need to give that back, I would not be standing here in front of you."
Priya Nair '15 – Young Alumnae/i Achievement Award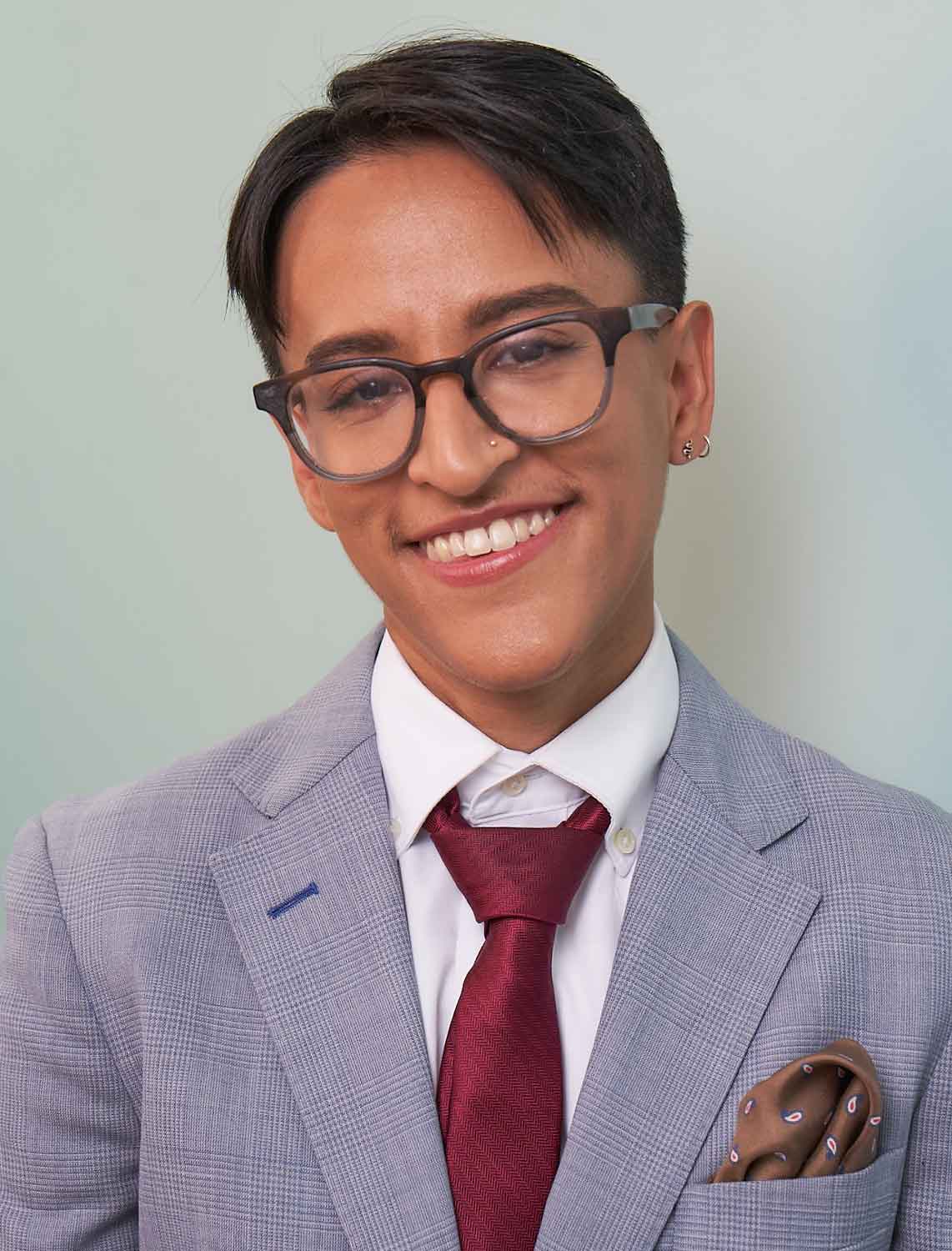 Nair currently serves as Deputy Chief Diversity Officer in the office of New York Governor Kathy Hochul, the latest in a series of high-profile advocacy roles for the LGBTQ+ community. Prior to that, they were Associate Director of Gender Equity at NYC Health + Hospitals, the largest public healthcare system in the United States. In that position, Nair managed the system's award-winning LGBTQ program and served as point person on issues of LGBTQ equity for staff and patients across more than 70 locations. Nair was also the inaugural Marsha P. Johnson, Sylvia Rivera, and Edie Windsor New York State LGBTQ Fellow—a position that allowed them to strengthen policies for transgender New Yorkers across state agencies. In both 2022 and 2020, Nair was named to the "Pride Power 100" list of the most influential LGBTQ leaders by the news site City & State.
Pullman praised Nair's commitment to advocating for human rights. "Starting at the ACLU as a legal assistant, they have worked their way up to being Deputy Chief Diversity Officer for the New York State Executive Chamber, never losing sight of their goal," Pullman said. "The committee was impressed by their determination."
Nair said that as a student at Vassar, they had learned to meld their passion for advocacy with the skills to become an effective changemaker. "Vassar helped me learn to communicate my ideas to different audiences, to synthesize a diverse range of perspectives, and to consider complex issues more deeply, rather than simply jumping to solutions," they explained. "Most importantly, my experience at Vassar strengthened my ability to build meaningful relationships, which is a central component of advocacy and leadership."
View a gallery of images from the AAVC award ceremony and dinner.