MODfest 2022
ALL patrons must wear a mask indoors, for the duration of the event.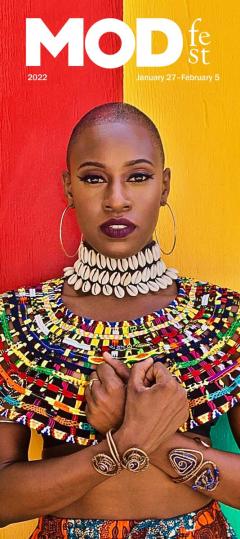 The Vassar College Music Department, in collaboration with the College's Creative Arts Across Disciplines, is thrilled to celebrate the 20th season of MODfest, Vassar College's annual exploration of the arts of the 20th and 21st centuries. Following last year's successful virtual festival, we are excited to present a dynamic collection of both in-person and online events in 2022. This year's theme, "Kaleidoscope," captures our desire to collect, reflect, overlap, and illuminate a rich spectrum of perspectives much in the way a traditional kaleidoscope does: its contents shift, bouncing light off mirrors, blending distinct components into an infinity of patterns that is unique with each viewing.
Program Cover Image: "Negesti" (Moves) 2019 Harlem, NYC by Ruben Natal-San Miguel. Mural backdrop by Geraluz.
All events are free and open to the public. For more information about ticketed events, please email: boxoffice@vassar.edu or call (845) 437-5599.
People with disabilities requiring accommodations should contact the Office of Campus Activities at (845) 437-5370.
MODfest Program Booklet (PDF)
Canceled Events
[CANCELED] MODfest 2022: Instagram Live with WAMC's Sarah LaDuke
Land Acknowledgement
We acknowledge that Vassar stands upon the homelands of the Munsee Lenape, Indigenous peoples who have an enduring connection to this place despite being forcibly displaced by European colonization. Munsee Lenape peoples continue today as the Stockbridge-Munsee Community in Wisconsin, the Delaware Tribe and the Delaware Nation in Oklahoma, and the Munsee- Delaware Nation in Ontario. This acknowledgment, however, is insufficient without our reckoning with the reality that every member of the Vassar community since 1861 has benefited from these Native peoples' displacement, and it is hollow without our efforts to counter the effects of structures that have long enabled—and that still perpetuate—injustice against Indigenous Americans. To that end, we commit to build and sustain relationships with Native communities; to expand opportunities at Vassar for Native students, as well as Native faculty and other employees; and to collaborate with Native nations to know better the Indigenous peoples, past and present, who care for this land.