Vassar Statement of the Board of Trustees: A Commitment to Combat Climate Change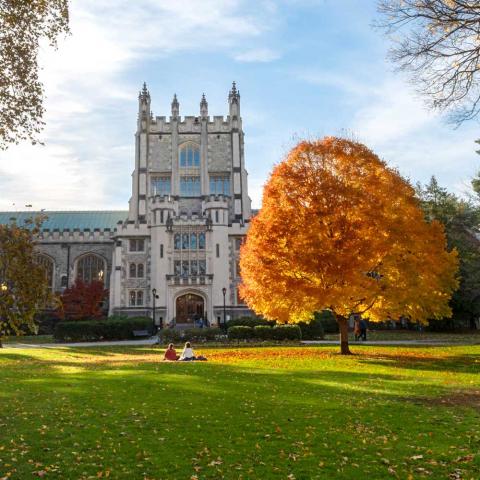 Since our founding, Vassar has always been bold in its action. As an inclusive community, we champion individual freedom while embracing the shared burdens and successes that unite us. The primary responsibility of the Board of Trustees is to ensure the long-term financial health of the College and to sustain its ability to fund a world-class faculty and support a diverse and talented student body. As stewards of the College, we recognize that climate change is an existential crisis and we are committed to combating it in the most effective ways possible. Throughout the years, we have maintained an open dialogue with our community to address this most vital issue, seeking solutions to how we protect the environment in ways that are in line with our values and that recognize the voices of our students, faculty, alums, and employees. To further address this vital issue, we want to make the following announcements:
Today
Investment Strategy:
We have established an investment policy that explicitly includes Environmental, Social and Governance (ESG) considerations. This policy incorporates an evaluation of environmental considerations, sustainability of business models, corporate governance structures and practices, and social issues into the investment review process. The investment firm that manages the endowment with our oversight, continues to put this ESG lens on all potential investment managers. Consistent with our new investment policy, we note that:
We have no direct investments in any company that explores, refines, or develops reserves of fossil fuels and as a long-term investor, we do not plan to make such investments in the future.
We recently declined to re-invest in a small private equity investment in fossil fuel hard assets, an investment that was made years ago that represents less than 2% of our portfolio. This has put our last private equity fossil fuel manager into runoff. We do not plan to make additional investments in private equity strategies that focus on fossil fuel investments in the future.
In addition to our ESG considerations, our investment manager selection will also consider commitments to diversity, equity, and inclusion. 
We have begun to build a portfolio of investments in funds that support the transition to sustainable businesses and a green economy. We see these investments as having the potential for strong longer-term returns as the economy transitions to renewable energy, and we continue to evaluate potential investments in this area.
Progress Toward 2030 Carbon Neutrality:
We believe the most significant way to reduce use of fossil fuels is to eliminate the demand for these energy sources. We are proud to already be more than halfway to our goal of carbon neutrality by 2030.
In our 2016 Climate Action Plan (CAP), Vassar committed to carbon neutrality by 2030. Through our 2020 update to the Climate Action Plan, we are laying the foundation for Vassar to ultimately sequester more carbon than it emits, going beyond carbon-neutral to become climate-positive. Toward this end, the College has already reduced its carbon footprint from a baseline of 30,550 mTons (metric tons) of greenhouse gas in 2005 to 15,000 mTons in 2021.
Vassar's Climate Action Plan touches on all aspects of Vassar's operations, from how the College heats its buildings to how it treats its natural areas. Specific goals for Vassar included in the Climate Action Plan include:
Reducing Vassar's combustion-based heating by over 60,000 MMBtu (million British thermal units)
Converting two of Vassar's central boilers from natural gas as a feedstock to renewable fuel oil (RFO), a biofuel derived from sawdust and tree trimmings from sustainable timber operations
Reducing Vassar's waste sent to the landfill by over 300 tons
Developing Restorative Land Management Guidelines for over 750 acres of the Vassar campus
Much of this work is already underway, including:
Vassar is already implementing its Near-Term Decarbonization Plan, a $13 million investment in steeply decreasing our carbon footprint by 2023.
As of July 1, 2021, all of Vassar's purchased electricity is 100% renewable.
All new building projects will use fully electric heating and cooling systems, with no reliance on fossil fuels or combustion. This includes the Vassar Institute for the Liberal Arts, as well as the planned Admission and Career Education Center.
Tomorrow
We are dedicated to educating people who can think creatively to address real-world problems in new ways.
Almost half (47%) of Vassar's course offerings in the 2019–2020 academic year engaged with at least one of the United Nations Sustainable Development Goals.
A five-year initiative of curricular innovation, faculty development, and community engagement at Vassar College was launched in 2018 with the help of a grant from the Howard Hughes Medical Institute, whose aim is to foster inclusive excellence in STEM through a liberal arts lens.
Vassar's commitment to environmental education includes our multidisciplinary program in Environmental Studies, the Environmental Research Institute, and the Environmental Cooperative, initiatives that explore the relationships between people and their environment through research, public outreach, and programs for the community.
The Jill Troy Werner '71 Endowment for Research and Teaching on Climate Change and Sustainability funds new multidisciplinary courses on issues related to climate change, conferences on climate change; field-based research and senior thesis research projects on climate change.
Vassar students may complete a Sustainability correlate sequence within the Environmental Studies program. In 2019, Vassar created a Climate Change correlate sequence, which is housed jointly in the Earth Science and Society and Environmental Studies.
TOGETHER
The "We Precedes Me" ethos we have embraced during these past months reaches beyond the original goal of pandemic safety. It illustrates our shared purpose. While we consider the world's most critical challenges, we also believe in practical application. We are addressing this most crucial global challenge to ensure that our climate can continue to support future generations without compromising our fundamental fiduciary responsibility to ensure that access to a Vassar education is available to a diverse student body in perpetuity.
Climate change did not happen overnight. It is, however, accelerating at an untenable pace, and it is our responsibility, as global citizens, to make every effort and take every opportunity to effect change. At Vassar College, we will continue to push ourselves, to dig deep, and use our collective creativity to be a part of the solution.