Frances Lehman Loeb Art Center
XL: Large-Scale Paintings from the Permanent Collection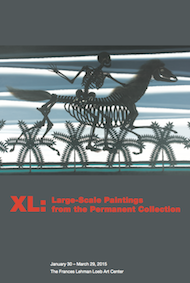 In the mid-twentieth century, New York School painters pushed the boundaries of museum walls to their limits. In 1947, at the height of the Abstract Expressionist era, the Museum of Modern Art mounted an exhibition called Large-Scale Modern Paintings; to qualify for inclusion, paintings had to measure at least six feet in one direction. Today, a similar set of criteria has been applied to the Art Center's permanent collection to arrive at a group of monumental paintings that are at once impressive and daunting. These larger-than-life canvases invite an extraordinary visual experience in which the viewer is immersed in the field of painting. XL: Large-Scale Paintings from the Permanent Collection includes work by Grace Hartigan, Mark Rothko, Larry Poons, Nancy Graves, Christopher Winter, Agnes Martin, Hedda Sterne, and others.
The brochure for this exhibition is eight panels and includes 9 color illustrations. (January 2015). 
Mary-Kay Lombino is the Emily Hargroves Fisher 1957 and Richard B. Fisher Curator and Assistant Director for Strategic Planning at the Frances Lehman Loeb Art Center, Vassar College.
Exhibition: January 30–March 29, 2015
8-panel brochure, 7 1/2" x 11"
Price: Complimentary