Frances Lehman Loeb Art Center
A Taste for the Modern: Gifts from Blanchette Hooker Rockefeller, Edna Bryner Schwab, and Virginia Herrick Deknatel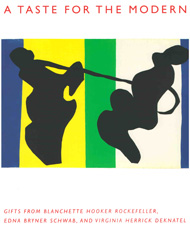 A Taste for the Modern: Gifts from Blanchette Hooker Rockefeller, Edna Bryner Schwab, and Virginia Herrick Deknatel, showcased 48 paintings, drawings, prints, sculptures, and photographs donated to the Art Center by three Vassar alumnae. It examined for the first time their modern art collecting and the development of their personal artistic tastes. The exhibition, curated by Patricia Phagan, the Philip and Lynn Straus Curator of Prints and Drawings, explored how all three of their collecting histories profoundly affected and will continue to influence the visitor's experience of exploring modern and contemporary art at the college. The 50-page, full-color, extensively researched catalogue discusses modern art collecting in America in the first half of the twentieth century and contains individual sections on each collector, reviewing their lives, collecting interests, and key works of art given to Vassar. Contains notes, checklist, and selected bibliography.
Exhibition: June 24–September 4, 2011
50-page soft-bound book with color illustrations
Price: Free
Ordering Information:
Make checks payable to Vassar College.
All orders are sent book rate unless otherwise requested. On orders totaling over $10, please include $3 for postage.
Mail to:
The Frances Lehman Loeb Art Center
124 Raymond Ave
Vassar College
Box 703
Poughkeepsie, NY 12604-00703