Frances Lehman Loeb Art Center
Punctuating Space: The Prints and Multiples of Richard Artschwager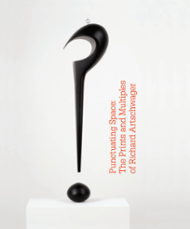 Notably working as both sculptor and painter, Richard Artschwager (1923–2013) was a singular artist whose provocative oeuvre straddles pop, minimalism, and conceptual art. Beginning in the 1960s, Artschwager radically upset conventional norms of visual expression, anonymously inserting his signature blp—small, lozenge-shaped, usually black, objects—into unexpected sites and settings, triggering a new and groundbreaking path in contemporary art. Favoring commercial materials from Formica to Celotex to rubberized hair, he expanded the notion of artistic means to include the commonplace and industrial. Artschwager extended his enigmatic approach to prints and multiples as well, completing a compelling body of over 100 editioned works. Encompassing the hand-drawn and the fabricated, Artschwager's prints and multiples remain a critically acclaimed but underrecognized body of work.
The booklet for this exhibition is 22 pages and includes 8 color illustrations. (June 2015). 
Wendy Weitman, guest curator, was until 2007 Curator in the Department of Prints and Illustrated Books at the Museum of Modern Art, New York, where she had worked since 1980. In addition to organizing a number of important exhibitions, she has also published books and articles on John Baldessari, Jasper Johns, Sol LeWitt, and Kiki Smith, among many others.
Exhibition: June 26–September 6, 2015
22 page softcover book
Price: Complimentary