Frances Lehman Loeb Art Center
The Polaroid Years: Instant Photography and Experimentation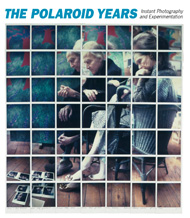 From its inception in 1947, the Polaroid system inspired artists to experiment—to dazzling effect—with the cameras' unique technologies. Edwin Land, the inventor of the first Polaroid instant camera, remarked on his discovery, "Photography will never be the same." And he was right. This fascinating journey through the Polaroid era documents the evolution of instant photography. Hundreds of color images celebrate the myriad ways Polaroid photographs have been used and ingeniously manipulated by Walker Evans, David Hockney, Barbara Kasten, Robert Mapplethorpe, Lucas Samaras, and others. The book features essays by Mary-Kay Lombino and Peter Buse that address the unique technology of instant photography and the marketing genius of the Polaroid Corporation. Artist statements from Ellen Carey, Chuck Close, Philip-Lorca diCorcia, Bryan Graf, Miranda Lichtenstein, David Levinthal, Joyce Neimanas, Lisa Oppenheim, Catherine Opie, John Reuter, William Wegman, and James Welling reveal how Polaroids affected and, in many instances, forever changed the way they captured the world around them.
This hardcover book is 224 pages and includes 230 illustrations and is co-published by DelMonico Books and Prestel (April, 2013).
Mary-Kay Lombino is the Emily Hargroves Fisher '57 and Richard B. Fisher Curator at the Frances Lehman Loeb Art Center, Vassar College, Poughkeepsie, New York. She has curated exhibitions including Off the Shelf: New Forms in Contemporary Artists' Books and Utopian Mirage: Social Metaphors in Contemporary Photography.
Peter Buse is a cultural theorist and Senior Lecturer at the University of Salford's School of English, Sociology, Politics, and Contemporary History.
Exhibition: April 12–June 30, 2013
224 color page hard-bound book
Price: $40.00
Ordering Information:
Make checks payable to Vassar College.
All orders are sent book rate unless otherwise requested. On orders totaling over $10, please include $3 for postage.
Mail to:
The Frances Lehman Loeb Art Center
124 Raymond Ave
Vassar College
Box 703
Poughkeepsie, NY 12604-00703