Frances Lehman Loeb Art Center
A Pioneering Collection: Master Drawings from the Crocker Art Museum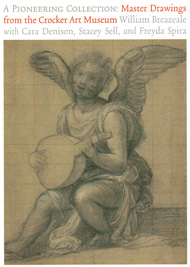 A Pioneering Collection: Master Drawings from the Crocker Art Museum included 57 rarely seen works by artists such as Albrecht Dürer, Fra Bartolommeo, Anthony van Dyck, François Boucher, and Jean-Auguste-Dominique Ingres. The exhibition was divided thematically into four sections of drawings from Italy, the Low Countries, France, and Central Europe. 
The drawings in this catalogue date from the late 15th- to the mid-19th centuries and were purchased between 1869-71 by forward-thinking railroad magnate E. B. Crocker, forming the basis of the Crocker Museum's master drawings collection. In total, the Crockers purchased 1344 master drawings and 700 paintings during their time in Europe and these formed the basis of their private art gallery, which opened in 1872. Following the death of Edwin Crocker, his wife Margaret transferred the gallery to the California Museum Association, now the Crocker Art Museum. Their old master drawing collection was one of the first to be opened to the public in 1885.
The catalogue was written by lead author and Crocker Art Museum curator Wiliam Breazeale; Cara Dufour Denison, curator at the Morgan Library and Museum; Stacey Sell, associate curator of Old Master drawings at the National Gallery of Art, and Freyda Spira, research associate at the Metropolitan Museum of Art.
Exhibition: September 16–December 11, 2011
Published in 2010 by Paul Holberton Publishing with the Crocker Art Museum
172-page soft-bound book with illustrations
Price: $35
Ordering Information:
Make checks payable to Vassar College.
All orders are sent book rate unless otherwise requested. On orders totaling over $10, please include $3 for postage.
Mail to:
The Frances Lehman Loeb Art Center
124 Raymond Ave
Vassar College
Box 703
Poughkeepsie, NY 12604-00703