Frances Lehman Loeb Art Center
Mastering Light: From the Natural to the Artificial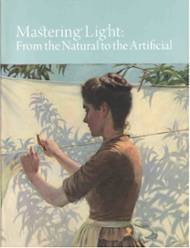 Lighted candles, electric lamps, a full moon, starlight, and the brilliant rays of the sun attract the eye at once. Artists have used these attention-getters for centuries as arresting pictorial devices and potent metaphors. While they turn the eyes of viewers, these images have also left us with deeper understandings of the aesthetic, social, and technological histories of lighting. Organized by the Frances Lehman Loeb Art Center, this exhibition explores responses to light by European and American artists from the sixteenth through the early twentieth centuries. With a selection of forty-nine works, including paintings, watercolors, drawings, prints, and photographs, it belongs to a recent body of museum exhibitions and literature on artistic reactions to artificial light and nocturnal scenes. The exhibition features works selected from the permanent collection along with additional loans.
This softcover book is 32 pages and includes 11 color illustrations (April 2014).
Patricia Phagan is the Philip and Lynn Straus Curator of Prints and Drawings at the Frances Lehman Loeb Art Center, Vassar College. She has curated numerous exhibitions including Thomas Rowlandson: Pleasures and Pursuits in Georgian England and Made in Woodstock: Printmaking from 1903 to 1945.
Exhibition: April 11–June 29, 2014
32 page softcover book
Price: Complimentary
Ordering Information:
Make checks payable to Vassar College.
All orders are sent book rate unless otherwise requested. On orders totaling over $10, please include $3 for postage.
Mail to:
The Frances Lehman Loeb Art Center
124 Raymond Ave
Vassar College
Box 703
Poughkeepsie, NY 12604-00703