Frances Lehman Loeb Art Center
In the Light of Naples: The Art of Francesco de Mura
About the publication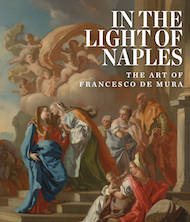 Francesco de Mura (1696–1782), one of the greatest painters of the Golden Age of Naples, at last gains the attention he deserves in this first-ever scholarly publication. De Mura's refined and elegant compositions, with their exquisite light and color, heralded the Rococo in Naples, while his later classicistic style led to the simplicity and sculptural quality of Neoclassicism. In the Light of Naples: The Art of Francesco de Mura reveals the power of his work through more than 200 colour illustrations, including details from his great frescoes, as well as images of many of his key paintings—published here for the first time.
The indisputable leader in his day of the Neapolitan School and the favorite of the reigning Bourbon King Charles VII (1735-59), Francesco de Mura was the chief painter of decorative cycles to emerge from the studio of Francesco Solimena (1657–1747), the great Baroque artist. Outstanding works in Naples include the enormous oil painting of The Adoration of the Magi (ca.1728) for the church of Santa Maria Donnaromita, and the stunning frescoes of The Adoration of the Magi (1732) in the apsidal dome of the church of the Nunziatella and, on the ceiling of the nave of the same church, The Assumption of the Virgin (1751). Nearly a third of De Mura's works were destroyed in the American and British bombing of Naples during World War II, including, most tragically, his series of frescoes at the abbey of Monte Cassino.
The catalogue accompanies the exhibition of the same name, which was presented at The Cornell Fine Arts Museum at Rollins College in Winter Park, Florida, September 17–December 18, 2016; the Chazen Museum of Art at the University of Wisconsin-Madison, January 20-April 2, 2017; and the Frances Lehman Loeb Art Center at Vassar College in Poughkeepsie, NY, April 21-July 2, 2017. Catalogue edited by Arthur R. Bumenthal with essays by Nicola Spinosa, David Nolta, Loredana Gazzara, and Maria Grazia Leonetti Rodinò.
Exhibition: April 21–July 2, 2017
208 page book, 9 1/2 x 11 in
Illustrations — 110 color
Published by The Cornell Fine Arts Museum, Rollins College, Winter Park, Florida in association with D Giles Limited, London
ISBN 9780979228018 (softcover), ISBN 9781907804854 (hardcover)
Price: $25 (softcover), $35 (hardcover)