Frances Lehman Loeb Art Center
Fluid Ecologies: Hispanic Caribbean Art from the Permanent Collection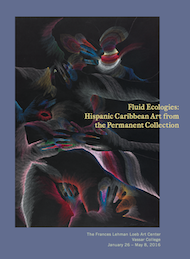 Fluid Ecologies is an exhibition of thirteen works on paper by seven of the most celebrated Hispanic Caribbean artists of the last five decades. The artists represented echo in their work the fluid ecologies—momentous European encounters, the slave trade and the sugar plantation, a costly reliance on tourism, the slow violence of environmental mismanagement, ever-repeating cycles of diasporan departures and returns—that constitute the salient markers of the region's history. These artists, including Wifredo Lam, José Bedia, and Marisol, among others, have sought to disavow the reduction of the tropical landscape to a tourist's paradise and offer instead intense renderings created at this crossroads of the world, emerging from a history of fluid navigations of a multifarious space. 
The booklet for this exhibition is 12 pages and includes 10 color illustrations. (January 2016). 
Lizabeth Paravisini-Gebert is Professor of Hispanic Studies on the Sarah Tod Fitz Randolph Distinguished Professor Chair at Vassar College.
Exhibition: January 26–May 8, 2016
12 page softcover book
Price: Complimentary