Frances Lehman Loeb Art Center
150 Years Later: New Photography by Tina Barney, Tim Davis, and Katherine Newbegin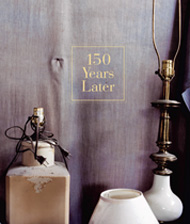 This catalogue presents stunning color images of every photograph in the 2011 exhibition, 150 Years Later: New Photography by Tina Barney, Tim Davis, and Katherine Newbegin. As part of a campus-wide celebration of Vassar's sesquicentennial anniversary, the Frances Lehman Loeb Art Center commissioned three photographers, Tina Barney, Tim Davis, and Katherine Newbegin, to create new work. The resulting photographs focus on the people, environment, and culture of Vassar today in entirely new ways. These new works created for this exhibition uncover a side of Vassar that is not often seen by the average visitor to campus. Foregoing the typical view of architectural and natural beauty for which the College is known, Barney, Davis, and Newbegin instead focus on the idiosyncratic, the ironic, and the hidden aspects of campus life that lie beneath the surface, piecing together a portrait of Vassar that reveals as much about the artist's interests as does their subject.
The catalogue includes an essay by Mary-Kay Lombino, The Emily Hargroves Fisher '57 and Richard B. Fisher Curator and Assistant Director of Strategic Planning.
Exhibition: January 28–March 28, 2011
64 page hardcover book
Price: $15.00
Ordering Information:
Make checks payable to Vassar College.
All orders are sent book rate unless otherwise requested. On orders totaling over $10, please include $3 for postage.
Mail to:
The Frances Lehman Loeb Art Center
124 Raymond Ave
Vassar College
Box 703
Poughkeepsie, NY 12604-00703