The Frances Lehman Loeb Art Center
In the Spotlight: Redefining Feminism at the Women's Studio Workshop
When: August 20 through December 22
Spotlight Gallery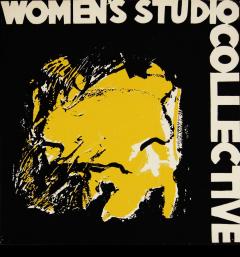 Founded in 1974 by Barbara Leoff Burge, Ann Kalmbach, Tatana Kellner, and Anita Wetzel, Women's Studio Workshop (WSW) is a collaborative studio workspace focused on women's art. Located in Rosendale, NY, WSW has remained integral to the Hudson Valley community for almost 50 years, hosting annual events like the Chili Bowl Fest as well as Summer Art Institute programming. In addition to their extensive community engagement, WSW has also built a collection of over 230 artists books since 1979. This Spotlight exhibition is also an extension of Vassar's own relationship with the Women's Studio Workshop. Vassar Archives and Special Collections is a repository for all the artist's books produced by WSW, meaning that any guest of the Thompson Memorial Library, through an appointment with Archives and Special Collections, can view any of the artist's books.
The collection of artist's books produced through WSW quietly engages intersectional feminism, a phrase that acknowledges the self as multitudinal and that all aspects of social identity overlap and transform one another. While a majority of the books are designed by woman-identifying artists, they are not solely representations of the artists' womanhood. Rather, their womanhood exists alongside all other facets of their identity, all of which are engaged in their book. Looking toward the future, the team at WSW seeks to further engage intersectional feminism, coming to a new understanding of what a "women's" studio workshop means.
— Carissa Kolcun, class of '25, Ford Scholar / Pindyck Summer Fellow
Support for In the Spotlight is provided by Mary Ellen Weisl Rudolph '61, P '98 and James N. Rudolph P '98.