The Frances Lehman Loeb Art Center
Time Capsule, 1970: Rauschenberg's Currents
When: June 26–September 19, 2021
About the Show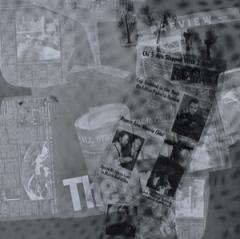 In 1970 avant-garde artist Robert Rauschenberg superimposed stories, headlines, advertisements, and images clipped from newspapers and tabloids to produce Surface Series from Currents: eighteen large-scale screenprints that reflected the strident social and political change of the period. The series is both a technical feat of modernist printmaking and a chance to peer inside Rauschenberg's time capsule and witness the cacophony of violence, warfare, and political backlash that defined world events of the time.
In addition to the Surface Series screenprints, the exhibition will feature two original collages on loan from the Rauschenberg Foundation as well as sixteen related works from The Loeb's collection by artists such as Kurt Schwitters, Lee Friedlander, Walker Evans, Ray Johnson, James Rosenquist, and Andy Warhol.
The exhibition is supported by the Milton R. Bellin Estate Fund.