The Frances Lehman Loeb Art Center
Off the Market: Gift Economies and Art at the Loeb
When: October 1, 2022 through January 19, 2023
Focus Gallery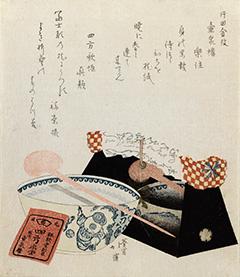 The exhibition Off the Market: Gift Economies and Art at the Loeb explores gift exchanges and gifts of art from the point of view of an economist. Comprising approximately twenty objects from the Loeb's collection, ranging in date from antiquity to the present day and originating in Asia, North America, and Europe, the show highlights some of the economic principles at play when art is given as a gift.
As viewers learn more about these objects, they are asked to consider questions that surround art given by artists, patrons, and others to individuals and institutions. Some of these questions include: Why not just give money? What are some of the reasons (financial, social, or personal) for giving gifts of art? What are the benefits, and possible challenges, of receiving such a gift? Perhaps most significantly, this exhibition considers not only what gifts of art can mean in economic terms, but also the trust underlying the exchanges.
This exhibition is organized by the Loeb and Benjamin Ho, professor of economics and author of Why Trust Matters: An Economist's Guide to the Ties that Bind Us (New York: Columbia University Press, 2021). It is sponsored by the Andrew W. Mellon Foundation and the Economics Department.