The Frances Lehman Loeb Art Center
Body Matters
May 20–September 10, 2023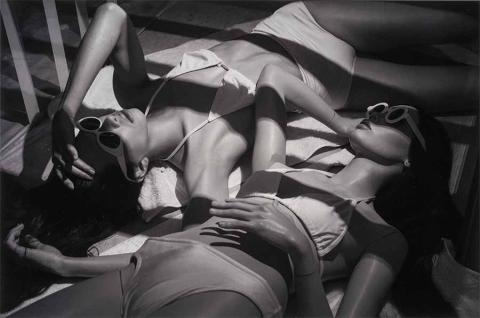 Between January and May of this year, the Loeb featured the exhibition What Now? (Or Not Yet), a critical reflection on the ways in which museum collections evolve and move us to see the past, experience the present, or shape the future. To underscore the theme of evolution, the curators of What Now? (Or Not Yet) invited a group of six Vassar students and a recent graduate to re-curate their exhibition. The new curators (speaking now as a collective and often self-contradicting "we") were tasked with reimagining our predecessors' layout and design, highlighting different thematic groupings and interpretations while selecting from roughly the same list of artworks. As we reshaped the exhibition's frameworks, we chose to ask a more visceral, yet equally enigmatic, question: How do bodies move through art, space, and time?
Throughout Body Matters, we introduce you to the bodies that matter to us. Our definition of "body" is broad. It refers to a variety of moving, lively assemblages: those with heads and belly buttons to be sure, but also book collections and artworks, migration patterns, and even museums. We imagine a world composed of bodies rather than objects. And all of these bodies, regardless of their intention and orientation, exist in relation to other bodies. A body is one person and a body is a group of people. We explore how bodies overlap and tell stories together, especially stories that have generally been marginalized in institutions like the Loeb.
The exhibition features works from artists Andrea Carlson, Inez Nathaniel Walker, Nicholas Galanin, Félix González-Torres, Andrea Geyer, Jeffery Gibson, Jenny Holzer, Sky Hopinka, Alfredo Jaar, Arnold J. Kemp, Marisol, Kerry James Marshall, Wangechi Mutu, Dorothea Tanning, Aaron Draper Shattuck, Nari Ward, Audra Wolowiec, and Young-Hae Chang Heavy Industries.
Organized by Betsy Subiros '25, Carissa Kolcun '25, Danielle Ncube '24, Ezra Venditti '24, Gavriel Epstein '23, Taara Ram Mohan '23, and Ian Shelley '22. Body Matters is generously supported by the Friends of the Frances Lehman Loeb Art Center Fund.