Is Vassar an 'Olmsted Campus'? Ford Scholar, Prof Delving for Answers
Straight from the Source
Frederick Law Olmsted, widely considered the patriarch of American landscape architecture and a co-designer of New York's Central Park, also designed portions of hundreds of American college campuses. Olmsted and his partner Calvert Vaux came to consult on the Vassar campus in 1868, but is Vassar truly an "Olmsted campus"? That's a question Associate Professor of Art Yvonne Elet is currently exploring as she prepares to take part in a nationwide observance of the bicentennial of Olmsted's birth next spring, which will celebrate the accomplishments and legacy of the Olmsted firm; and she's getting plenty of assistance on her project from Ford Scholar Caleb Mitchell '22.
Mitchell, an art history major from Cambridge, MA, spent eight weeks this summer combing through correspondence between college officials and the Olmsted firm in Vassar's Archives and Special Collections Library, and he has collected copies of Olmsted firm drawings and documents housed in the Library of Congress and the Frederick Law Olmsted National Historic Site in Brookline, MA. He is principally focused on the landscaped designs made by Percival Gallagher, who was a partner in the Olmsted firm, and Consulting Landscape Architect to Vassar from 1929–33.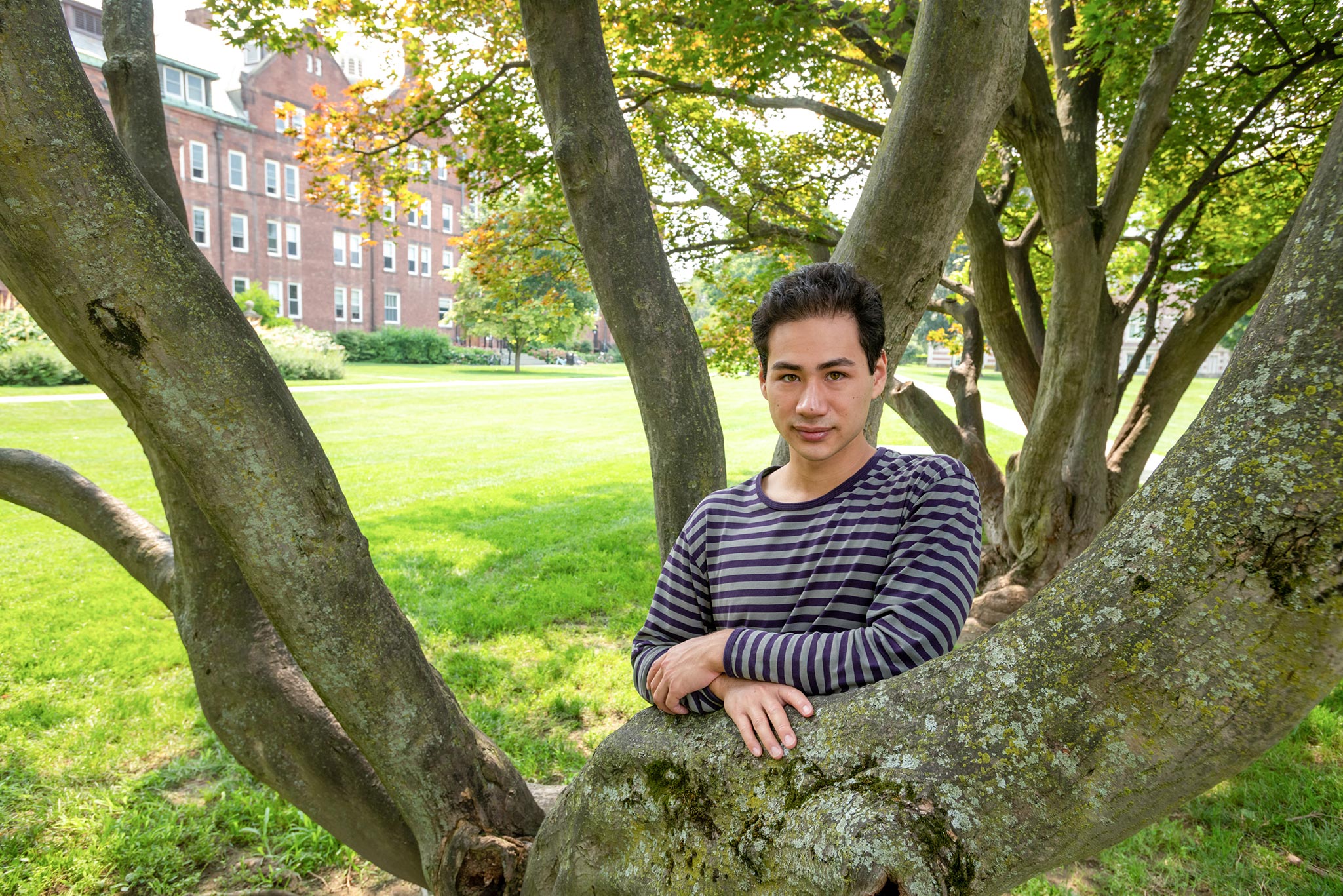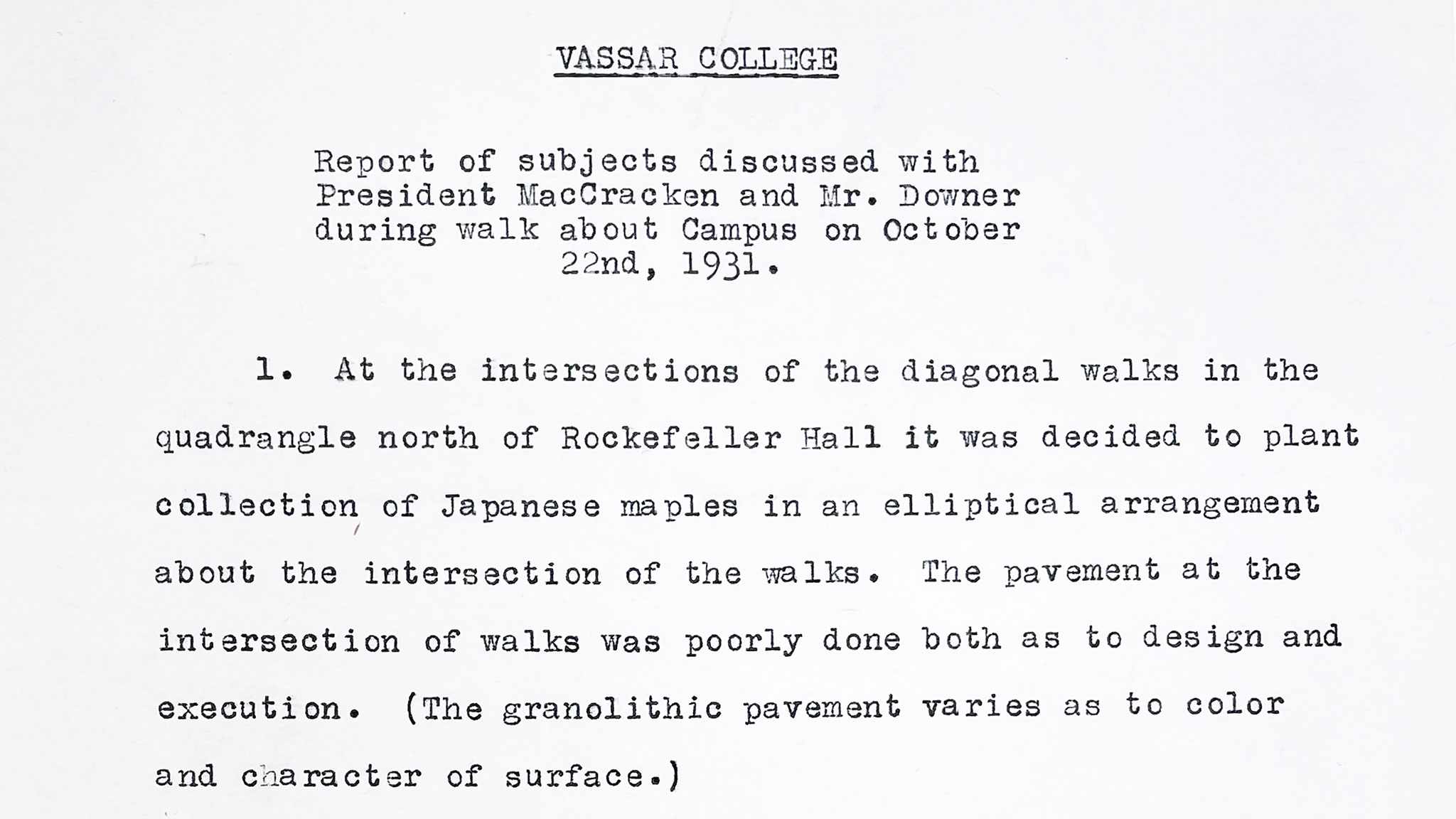 Mitchell said working with Elet on a project of this magnitude has been both challenging and gratifying. "This is the first time I've ever been able to concentrate on a single research topic for an extended period of time," he said. "It has been a wonderful experience to be entirely immersed in the connections between the Olmsted firm and Vassar."
Elet said she was pleased to be working with a student with talents and skills in research, design, and the visualization of information, which Caleb has honed in coursework about landscape and campus history and architectural design. "I'm thrilled for Caleb to be experiencing this kind of sustained-focus research that can't be accomplished in a course," she said. "The research questions we could pose were not entirely apparent until we collected, sorted, and worked our way through all the documents and plans. And that is an iterative process."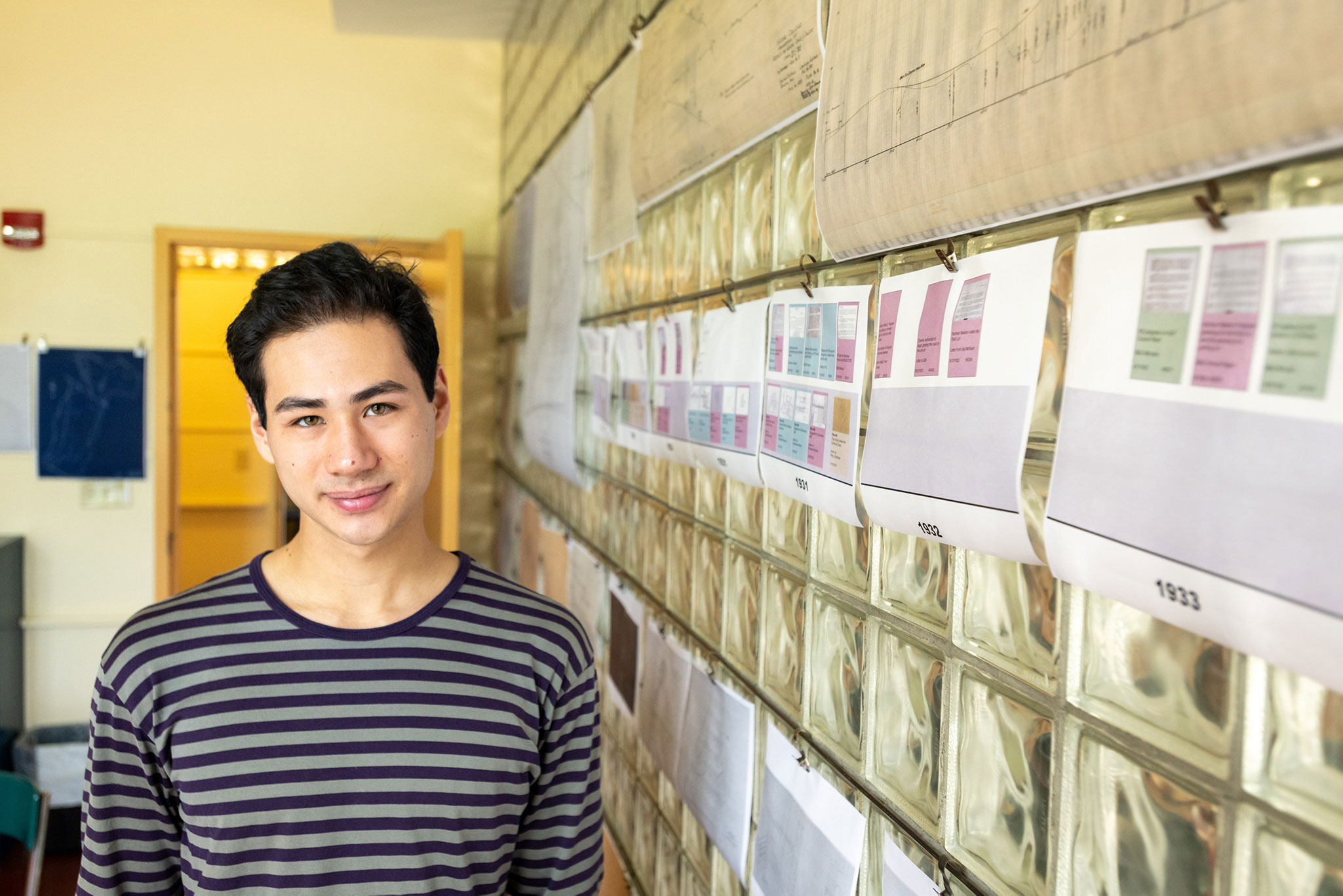 Elet said she and Mitchell decided to parse the work in two chunks: She would undertake the research about the earlier involvement of Olmsted and his partners, and Mitchell would concentrate on Percival Gallagher's involvement c. 1930. The outcome of the research by Elet and Mitchell, as well by some of Elet's other students, will be a scholarly article, an exhibition next spring in the Vassar Art Library, and an exhibition brochure revealing the Olmsted firm's contributions to the campus. All of the material will be available on the Vassar Campus History website .
Elet said the project exemplifies Vassar's emphasis on the integration of faculty research, student research, and work in the classroom. "In fact," she said, "one impetus for undertaking the website was to support this type of iterative, collaborative research that cannot all be completed in one paper, or course. Also, Caleb will participate in leading a session of my campus course this fall. So, I conceived the Ford project in part to give experience with the development and presentation of research at many stages."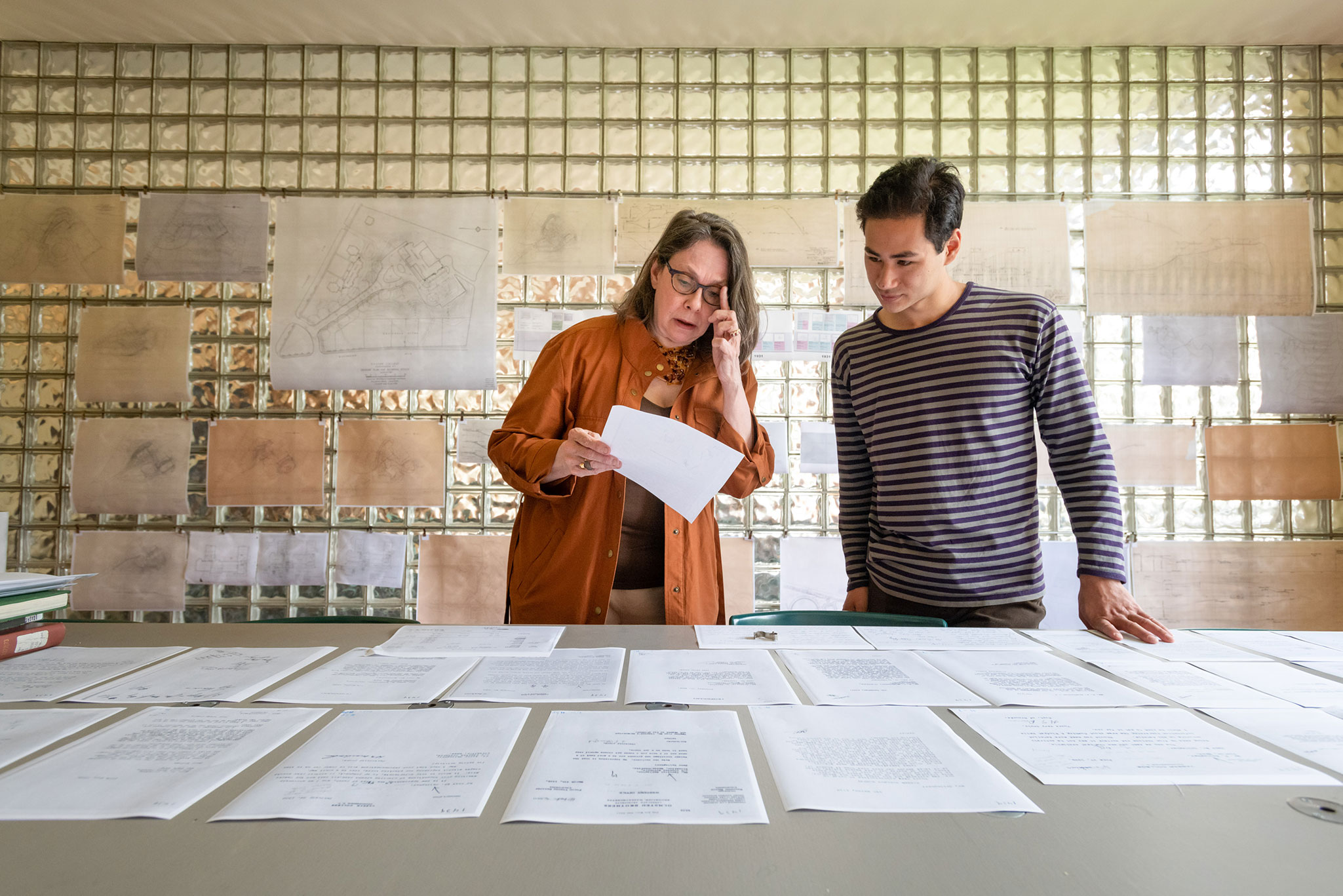 Mitchell said his involvement in the project had engendered a deeper appreciation of Vassar's campus. "As I walk through it every day, I've become more thoughtful about how plans for the campus and its landscape were developed over time," he said. "Planning and stewardship are important. The archive reveals not only how the campus came to be, but also brings to light many compelling visions of a Vassar that might have been-or may yet be realized."
About the Ford Scholars Program
The Ford Scholars Program supports Vassar faculty and student collaboration in 18 to 20 research projects every summer in the humanities and social sciences. Established in 1988 with a grant from the Ford Foundation, the program encourages students to explore life in the professoriate through an intensive academic experience with a Ford Faculty mentor. Students earn a stipend to support their participation in the program. Students who are members of groups historically underrepresented or underserved are particularly encouraged to apply.
Open to rising sophomores, juniors, and seniors, faculty-proposed projects are between four to eight weeks in length and represent a diverse array of research areas. A typical project supports one faculty member and one or two students to engage in rigorous scholarship, teaching preparation, or course development. Students present their work at a public symposium with the potential for continued engagement throughout the academic year.
---
Straight from the Source is an ongoing editorial series that offers a peek into Vassar's diverse open curriculum and programs, which help shape and develop the critical thinkers, doers, and leaders of the future.