Student Becomes Art Curator as a Ford Scholar
Carissa Kolcun '25 has had a keen interest in women's art since they were in high school, and they'd learned from a friend about the Women's Studio Workshop (WSW), one of the most renowned studios for women, trans, intersex, and nonbinary artists in the country. The workshop maintains facilities for etching, letterpress, papermaking, book arts, silkscreen, 3D work, ceramics, and photography in a historic building in the Hudson Valley, not far from the Vassar campus.
Shortly after they enrolled at Vassar, Kolcun learned that the College's Special Collections Library is a repository for artists' books created at the Women's Studio Workshop. And this summer, under the auspices of Vassar's Ford Scholars Program, Kolcun delved into the works of art housed at Vassar and toured the workshop twice, meeting with two of its founders.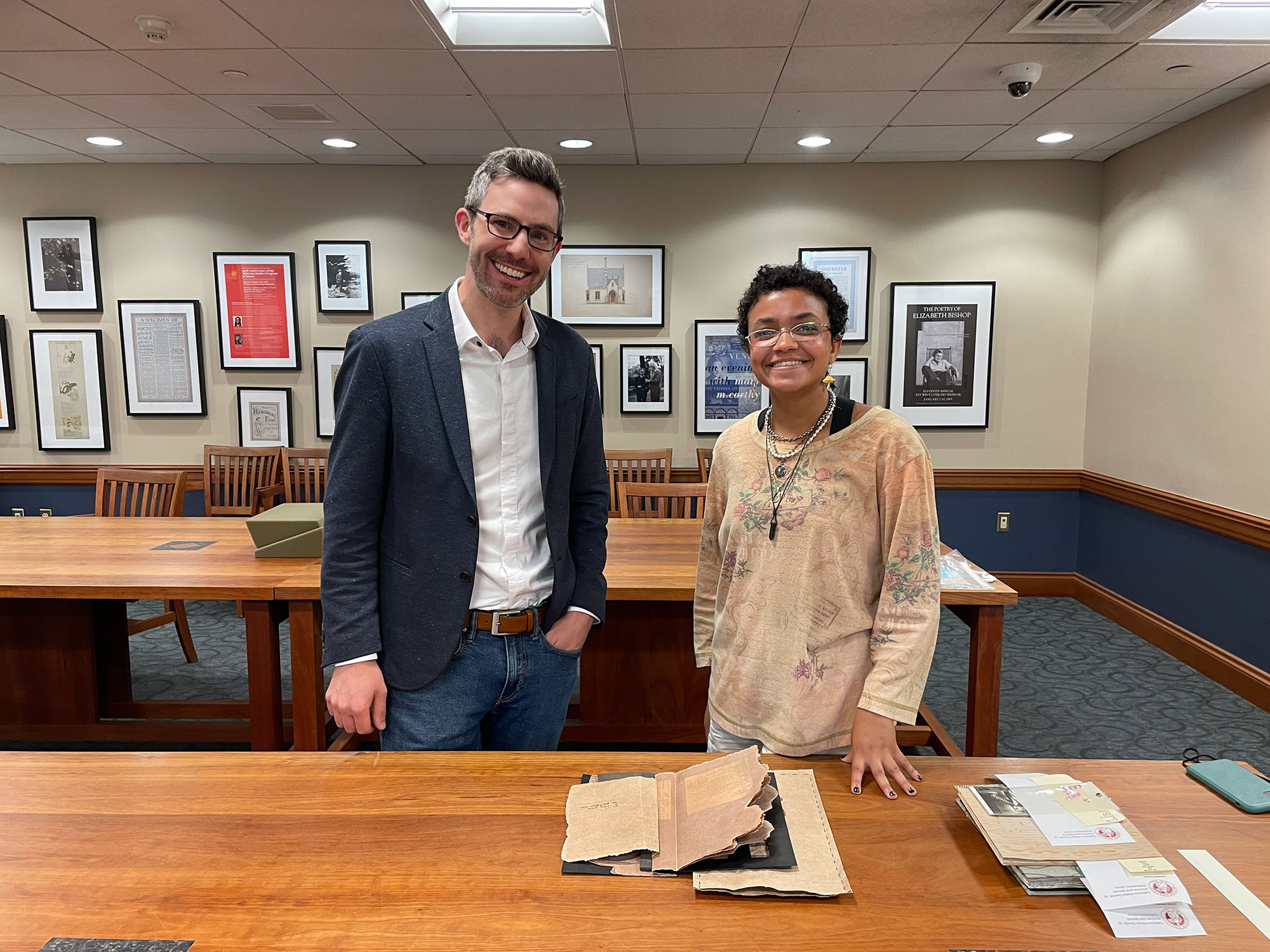 Starting September 2, the results of Kolcun's summer research will be on display in the Loeb's Spotlight Gallery in an exhibition of several works created by artists at the Women's Studio Workshop. The most recent, titled 11033 and created earlier this year by IBe' Bulinda Crawley, illustrates the life of Mary Morst, who gave birth to twins while she was incarcerated in a Virginia prison in 1913. Another, Scenes Around Rosendale, was created by two of the workshop's founders, Ann Kalmbach and Tatana Kellner.
Kolcun, who was aided in their research by John Murphy, the Loeb's curator of prints and drawings, said they had no specific plans to curate an exhibit when the Ford Scholar project began. "I was writing the labels for the show, and I had this crazy moment when it hit me, 'Hey I'm a curator,'" they said. "The work I did this summer definitely enabled me to read and condense information more quickly, and it's something I can apply to whatever I study next."
Murphy said he enjoyed watching the project evolve. "It was exciting to observe Carissa's energy and enthusiasm," he said. "We barely had a premise for the project when the summer started, and the concept was all Carissa's. They had 50 years of material to look through and then had to make decisions with the people at the workshop."
Kolcun said they consulted with the workshop's current director, Erin Zona, on which works should be displayed in the exhibit. "We wanted the show to reflect the history of the place, the boundaries that it pushed and the future of the movement there," they said.
Zona said she was impressed with Kolcun's vision for the show. "Our goal was to show the breadth of our collections and to share a few of the highlights," she said. "It was exciting to show our art objects and books to a student who was working in such a professional manner. I would never have thought this was Carissa's first time curating an exhibit."
Murphy said the exhibit, which will run until December 22, not only provided a platform for Kolcun to display their skills as a curator. It also fulfilled one of the Loeb's key missions. "Carissa built a bridge to an important community resource," he said, "and that's high on the Loeb's priority list."
About the Ford Scholars Program
The Ford Scholars Program at Vassar College supports faculty and student collaboration in summer research projects in the humanities and social sciences. This year, the Frances Lehman Loeb Art Center sponsored two Ford Scholar projects, including Carissa Kolcun's. Funding was provided by the Bruce Eben and Maryellen Pindyck Fund.
Established in 1988 with a grant from the Ford Foundation, the program encourages students to explore life in the professoriate through an intensive academic experience with a Ford Faculty mentor. Open to rising sophomores, juniors, and seniors, faculty-proposed projects are between four to eight weeks in length and represent a diverse array of research areas. A typical project supports one faculty member and one student to engage in rigorous scholarship, teaching preparation, or course development.