Sophomore Career Connections 2022
81 Alum and Parent Mentors Provide a Leg Up to Students Exploring Careers
It's okay if you haven't figured out your career path yet, but it's time to start gathering information and making some connections so you have plans in place before you graduate. That was the message Jack Fuld '24 took away from the conversations he had with Vassar alums January 29 during Sophomore Career Connections, an annual event hosted by the Career Development Office and the Office of Advancement.
Fuld, who plans to be a primary or secondary school teacher, was one of 255 Vassar students who listened to advice on jump-starting their career plans from 81 mentors during the daylong, online event. "When I attended the event last year, I didn't really have any concrete plans, and I didn't follow up with the alumni I met," Fuld said. "This year I intend to reach out to a couple of the mentors who encouraged me to stay connected."
Stacy Bingham, Dean of the College for Career Development, said the annual event, now in its eighth year, has proven to be effective in enabling Vassar students to get started on their career plans. Parents of current and former students, as well as alums, serve as mentors who provide information on their own career paths and offer advice to students on how to find internships and make other connections. "The Vassar network is brimming with goodwill," Bingham said. "The parents and alumni who sign up for the event are eager to lend a helping hand to every student who attends, and the diversity of the mentors' backgrounds ensures that students are able to learn about an array of career fields."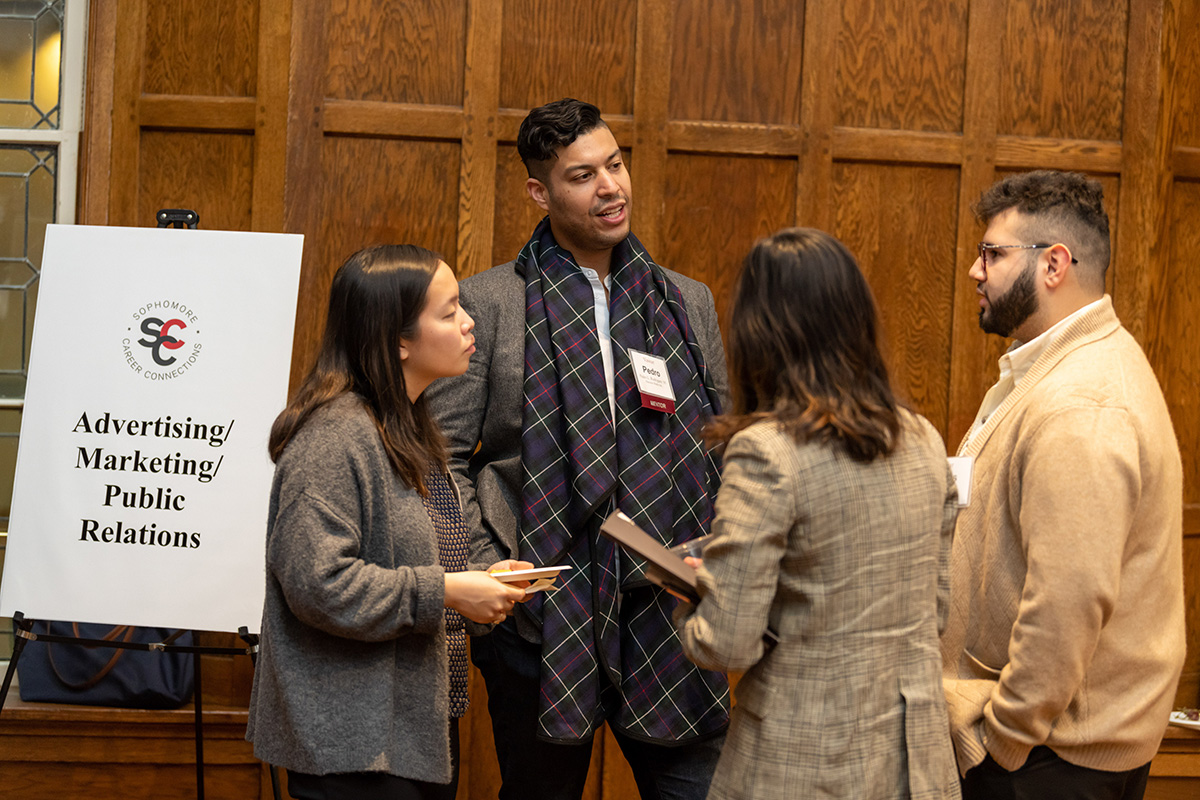 Sophomore Career Connections didn't exist when Jeanine Liburd '92, Chief Social Impact and Communications Officer for BET Networks, was a student. But Liburd said she was happy to participate this year because she had benefited from advice from two alumnae when she was launching her own career. "Paula Madison '74 (an NBC News executive) was an early mentor, and I worked for Geraldine Laybourne '69 (former President of Disney-ABC Cable Networks and co-founder of Oxygen Network) when I was further along in my career," she said. "It's so important to make those connections."
Liburd said she told the students she spoke to at the event to keep in mind that while they may change career paths, many of the skills they acquire in their first job will be transferable to the next one. And it really doesn't matter what your major is at Vassar as long as it's something you're passionate about. "Pick a major that you really want to dig into," Liburd said. "Learning how to learn is most important."
Mentor Mary-Margaret McElduff '17, a forensic scientist at the City of Philadelphia's Firearms Identification Unit, told the students that while she wasn't using the specific knowledge she had gained at Vassar as a chemistry major, the critical-thinking skills she acquired at a top liberal arts college have enabled her to meet the daily challenges she faces on the job. "My knowledge about how science works, how problems are solved, is something I benefit from every day," McElduff said. "I think my degree from Vassar sets me apart in many ways, especially communication skills, which are key in almost any job."
Physician Anthony Shih, parent of a current Vassar student and President of the United Hospital Fund, a health-care advocacy group, said he stressed to the students he spoke to that there are many paths other than medical school for those interested in the field. "I was an economics major in college, and I pointed out that an economics background opens many paths to careers in health care," Shih said. "The economic shock of the COVID-19 pandemic has made us all realize how fragile the system is."
Shih said he was impressed by the students' attentiveness and by the questions they raised. "I met more than a dozen students during my networking session, and they were thoughtful and inquisitive," he said, adding he planned to serve as a mentor at future career-development events. "I do a lot of mentoring in my job," Shih said, "and it's a way to give back to Vassar on behalf of my son, who is delighted with his Vassar experience."
Jannette Swanson, Associate Director of Alumnae/i Outreach for the Career Development Office, said she is grateful to those who volunteer as mentors every year, including some who took part in Sophomore Career Connections when they were students. "Hearing our alumni speak about how meaningful this program was for them as students and how it would be an honor to return the favor to current students is a full-circle moment that really makes this work rewarding," Swanson said.