The Loeb Art Center Welcomes a Spelman College Exhibition Featuring Works by African American Artists
A collection of works by African American artists from the Spelman College Museum of Fine Art kicked off a national tour on September 30 with an opening at the Frances Lehman Loeb Art Center on the Vassar College campus. The exhibition, titled Silver Linings, highlights the works of masters, pioneers, and trailblazers who anchor the Spelman collection. The nearly 40 works represent a variety of media and techniques including painting, drawing, sculpture, mixed-media collage, prints, and photographs.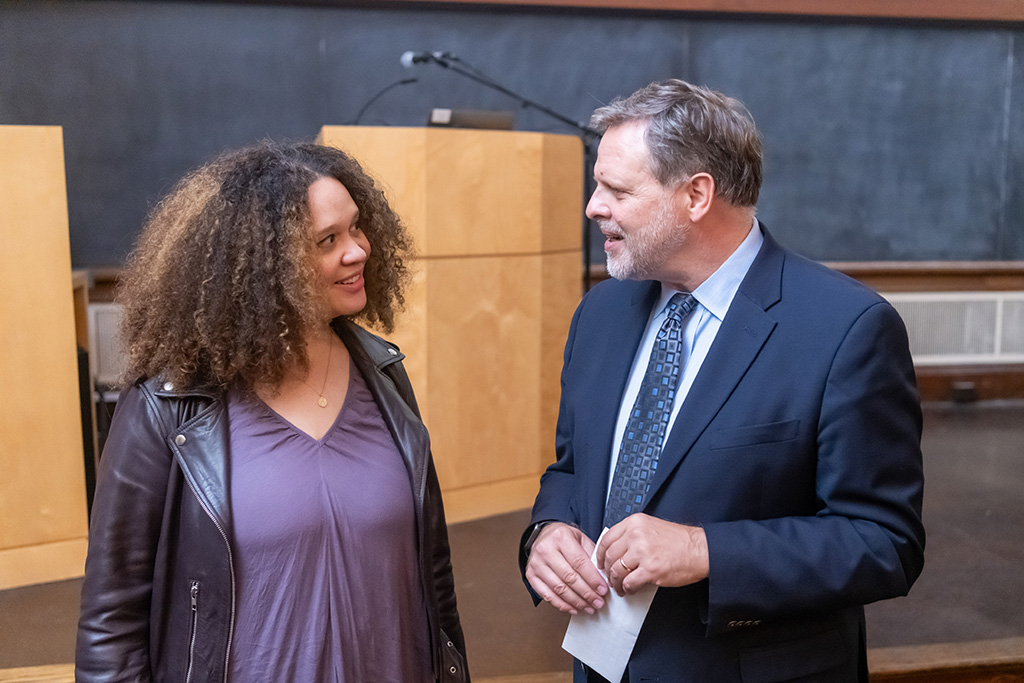 "Spelman's art collection has long been regarded as a hidden gem and we have lent individual works of art for many years," said Dr. Liz Andrews, Executive Director of the Spelman College Museum of Fine Art, who attended the opening at the Loeb. "We are excited to share a selection of works by artists who shape our collection with audiences around the United States for the first time. Our hope is that this tour will raise awareness of the work we are doing in Atlanta to uplift Black women artists."
Mary-Kay Lombino, the Loeb's Deputy Director and the Emily Hargroves Fisher '57 and Richard B. Fisher Curator, said hosting the exhibition was part of the celebration of the museum's 30th anniversary and the College's 160th anniversary of its art collection. "Our anniversary year has been a time to look back at our accomplishments and also to look to other collections at small liberal arts colleges around the country for inspiration on what the future might look like for the Loeb," Lombino said. "The Spelman collection is inspiring to us for their commitment to Black artists, in particular women. It aligns with our goal to continue to collect in that area and gives us an opportunity to share with our audiences, artists' work that we do not yet own but hope to acquire someday soon."
In her welcoming remarks, President Elizabeth H. Bradley noted the common legacies Vassar and Spelman share as institutions that were founded as educational institutions for women in the 19th century, "and we couldn't be more thrilled to welcome Spelman and to share this celebration of African American art."
As he opened a panel discussion featuring three members of Spelman's art community, Loeb Director T. Barton Thurber recalled his excitement upon viewing the Silver Linings exhibit on the Spelman campus in Atlanta, GA in March of 2022. "I was taken by the works, with how compelling they were," Thurber said. A short time later, he arranged for Lombino to visit the museum and to map plans for bringing the show to Vassar.
During a panel discussion following the opening, Cheryl Finley, Director of the Atlanta University Center for Art History and Curatorial Studies and Visiting Professor of Art at Spelman, traced the history of Spelman's art community and its acquisitions of important works by African American artists. Karen Comer Lowe, Curator in Residence at the Spelman College of Museum of Fine Art, described some of the key pieces of art in the Silver Linings exhibition, including one by renowned sculptor Elizabeth Catlett. Lowe said Spelman was noted for featuring the works of artists "just before their careers blew up."
"The joy of curating for me," she concluded, "is collecting the historical and contemporary works and putting them into a conversation."
In an interview prior to the event, Spelman Professor of Art and Chair of the Art Department Myra Greene, one of the artists featured in the exhibition, said she was honored to be included among Silver Linings' distinguished artists, sculptors, and photographers. Greene's work, part of a series of photographs titled Character Recognition, 2004-2007, was created using an early form of photography that was developed in the 19th century near the time of Spelman College's founding. "As an artist, this is exciting," Greene said, "because there are so many amazing artists and so many historic references in this show. It's really wonderful for Spelman to recognize my work."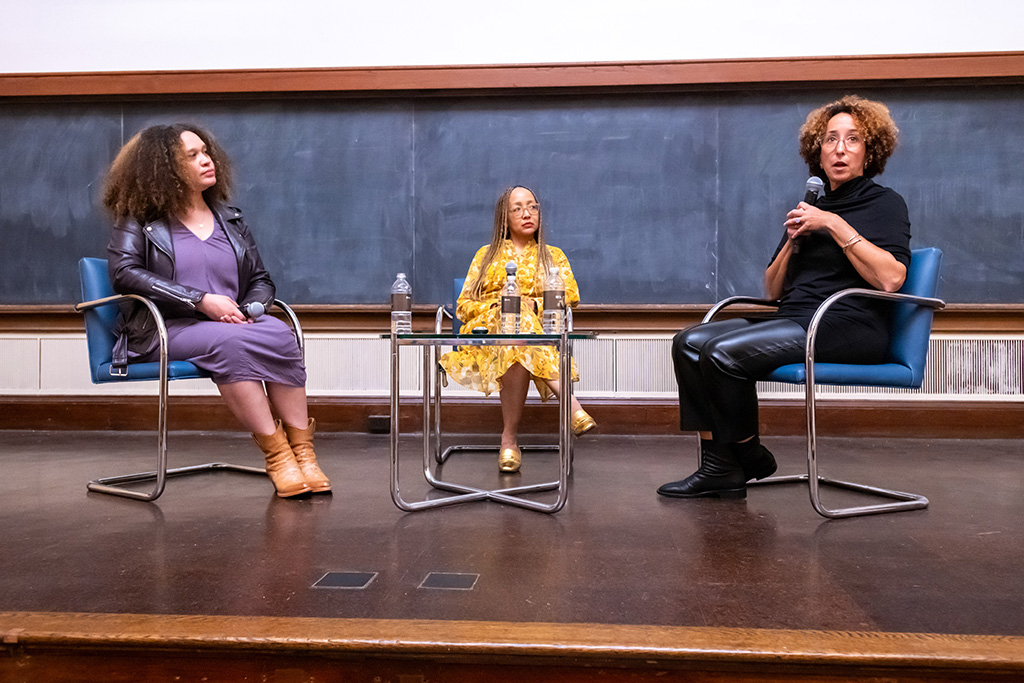 During the panel discussion, Andrews said she had enjoyed working with Lowe in selecting the works for Silver Linings. "Karen and I had so much fun asking what conversations we wanted to develop," she said. She added that it was important to include Greene's work in the exhibition because her work and her teaching "enables her students to see art history through a corrective lens."
Silver Linings will remain on display at the Loeb until January 28, 2024. Over the next two years, it will travel to the Boise Art Museum, the University of Michigan Museum of Art, the Harn Museum of Art at the University of Florida in Gainesville, and the Hunter Museum of American Art in Chattanooga, TN before returning to Spelman.
The five-stop tour is sponsored by the Art Bridges Foundation, a private organization that supports programs that expand access to American art in all regions across the nation. Hanna Leatherman, Art Bridges Partnership Development Manager, said it was fitting that Vassar had been chosen as the first stop on the Silver Linings tour. "It's great to see these two historic institutions working together like this," Leatherman said. "They have parallel histories, and it's great to be able to help build that partnership."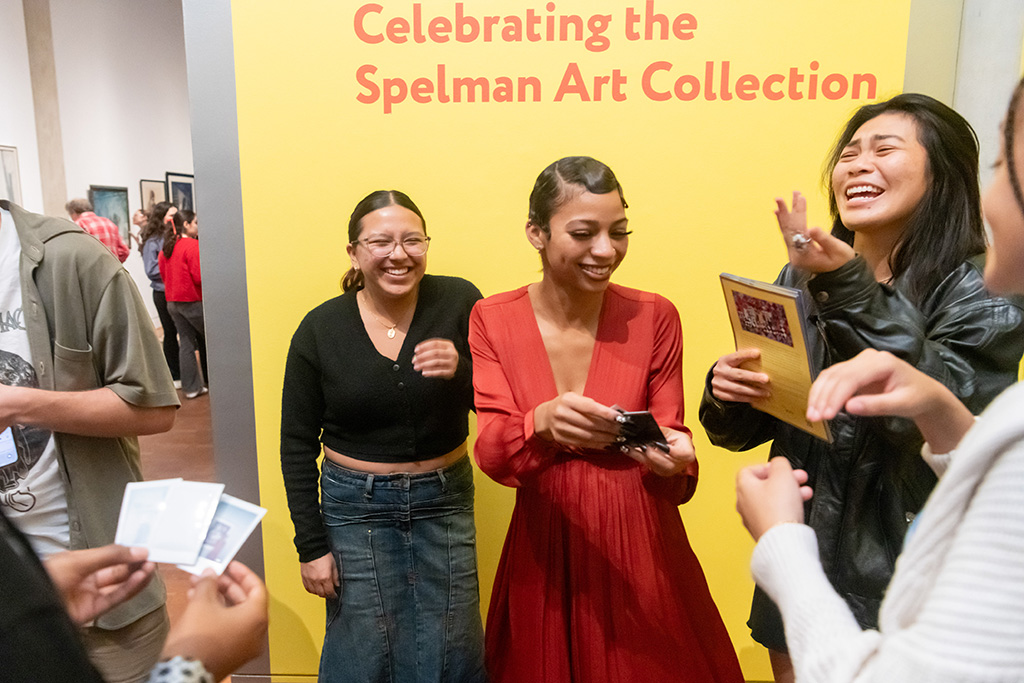 In addition to the exceptional works from the Spelman collection, the Loeb is mounting satellite exhibitions from its own collection to provide context and amplify the Spelman works. Interwoven Histories: Prints by the Gee's Bend Quilting Collective curated by Tenesha Carter Johnson, a senior at Spelman College and Loeb Summer Curatorial Intern, presents a selection of prints made by members of the quilting collective from Boykin (otherwise known as "Gee's Bend"), Alabama. The prints utilize the intricate and unique quilt-making designs and techniques taught through generations of women, many of whom are direct descendants of enslaved people. The Loeb acquired the three prints on view, as well as three others, in 2019 to mark the 50th anniversary of Vassar's Africana Studies Program.
Carter Johnson, who introduced members of the panel, thanked the Loeb staff and others at Vassar for supporting her work during her internship. She said her experience in helping to curate the two shows had reaffirmed her intention to become a curator after she graduates from Spelman. "Thank you, Vassar, for embracing me in this space. My heart is filled to be a part of this celebration," she said.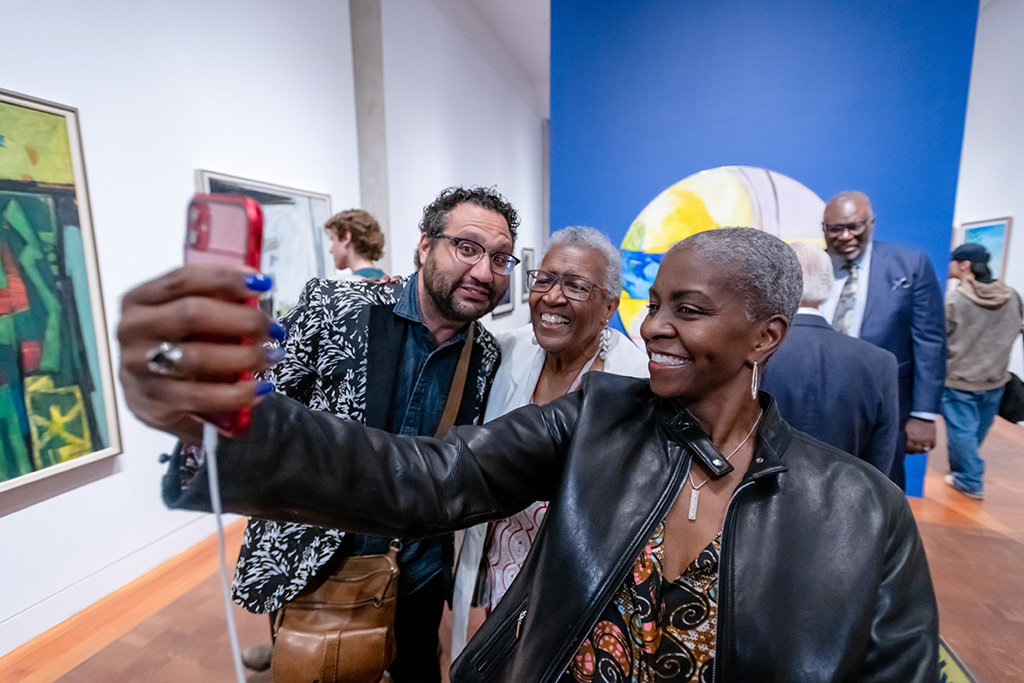 Amanda Potter, Putnam Assistant Director of Learning and Community Engagement at the Loeb, said plans were underway to create some community-based programming highlighting Silver Linings. Potter said the works in the exhibition would be an integral part of a series of art classes held on Saturdays in the Poughkeepsie City School District called "Saturday Morning Lights." Silver Linings will also be a focus of the Loeb's Family Day on November 4, Potter said.
Andrews said she was glad to learn that the exhibition would be actively shared with members of the local community. "I love that the Loeb has been partnering with the city school district, encouraging people to come to the museum and to feel that they belong here," she said. "I truly hope Vassar's students, faculty and members of the community find something inspirational in these works of art."
The exhibition will be on view until January 28, 2024. More at vassar.edu/theloeb/exhibitions.
View a gallery of images from the opening of the Silver Linings exhibition.