High School Students Explore College and a Changing Climate
High school seniors Ron Geiger and Barak Tucker recently spent a morning on the Vassar campus learning about the challenges facing College officials as they oversee the renovation of two buildings to make them more energy efficient. "Back in the 1860s, energy was cheap—if you needed more heat you just added more coal to the fire," said Bryan Corrigan, Project Manager in the Office of Facilities Operations, as he led the students up the steep stairs to the fifth floor of Main, where new student residences were being built. "Our task is converting this space into an eco-friendly building while maintaining its look and charm."
The tour of the construction sites in Main and at Ferry House, hosted by Corrigan and Sustainability Director Micah Kenfield, was one of many hands-on, sustainability-related experiences Geiger, Tucker and nine other high school students engaged in during Vassar's annual Exploring College program.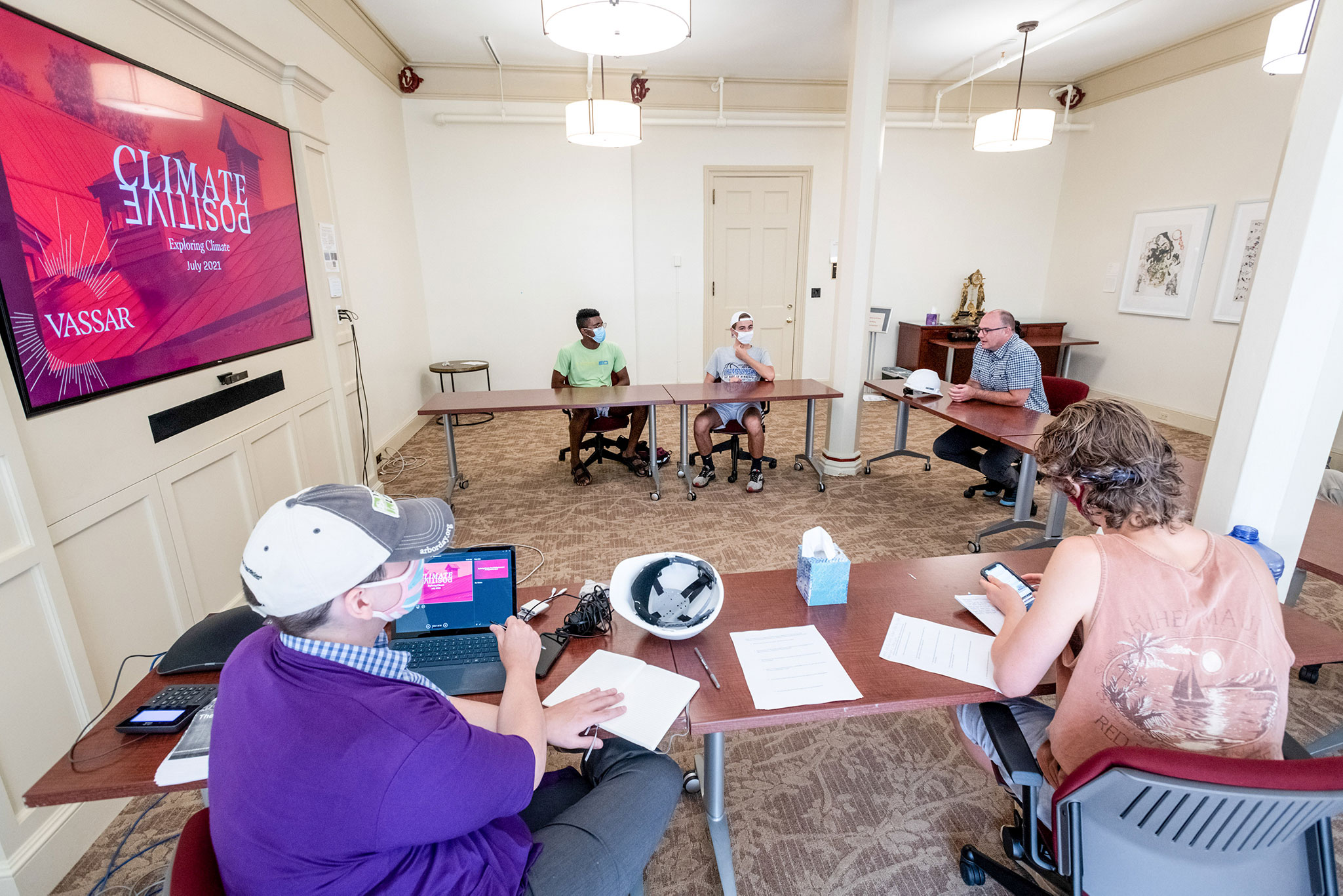 Now in its 11th year, the program is designed to give students from local high schools the opportunity to learn what college life is like and to provide them with useful information on how to navigate the college admission process. "Our goal is to give these students a feel for college and to make them feel they belong in higher education, regardless of their backgrounds," Exploring College Coordinator Alexandra Hatch said.
During this summer's two-week session, 11 students took a college-level mini-course on climate change taught by Sociology Professor Pinar Batur, attended sessions on climate change and sustainability hosted by Vassar faculty members Mary Ann Cunningham, Lisa Paravisini-Gebert, Ruth Thompson-Miller, and Benjamin Ho; learned about the College's ongoing energy conservation projects from Jennifer Rubbo, Director of the Environmental Cooperative, and engaged in workshops on energy efficiency hosted by Kenfield. The students also heard from City of Poughkeepsie government officials about what is being done to address climate change on the local level, and they attended workshops on college-application topics, including financial aid and preparation for writing a college admissions essay.
Batur said she was impressed by the young students' performance in her class. "We looked at the impact of climate change from political and social perspectives and they were all very good students who were interested in how global warming affects people across the globe," she said. "And I was teaching the course during what was the hottest July since records were first kept in 1883."
Kenfield noted that this year's Exploring College program was partially funded by a grant from the New York State Energy Research and Development Authority (NYSERDA). The College won a $1.17-million award from the state agency to implement clean energy projects on campus and to provide educational programs to the local community.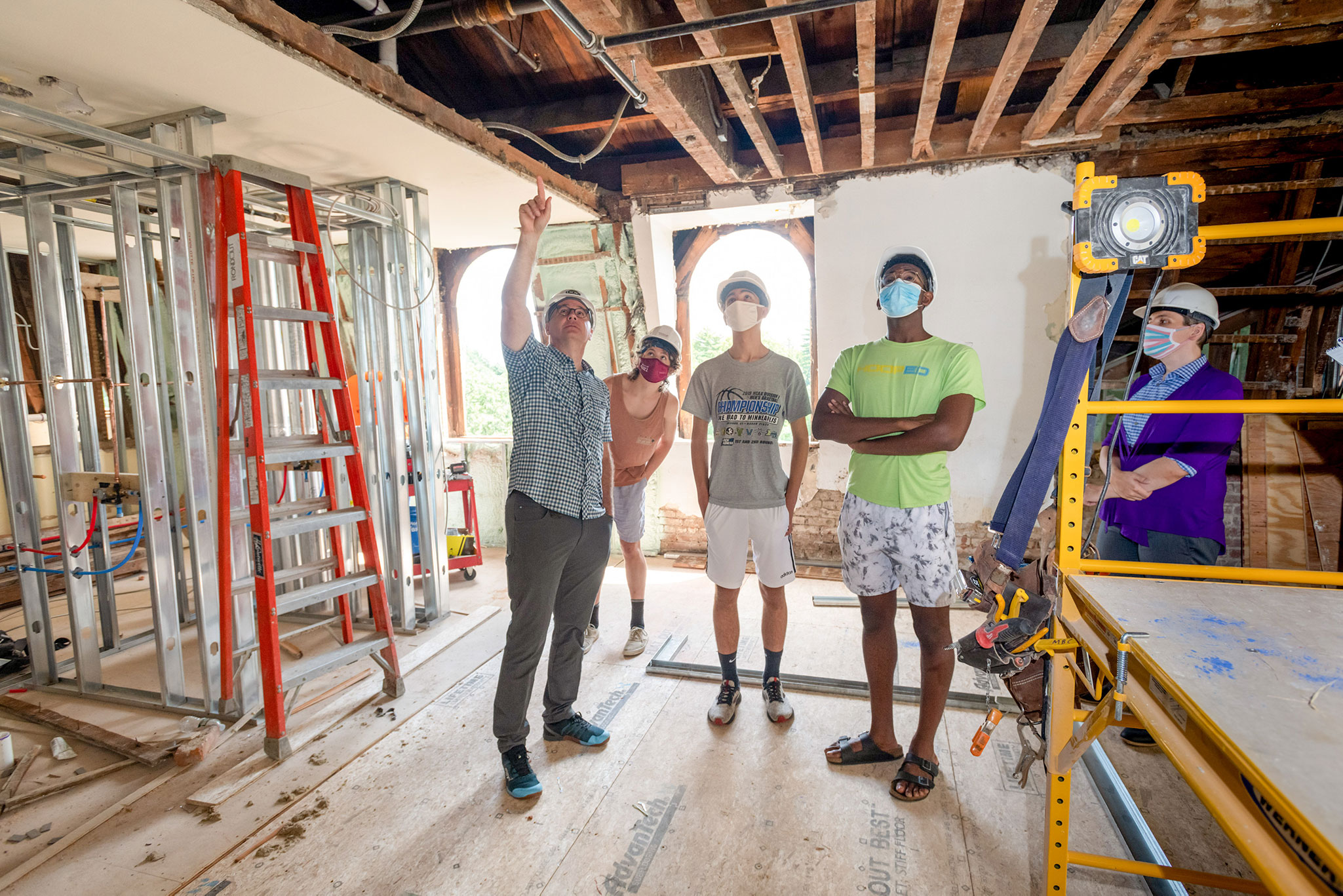 Tucker and Geiger said they found their Exploring College experience informative and helpful. "You think of all buildings being equal," Tucker said, "but we learned that older buildings pose a lot of unique issues. And Dr. Batur's class gave us a look at how climate change is affecting people everywhere."
Geiger, who plans to take courses in environmental studies in college, said his Exploring College experience had given him a jump start in thinking about these issues. "And spending a day learning about the intricacies of applying to college was helpful too," he said.