Ford Scholars Program 2023
Students Delve into the Lives of Young Immigrants, African American History, and a Family Mystery
Every summer, approximately 30 students enrolled in Vassar's Ford Scholars program demonstrate the variety of approaches that can be taken to independent research in the humanities. Some may be working with a faculty member to gather information for a book. Others might be collaborating with a professor to examine an aspect of African American culture. Another student might be helping a member of the faculty gather data on national issues like federal immigration policy.
This summer, Vassar students Julianna Aguja '25, Soliana Kasa '24, Vanessa Mark '26, and Nicolas Villamil '25 took part in such research in three Ford Scholars projects. Established in 1988 with a grant from the Ford Foundation, the program encourages students to explore humanities-based research through an intensive academic experience with a Ford Faculty mentor.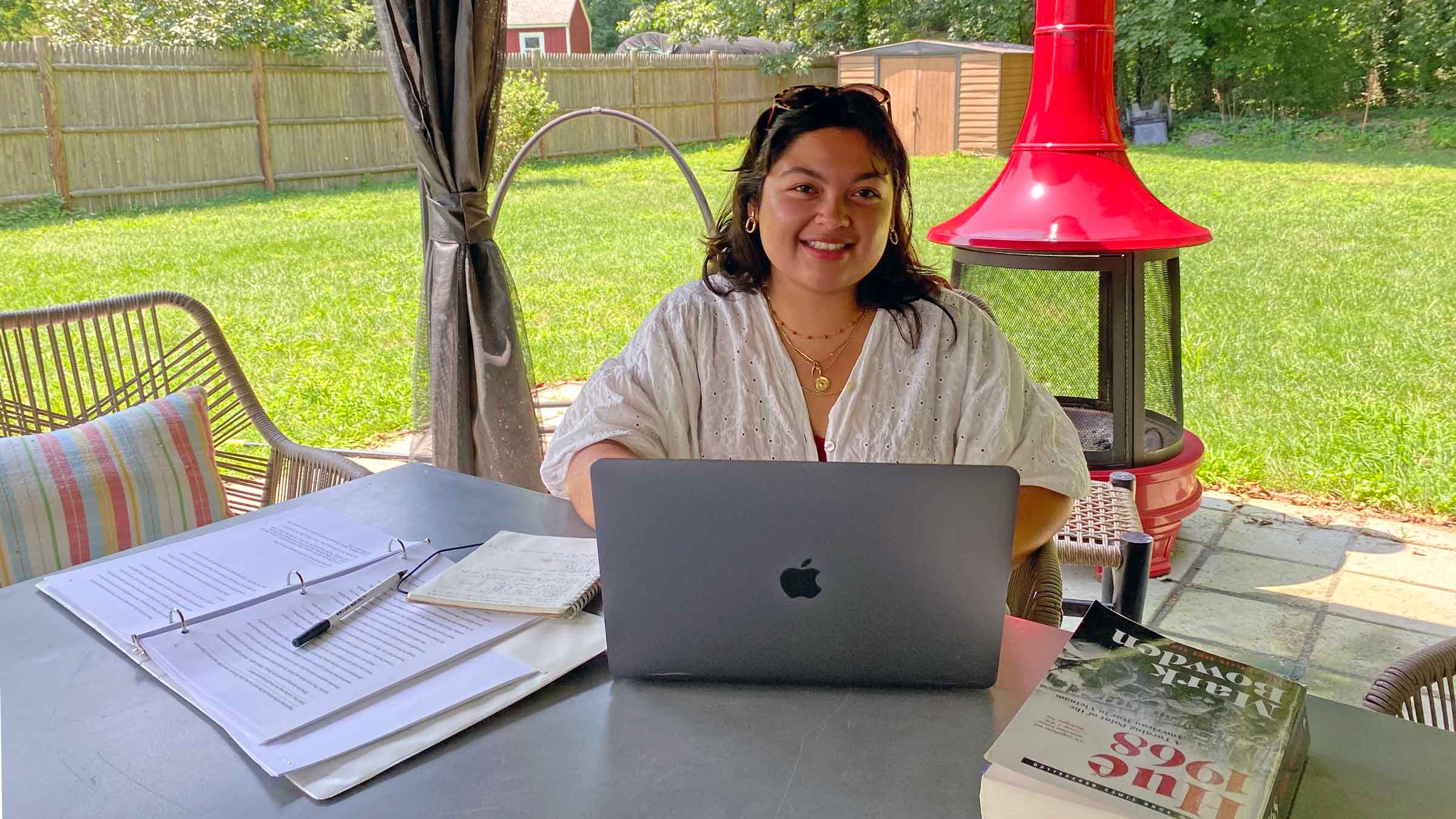 Aguja, a history major from Reading, MA, tracked down photographs taken in Vietnam by a marine who was Professor of History Robert Brigham's newly discovered biological father. Brigham, who never knew his father and lived in foster homes until he was adopted, will soon publish a book about finding his biological family. Aguja also found some photos of Brigham's father that Brigham had never seen before, and some of those photos will appear in Brigham's book.
Kasa, a biology major from Washington, DC, worked with Professor of English Eve Dunbar to compile material on the history of quilting and sewing circles that have been a part of the lives of many African American women for more than 150 years. Mark, a political science major from Washington, DC, conducted research on the use of arts and crafts during Japanese American Internment during World War II."
Villamil, an International Studies and English major from Pembroke Pines, FL, accompanied Adjunct Assistant Professor of Latin American and Latinx Studies Tracey Holland to federal Immigration Court to observe how judges monitored the education of young immigrants.
Following are brief reports on each of these Ford Scholars projects:
This is a True War Story: An Adoptee's Memoir
Aguja joined Brigham on the book project during the 2022–23 academic year and continued her search for photographs as a Ford Scholar this summer. Brigham, who has specialized in research on the Vietnam War throughout his career, decided to write the book in 2018 after he took a DNA test that enabled him to discover his father's identity and track down other members of his biological family. Through conversations with those family members, Brigham learned that his father, Bruce Allen Atwell, was a Marine Corps photographer while serving in Vietnam. He died in 2006.

"This memoir follows the unlikely path that brought my biological father and me from homelessness and foster care to Vietnam, though in very different roles," Brigham said. "Through our personal history, I also trace the history of postwar America and the impact of poverty on generations of Americans. It is also a story of discovery, one that many adoptees will find familiar. It was an emotional experience writing this book. I choked up many times."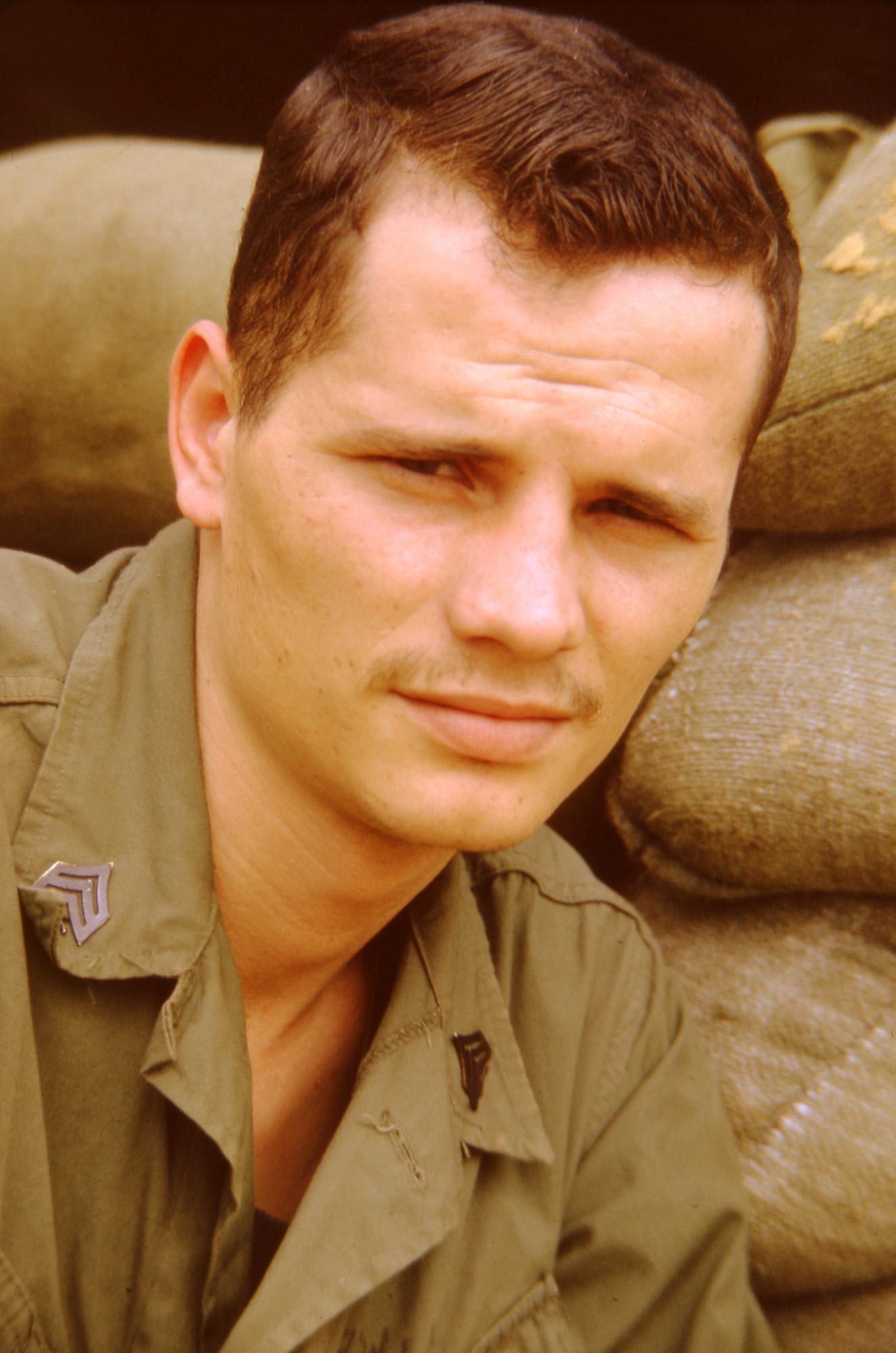 Brigham said he was often surprised by the photographs Aguja had unearthed during her searches through the National Archives, the U.S. Marine Corps Historical Division, and other sources. "She found photos I was unable to find in 40 years of research on Vietnam," he said. "The first paper I wrote in college was on the Vietnam War. I used one of my dad's photos with that paper, and I've used lots of his photos during my teaching career."
Aguja, who was able to find more than 20 photographs that Brigham had not seen before, said she was grateful she had been able to discover such key material for the book. "His story is an amazing tale, and I feel honored to have been able to play a role in telling it," she said. "Bob gave me lots of guidance at the beginning of the project. He gave me a book about the Tet Offensive in Hue where his dad was stationed and an overview of the battle where he was wounded. 
"This project gave me a real passion for research, for putting a story together through fragments and anecdotes," Aguja continued. "It demonstrated how impactful historical research can be."
---
The Scholarship of Women of Color Crafting Communities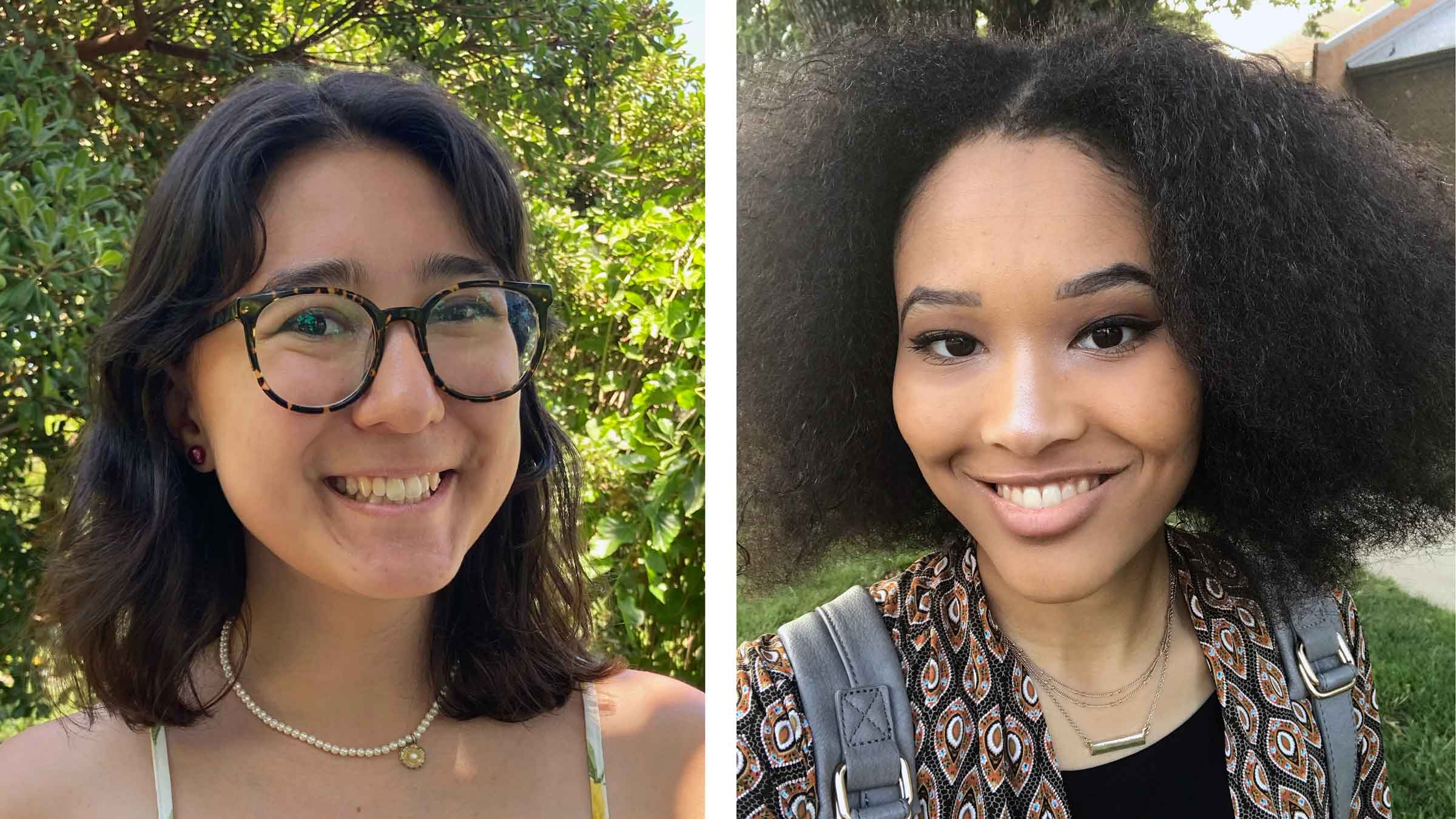 Professor Dunbar said she became interested in the tradition of quilting and sewing circles among African American women when she was part of a quilting group several years ago. "I started to think about the relationship between this kind of work and women of color, so I developed this Ford Scholars project to do some preliminary research to discover what had been written about it," she said. "Black women have historically used fabric art and quilting as an expression of collaboration, so I asked the students to find out more about it."
Kasa, whose parents immigrated to the United States from Ethiopia, said many members of her family in Africa had been part of quilting and sewing circles for several generations. "What drew me to the project was my family's history of sewing and making things for one another," she said. "It's an important family bonding activity for us, and doing academic research regarding something so interesting and familiar intrigued me."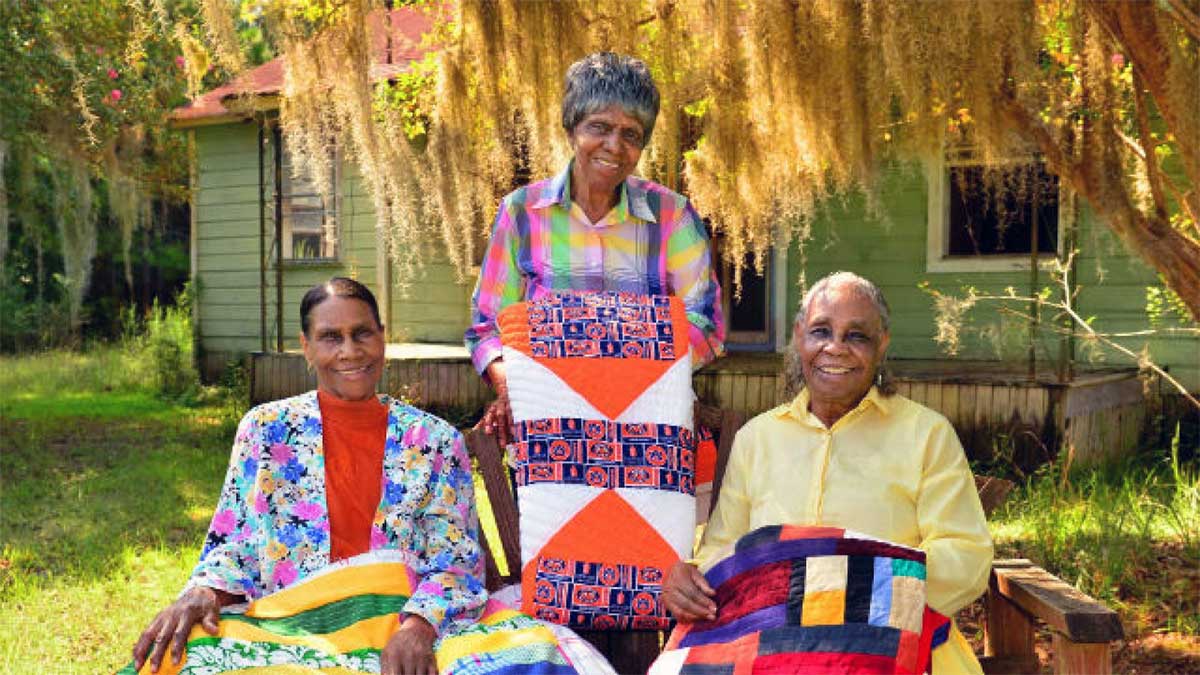 During her four weeks as a Ford Scholar, Kasa said she found numerous articles about the history of this tradition among African American women dating back to when Africans were enslaved. She said she learned the tradition had benefited and enriched the lives of African American women in several ways. "I found several articles from researchers who conducted experiments to test how quilting together could serve as a therapeutic practice that promotes community-building and equips people with the tools to combat other forms of stressors and heal from trauma," Kasa said.
Mark, whose grandmother had learned sewing skills when she was being held in an internment camp for Japanese Americans during World War II, said she applied for Dunbar's Ford Scholars project to learn more about the history of fabric art traditions. "I'd talked to my relatives a little about this, but it's never been studied in depth in U.S. history," Mark said.
She said she and Kasa compiled bibliographies on the topic that they will present at the Ford Scholars Symposium in September. The two students will also present their findings at a first-year writing seminar that Dunbar will teach in the fall. "I found a genuine joy in this kind of research," Mark said. "It definitely improved my skills for classes I'll take in the future."
---
Shedding Light on the Immigration Court-Public School Nexus in Proceedings for Unaccompanied Migrant Youth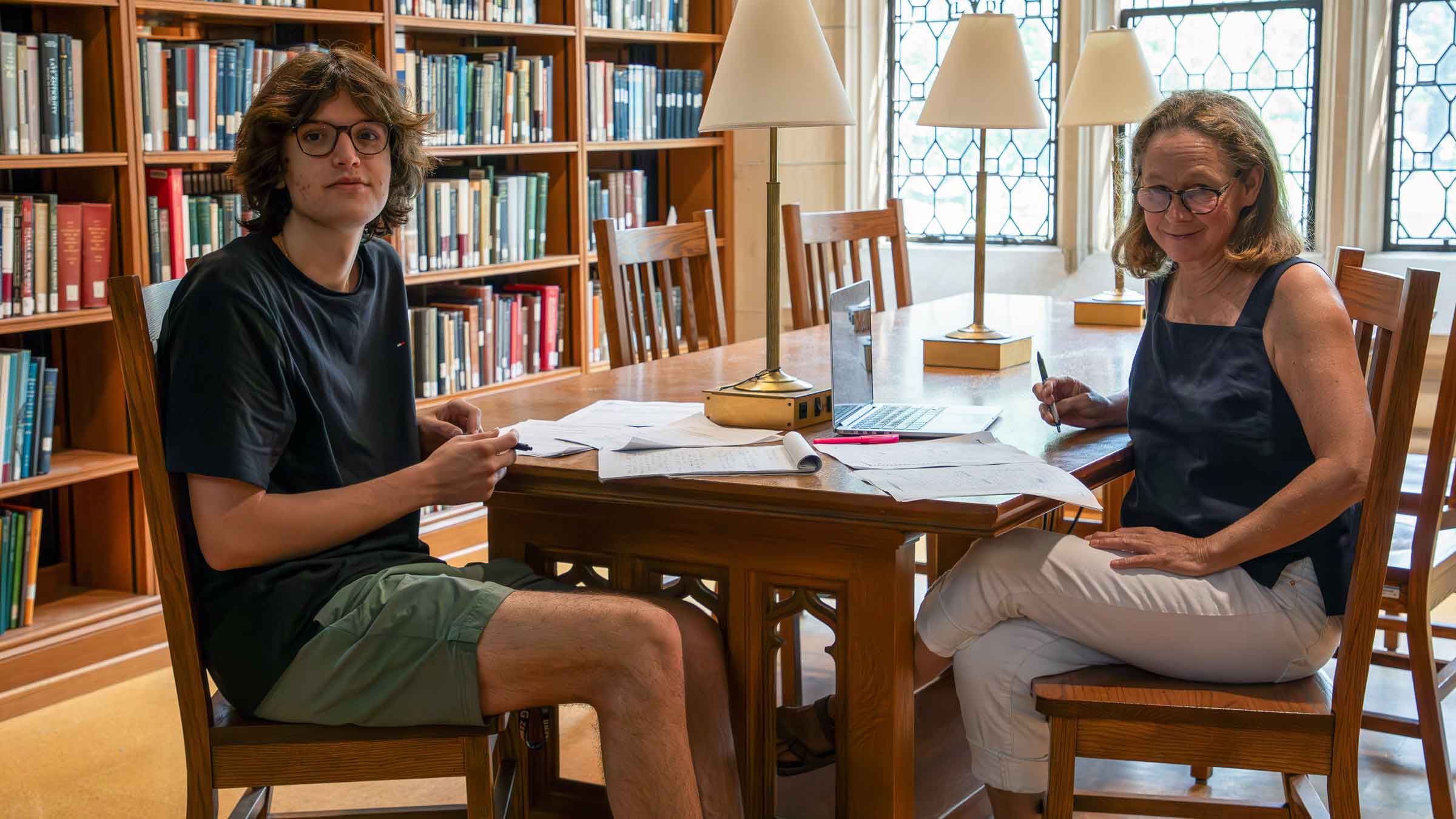 Villamil said he applied for Holland's Ford Scholars project in part because his parents moved to the United States from Colombia and had long been interested in the challenges facing immigrants. "In addition," he said, "I plan to be a journalist and this kind of research entails analyzing and synthesizing large amounts of data the way journalists do."
Villamil said he and Holland were interested in finding out how young immigrants were navigating school systems once they arrived in the United States and how immigration judges viewed the importance of keeping them in school. "We made several visits to immigration courtrooms to observe how judges made their decisions," Villamil said. "One judge we monitored would excuse the children from attending proceedings if they showed proof of attending school; the judges we saw tended to keep them in an environment where they are achieving."
Villamil added that the research he and Holland had done confirmed that many young immigrants have difficulty finding a stable educational environment. "There's a large dropout rate among this population because of the challenges unaccompanied minors face in securing the proper paperwork," he said.
Holland said she had also reached out to administrators in local districts to learn more about how they are helping young immigrants enroll and stay in school.
Villamil said the Ford Scholars project had been enlightening in several ways. "It changed my perception; I thought most of this was being handled at the border, but the children are here in the Hudson Valley with their sponsors trying to navigate the system," he said. "I've seen how involved the judges are, as well as the passion of the sponsoring groups for these children."