Drag Artist Sasha Velour '09 Offers a Breathtaking Performance—and Slice of Personal History
The winner of RuPaul's Drag Race, Season 9, thrilled a packed audience with a performance during a tour to promote her new memoir. Vassar students—and one professor—even got into the action!
An oversized, plush chair in cornflower blue sits center stage at the back of the Villard Room. Radiating elegance and camp, it would make a befitting throne for the evening's guest of honor, the renowned drag queen and cultural polymath Sasha Velour '09, winner of Rupaul's Drag Race Season 9 and author of the newly published The Big Reveal: An Illustrated Manifesto of Drag.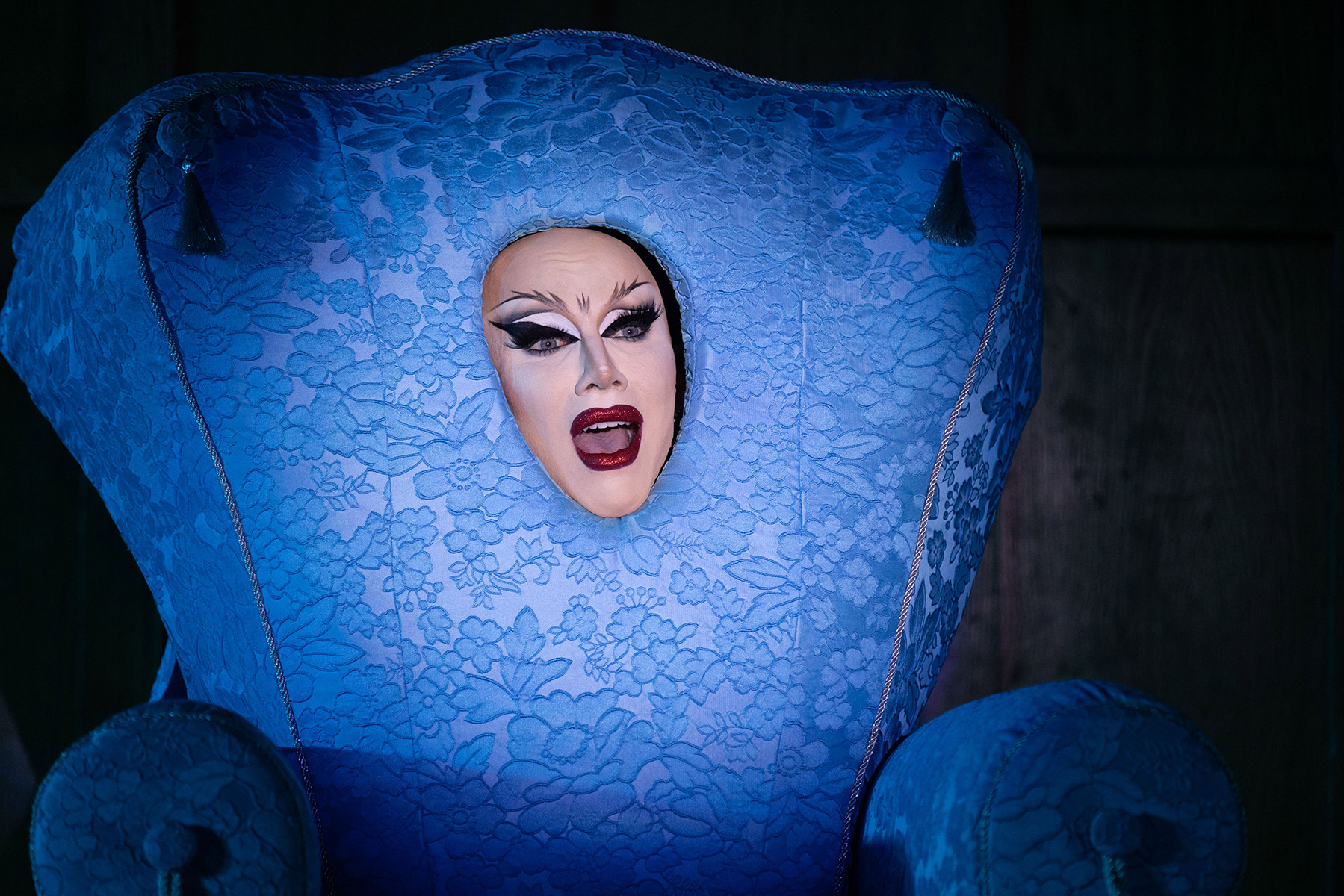 On this damp spring Sunday, the capacity crowd of mostly students buzzes as the room fills up, ready to see Velour perform lip-synched numbers, read from her new memoir, and sit for a Q&A. Introducing the yet-unseen star is her longtime friend and Vassar classmate, Visiting Assistant Professor of Drama Amanda Culp '09. "I'm fairly certain that she's the reason I'm a professor," gushes Culp. "And I have the receipts!" Culp shares a long-ago email exchange between the two friends that was an intellectual catalyst for Culp, then a rudderless 20-something adrift in New York City. When Velour is finally welcomed to the stage to the pulsing beat of Jennifer Lopez's Waiting for Tonight, the enthusiastic reception quickly turns to murmurs when the stage remains empty. 
Empty, that is, until the big chair begins to vibrate, and out through a hidden panel pops the unmistakable face of Sasha Velour, her glittery red lips keeping perfect time with J-Lo. The crowd erupts as the lip-synching chair gradually metamorphoses, like the world's most fabulous Transformer, from furniture into a superstar. At last, Velour stands before the cheering audience, clad head-to-toe in upholstery, tasseled armrests gracing her hips. "There's nothing like a comfy chair and a good book," Velour quips, dabbing sweat from her trademark close-shaved head. Not a bad segue into a reading.
Velour's original arrival on campus in 2005 was equally exuberant (if less grandiose). Backstage before the show, Velour was surprisingly soft-spoken but excited to talk about being a new student eager to take advantage of the academic freedom offered by Vassar. "I really wanted to come to Vassar because I couldn't decide between theater and foreign language and English and philosophy," she said with a grin. "So, I found a way to combine it all."
The independent major that Velour crafted was one that fed her academic ambitions and contributed to the person and the performer she would become. "I learned from the independent program that if you learn the classics and the methods from lots of different fields, you can apply it to anything," she says. "So, honestly, some of the stuff I learned—the philosophy I studied, the books I read, the art I looked at— it all informed my direction." 
After Vassar, Velour continued her jagged path, studying political art in Russia on a Fulbright scholarship and picking up an MFA from the Center for Cartoon Studies. After choosing drag as her art form of choice, Velour made a name for herself in the Brooklyn drag scene with her show "Nightgowns." Ultimately, she earned a spot on Drag Race, distinguishing herself as the artist and intellectual among the group of competitors, eventually winning the show and worldwide fame.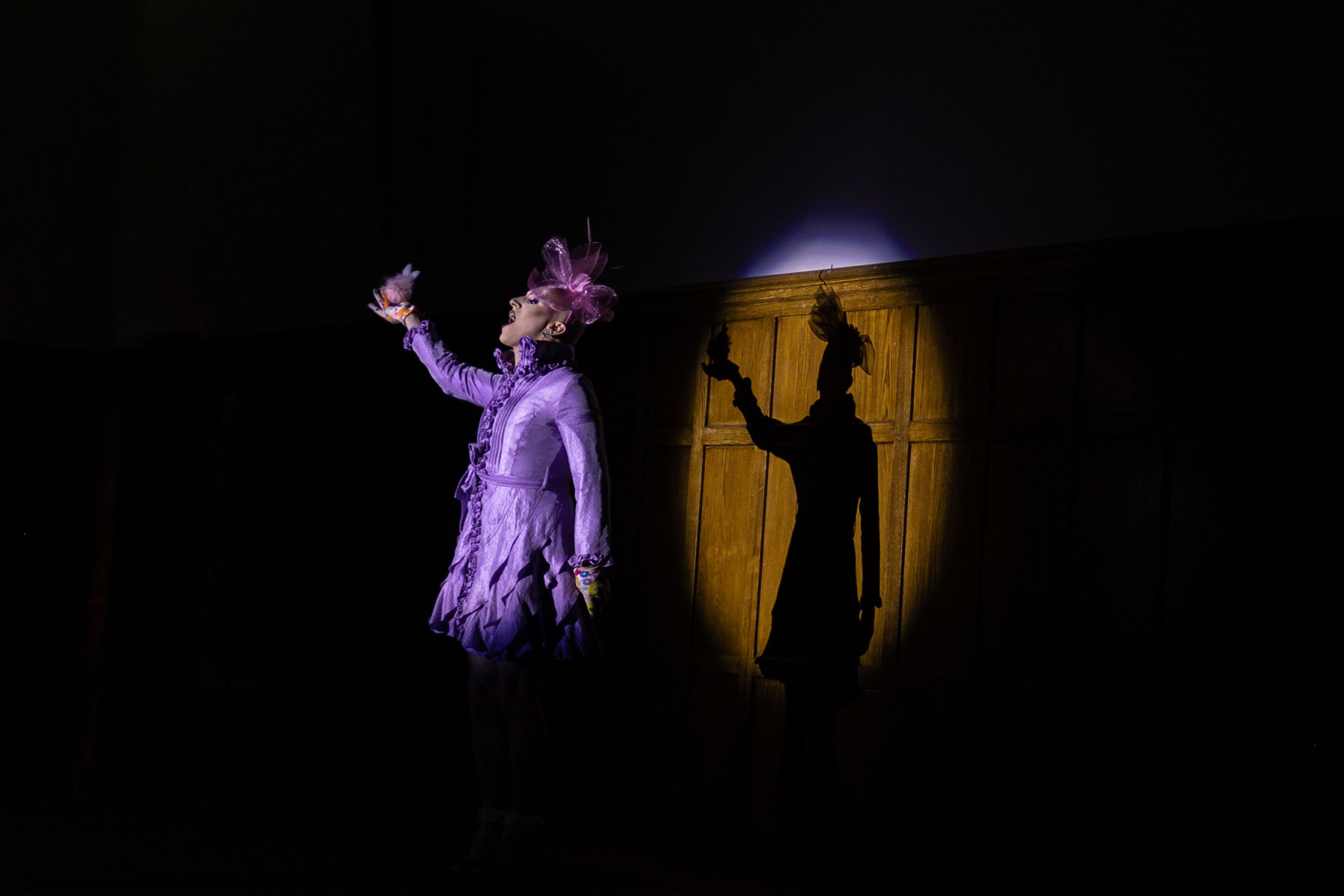 That evening at Vassar, Velour was there to support the release of The Big Reveal, a book as gleefully eclectic as its author, seamlessly interweaving drag history and queer theory with her own biography. Her reading focused on family history, including laugh-inducing tales of her two quirky grandmothers—elegant and doting grandes dames whose stories morph into historical record. 
"When stationed in Hawaii during World War II," Velour read, "Jo and Grandpa Howard enjoyed amateur drag by soldiers who staged performances and contests on the U.S. Navy bases—sometimes very bawdy, sometimes empowering, sometimes with feminist subplots. These were called 'Girlie Shows…'" She looked up, then added a line that does not appear in her book: "…and they were considered the height of American patriotism!" The crowd applauded knowingly; despite the festive nature of the evening and the safety of this liberal arts campus, America is experiencing an unprecedented backlash to queerness in general, and drag in particular, in the form of bills pending in the legislatures of red and purple states to curtail the activities of drag performers.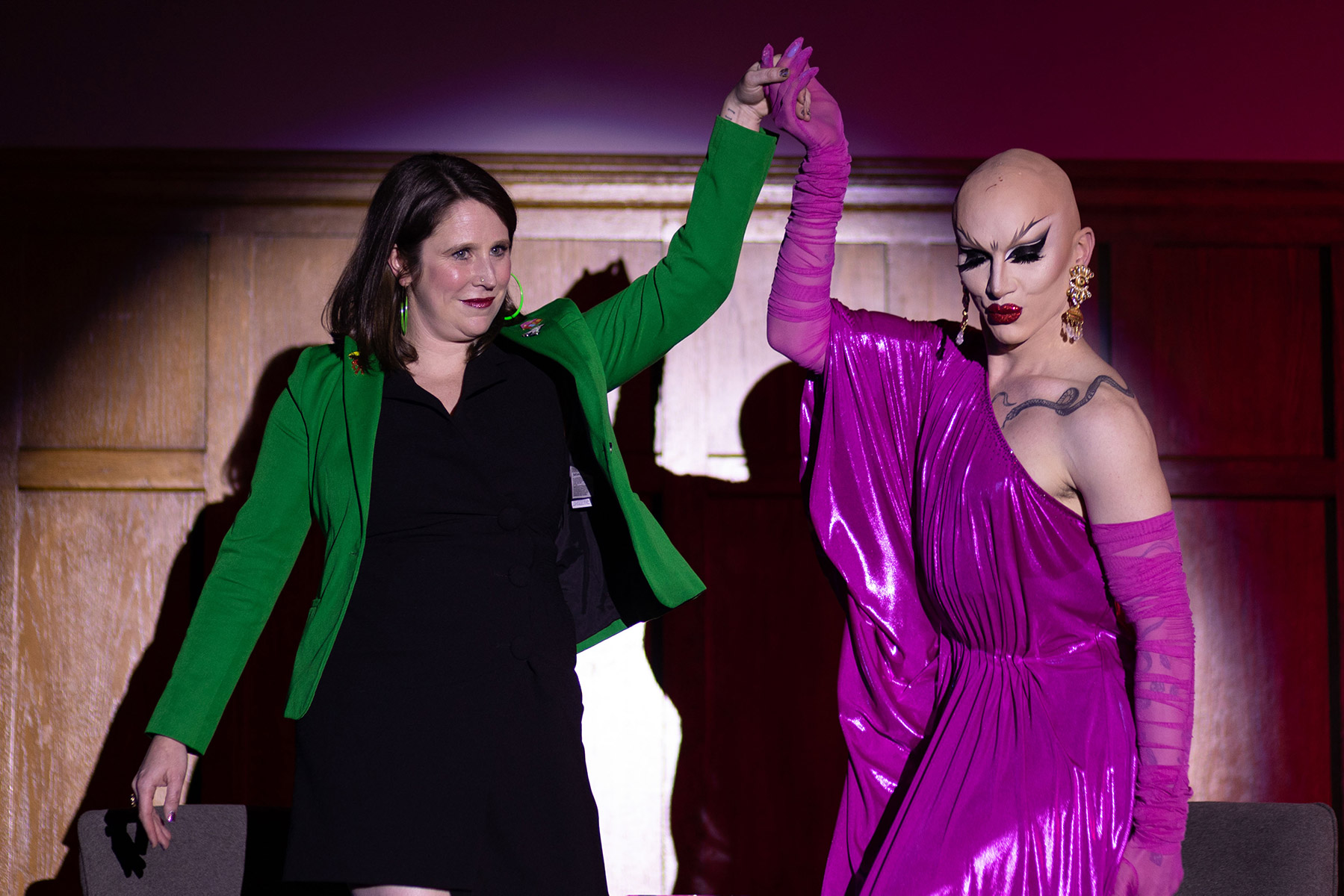 When she sat down for a Q&A with her friend Professor Culp, it became clear that Velour sees the current political climate as an existential threat to her community. "A lot of drag artists are trying to raise money for the ACLU," said Velour, "and I support that. But I also think we need to raise money for housing, medical care, for food, because these laws, when they go into effect, are going to affect working-class queer people." 
Velour remains overwhelmingly positive about the power of art and the promise of current Vassar students and their peers to enact change, professing backstage that she believes "they are several steps ahead of where I was. I see these young people being willing to stand up for equal rights, and that's what's required out there, so they're well on their way."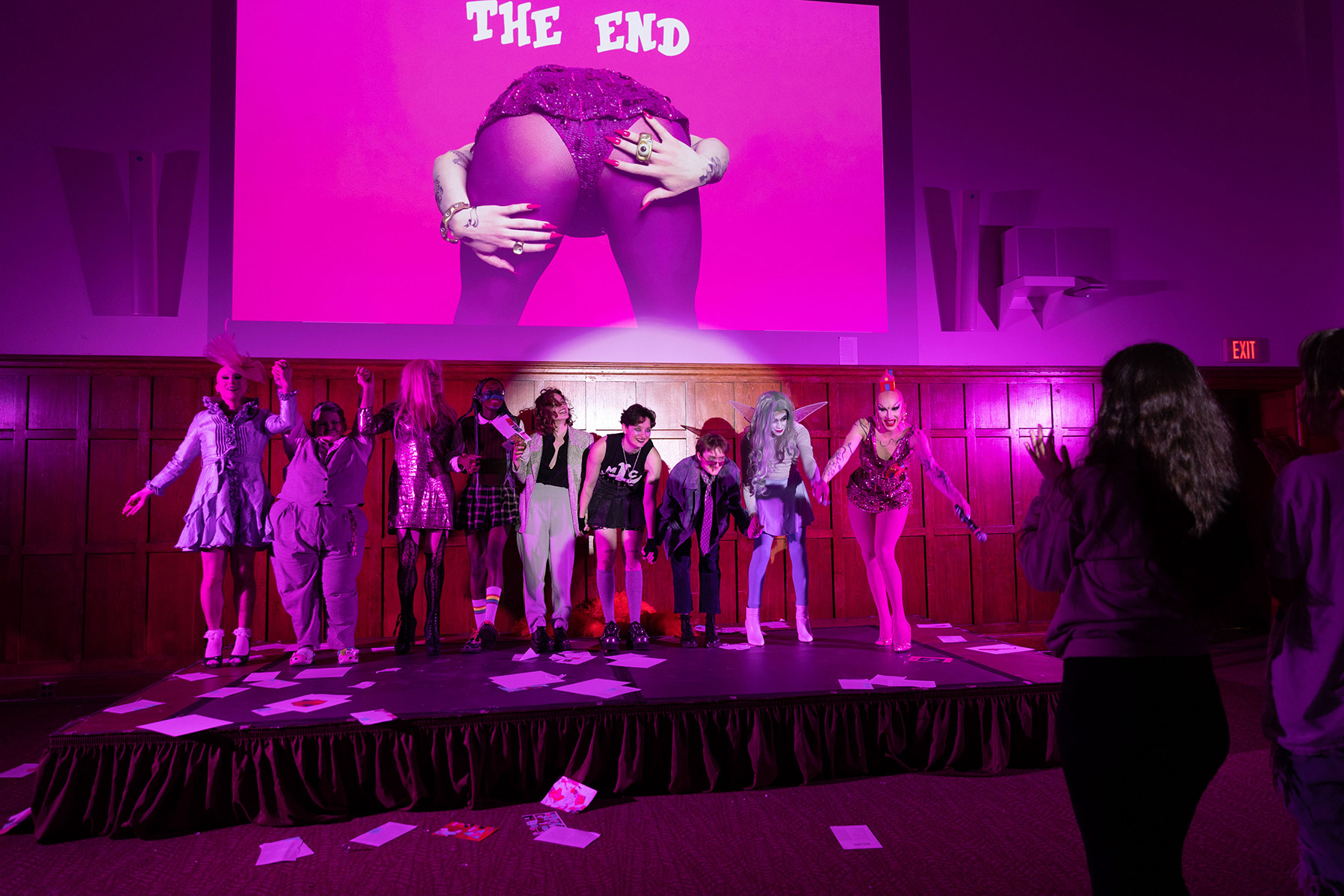 The youth in question did indeed make themselves heard the evening of the performance. The student drag club VC Royalty put on several lip-synch-and-dance numbers while Velour sat to the side, beaming like a proud mother. 
Interestingly enough, the final reveal of the evening came not from Sasha Velour or the students, but from Professor Culp, who spontaneously (wink, wink) joined her guest in a soulful lip-synch to Dionne Warwick's A House Is Not a Home. In a flash, Culp tore away her professorial garb to reveal the glittery—and scant—outfit she'd had underneath all along. Perhaps she was taking a note from Velour herself, who writes: "Drag reveals that who we 'really are' and how people see us aren't fixed realities; they can be changed… perhaps just for a night, the length of a song." 
View a gallery of images from "The Big Reveal" show at Vassar.