After Vassar
Vassar graduates are often among the recipients of the competitive Fulbright English Teaching Assistantships in Italy. 
Paid internships in Italy are also offered through SITE (Study, Intercultural Training and Experience), allowing recent graduates to develop their understanding of Italian language and culture while assisting English teachers in the schools of Lombardy. Every year the department selects two candidates for this internship (a winner and an alternate) based on their academic and language skills, teaching experience, and suitability of the proposed project. Please contact the chair of the department if you are interested in applying.
Many Italian graduates pursue advanced degrees in Italian, comparative literature, history, library science, medieval and Renaissance studies, music, and translation studies. 
Alum Stories
Sarah Cantor '10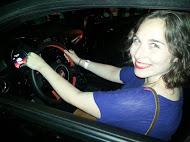 I majored in Italian at Vassar, which turned out to be a life-changing decision both during and after college. As a junior, I studied in Bologna, probably the most enriching experience of my undergraduate career. Both the language exposure and learning to function independently away from home and campus were vital to my academic and personal growth.
After graduation, I worked as an administrative assistant in the Department of French and Italian at Northwestern. I loved having a real-world job which allowed me to maintain my Italian, but I realized after two years that I wanted to concentrate on Italian studies full time. I am now a first-year graduate student in Italian literature at UCLA. I am very happy to be on this path, which started with caffè and biscotti in Chicago Hall!
---
Alexandra M. Matthews '11
I graduated with a double major in English and Italian and a correlate in Hispanic studies, but I had some of my most memorable academic experiences as an Italian major and while working as a research assistant to Professor Roberta Antognini. Belonging to one of the smaller departments on campus gives you an academic advantage, as it allows you to work one-on-one with and get to know the professors and your fellow majors really well. In 2009 I studied in Bologna with the E.C.Co program, which was a huge turning point for me. My positive experiences there inspired me to seek opportunities to return to Italy after graduation, and in September 2011, I moved to Crema, Italy, where I was a SITE English teaching assistant for two years. I'm currently living in Madrid and working on my MA in Spanish through Middlebury College (though I still find ways to speak Italian!). I intend to earn my MA in Italian in the near future. My long-term goal is to be a professional Italian-English and Spanish-English translator.
---
Daniela Weiner '12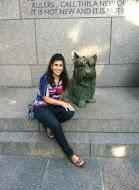 I grew up in an Italian-American family and began studying Italian in high school, but it was only when I arrived at the Vassar College Italian Department that I became truly serious about studying the language and culture. Before studying abroad in my junior year at the E.C.Co program at the University of Bologna, I had never been to Italy before and had never traveled or lived abroad for any significant period of time. My time in Bologna was the most freeing and intellectually stimulating experience in my life. On the weekends, I traveled throughout Italy by train, making observations about Italian World War II memorialization that served as the basis for my undergraduate history thesis, which compared the historiography and memorialization of World War II in Italy and Germany. In addition, I also completed an Italian senior project, in which I translated short story works of scientist and Holocaust survivor Primo Levi.
During my time in Bologna, I also connected with my mother's Italian cousins. Since my semester abroad in 2011, I have returned to Italy twice to visit my relatives and my UniBo roommate. After graduating from Vassar in 2012 with a double major in Italian and History, I joined Teach for America. Currently, I teach middle school in Baltimore, MD, ma ci vediamo presto Italia!
---
Clare Hazlett '12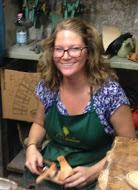 At Vassar I majored in Italian and studio art. I participated in the summer courses in Siena and spent all of my junior year in Bologna on the E.C.Co program. After graduating in 2012, I moved to Italy to learn to design and make shoes by hand. I have been living, studying, and apprenticing there ever since...and I hope to be able to stay many more years!
---
Rose Trentinella '01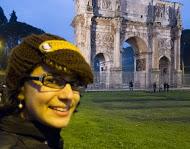 I graduated in 2001 with a double major in Italian and Latin almost by accident, having taken so many Italian courses for fun I ended up with enough credits for a second major! During my junior semester in Rome, it helped me navigate daily life in a foreign city, but especially in pursuing a PhD in classical archaeology, when, during my Fulbright year in Calabria, I spoke exclusively in Italian with my roommates at home, my colleagues at my host university, and locals I met in libraries, archives, and on site as I carried out my research. I return to Italy relatively often to visit family, and my major in Italian has served me very well in both my professional and private worlds. Even on vacation, it's incredibly helpful to speak the language when you need directions or want local information on where to eat or what to see!
---
Acacia O'Connor '08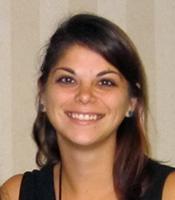 I was an Italian and English double major in Vassar's Class of 2008, studying abroad through the Siena summer program and E.C.Co program in Bologna. Since graduation, I've pursued both my interests in writing and in the Italian language and culture with equal gusto. In 2009 I was awarded a Fulbright grant to teach English in the beautiful small city of Benevento in Campania. Upon returning to the States, I completed a master's degree in literary translation studies at the University of Rochester. I am currently living and working in New York City, as a writer and researcher at Columbia University in the Public Affairs Office. I continue to follow my interest in Italian language and translation, pursuing independent creative translation projects and as a member of the Emerging Literary Translators Network in America.
---
Francesca Cocuzza '11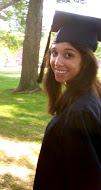 I majored in Italian and English, and while at Vassar I took every opportunity I could to spend time in Italy. I participated in two of Vassar's study abroad programs: the six-week accelerated summer course in Siena, and a semester abroad in Bologna my junior year. After graduation, I was back in Italy again, this time with the SITE program as an English teaching assistant in two professional schools in Cremona. Now, I put my Italian knowledge and love of travel to use working as a travel consultant at a luxury boutique hotel collection and tourism agency, Mr & Mrs Smith in New York City.
---
Kate Zambon '07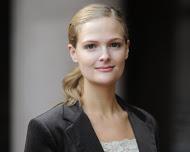 I graduated from Vassar in 2007 with a degree in Italian and German studies. During the summer after my junior year, I completed an independent study during a six-week trip working on agriturismi in Northern Italy. After graduation I spent a Fulbright year researching and teaching in Berlin, where I began to formulate some of the research questions that spurred me to pursue a doctorate in communication focusing on global issues. My studies in German and Italian were the key to providing me with the area knowledge—and also the depth of cultural familiarity that can only come through learning a language—that has been the foundation of my comparative studies of national identity, migration, and globalization in Europe.
---
Jonathan Pantani '04
I majored in Italian, largely because of my connection with the professors at Vassar and the academic experience Vassar was able to offer in Italy. They helped facilitate how I could connect and reclaim a portion of my family history through language and culture. The department nurtured my fascination with Italy and my quest to become fluent in Italian. We saw opportunities everywhere, never obstacles. I participated in the programs in Siena for one summer and an entire academic year in Bologna: the best decision I could have ever made even if it meant giving up Vassar proper for an entire year.
Still not satisfied, I decided to continue my studies after graduation, to pursue an MA in Italian in Florence. Upon completion, I moved to Milan and lived there for six and a half years! I worked teaching English and then later managing some international programs in Milan and in London.
Italian is an important part of my life, from how I cook and choose fresh seasonal foods, to how I view the world with a distinct point of view but ready to listen and engage. Upon my return to the U.S., I found work that involves Italian at Google and for a start-up founded by two Italians.
I have my group of friends with whom I speak Italian regularly so I practice, and of course I correspond regularly with my friends from Italy, so I stay up to date. In fact, some of my best friends here in the U.S., I met while studying abroad!
The beauty of studying Italian and having lived in Italy for an extensive period of time is that I take my Italy with me everywhere I go, even if I might not physically be there any longer.
---
Gabrielle Kotkov '10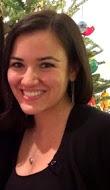 At Vassar, I majored in Italian and minored in art history. I did the Siena summer program after my freshman year, after which I was forever enamored with Italy. I studied abroad in Bologna during my junior year, and after graduation I interned at the Frick Collection in New York, assisting the curator of Italian art. Following that internship, I did a Fulbright English Teaching Assistantship grant, where I was placed in Catania, Sicily, and worked in two high schools, teaching English language and American culture. When I returned to New York, I worked in the offices of Eataly, and then decided to go to graduate school to become a bilingual teacher. I am looking forward to being a part of the Italian bilingual program in the NYC public school system as it grows in the coming years! Read more about Gabrielle's year as a Fulbright English Teaching Assistant.
---
Naomi Murphy '07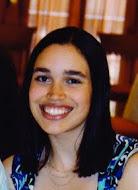 I majored in Italian, full stop. I did both the Summer in Siena (in 2004) and the JYA program in Bologna (entire 2005–2006 school year). Going to Italy changed my life in more ways than just getting an awesome experience of a different culture/language/history, as I met the love of my life on the plane to Siena. I currently live in Rome, and have lived here since 13 days after graduating with departmental honors in 2007. The Vassar Italian Department encouraged my passion and I was allowed to flourish. I am currently a freelance translator (Italian into English), and ESL teacher. Italian is a part of my daily life, since I live in Italy, and I have two lovely Italian-American children who are bilingual. I might be a bit of an extreme example of taking a study decision and making a life of it, but it was the best thing that ever happened to me.
---
Steven Montera '12
I took my first my first Italian course in the middle of my sophomore year, thinking it would be a fun challenge to learn the beautiful language of my ancestors. I went on to minor in Italian and majored in biology.
The E.C.Co program in Bologna was a tremendous period of growth and self-exploration for me. I had such a remarkable and transformative experience living and studying abroad in Bologna that I was compelled to return after graduation so I took a scholarship to enroll in a Laurea in anthropology. I really learned how to cook, how to navigate the impossible Italian bureaucracy, and I volunteered at an association that provides assistance to marginalized groups and immigrants. Though I had to return to the US for personal reasons I am counting the days before I can return. I am currently working for a local non-profit on neighborhood revitalization efforts as an AmeriCorps VISTA. I was well prepared to interact with the diverse residents, mainly from my volunteer experience in Bologna.
Although I'm still unsure of where to begin my career path, I'm certain it will involve Italian. I'm drawn to many aspects of Italy and Italian culture and feel compelled to incorporate them into my next steps.
---
Emily Antenucci '10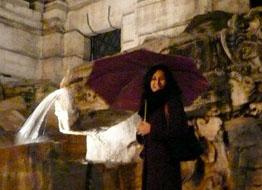 I double majored in Italian and drama and spent the fall semester of my junior year in Bologna, where I participated in the E.C.Co program and took a class at the Dipartimento di Musica e Spettacolo (DAMS). The following summer I taught English at a traveling summer camp program (ACLE), and upon graduation won a Fulbright Fellowship to spend a year teaching in Sicily. Over the course of that year, I became fluent in Italian, immersed myself in Sicilian culture and life, made incredible friends and forged strong bonds with my students and colleagues. I also acted in an Italian version of As You Like It, did a weekly guest spot on a radio station, and started an after school theatre program culminating in an end-of-year performance in English. I spent the previous two years working as a tour coordinator for an educational travel company, and plan to spend this coming summer as a tour leader for Putney Student Travel in Italy, France, Switzerland, and the Netherlands.
I think to a large extent you never stop learning your second language. I am constantly learning and re-learning my adoptive language and culture, and am infinitely grateful that it has taught me life lessons that reach far deeper than vocabulary or even cultural exchange. Italy is my home away from home: as my "adoptive" family in Sicily used to say, sono "la figlia americana."
---
Amy Marcus '12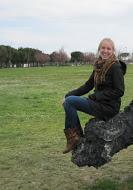 From my first class with Prof. Antognini, I was hooked. The Italian professors have such a warm, lively spirit—they care, they listen, they encourage you to be your happiest self. They make the language come to life, and helped me find what I love and pursue it, no matter what.
I took Italian classes every semester, and was delighted to work as the departmental academic intern my senior year. Graduating with a major in international studies and a minor in Italian, I had the opportunity to teach English in Milan for 8 months through the SITE program. I lived with an amazing host family, traveled, and taught all ages. I came back to intern at a literary scouting agency and at the French Institute Alliance Française, and am now starting as a full-time project coordinator in Manhattan with an international translation company called TransPerfect.