'Father of the GAA': Michael Cusack's Creation of and Legacy in the Gaelic Athletic Association
By Hanna Stasiuk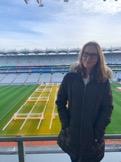 I spent my time in Dublin gathering primary and secondary source material for my senior thesis and immersing myself in Irish sports culture. In terms of research, I spent three days working with microfilm at the National Library of Ireland and two days combing through the archives of the Gaelic Athletic Association (GAA). At the National Library of Ireland, I looked at the pro-British newspapers The Irish Sportsman and Farmer and Sport, which contained transcripts of meetings of the GAA and its rival associations, letters to the editor written by Michael Cusack, and coverage of the British sports that competed against GAA athletics. These materials proved invaluable to my argument about the assault of the imperial press against Cusack and his Irish nationalist GAA. At the archives of the Gaelic Athletic Association, I explored an immense collection of secondary scholarship on the GAA, including books, dissertations, and master's theses. These works helped frame my thinking about the organization, pointed me toward additional secondary scholarship, and helped me envision how to structure my argument.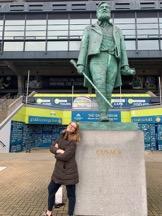 In regards to cultural immersion, this trip provided me with the chance to experience several aspects of the GAA firsthand. I had the opportunity to watch the first Gaelic football match of the season in a pub. It was informative to see how the game looks in action as well as how fans engage with it. I also had the chance to participate in the Gaelic Games Experience, an afternoon of athletics where participants learn the basics of hurling, Gaelic football, and handball. Attempting to play these sports helped me better visualize the events that I was writing about. Finally and most importantly, I had the opportunity to travel to Croke Park, the headquarters of the GAA, to tour the stadium and explore the GAA museum. These experiences not only shed light on the current state of the GAA, which remains Ireland's largest and popular sporting organization today, but also led me toward the conclusion of my thesis about the historical remembrance of Cusack. Standing at Croke Park, I realized that GAA and the rest of the world commemorates Cusack as a hero but disassociates him from the context of his imperial struggle, omitting his conflicts with British forces from exhibitions about him. I made it my mission to fill this gap with my writing and tell Cusack's full story, and this goal became the "so what?" of my thesis.
Overall, my thesis would not have been the same without this trip, so I am incredibly grateful to have received an Evalyn Clark grant. The trip provided me with both the sources and context that I needed to pull my argument together. Thank you to the Vassar College History Department for providing me with the opportunity to travel to Dublin.