Seungsook Moon
Professor of Sociology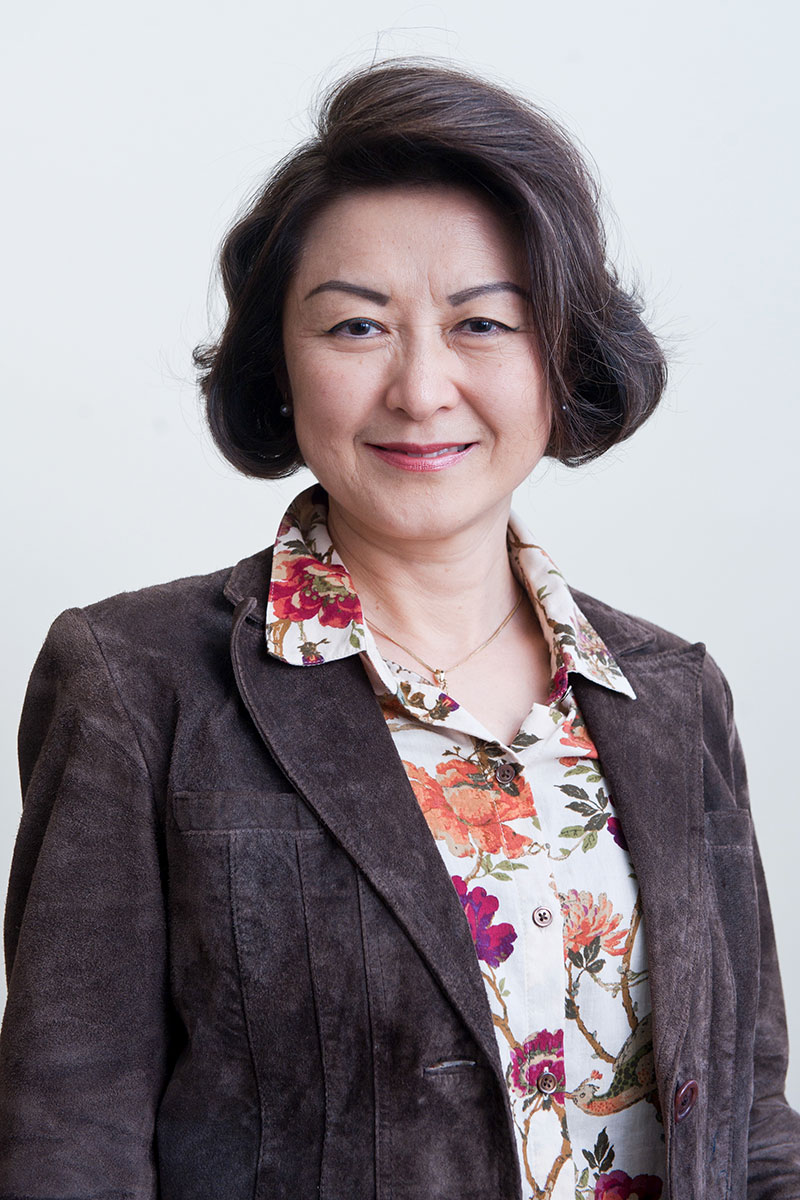 Professor Moon is a political and cultural sociologist, scholar of gender studies, and East Asianist specializing in South Korea. She grew up in Seoul, Korea and lived and worked in Boston and Cambridge, MA before moving to Vassar College. Her research evolved from feminist critiques of nationalism, militarism, democratization, and citizenship to globalization and transnationalism shaping militarism and civic agency, production and consumption of food and masculinities. She is a recipient of notable awards, including a Fulbright Scholars Award (2004-05), an inaugural endowed-chair visiting professorship at Harvard University (2014-15), and the Laboratory Program for Korean Studies Research Grant from the Academy of Korean Studies (2018-23). She was an Associate Editor of the Journal of Asian Studies and has served on the editorial boards of Gender & Society, Contemporary Sociology, Korea Journal, and Asian Women. She wrote and was consulted for articles published in the following news media: El Pais, The Economist, South China Morning Post, CNN Digital, El Periodico, Korea Herald, and Weekendavisen. In order to balance her cerebral and sedentary life, she has become an amateur Argentine Tango dancer.
BA, Yonsei University; MA, Northeastern University; PhD, Brandeis University
At Vassar since 1995
Research and Academic Interests
Transnational Militarism; Citizenship, Civic Activism, and Social Movements; Food, Culture, and Globalization; Masculinities from Global and Transnational Perspectives
Departments and Programs
Courses
Soc 151 Introductory Sociology: Global and Transnational Perspectives
Soc 247 Modern Social Theory: Classical Tradition
Soc/AS 216 Food, Culture, and Globalization
Soc/AS/WMST 369 Masculinities: A Global Perspective
AS/Soc 111 Social Change in South Korea through Film
Resident Director's Seminar: Food, Culture, & Globalization in London (London Program in Media & Culture, Sp. 2019)
Selected Publications
Books
Militarized Modernity and Gendered Citizenship in South Korea. (Duke University Press; Politics, History, and Culture Series, 2005); reprinted in 2007.
Kunsajuŭie kach'in kŭndae: kungminmandŭlgi, simindoegi, kŭrigo sŏngŭi chŏngch'i, Korean translation of the aforementioned book (Seoul: Alternative Culture Publication, 2007).
"Over There": Living with the US Military Empire from World War II to the Present (Duke University Press, 2010); co-edited this volume, single-authored three chapters of this volume, and co-authored Introduction and Conclusion.
Obŏr deŏr: je ich'a segyedaejŏn put'ŏ hyŏnjeggaji migun jegugkwa hamgge saraon sam: (Seoul: Greenbee Press 2016): The co-edited volume above was translated into Korean under my supervision.
Refereed journal articles and book chapters
"Women's Sexual Labor and Militarized Masculinity in the Cold War Alliance between South Korea and the U.S." Oxford Handbook of East Asian Gender History, edited by Barbara Molony, Janet M. Theiss, and Hyaeweol Choi (forthcoming)
"Race, Transnational Militarism, and Neocoloniality: The Politics of the THAAD Deployment in South Korea," Security Dialogue 52(6): 512-528. (The online version was published in July 2021.)
"Women's Food Work, Food Citizenship, and Transnational Consumer Capitalism: A Case study of a Feminist Food Cooperative in South Korea," Food, Culture, & Society 2022(August) (online version published in February 2021).
"Transnational Militarism and Ethnic Nationalism: South Korean Involvements in the Vietnam and Iraq Wars," co-authored with Nora Kim. Critical Military Studies (on line version published in January 2021; paper version will be published in 2023.)
Special Issue: "Legacies of Militarism in the Korean Peninsula in the twenty-first century": I selected three articles from open reviews of multiple submissions and worked with them closely to bring them together under the theme; wrote a substantial introduction, "On the Topic," to the special issue, Korea Journal 58:3(Autumn 2018): 5-14.
"Discipline and Mold: Making of the Docile Student in Korea" in Compressed Modernization, Deepening Crises: South Korean Society, Governance, and Subjectivities in the Sewol Disaster, edited by Jae-Jung Suh and Mikyoung Kim (New York: Palgrave), 2017.
Korean Translation of aforementioned volume including my article will be published by Han'ul Press (Seoul, Korea), 2017.
"Militarized Modernity and Gendered Mass Mobilization" (chapter 2) in Routledge Handbook of Korean Culture and Society, edited by Youna Kim (New York and London: Routledge, 2017), pp. 48-62.
"Introduction" to and editor of "Culture around the Bases: a Forum on the US Military Presence in Northeast Asia", Journal of Asian Studies 75:1(Feb. 2016): 31-39.
"Sexual Labor and the US Military Empire: Comparative Analysis of Europe and East Asia" (chapter 5) in Making the Empire Work: Labor and United States Imperialism, edited by Daniel E. Bender and Jana K. Lipmann (New York University Press, 2015), pp. 137-160.
"Rest and Recreation (R & R)" in The International Encyclopedia of Human Sexuality, edited by Patricia Whelehan and Anne Bolin. Malden, Oxford: John Wiley and Sons, Ltd. (2015), pp. 1059-1114.
"31. Trajectories of Citizenship in South Korea" in The Routledge Handbook of Global Citizenship Studies, edited by Engin F. Isin and Peter Nyers. Abingdon and New York: Routledge (2014), pp. 355-365.
"Living Memory of Roh Moo Hyun: Group Cohesion, Cultural Politics & the Process of Symbolic Interaction," Journal of Memory Studies 6:2(2013): 173-190.
"The Idea and Practices of Citizenship in (South) Korea" (chapter 1) in Citizenship and Migration in Europe and Asia: the Flow of Migrants and the Perception of Citizenship, edited by Markus Pohlmann, Jonghoe Yang, and Jong-hee Lee. (Springer: 2013): 9-38.
"Protesting the Expansion of US Military Bases in Pyeongtaek: A Local Movement in South Korea," South Atlantic Quarterly 111:4(Fall 2012): 856-867.
"Local Meanings and Lived Experiences of Citizenship: Voices from a Women's Organization in South Korea" Citizenship Studies 16 (February 2012)" 49-67.
"Introduction: the Politics of Gender, Sexuality, Race, and Class in the US Military Empire" (co-authored with Maria Hoehn) in "Over There": Living with the US Military Empire (Duke University Press, 2010), pp. 1-36.
"Regulating Desire, Managing the Empire: the US Military Prostitution in South Korea, 1945-1970" in "Over There" (Chapter 1), pp. 39-77.
"In the US Army but not quite of It: Contesting the Imperial Power in a Discourse of KATUSAs (Korean Augmentation Troops to the United States Army)" in "Over There" (Chapter 7), pp. 231-257.
"Camptown Prostitution and Imperial SOFA (Status of Forces Agreement): Abuse and Violence against Transnational Camptown Women in South Korea" in "Over There" (Chapter 11), pp. 337-365. A somewhat modified version of this chapter will be published in The Asia-Pacific Journal in the Spring of 2011.
"Conclusion: The Empire at the Crossroad?" (co-authored with Maria Hoehn) in "Over There", pp. 397-408.
"The Interplay between the State, the Market, and Culture in Shaping Civil Society: A Case Study of the PSPD in Post-Military Rule Korea," Journal of Asian Studies 69:2 (May 2010): 479-505.
"Buddhist Temple Food in South Korea: Interests and Agency in the Reinvention of Tradition in the Age of Globalization," Korea Journal 48:4(Winter 2008): 147-180.
"Cultural Politics of Remembering Park Chung Hee," Harvard Asia Quarterly Vol. XI (Spring/Summer 2008): 26-44. A somewhat different version of this article was reprinted in The Asia-Pacific Journal Vol. 19 (May 9, 2009); accessed at http://japanfocus.org/-Seungsook-Moon/3140.
"Women and Civil Society in South Korea" in Korean Society: Civil Society, Democracy, and the State, 2nd ed. edited by Charles K. Armstrong (Routledge, 2007; reprinted in 2009): 121-148.
"The Rise of Women in Korea: Gains and Obstacles" in Insight into Korea, edited by the Korea Herald. Seoul: Herald Media, 2007): 204-213.
"Cambio social y situación de las mujeres en Corea del Sur: Familia, trabajo y politica" (Social change and women's position in South Korea: family, work, and politics) in Mujeres asiáticas: Cambio social y modernidad (Asian women: Social Change and Modernity), edited by Amelia Sááiz López. Documento CIDOB-Asia, no. 12. Barcelona: Fundación CIDOB, 2006): 24-48.
"Trouble with Conscription, Entertaining Soldiers: Popular Culture and the Politics of Militarized Masculinity in South Korea" Men and Masculinities 8:1 (July 2005): 64-92.
"Immigration and Mothering: Two Generations of Middle-Class Korean Immigrant Women," Gender & Society 17:6(December 2003): 840-860.
"Redrafting Democratization through Women's Representation and Participation in the Republic of Korea" in Korea's Democratization, edited by Samuel S. Kim (Cambridge University Press, 2003): 107-134.
"Imagining a Nation through Differences: Reading the Controversy concerning the Military Service Extra Points System in South Korea," The Review of Korean Studies 5:2(December 2002): 73-109.
"Beyond Equality Versus Difference: Professional Women Soldiers in the South Korean Army," Social Politics: International Studies in Gender, State and Society 9:2(Summer 2002): 212-247.
"Carving Out Space: Civil Society and the Women's Movement in South Korea," The Journal of Asian Studies 61:2(May, 2002): 473-500.
"The Production and Subversion of Hegemonic Masculinity: Reconfiguring Gender Hierarchy in Contemporary South Korea," in Under construction: The Gendering of Modernity, Class, and Consumption in the Republic of Korea, ed. Laurel Kendall (Honolulu: University of Hawaii Press, 2001), pp. 79-113.
"Overcome by Globalization: The Rise of a Women's Policy in South Korea," in Korea's Globalization, ed. Samuel S. Kim (Cambridge: Cambridge University Press, 2000), pp. 126-46.
"Gender, Militarization, and Universal Male Conscription in South Korea," in The Women and War Reader, eds. Lois Lorentzen and Jennifer Turpin (New York: New York University Press, 1998), pp. 90-100.
"Begetting the Nation: The Androcentric Discourse of National History and Tradition in South Korea," in Dangerous Women: Gender and Korean Nationalism , eds. Elaine Kim and Chungmoo Choi (New York: Routledge, 1997), pp. 33-66.
"Eurocentric Elements in the Idea of 'surrender-and-Catch'," Human Studies 16(1993): 305-317.
Photos