Hadley C. Bergstrom
Associate Professor of Psychological Science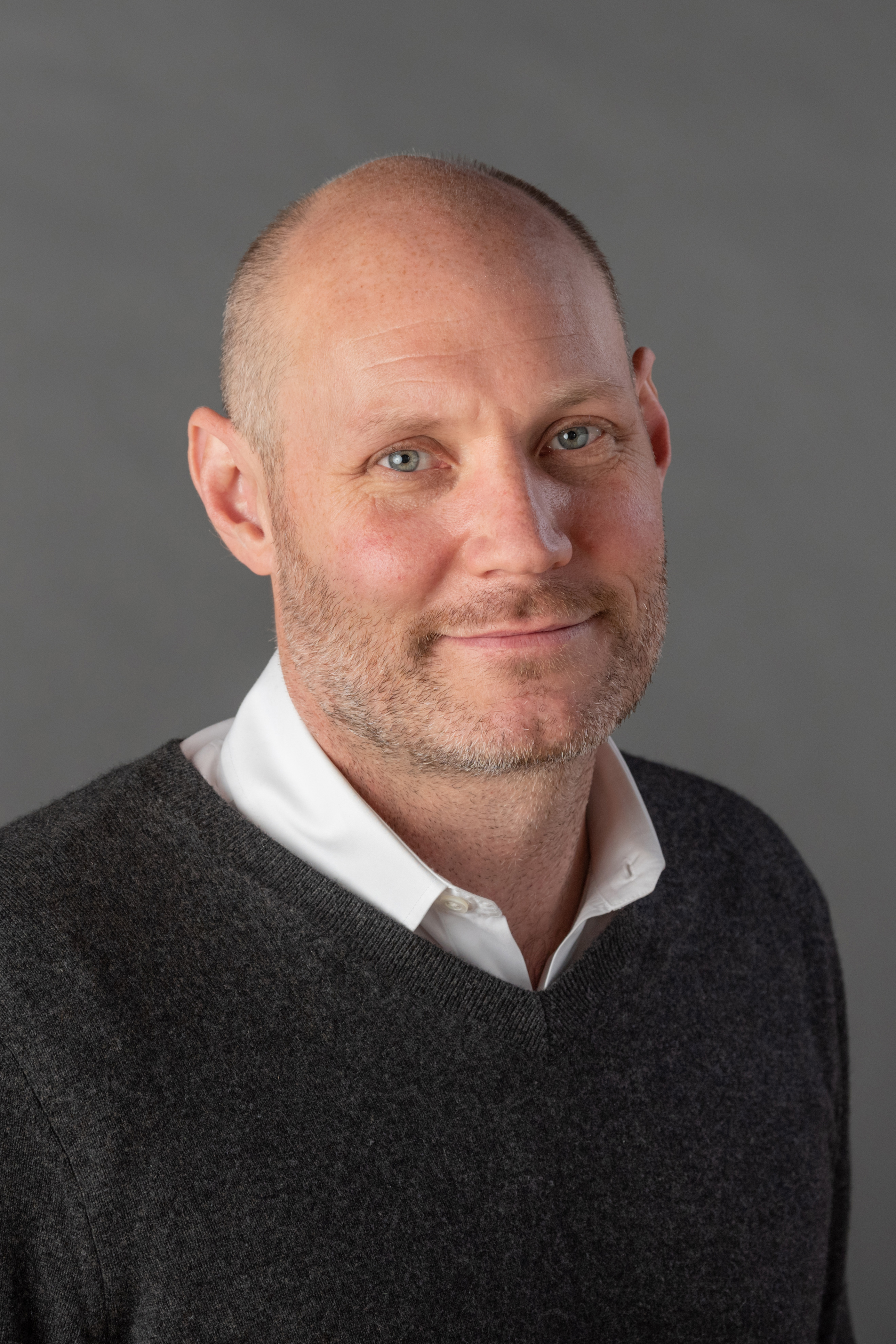 Hadley Bergstrom teaches courses in Psychological Science and Neuroscience. His research focuses on how changes in brain structure and function relate to the organization and expression of memory.
Hadley Bergstrom earned his BS in Psychology from the University of Oregon and MA and PhD in Psychology from George Mason University. He went on to train as a postdoctoral Fellow in the Department of Psychiatry and Center for the Study of Traumatic Stress at the Uniformed Services University School of Medicine. He then held a postdoctoral Intramural Research Training Award in the Laboratory of Behavioral and Genomic Neuroscience at the National Institutes of Health. He currently directs the Memory Neuroscience Lab at Vassar College.
The Bergstrom lab studies how memory is stored and retrieved in the brain. The lab is particularly interested in how memory associated with fear and reward are represented in neural circuits. His research program incorporates techniques for visualizing and manipulating memory storage and plasticity in the brain. Knowledge about how the brain stores memory is vital to understanding disorders of learning and memory, such as post-traumatic stress disorder (PTSD) and addiction.
BS, University of Oregon; MA, PhD, George Mason University
At Vassar since 2015
Contact
845-437-7363
Olmsted Hall of Biological Sc
Box 118
Research and Academic Interests
Learning and memory, synaptic plasticity, dendrite and spine structure
Departments and Programs
Selected Publications
BOLD typeface indicates current or former Vassar student co-author
Geary CG, Wilk VC, Barton KL, Jefferson PO, Binder T, Bhutani V, Baker C, Fernando-Peiris AJ, Mousley AL, Rozental SFA, Thompson HM, Touchon JC, Esteban DJ, Bergstrom HC. (2020). Sex-specific gut microbiota modulation of aversive conditioning and basolateral amygdala dendritic spine density. bioRxiv.org. Preprint
Bergstrom HC, Lieberman AB, Graybeal C, Lipken A, Holmes A (2020). Dorsolateral striatum engagement during reversal learning. Learning & Memory. 27: 418-422. Cover Illustration and featured article
Bergstrom HC (2020). Assaying fear memory discrimination and generalization: Methods and concepts. Current Protocols in Neuroscience. 91(1). PMID: 31995285
Sangha S, Diehl MM, Bergstrom HC, Drew MR (2019). Know safety, no fear. Neuroscience and Biobehavioral Reviews. PMID: 31738952
Scarlata MJ, Lee SH, Lee D, Kandigian AJ, Hiller AJ, Dishart JG, Mintz GE, Wang Z, Coste G, Mousley A, Soler I, Lawson K, Ng AJ, Bezek JL, Bergstrom HC (2019). Chemogenetic stimulation of the infralimbic cortex reverses alcohol-induced fear memory overgeneralization. Scientific Reports. 9(1): 6730 PMID: 31040357
Piantadosi PT, Lieberman AG, Pickens CL, Bergstrom HC, and Holmes A (2019). A novel multichoice touchscreen paradigm for assessing cognitive flexibility in mice. Learning & Memory. 26(1):24-30 PMID: 30559117 Cover Illustration and featured article
Prager EM, Chambers KE, Plotkin JL, McArthur DL, Bandrowski AE, Bansal N, Martone ME, Bergstrom HC, Bespalov A, Graf C (2018). Improving transparency and scientific rigor in academic publishing. The Journal of Neuroscience Research. In press. PMID: 30506706
Note: This article was co-published in the journals Brain & Behavior and Cancer Reports.
Jacques A, Wright A, Chaaya N, Overell A, Bergstrom HC, McDonald C, Battle AR, Johnson LR (2018). Functional neuronal topography: A statistical approach to micro-mapping neuronal location. Frontiers in Neuronal Circuits. 12: 84. PMID: 30386215
Pollack GA, Bezek JL, Lee SH, Scarlata MJ, Weingast LT, Bergstrom HC (2018). Cued fear memory generalization increases over time. Learning & Memory. 25(7): 298-308. Cover Illustration and featured article
Bergstrom HC, Lipkin AM, Lieberman AG, Pinard CR, Gunduz-Cinar O, Brockway ET, Taylor WW, Nonaka M, Bukalo O, Wills TA, Rubio FJ, Li X, Pickens CL, Winder DG, Holmes A (2018). Dorsolateral striatum engagement interferes with early discrimination learning. Cell Reports. 23(8):2264-2272
Jury N, Pollack G, Ward M, Bezek J, Ng A, Pinard C, Bergstrom H, Holmes A (2017). Chronic ethanol during adolescence impacts corticolimbic dendritic spines and behavior. Alcoholism: Clinical and Experimental Therapeutics. 41(7):1298-1308 PMID: 28614590
Ehlinger DG, Burke JC, McDonald CG, Smith RF, Bergstrom HC (2017). Nicotine-induced and D1-receptor dependent dendritic remodeling in a subset of dorsolateral striatum medium spiny neurons. Neuroscience. 356: 242-254 PMID: 28576726
Bergstrom HC and Pinard CR (2017). Corticolimbic Circuits in Learning, Memory, and Disease. The Journal of Neuroscience Research. 95(3): 795-796 PMID: 28094866. Cover Illustration
Bergstrom HC (2016). The Neurocircuitry of Remote Cued Fear Memory. Neuroscience & Biobehavioral Reviews. 71: 409-417 PMID: 27693699
Ehlinger DG, Bergstrom HC, Burke JC, Fernandez GF, McDonald CG, Smith RF (2016). Adolescent nicotine-induced dendrite remodeling in the nucleus accumbens is rapid, persistent, and D1-dopamine receptor dependent. Brain Structure and Function. 221(1): 133-145 PMID: 25257604
Romano Bergstrom JC, Olmsted-Hawala E, Bergstrom HC (2016). Older adults fail to see the periphery during a Website search task. Universal Access in the Information Society. 15(2): 261-270. DOI: 1007/s10209-014-0382-z
Bergstrom HC, Darvesh AS, Berger SP (2015). Inducible nitric oxide inhibitors block NMDA antagonist-stimulated motoric behaviors and cortical glutamate efflux. Frontiers in Pharmacology. 6; 292. PMID: 26696891
Castro-Gomes V, Bergstrom HC, McGuire JL, Parker CC, Coyner J, Landeira-Fernandez, Ursano RJ, Palmer AA, Johnson LR (2016). Lateral amygdala dendritic morphology and spine patterning in a fear memory resistant and susceptible mouse line. Neurobiology of Learning and Memory. 127:64-71 PMID: 26642919.
Prager EM, Bergstrom HC, Wynn GH, Braga MF (2016). The basolateral amygdala γ-aminobutyric acidergic system in Health and Disease. The Journal of Neuroscience Research. 94(6): 548-67 PMID: 26586374
Smith RF, McDonald CG, Bergstrom HC, Ehlinger D, Brielmaier JM (2015) Adolescent nicotine induces persisting changes in development of neural connectivity. Neuroscience & Biobehavioral Reviews. 55: 432-443. PMID:26048001
Fitzgerald PJ, Pinard C, Camp MC, Feyder M, Sah A, Bergstrom HC, Graybeal C, Liu Y, Grant S, Singewald N, Xu W, Holmes A (2015). Durable fear memories require PSD-95. Molecular Psychiatry. 20(7): 901-912. PMID: 25510511. Cover Illustration and featured article
Bergstrom HC & Johnson LR (2014) An organization of visual and auditory fear conditioning in the lateral amygdala. Neurobiology of Learning and Memory. 116: 1-13 PMID: 25076183.
McGuire JM, Bergstrom HC, Parker CC, Le T, Morgan M, Tang H, Selwyn RG, Silva AC, Choi K, Ursano RJ, Palmer AA, Johnson LR (2013). Traits of fear resistance and susceptibility in an advanced intercross line. European Journal of Neuroscience. 38 (9): 3314-3324 PMID: 23968228
Bergstrom HC, McDonald CG, Dey S, Tang H, Selwyn RG, Johnson LR (2013). The structure of Pavlovian fear conditioning in the amygdala. Brain Structure and Function. 218 (6): 1569-1589 PMID: 23179863
Bergstrom HC, McDonald CG, Dey S, Fernandez GM, Johnson LR (2013). Neurons activated during fear memory consolidation and reconsolidation are mapped to a common and new topography in the lateral amygdala. Brain Topography. 26(3): 468-78 PMID: 23322210
Ehlinger DG, Bergstrom HC, McDonald CG, Smith RF (2012). Nicotine-induced dendritic remodeling in the insular cortex. Neuroscience Letters. 516 (1): 89-93 PMID: 22487730
Prager EM, Bergstrom HC, Grunberg NE, Johnson LR (2011). The importance of reporting housing and husbandry in rat research. Frontiers in Behavioral Neuroscience, 5: 38 PMID: 21847375
Bergstrom HC, McDonald CG, Johnson LR (2011). Pavlovian fear conditioning activates a common pattern of neurons in the lateral amygdala of individual brains. PLoS ONE. 6(1): e15698 PMID: 21264324
Prager EM, Brielmaier J, Bergstrom HC, McGuire J, Johnson LR (2010). Localization of mineralocorticoid receptors at Mammalian synapses. PLoS ONE. 5(12): e14344. PMID: 21179518
Bergstrom HC, Smith RF, Mollinedo NS, McDonald CG (2010). Chronic nicotine exposure produces lateralized, age-dependent dendritic remodeling in the rodent basolateral amygdala. Synapse. 64(10): 754-64 PMID: 20336623
Falco AM, Bergstrom HC, Bachus SE, Smith RF (2009). Persisting changes in basolateral amygdala mRNAs after chronic ethanol consumption. Physiology & Behavior, 96(1): 169-73 PMID: 18938187
Bergstrom HC, McDonald CG, French HT, Smith RF (2008). Continuous nicotine administration produces selective, age-dependent structural alteration in pyramidal neurons from prelimbic cortex. Synapse, 62(1): 31-9 PMID: 17957736
McDonald CG, Eppolito AK, Brielmaier JM, Smith LN, Bergstrom HC, Lawhead MR, Smith RF (2007). Evidence for elevated nicotine-induced structural plasticity in nucleus accumbens of adolescent rats. Brain Research, 1151:211-8 PMID: 17418110
Smith LN, McDonald CG, Bergstrom HC, Brielmaier JM, Eppolio AK, Falco AM, Smith RF (2006). Long-term changes in fear conditioning and anxiety-like behavior following nicotine exposure in adult versus adolescent rats. Pharmacology, Biochemistry and Behavior 85(1):91-97, PMID: 16919320
Bergstrom HC, McDonald CG, Smith RF (2006). Alcohol exposure during adolescence impairs auditory fear conditioning in adult Long-Evans rats. Physiology & Behavior 88(4-5):466-472, PMID: 16753191
McDonald CG, Dailey VK, Bergstrom HC, Wheeler TL, Eppolito AK, Smith LN, Smith RF (2005). Periadolescent nicotine administration produces enduring changes in dendritic morphology of medium spiny neurons from nucleus accumbens. Neuroscience Letters 385: 163-167, PMID: 15955627
Bergstrom HC, Palmer AA, Wood R, Burkhart-Kasch S, McKinnon CS, Phillips TJ (2003). Reverse selection for differential response to the locomotor stimulant effects of ethanol provides evidence for pleiotropic genetic influence on locomotor response to other drugs of abuse. Alcoholism: Clinical and Experimental Research 27(10): 1535-1547, PMID: 14574223
Boehm SL III, Piercy MM, Bergstrom HC, and Phillips TJ (2002). Ventral tegmental area region governs GABAB receptor modulation of ethanol-stimulated activity in mice. Neuroscience 115, 1, 185-200, PMID: 12401333
Palmer AA, McKinnon CS, Bergstrom HC, Phillips TJ (2002). Locomotor activity responses to ethanol, other alcohols, and GABAA acting compounds in forward and reverse selected FAST and SLOW mouse lines. Behavioral Neuroscience 116, 6, 958–967, PMID: 12492294