Staff Bios
Richard L. Jones
Laboratory Coordinator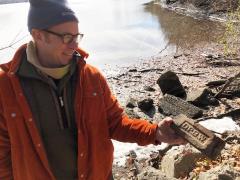 Office: Ely Hall
Box: 735
Rick Jones graduated with a BS in Fine Arts and a BS in Political Science from Washington State University in 1984/1985. He achieved a Certificate in Science Communication from UC Santa Cruz in 1996. Science Illustration credits include National Geographic, Scientific American, Science, The World of Life at the California Museum of Science and Industry. Rick teaches Science Illustration as well as fine arts at the grade school, high school and college levels. At Vassar College, Rick manages the labs and equipment of the Earth Science and Geography Department, as well as managing the collections of the Warthin Natural History Museum. Rick is codirector of VCAP, the Vassar College Artifact Project, which preserves, curates and interprets the physical artifacts of Vassar's 150 year old teaching collections. 
Neil Curri
GIS Lab Manager
Office: Ely Hall 102
Box: 735
Neil Curri is a GISCI-certified GIS Professional (GISP) who serves as GIS Consultant and Instructor. Neil teaches GIS courses offered by the Earth Science and Geography Department. He provides GIS support and training to students and faculty from various academic and administrative departments in addition to Geography & Earth Science, including Anthropology, History, Urban Studies, Biology, Buildings & Grounds, Vassar College Ecological Preserve, and The Environmental Cooperative at Vassar Barns. He also collaborates with Computer Information Services (CIS) to manage hardware and software updates and troubleshooting in the GIS Lab and the SciVis lab.
Neil earned a M.S. in Environmental Science and a Professional Certificate in GIS from the University of New Haven. His skills include geospatial mapping and cartography, spatial and statistical analysis, aerial and satellite imagery interpretation, GIS database development and data standards implementation, and GPS surveys. He specializes in environmental applications of GIS using ESRI software, and has authored, co-authored, and contributed maps and geographic information to environmental studies, resource inventories, and reports for local and state agencies, other researchers, and private clients in the Hudson Valley and elsewhere.
Neil also works closely with the Office of Community Engaged Learning, facilitating connections with local community partners and mentoring students using GIS and geospatial mapping tools in their Community Engaged Learning placements. 
For more information on GIS and geospatial mapping projects and resources at Vassar, visit the Vassar Geospatial Mapping Hub.
Selected Publications
Beisaw, A.M. (2022). Taking Our Water for the City: The Archaeology of New York City's Watershed Communities. (Illustrations).
Peck, H.D. (2019). Thomas Cole's Refrain: The Paintings of Catskill Creek. (Maps).
Rubbo, J., & Curri, N. (Eds.). (2019). A Natural Resources Inventory for the City of Poughkeepsie.
Kelly, V.R., M.A. Cunningham, N. Curri, S.E. Findlay, & S.E. Carroll. The distribution of road salt in private drinking water wells in a suburban township. Journal of Environmental Quality 47, 445-451 (2017).
Findlay, S.E.G., Strayer, D.L., Smith, S.D. et al. Magnitude and Patterns of Change in Submerged Aquatic Vegetation of the Tidal Freshwater Hudson River. Estuaries and Coasts 37, 1233–1242 (2014).