'We Weep for Everyone'
Campus Leaders Detail Resources to Help Students Process Middle East Crisis
Minutes after he first heard about the attacks on Israeli citizens by Hamas terrorists, Rabbi Bryan Mann retrieved a list he had been keeping of the 274 Vassar students who had expressed interest in Jewish Life on campus since he became Assistant Director of the Office of Religious and Spiritual Life and Contemplative Practices (RSLCP) in 2020. Then he sat down and composed a short email addressed to all of them.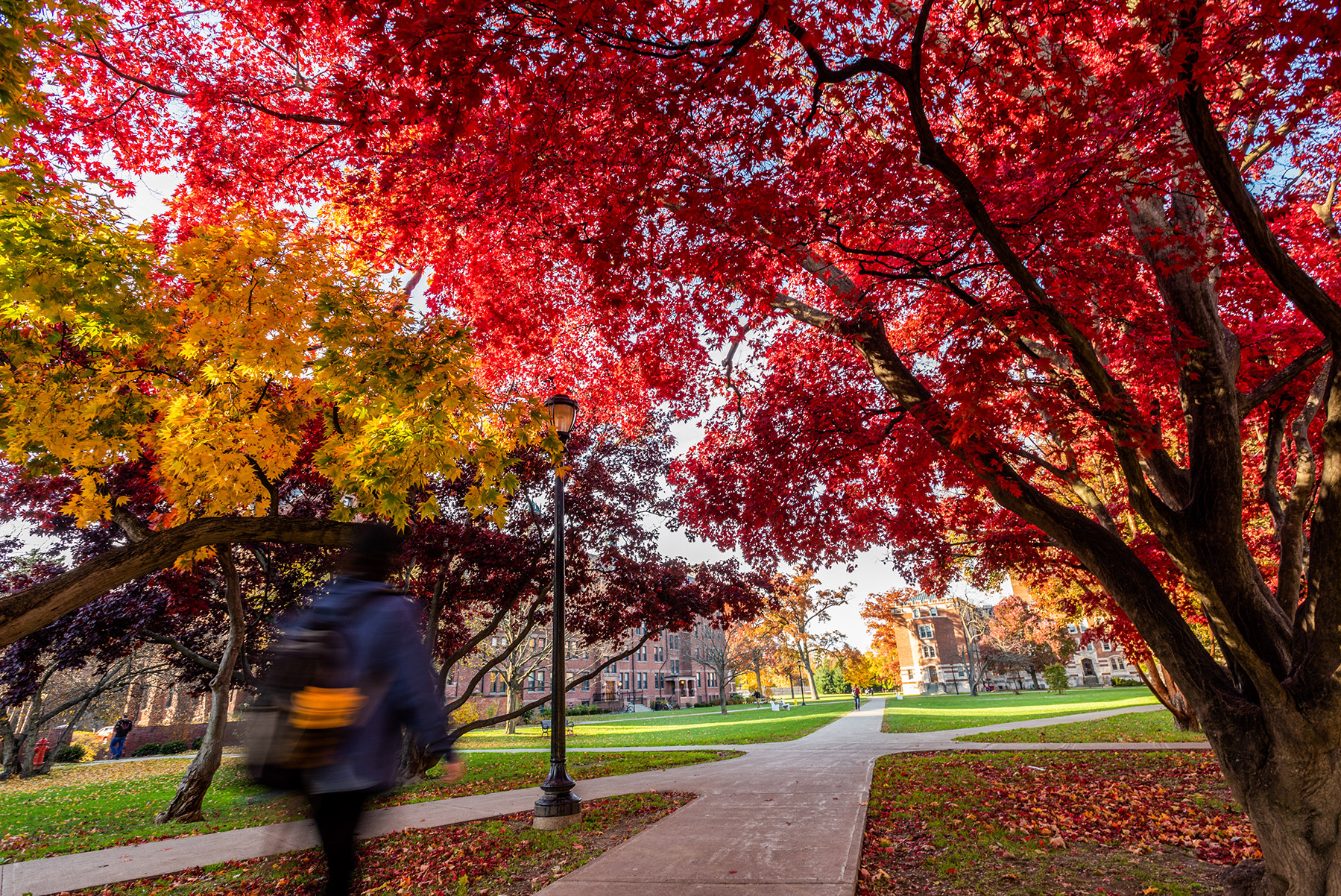 "I expressed my concern for the victims, shared Vassar resources for care including the Counselor on Call, and let students know 'I am here to check in any time you need,'" Mann said. He's been meeting with these students and checking in via calls, texts, and emails ever since.
Mann and his colleagues at Pratt House—Rev. Samuel Speers, Associate Dean of RSLCP, and Saba Ali, Advisor for Muslim Student Life—have been among the major sources of support for Vassar students over the past month in the wake of the strife in Israel and Gaza. "We know that people are hurting, people are grieving, people are angry, and many are in a profound state of loss," Speers said. "Our message at Pratt, from Bryan and Saba and me, is that we weep for everyone."
Speers noted that over the past six years, the College has invested significantly in supporting Religious and Spiritual Life and Contemplative Practices, creating a dedicated Muslim Prayer Space, renovating Pratt House as the RSLCP hub and inter-religious space for gathering and discussion across differences, and extending hours for Vassar's part-time Advisor for Muslim Life position. "This has supported a wide range of changes, including a rapidly growing Muslim community and Pratt House as a new resource for small-group discussions and difficult conversations," he said. "While we try to avoid conflating religion and politics, especially around conflict in the Middle East, it feels important that we now have vibrant Jewish and Muslim communities at the College."
Ali said Muslim students are finding support within their communities and student organizations. "Their resilience comes from leaning on each other, comforting each other, and showing up," she said.
President Elizabeth H. Bradley said she had also fielded numerous inquiries from students over the past few weeks, adding she was grateful that the College had multiple resources to help the Vassar community cope with the crisis.
"Faculty, administrators, and staff have been working tirelessly to ensure that the needs and concerns of students on campus are being addressed," Bradley said. The resources on campus include Vassar's Counseling Service, Engaged Pluralism, and the Learning, Teaching, and Research Center, among others. In addition, the College last month created the Restorative Response Group—headed by Speers; Jonathon Kahn, Director of Engaged Pluralism and Professor of Religion and Africana Studies; and Amanda Munroe, Director of Restorative Practices for Engaged Pluralism—to address issues directly related to the crisis.
Kahn said he viewed the Restorative Response Group as a vehicle that will enable the College to address immediate concerns of students and others on campus triggered by the events in the Middle East. "We plan to develop ways to help people process this war," he said. "It reflects a new capacity the College has to create space for dialogue."
Kahn said he employed this approach when he co-moderated a teach-in about the conflict shortly after students returned from Fall Break. "In my role as a moderator, I used language to encourage us to begin from a place that says: 'I don't know; that's why we're here,'" he said.
Kahn said he was confident that because the College had been steeped in the culture of Engaged Pluralism—learning to engage in difficult conversations about controversial topics—the Restorative Response Group could be effective. "We've done a lot of work in the last six years," he said. "It hasn't been perfect, but we've proven we are a campus that genuinely aspires to talk things through."
Munroe said one of the first tasks of the Restorative Response Group would be to ensure that everyone on campus is aware of all of the resources that are available in times of crisis. "Our number one job is to help students and others on campus navigate their grief," she said. "Trauma manifests itself in different ways; not everyone is ready to talk, and that's OK."
"Because there is no one way to respond, our message has been three-fold: we've shared Vassar's 'care, action, and reflection' resources," Munroe continued. "Moments of crisis often starkly illuminate the presence of structural injustice, and so while the primary response is always community and self-care, learning about this conflict and taking informed action to address the roots of the violence is also care and grief work. This includes understanding imbalances on our own campus—how our Advisor for Muslim Student Life position is only part-time, for example—and naming the ways we can grow."
Munroe said she is convinced that some of the most effective dialogue can take place in Vassar's classrooms, particularly in light of the work being done by the College's Learning, Teaching, and Research Center (LTRC).
Alexia Ferracuti, Director of Inclusive Pedagogy, recently developed a new resource for the faculty, "Teaching in Difficult Times: Supporting Our Students and Ourselves," that provides tips for addressing challenging issues in class. "The first piece of advice we offer to faculty is, 'Check in with your own needs,'" Ferracuti said. "Then, 'Be aware of all of the resources Vassar has to help us come together across differences.'"
Ferracuti said she realized some faculty members might be reluctant to raise such controversial topics in their classrooms, "but it's a way of letting students know you're available to support them and that Engaged Pluralism is here to support them, and many others here on campus are ready as well."
Political Science major Haoyue Qian '24 said she has been grateful when several of her professors—Professor of Religion Michael Walsh, Assistant Professor of Political Science Claire Sagan, and Professor of Jewish Studies Andrew Bush all had spoken spoke about the Israeli-Hamas conflict in her classes recently. "Andy Bush is very caring and I felt the emotional support he was providing," Qian said. "He definitely helped me and others in the class."
While the sadness and anger Speers spoke about still remain very much a part of the campus climate, Mann said he believed there was plenty of reason to be optimistic about how Vassar is coping with the crisis. "I've had calls from alums and parents who are seeing more extreme things going on on other campuses," he said. "I think we're lucky that we are a relatively small school. The students know each other. They have been in class together or competing on an athletic team together or been lab partners, so they see each other as fellow humans."
Munroe agreed. "If you know the human side of the people you are in conflict with, that reduces the hostility," she said. "Our students are caring and compassionate people who look out for one another, so I'm hopeful. And I don't consider hope a feeling. I consider it a practice."