Vassar Supports Area Nonprofits through Community Works
Photos Karl Rabe and courtesy of Grannies Respond Inc.
Every year, volunteers from the Vassar community choose 10 local nonprofit organizations that will receive financial support through the College's Community Works program. The agencies provide a wide range of services, including food, clothing and economic assistance, emotional support and mental health services, and targeted services and support for local immigrant families.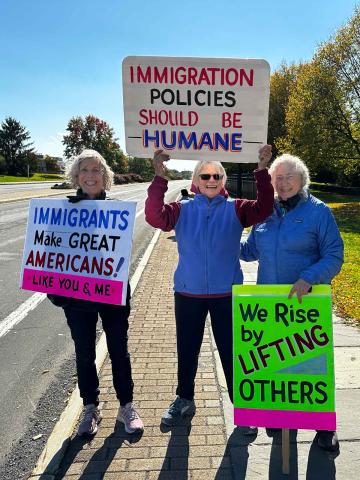 During the 2021 campaign, Community Works raised a total of $87,500 from 225 donors, and the goal is the same this year. Vassar covers all administrative costs, so every dollar donated goes directly to the local agencies. "Next year will likely be a time of uncertainty for many Hudson Valley neighbors," members of the Community Works Committee said in a joint statement. "We feel privileged to be able to donate to these worthy nonprofits, and encourage others to do so."
One organization being supported by Community Works for the first time, Grannies Respond/Abuelas Responden, provides emergency assistance to local immigrant families. Valerie Carlisle, a member of the Steering Committee of the Reunite Migrant Families chapter of Grannies Respond, said the funds from the Vassar campaign would be distributed to the families through a network of Hispanic churches. "We've developed relationships with the pastors of these churches, and we let them decide who needs our help," Carlisle said. "It might be $500 for temporary housing for families who have just arrived, or food or medicine or transportation. The donations are relatively small, but they mean a lot to these families at a critical time in their journeys."
Because Grannies Respond is a private organization, it has sole discretion over how it spends its money, Carlisle noted. "When emergencies come up, there are no forms to fill out—we can act quickly," she said.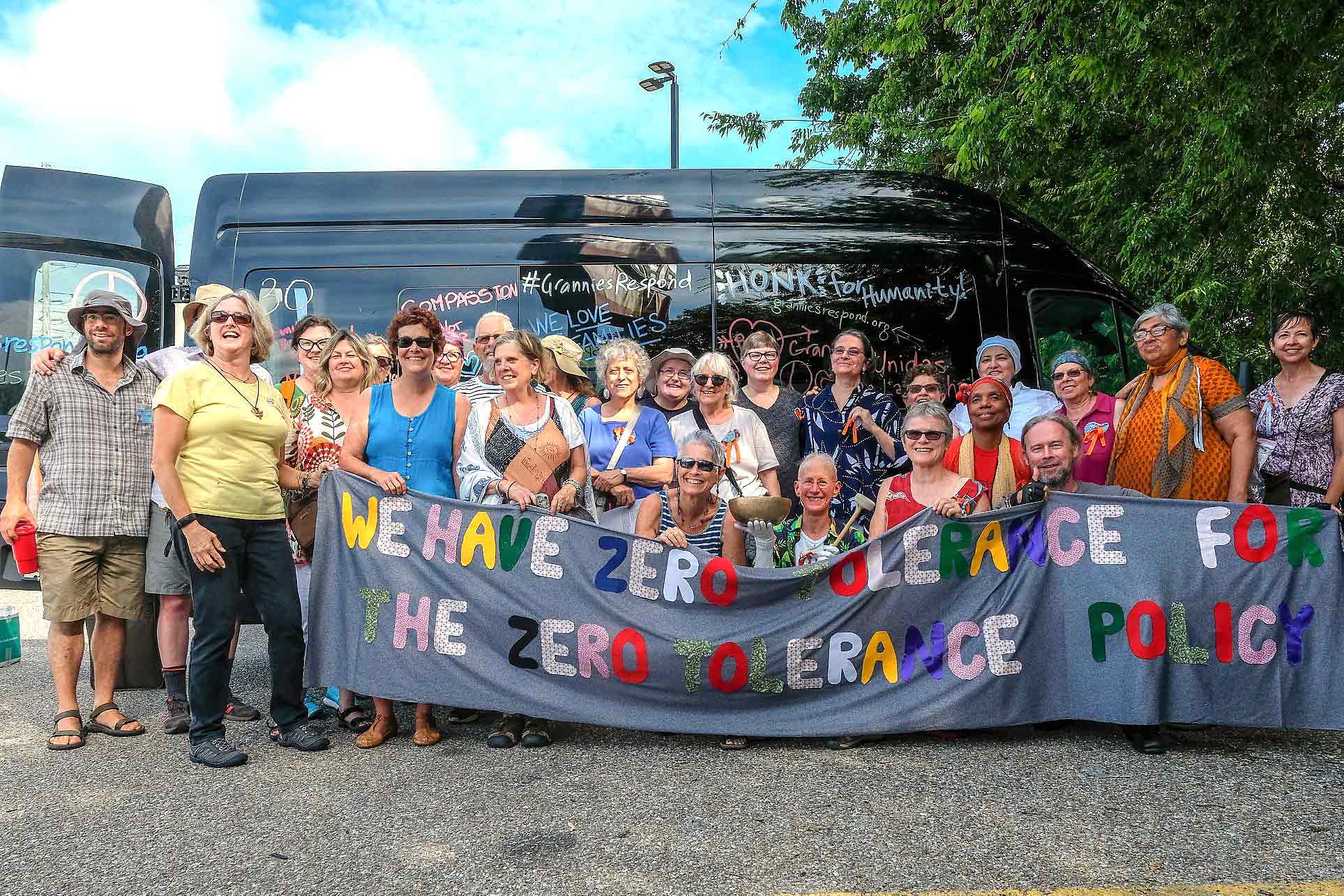 Catherine Cole, Executive Director of Grannies Respond, said the group was founded in 2018 after about 30 local residents decided to travel to the Texas-Mexico border to protest the separation of immigrant children from their parents. By the time they reached the border, the number of protestors in the caravan had swelled to more than 200. "We chose the name because grandmothers are often the heart of a family, but a lot of us are women of a certain age," Cole said.
The group's first missions included distributing clothing, diapers, and toiletries to immigrants arriving at bus stations, and throughout the COVID-19 pandemic, they staged weekly protests against U.S. immigration policy along Route 9 in Poughkeepsie. More recently, members of the New York City and Philadelphia chapters have been meeting buses of immigrants sent by Texas Governor Greg Abbott.
Carlisle said the work being done by Grannies Respond is often challenging but always rewarding. "It's very easy to think the world is a terrible place, but when you're around all these people who are helping, it gives you hope," she said. "These [immigrants] have been through so much trauma, yet they're thankful. It's an honor to serve them."
Because food insecurity continues to be a critical issue in the Hudson Valley, the Community Works Committee has also chosen Dutchess Outreach, a Poughkeepsie-based organization that runs a food pantry and a "grab-and-go" soup kitchen, for continued support in the coming year.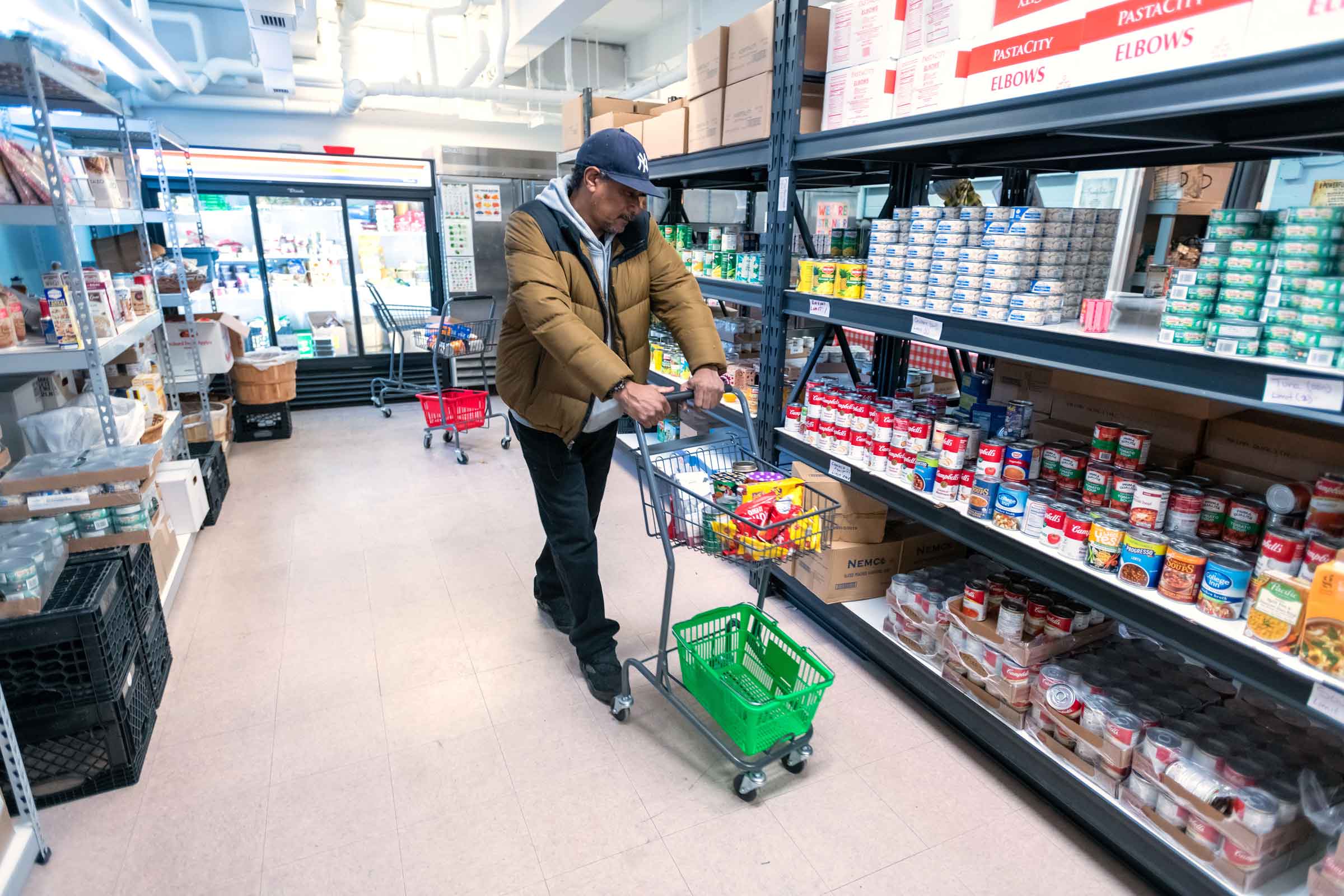 The agency's Assistant Executive Director, Tara Whalen, said the numbers she and her staff compiled in their annual report speak for themselves. According to the report, the food pantry served more than 8,200 households in 2021, and the soup kitchen provided 212,000 meals, nearly twice as many as it served in 2019. Dutchess Outreach also provides fresh produce from local farms through its Fresh Mobile Market program. Last year, utilization jumped more than 45 percent over the previous year.

"Many of our clients rely on us for nutritious meals, and the situation is only getting worse," Whalen said. "Thanks to the generosity of our donors, including Vassar's Community Works, we have been to able to serve their needs."
Executive Director Renee Fillette said the organization is also forging relationships with local health-care providers to ensure those with chronic diseases are receiving the right kinds of food. "From recipe cards created by nutritionists, to nutrition guidance on our food shelves, soon everyone who visits the food programs at Dutchess Outreach can do more than eat—they can eat well," Fillette said.
Following are brief descriptions of other organizations that will be supported in the current campaign:
Grace Smith House
Grace Smith House is a private nonprofit that provides residential and nonresidential services to victims of domestic violence and their families. They offer shelter, individual/group counseling, transitional housing, court accompaniment advocacy, transportation, preventive education and more to residents of Dutchess County, NY.
Mental Health America—Dutchess County
Mental Health America—Dutchess County strives to make the Hudson Valley a place where anyone can get access to the full spectrum of mental health and addiction services they need, without jumping through unnecessary hoops. Programs include a mobile crisis intervention team, veterans services, workshops and educational programs, support groups and social activities, and individualized support.
Sparrow's Nest
Sparrow's Nest delivers homemade meals to families facing a cancer diagnosis in the Hudson Valley. However, the charity is about much more than just food. It's about community rallying around a family to help with some of their basic needs; it's about giving these families some peace of mind knowing a homemade meal is coming; and it's about showing them they are supported throughout an illness, and alleviating some of their stress.
Ulster Immigrant Defense Network
Ulster Immigrant Defense Network provides help with household needs including food, clothing, furniture, school supplies, and emergency financial aid; rent and utilities assistance; information and referrals for legal support, health care, social services, and time-sensitive problems; responding to ICE actions; supporting schools, students, and families with education information and advocacy; and case management for time-sensitive problems that fall outside the work of other teams.
Abilities First
Abilities First provides people who face developmental challenges and their families support in their journeys to independence, self-determination, integration, and acceptance by others through education, exploration, and experience.
Dutchess County Pride Center
Dutchess County Pride Center is a safe place for members of the LGBTQ+ community in Dutchess County including LGBTQ+ youth, young adults and their families, and allies to feel comfortable and free to express themselves. Their goal is to support, educate, and advocate through outreach, support groups, and social events.
Exodus Transitional Community
Exodus Transitional Community delivers innovative programming tailored to adults and youth affected by the justice system, and advocates for a society in which all can achieve social, economic, and spiritual well-being. They partner with local organizations, agencies, and policymakers to build a supportive network for justice-involved men and women, and change the larger systems that perpetuate the cycle of justice involvement.
Finish Strong
Finish Strong is a nonprofit organization located in the Family Partnership Building in Poughkeepsie that promotes the strengths and abilities of young people by providing trauma-informed services that empower and enrich them to face life's challenges with confidence, competence, and dignity.