Vassar Rings in "Fearlessly Consequential" Fund-Raising Campaign
The five-year, $500 million campaign—the largest in Vassar's history—was initiated to provide for the "collective future" of the College and its students.
Punctuated by the sound of bells reverberating in Poughkeepsie—and via video, across the world—Vassar kicked off its largest fund-raising campaign in history during a two-day event on the sun-splashed campus on October 14–15. "We will be raising $500 million to take Vassar to a whole new level," Board of Trustees Chair Anthony Friscia '78 told a gathering of more than 300, including about 200 alums, in front of Vassar's Main Building.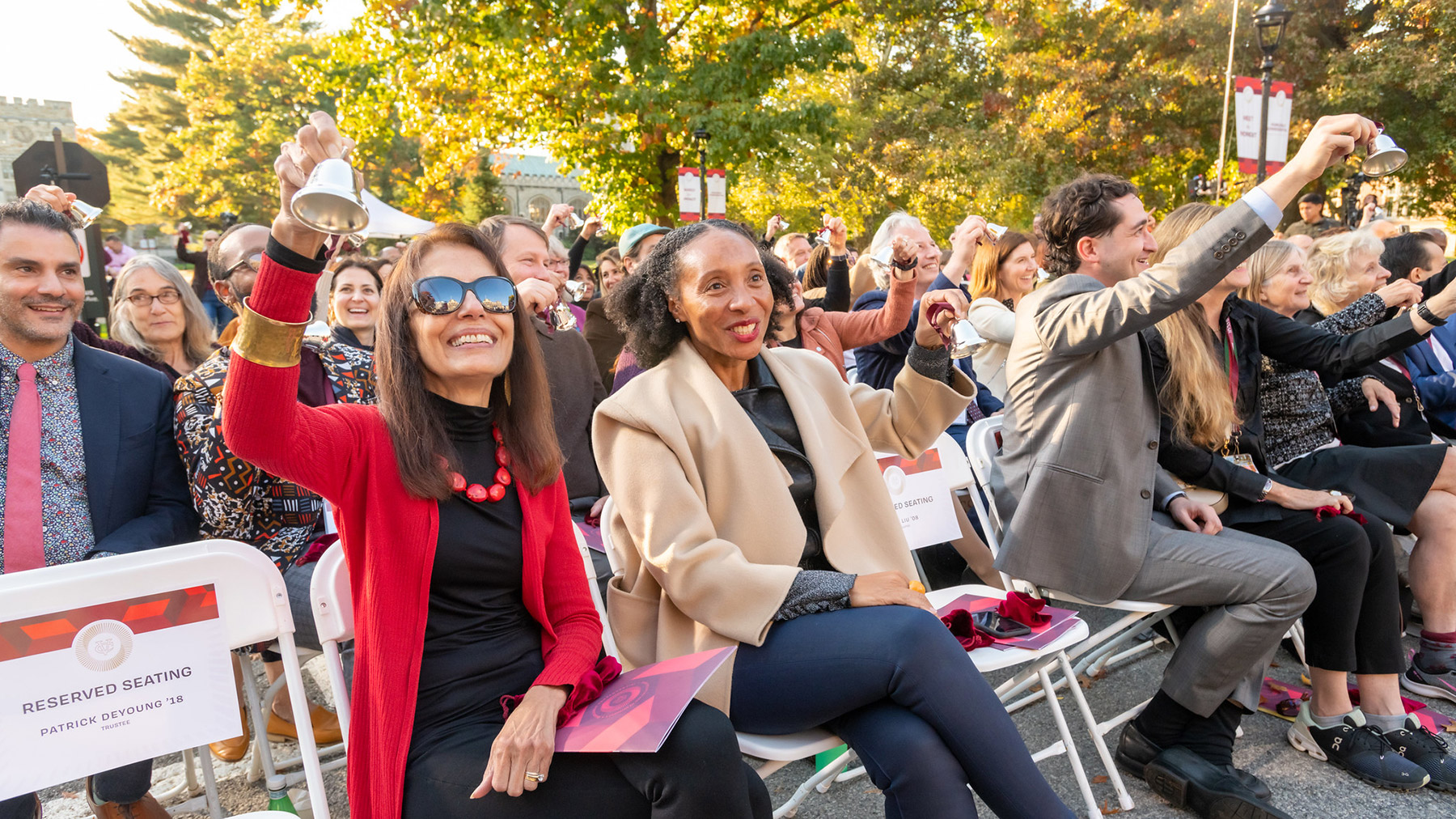 Friscia said $210 million in gifts and pledges had already been secured from more than 16,000 donors as the campaign ramped up, and he was confident the remaining $290 million would be raised over the next five years. 
Vassar President Elizabeth Bradley told those gathered at the event that it has never been more important to be fearless as Vassar prepares its students for what she called "a divisive and fragile moment" in the United States and globally. "Truly, the sense of urgency is palpable," Bradley said. "In this moment, we need to bring together and empower people who come from diverse backgrounds, who are not afraid to question the status quo and to do so with humility listening and learning from others (including voices that often have not been heard), who are creative problem solvers, who use multidisciplinary approaches and are comfortable in many worlds, who know what it means to "go to the source" to gather reliable facts, and who can work across differences in engaged, pluralistic ways."
"It's a tall order," the President said, "but this is exactly what Vassar does and what this campaign is about."
Bradley also highlighted the larger vision underlying the campaign. She said, "This is not just about Vassar; it is about being part of something bigger than ourselves. This is about being an integral part of making a better collective future by educating young adults—young adults who can foster a world in which people from all economic and social backgrounds are included, who know how to resolve disagreements, and who are inspired and feel equipped to address the global challenges ahead of us."
Carol Ostrow '77, one of nine campaign co-chairs, called the official announcement of this ambitious initiative "an exciting day for Vassar. Today, we take the measure of what Vassar has meant to us and set our sights on what we can do to inspire and embolden generations of students to come." Other co-chairs are Katrine "Cage" Ames '69, Katherine "Gig" Babson '69, Jason Blum '91, Leslie Jackson Chihuly '83, Brian Farkas '10, Stephanie Hyacinth '84, Elias Kim '16, and Cynthia Patton '83.
Friscia said the College had built a strong foundation for the campaign during Bradley's tenure over the past five years, "and we are now well positioned to focus on investing in a new future." Major expenditures to be financed with funds raised in the campaign include:
The Vassar Institute for the Liberal Arts and Inn, which is nearing construction on property adjacent to the Alumnae House, just off the campus. Programming at the facility will allow Vassar to play an important role in fostering dialogue about higher education and contemporary challenges in the U.S. and globally;
A new building on the campus that will house the College's Admission and Career Education offices;
A center to support multidisciplinary studies in the liberal arts;
New athletic facilities and other facilities and initiatives promoting health and wellness;
Continuing support of the College's sustainability efforts that will enable Vassar's campus to achieve carbon neutrality by 2030;
An ongoing commitment to meeting 100 percent of the financial aid needs of all qualified students, regardless of their ability to pay. In a video that was shown to those gathered at the event, Blum said he had recently made a major donation to the college's financial aid fund because he believed that making education accessible was one of the most important responsibilities the College had.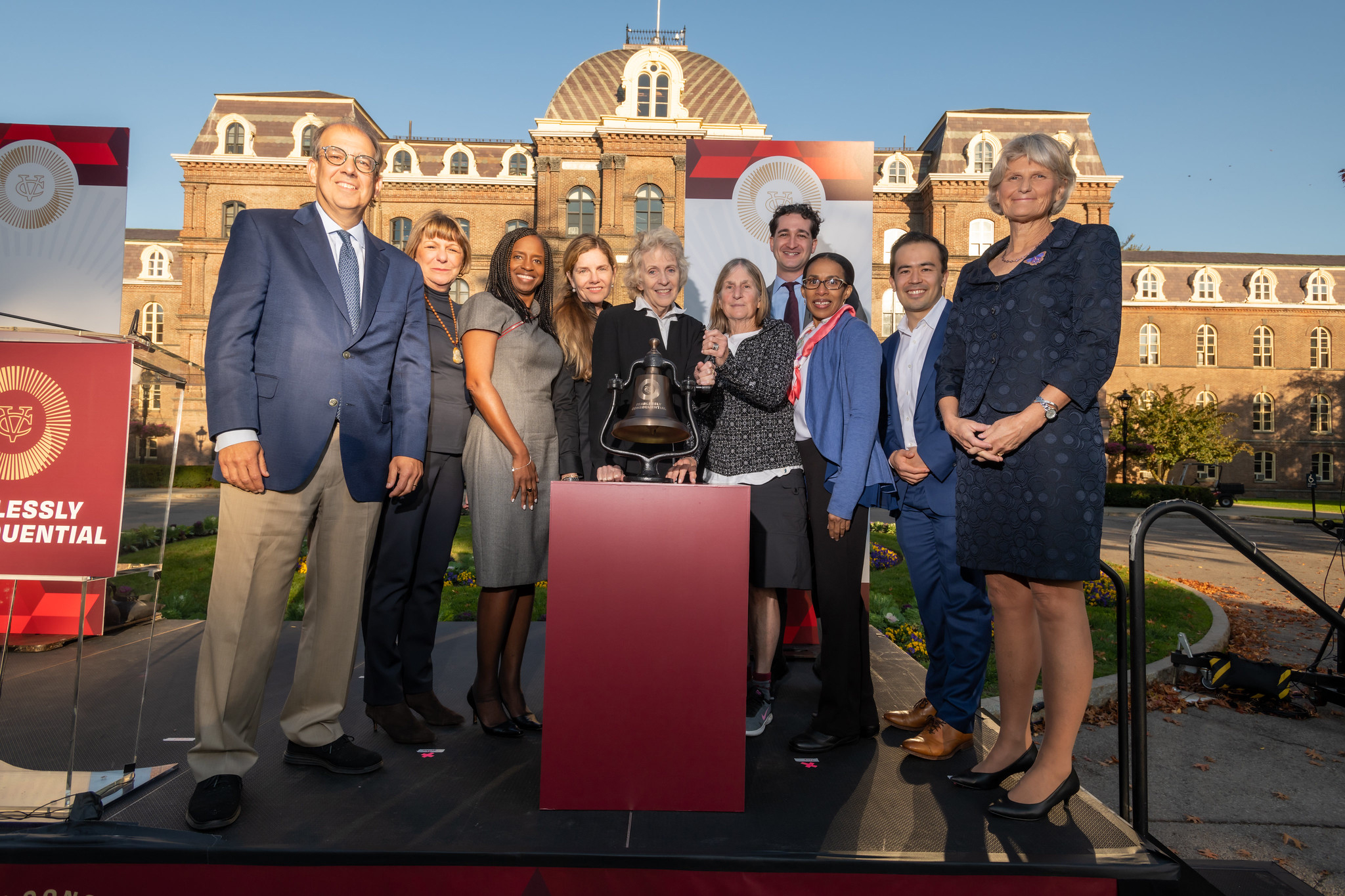 Patton, the first member of her family to attend college, told those gathered at the event that she had benefited from a generous financial aid package, provided by members of Vassar's New York City club, when she enrolled in 1978. She said one requirement of the scholarship was that she "have tea with the ladies of the New York club once a year, and go to the opera.
"I learned that I loved the opera," she said, "and I learned to play golf and do a lot of things that frightened me, and I learned that you are happiest when you lean into discomfort."
Patton said her Vassar education had rewarded her with a career she loves, and it had also made her realize that "with this gift comes a responsibility to ensure that others in the future will have the same opportunity I had."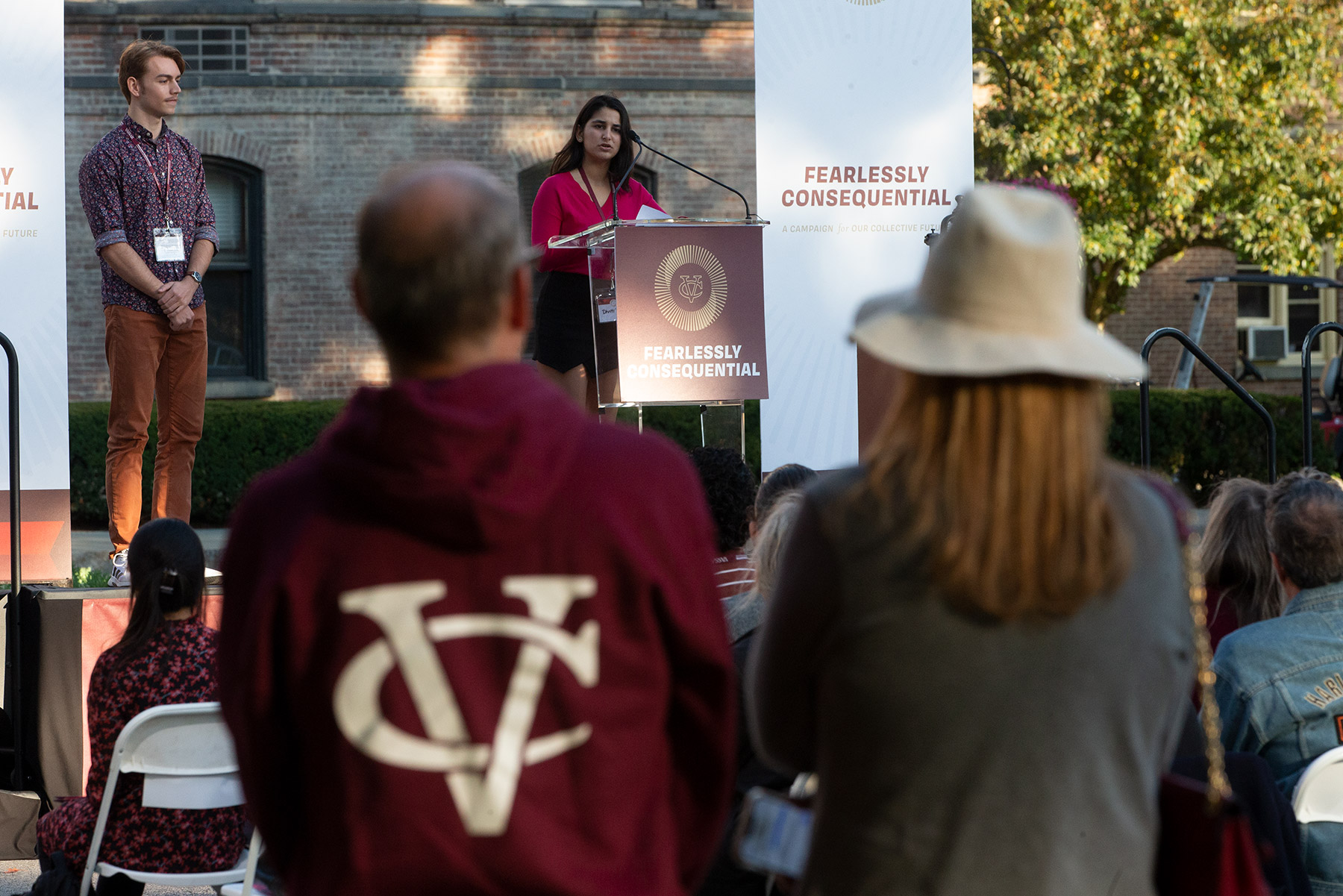 Two members of Vassar's Student Philanthropy Council, Chase Engel '23 and Dhriti Seth '24, told the audience why they had become involved in the campaign. Engel said his campus job with the Advancement office is calling prospective donors, "So I'll be that guy on the phone calling some of you." He said he had benefited from a generous financial aid package that had enabled him to enroll in a college "that has offered me life-changing experiences. It's a privilege for each of us to have the opportunity to uphold Vassar's future."
Seth said she chose Vassar after a recruitment trip to India by members of the College's Admission staff. She said many of Vassar's values were immediately apparent when she arrived on campus. "From the day you enter, you are asked to have an opinion," she said. "You are encouraged to not only feel but to feel so deeply you are forced to act, and that resides in each and every one of us.
"Vassar has invigorated us by showing us what is possible," Seth concluded. "When we leave and go out into the world, we are bound to shake things up. We are bound to be fearlessly consequential."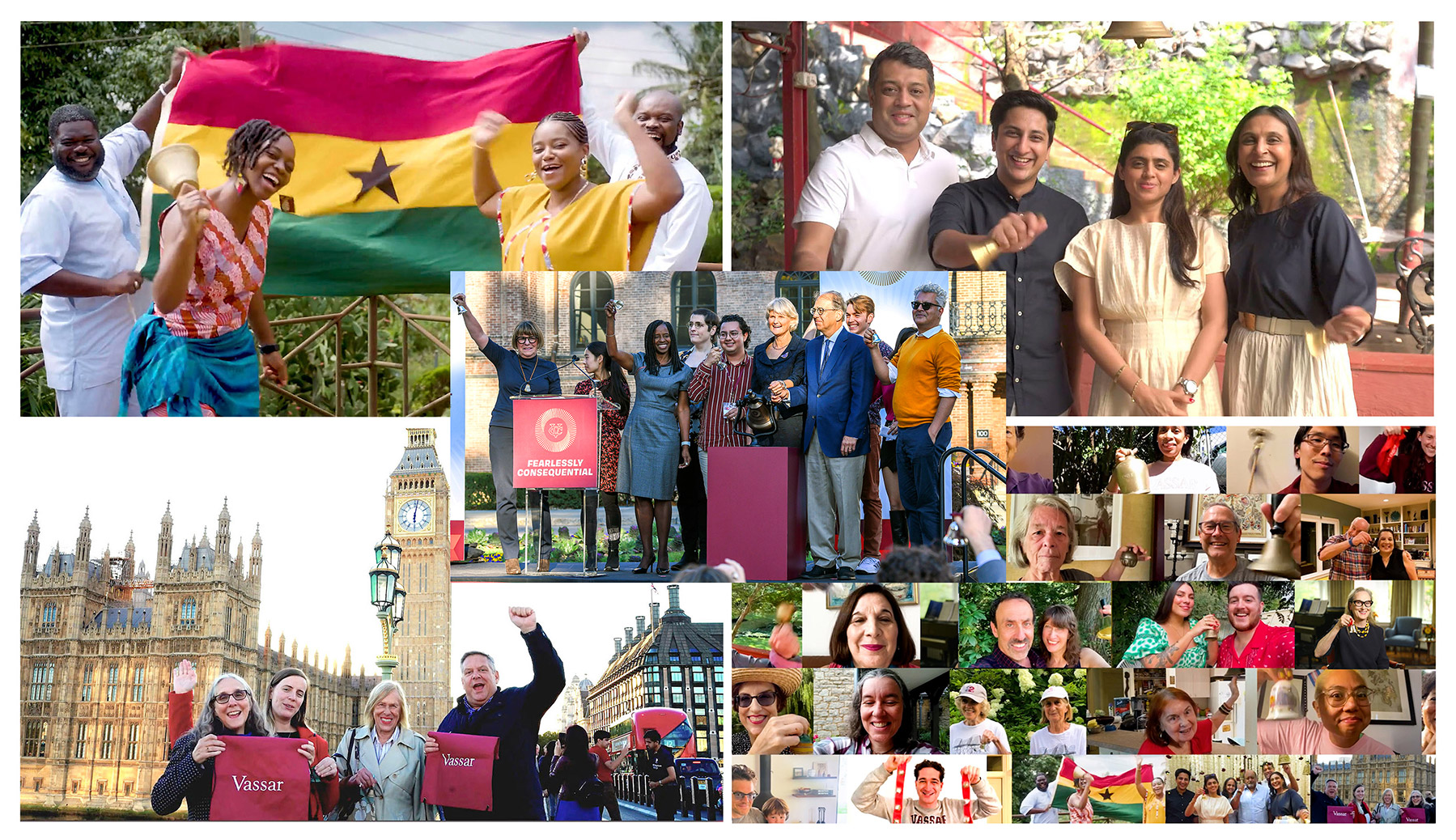 The weekend culminated with a livestreamed announcement event in which campaign leaders on-stage initiated a crescendoing wave of bell-ringing celebrations that continued with students tolling the giant bell atop Main Building and then with a ringing of bells by alums across the globe, including those in India, Ghana, and the UK. The festivities were viewed on two giant LED screens flanking the program stage. Vassar's $500-million fund-raising campaign had officially begun. 
Earlier in the day, Vassar demonstrated the power of a liberal arts education during a series of panel discussions on topics ranging from the treasures in its Archives and Special Collections to Vassar's health and wellness and sustainability initiatives, as well as a look at how Vassar alums have addressed significant issues locally and globally.
In the "Vassar in the World," panel, Tanay Tatum-Edwards '12 and others addressed the latter. Tatum-Edwards, the founder of FreeCap Financial, a research company that advises clients on socially responsible investments, said Vassar had not only given her the skills to run the company but had helped instill the values that led her to create her company. Tatum-Edwards said she loves to hire interns from Vassar because "they have the ability to not only do the quantitative work [required for research], but they understand the social justice issues we are facing and what we are trying to accomplish."
Peter Malinowski '06, founder of the Billion Oyster Project, an initiative that engaged young people in restoring the ecology of the New York City harbor, added that Vassar had provided him with the tools to find ways to make a difference. "We are inundated with negative stories about the environment," Malinowski said, "and it's important to motivate young people to make things better. We're not just restoring the landscape; we're creating an environmental ethic that motivates them toward further change." 
Torrey Maldonado '96, a New York City public school teacher and author of novels targeted to young teens, said he had been motivated by his mother to embrace learning and aspire to continue to work for positive change in the world. Maldonado said he had a poster in his room at his home in Brooklyn when he was in high school that quoted the words of the late Senator Robert Kennedy: "Some men see things as they are, and say why? I dream of things that never were, and say why not?" He said his mother made sure he brought that poster with him and put it on his wall when he enrolled at Vassar. "I learned that a lot of Vassar students possess that 'why not?' attitude," he said, adding that is why he decided to write books for young people that embody that spirit.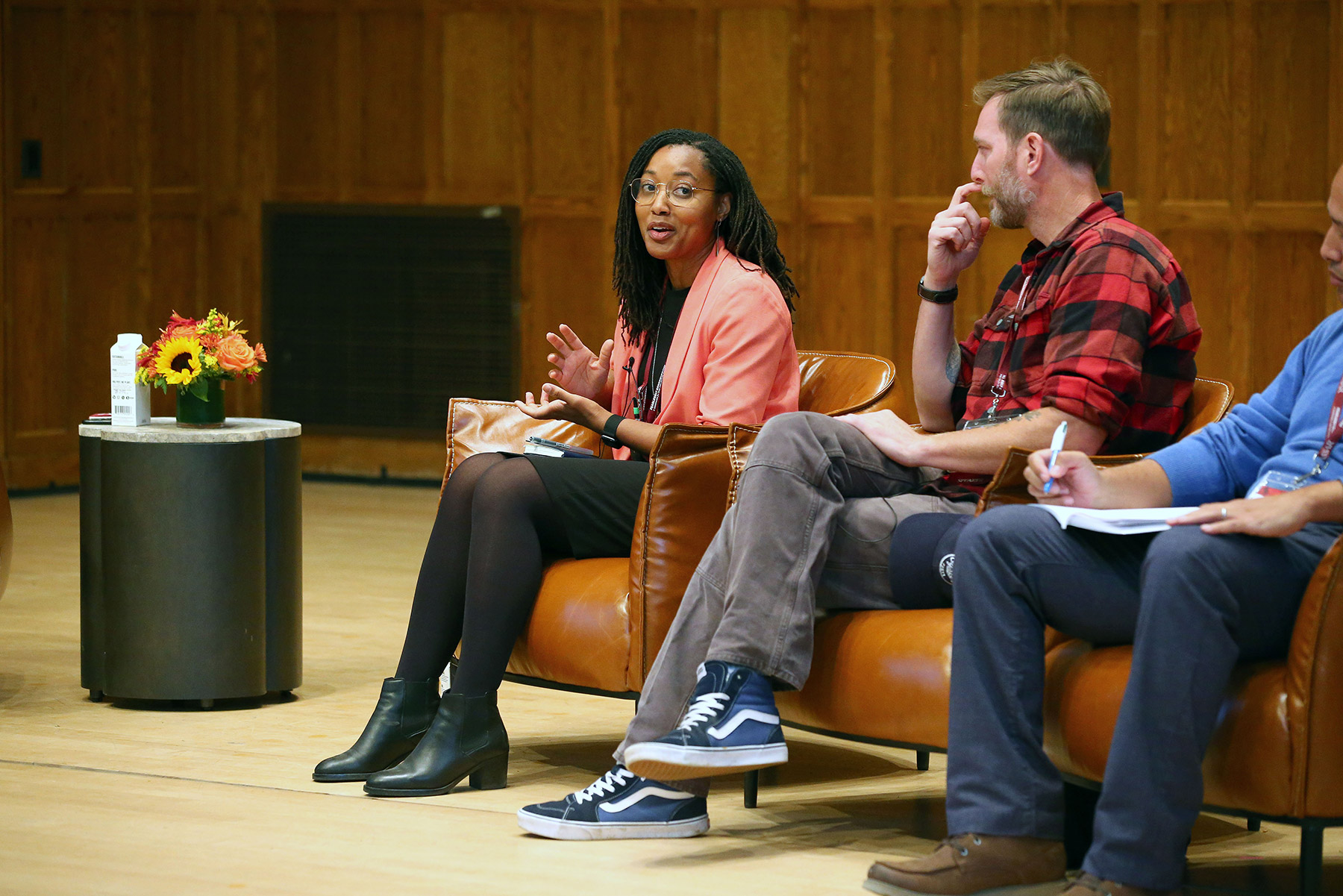 During the panel discussion titled "The Power of the Liberal Arts," Professor of Political Science Himadeep Muppidi said he viewed his role as a teacher at Vassar as a facilitator. "In a classroom, you have 25 to 28 faces, and each of them have different worlds formed by their history," Muppidi said. "My task is to put these worlds into a conversation so they engage each other. The class comes alive when we trust each other and we all end up at a new point none of us could have imagined."
Eve De Rosa '91, a neuroscientist and Dean of Faculty at Cornell University, said her Vassar experience had provided her with critical-thinking skills that she applies every day, both as a scientist and a college administrator. She said that while critics often accuse those in higher education in the liberal arts as being "elitist," gathering the facts and reaching logical conclusions "is actually the antithesis of that.
"Real life is messy," she said, "and the liberal arts allow us to drill down to understand the details, whether it's climate change, racism—whatever the topic."
View a gallery of photos from the kick-off of the Fearlessly Consequential Campaign. For more about the initiative, visit the campaign website.