Vassar Innovation and Entrepreneurship Forum Offers Guidance to Budding Innovators
Starting your own business or not-for-profit organization is always challenging, often frustrating and never instantly rewarding, but the satisfaction of seeing your idea morph into a viable enterprise is worth the struggle. That was the message two alums and a Vassar senior delivered to aspiring entrepreneurs during a two-hour panel discussion hosted by Vassar Innovation and Entrepreneurship (VIE), a program launched recently by the Office of Computer Information Services (CIS).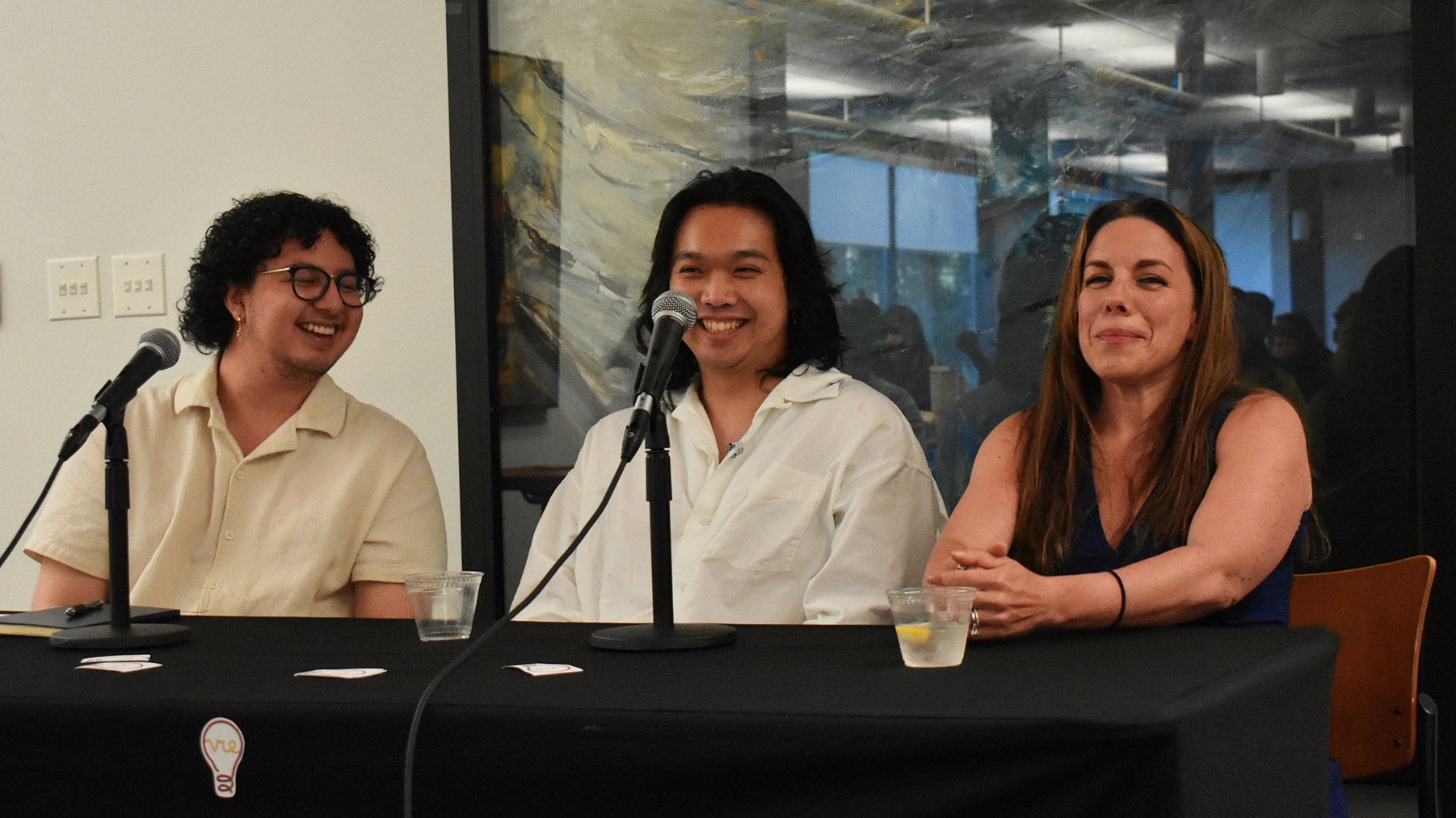 Members of the panel were Johnson Lin '21, who co-founded a tech startup when he was a senior at Vassar; Arielle Lapiano '96, who has created several communications-related businesses, and Julian Aguilar '23, who, at age 17, founded a not-for-profit in his hometown in California that provides guidance to high school students navigating the college admissions process.
Asked what they enjoyed most about creating and running their enterprises, all three panelists said it was the satisfaction of being one's own boss. "It's a fast-paced environment where you get to try out your own ideas, not someone else's," Lin said.
Lapiano agreed but added that not having anyone to answer to also comes with some pitfalls. "My favorite thing is not having a boss, but it can also be one of my least favorite things because you don't have anyone to bounce your ideas off," she said. "If you have that itch to be an entrepreneur, scratch it, but it's really important to find a support network of people you can rely on for advice."
Aguilar said creating his organization was especially rewarding because it enabled him to help fellow students solve a tangible problem. "I saw many of my peers going through a process without the resources they needed, so solving that problem was gratifying," he said.
All three panelists warned the more than two dozen students who attended the session to learn how to prioritize tasks. "Burnout is real, and it's why so many start-ups fail," Lin said. "You will have crazy 80- or 90-hour weeks, but you have to understand that you should chill the next week." He said one of the skills he had learned at Vassar was how to balance a busy schedule with his personal life.
Aguilar agreed. "Not knowing when to take a break can be a problem," he said. "I learned when I studied abroad and couldn't run the organization that I had to trust others in my team to take over." 
He added that Vassar had taught him many skills that have enabled him to engage in long-term planning for his organization. "Vassar teaches you to be critical of yourself and to take a long view of things," Aguilar said. "It helped me to start thinking about what I want my organization to be 10 or 20 or 30 years from now."
Lapiano, who earned a master's degree from the School of International and Public Affairs at Columbia University, said one of the most important skills for promoting her business was acquired at Vassar. "In raising funds, telling your story is key, and Vassar taught me storytelling," she said. "People want to feel your passion before they will invest in you and connecting with them by telling your story is an effective way to do that."
Lapiano urged those who attended the session to take advantage of the resources that alums can provide. "Follow up with all of us as you pursue your ideas," she said. "The three of us took the time to be here today, and we're here to help. Use us."
Carlos Garcia, Vice President for Technology and Human Resources, said the College was prepared to help students with innovative ideas by developing mentorships and providing them with other resources. "President Bradley and many of us in [Computer Information Services] often meet students who have these brilliant ideas, and in the past, we felt it was our duty to warn them of some of the barriers that would hamper them," Garcia said. "In launching VIE, we want to be able to help them channel their ideas and help them answer some of the key questions they will need to start a business or see an idea come to fruition. We will do all we can to support them."
One aspiring entrepreneur who attended the event, Olir Eswaramoorthy '25, said he was inspired by hearing the panelists' stories. Eswaramoorthy said he and a friend had hatched an idea recently for a computer game that pokes fun at artificial intelligence. "We started talking about it over Winter Break, but now, after hearing Julian and the alums talking about their experiences, it makes me think this is much more possible," he said.