Vassar Earns 'Military Friendly' Designation for Supporting Vets on Campus
Photos Karl Rabe and courtesy of Brittany Andrade
Loren Opbroek '25 enrolled at Vassar just a few months after she finished her service with the U.S. Navy. She says the transition from the military to college wasn't always seamless, but the support she received from the College got her over the hurdles.
"In the Navy, you're discouraged from asking for help; you're expected to figure out everything for yourself," Opbroek said. "I was halfway through my first semester before I went to my Russian professor and told her I was falling behind. She invited me to visit her and speak Russian with her, not just during office hours but any time. And I found out everybody at Vassar is like that. They're willing to give you whatever help you need."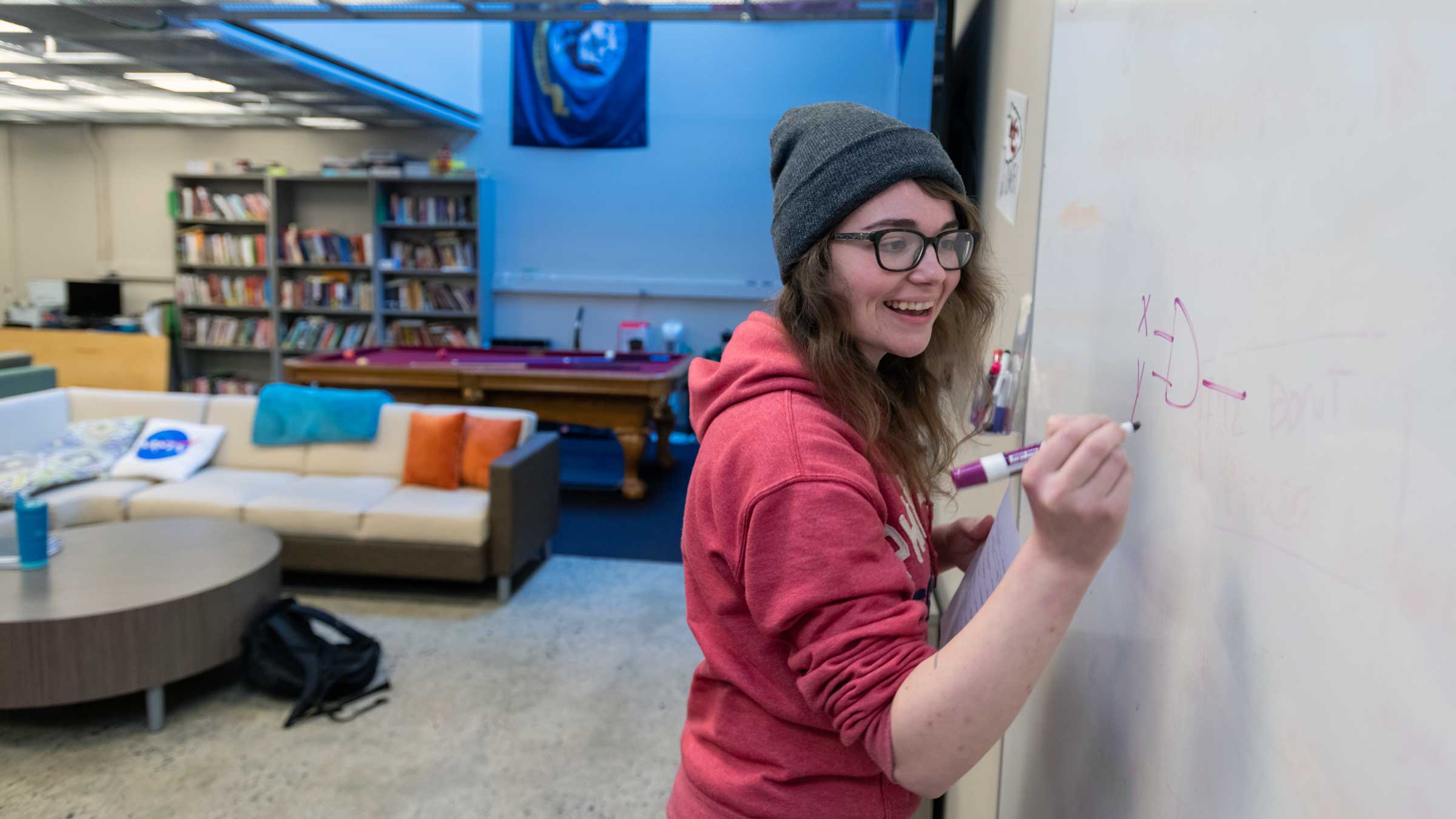 Opbroek says she's also been buoyed by her interaction with the two dozen other military veterans who often share their struggles and challenges with each other in casual conversations or during events organized by the Vassar Veterans Association (VVA), a new student "org" funded by the Vassar Student Association.
Other vets agree with Opbroek's assessment. "Vassar gives you the freedom to go out and get your ticket to the world," Navy veteran Chris Bock '23 said as he relaxed on a recent afternoon in the Veterans Lounge in the lower level of the College Center. "And I've definitely leaned on other vets when I've been struggling."
Army vet Asia Baker '24 said starting her Vassar experience during the height of the COVID-19 pandemic made adjusting to college life particularly challenging, "and without the connections I made with other vets, I would have felt really isolated."
In recognition of the networks of support Vassar has been providing, a national veterans' group has awarded the College a 2023-2024 Military Friendly School designation. Vassar was named one of the Top 10 institutions in the country in the "Private Colleges Not Offering a Doctorate" category. More than 1,800 schools participated in this year's survey conducted by Viqtory, a veteran-owned small business. Survey results and ratings are determined by combining an institution's survey scores with the assessment of the institution's ability to meet thresholds for student retention, graduation, job placement, loan repayment, and loan default rates.
Most of the veterans currently on campus were recruited through the Posse Veterans Program, which conducts nationwide college recruitment of veterans and matches them with participating institutions. Vassar recently ended its affiliation with the Posse Foundation and created the Vassar Veterans Initiative (VVI), overseen by a full-time administrator, former College Registrar Colleen Mallet. Mallet, who serves as Director of Veteran Students Outreach and Support, said VVI has enabled the College to continue and expand its services to its veterans. "I'm now able to devote 100 percent of my time to recruiting and supporting veteran students," Mallet said.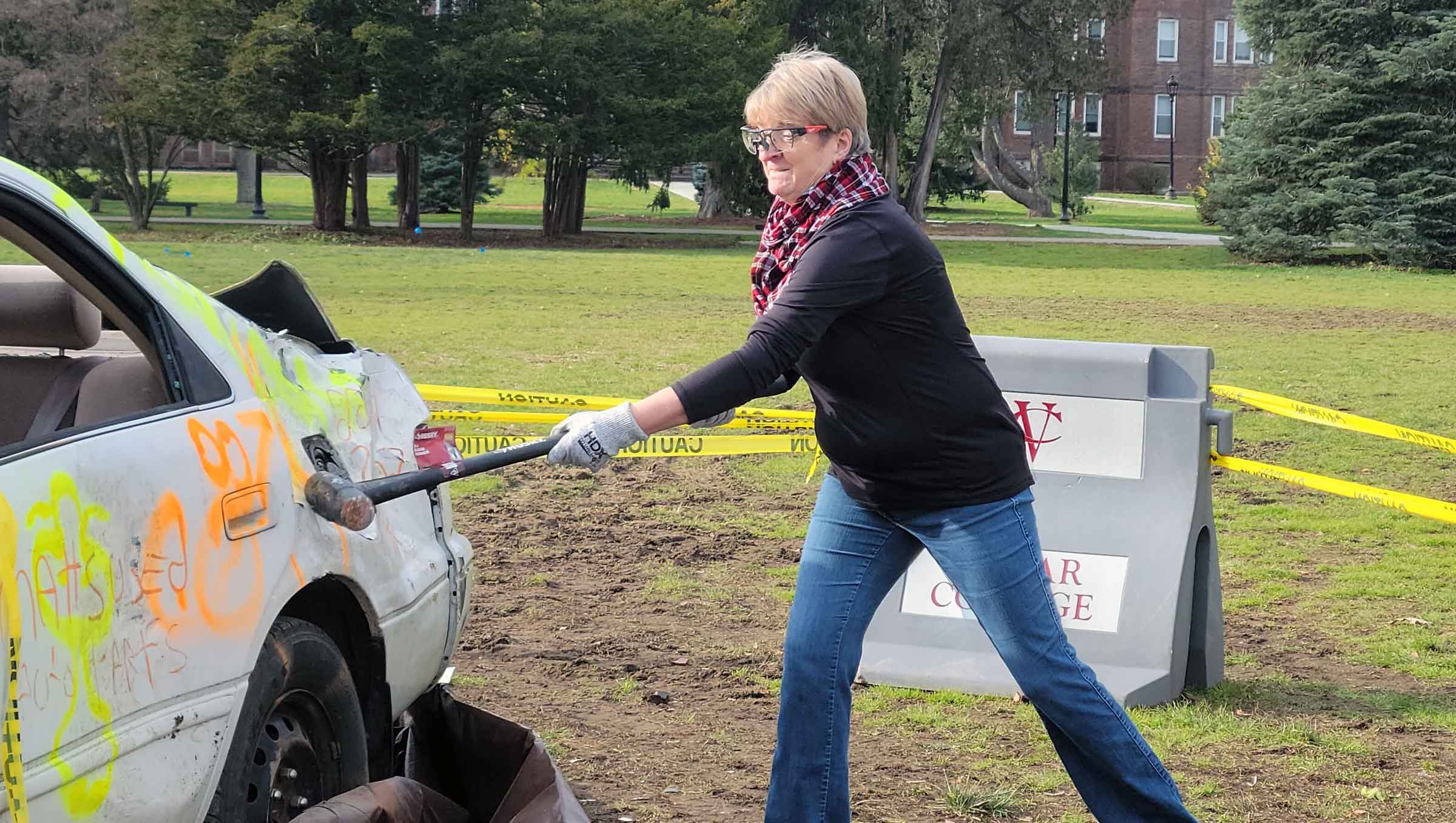 Throughout the school year, Mallet has worked with the veterans to organize a number of events and programs that raise awareness about issues affecting veterans on campus and elsewhere. Last semester, the VVA hosted a panel discussion that examined how veterans continue to engage in public service after they leave the military. And during Study Week in December, the group hosted its first "Car Smash," charging students $5 to take a swing with a sledgehammer at a junk car to help relieve the stress of studying for finals. The event raised more than $500 that was donated to the local nonprofit group Hudson River Housing, which provides housing for homeless veterans in the Poughkeepsie area.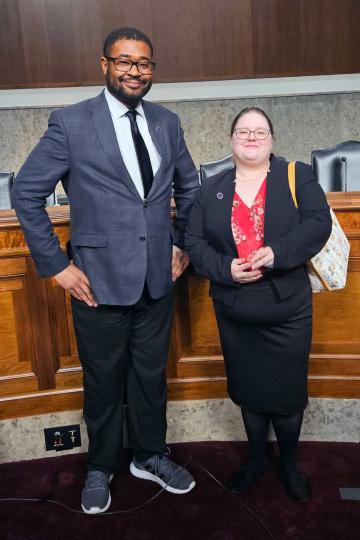 During the first week of March, the College sponsored two veterans, VVA President Brittany Andrade '24 and Seth Jenkins '26, to attend a conference in Washington, DC hosted by the Student Veterans of America (SVA). The student vets met with congressional staffers and others in the federal government to discuss issues affecting veterans on college campuses.
"While we were in Washington, we had the opportunity to sit in on the Committee for Veteran Affairs as the members were briefed on the needs of the veteran community," Andrade said. "Leaders in all aspects of veteran life were given the opportunity to speak about healthcare, educational needs, and easing the transition from the military to college."
Andrade and Jenkins also met with staff members of U.S. Senator Chuck Schumer of New York and U.S. Representative Pat Ryan, whose congressional district includes the Vassar campus, to discuss the needs of veteran students in the Hudson Valley, and they took a tour of the Library of Congress's Veteran History Project.
"I hope to use all of this information to create better programming for Vassar veterans as well as create lasting community with our fellow student veterans," Andrade said. "The SVA prioritized better access to housing stipends for veterans and their families as well as a streamlined process for VA healthcare and better transition services for service members leaving military service."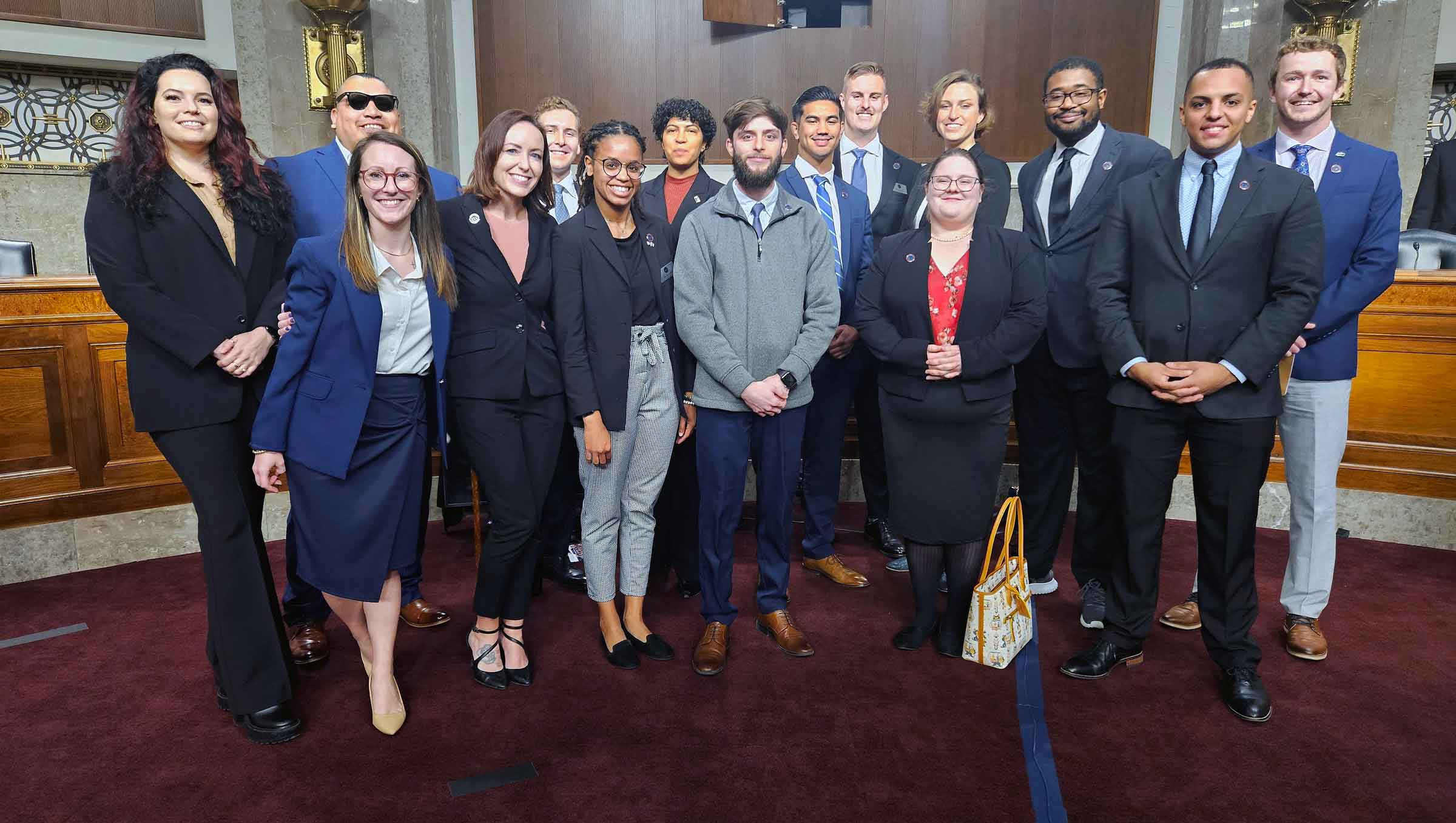 Jenkins, who worked in the Chicago office of U.S. Senator Dick Durbin after he left the Air Force in 2019, said he was finally able to meet some members of Senator Durbin's Washington, DC staff in person during the conference. He said his experiences on the trip had reinforced his intention to pursue a career in public service after he graduates from Vassar. He said he was confident Vassar was preparing him for that future. "Vassar was one of the first schools to get the ball rolling in recruiting vets, and this is the place to be," he said. "The work is rigorous and challenging, but Vassar is truly a community, and if you ever need assistance, you will get it."