Vassar Community Fellows Lend a Hand to Strengthen Local Programs
Photos courtesy of Hailey Osika '23, Margaret Rudbach '24 and Maria-Fernanda Rodriguez '24.
Hailey Osika '23 led teams of volunteers in maintaining the gardens and grounds of the Franklin D. Roosevelt and Eleanor Roosevelt National Historic Sites in nearby Hyde Park. Margaret Rudbach '24 helped the staff of the Poughkeepsie Mothers Project provide prenatal care and other services to women from low-income families. Maria-Fernanda Rodriguez '24 gained an inside look at the criminal justice system working with attorneys and investigators at the Dutchess County Public Defender's Office.
These Vassar students and six others were enrolled for 10 weeks in the College's Community Fellows Program under the auspices of the Office of Community-Engaged Learning (OCEL). Now in its 24th year, the program matches students' skills and interests with the needs of not-for-profit and government agencies. Each of the students is paid a stipend by the College.
OCEL Assistant Director Jean Hinkley said the program forges Vassar's connections with the community while enabling students to gain valuable work experience in fields they are passionate about. "It has been gratifying to see the students gain confidence in themselves as their experience this summer progressed, and they're gaining a greater understanding about the workings of the local community," Hinkley said.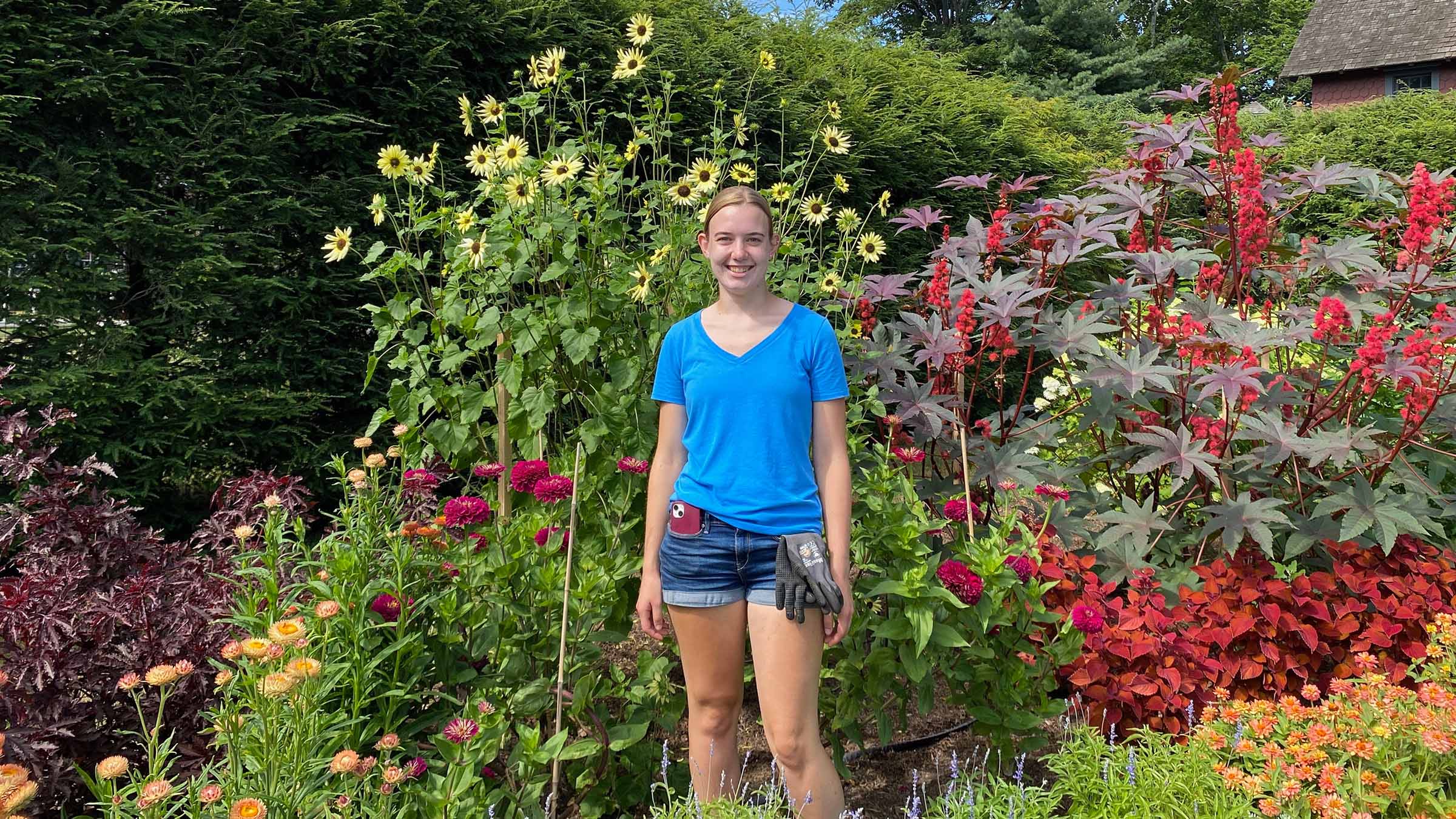 Osika, a biology major from Brookfield, CT, had worked at Vassar's Ecological, Preserve last summer and was glad to be able to be working again this summer at a job that involved stewardship of the land. "I really enjoyed working outside, and being part of the Community Fellows Program connected me with people in the community," she said.
In addition to maintaining the gardens and grounds at the two historic sites, Osika helped staff and volunteers harvest crops raised in a community vegetable garden on the Franklin D. Roosevelt National Historic Site. Some of the fresh produce is used in meals prepared at a soup kitchen run by Dutchess Outreach, a Poughkeepsie-based not-for-profit agency.
Working in the gardens of the Franklin D. Roosevelt National Historic Site involved consultation with two horticulturists who ensured that the roses and other flowers on the property accurately reflected what the gardens had looked like when FDR lived there. "The rose garden at President Roosevelt's gravesite had been maintained by his mother, and Franklin wanted to be buried there instead of in a cemetery," Osika said. "There's a real historic significance to that space, and a lot of effort is put into maintaining that history. It was a wonderful experience, and I was grateful to have had the opportunity to work there."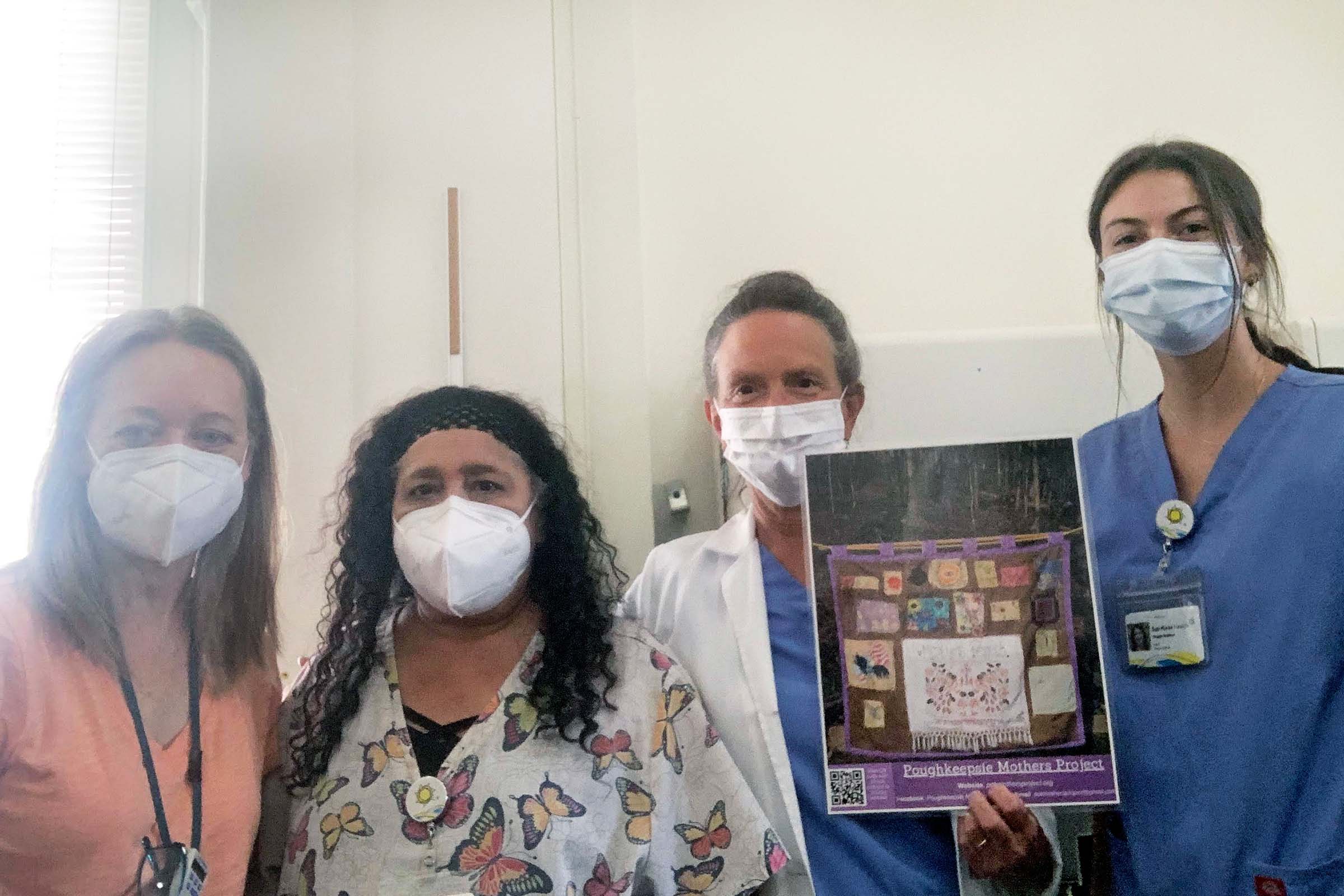 Rudbach, a biochemistry major from Kalispell, MT, said being involved in her local community had always been a big part of her life before Vassar, "and it's been really rewarding to make connections here." She spent most mornings shadowing Certified Nurse Midwife and Mothers Project founder Kay Bishop at the agency's clinic, handing out pamphlets on nutrition and prenatal care. In the afternoon, she performed administrative tasks such as maintaining the agency's website.
Rudbach said she was particularly eager to establish a meaningful connection with the local community because such opportunities were limited for Vassar students during the height of the COVID-19 pandemic. "When I came to Vassar we weren't allowed to leave the campus, so it's been great to be working in Poughkeepsie and hearing about the activities my cohorts in the Community Fellows Program have been engaged in," she said.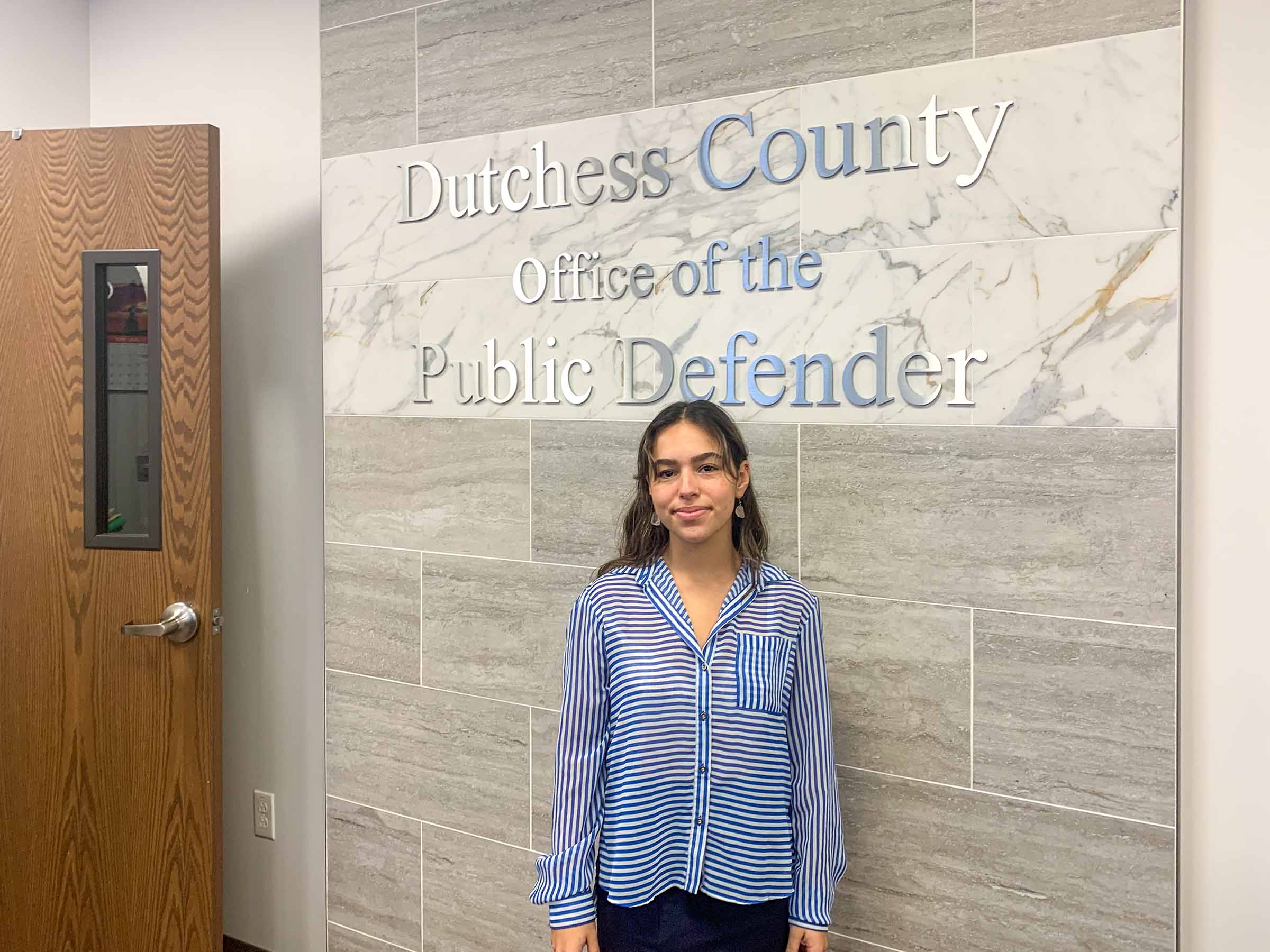 Rodriguez, an international studies major from Miami, FL, landed an internship through OCEL with the Public Defender's Office last spring, and she expanded her role as a Community Fellow this summer. "I have been interested in the law since high school, but this experience has confirmed my intention to go to law school," she said.
Rodriguez's tasks included conducting intake interviews for indigent clients, accompanying attorneys to court and—since she is fluent in Spanish—providing translation services for the attorneys when they visited their clients at the county jail. She said that part of the job was particularly rewarding. "It must be intimidating to be (facing criminal charges) and not knowing if you are being fully understood by your lawyer during such a stressful time," she said.
Throughout the summer, Rodriguez discussed points of law with staff, and her work was rewarded when attorney Ryan Sharpe asked her to write a motion challenging the adequacy of a document provided by the District Attorney's office. "It was really exciting helping the attorneys represent clients who otherwise could not afford a lawyer," she said. "Everyone deserves the best possible representation in the criminal justice system."