A Sustainable, Vibrant, and Collaborative Environment
Vassar's new Dede Thompson Bartlett Center for Admission and Career Education promises to be a space that supports students from their first days at the College through post-graduate success.
Within a year, crews plan to break ground on the Dede Thompson Bartlett Center for Admission and Career Education, a highly anticipated sustainable and forward-looking endeavor for the College. The vibrant and welcoming center will house both the Office of Admission and the Center for Career Education, formerly known as the Career Development Office, establishing a collaborative space where the offices can work in synergy around a common goal: helping students achieve their educational and professional aspirations.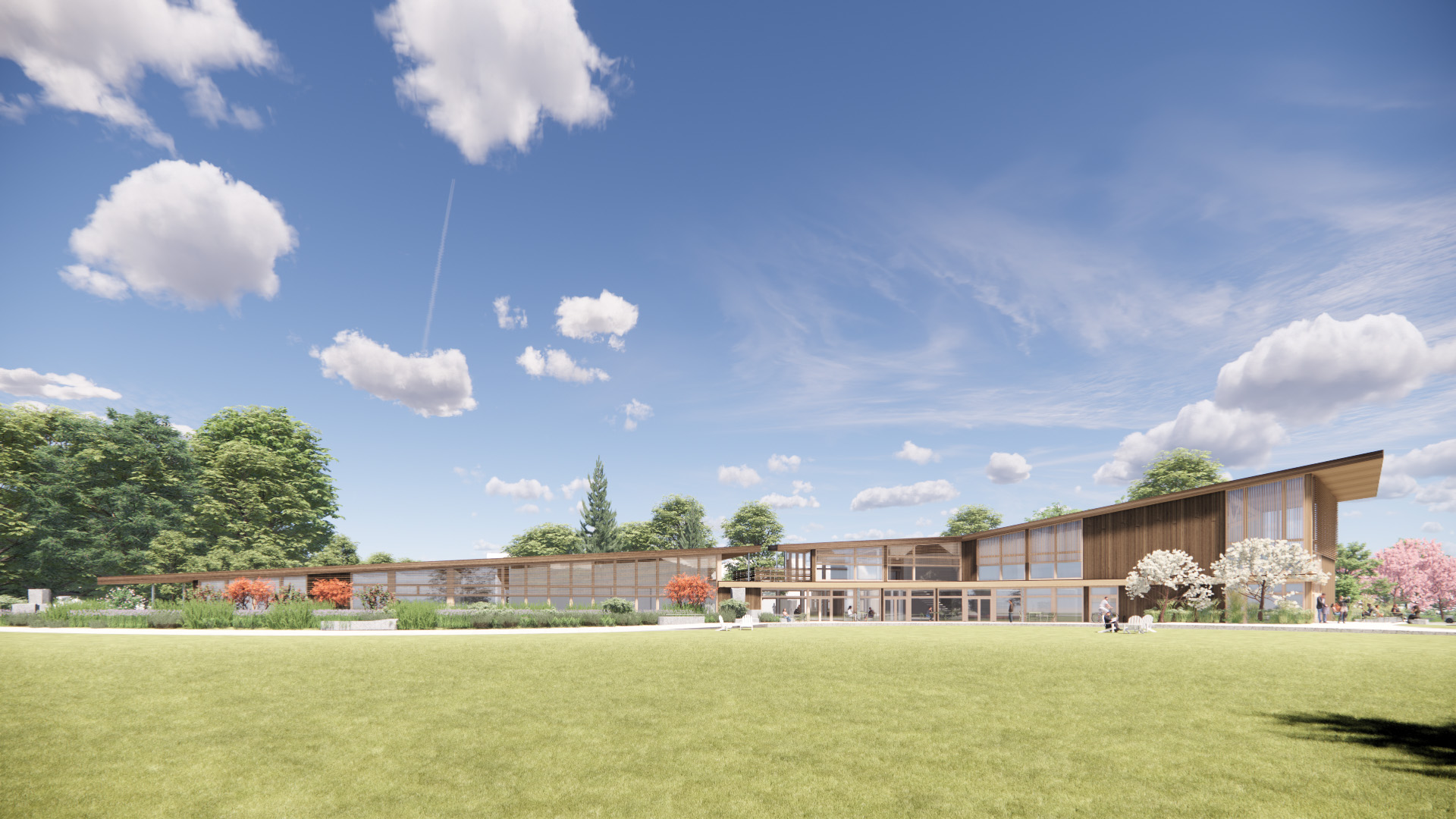 "There is a very interesting juxtaposition around the fact that students come in and exit in the same place," Stacy Bingham, Associate Dean of the College for Career Education, said. "For both prospective students and families, but also current students and alums, it should instill a sense of pride and possibility in our institutional commitment to the future lives of our students." 
While the two departments operate independently of each other, Bingham and Sonya Smith, Vice President and Dean of Admission and Student Financial Services, agree that sharing the space makes sense. Not just financially, but programmatically. 
"When we understand the smart, amazing students that the Admission team is working so hard to bring in and appreciate who they are and what they're interested in, that informs the program we can create," Bingham said. "Then, synergistically, they're looking at what we're doing, the kinds of internships students get, or the kind of post-grad outcomes they have. They can use that to inspire and recruit those prospective students."
Once the building is complete, the departments will have separate wings. But the large lobby and event space are located where the wings connect, almost like a hinge, giving them the opportunity to collaborate.
"This will be Vassar's new front door for prospective students and their families," Smith said. "What better way to welcome them than with a state-of-the-art space that conveys warmth and highlights the wonderful accomplishments of our current students and alums."
Bingham hopes the lobby space will act as a gallery where the achievements of Vassar students and alums can line the walls, showing not only prospective students and their families what a Vassar education can do but giving current students a glimpse at what's possible after graduation. 
"I think it can be a place where we celebrate Vassar in the world," Bingham said. "There is no better inspiration for life beyond Vassar than those who are leading the way, whether that is showcasing where students are interning or the myriad places our alums have landed."  
The building's large event space will allow the Office of Admission to host a variety of programming, including daily information sessions, and fall events for prospective students such as Rooted: Community at Vassar and Venture to Vassar for admitted students and their families, in which the Center for Career Education has played a part for years. The departments can also hold joint events, including alum talks and presentations.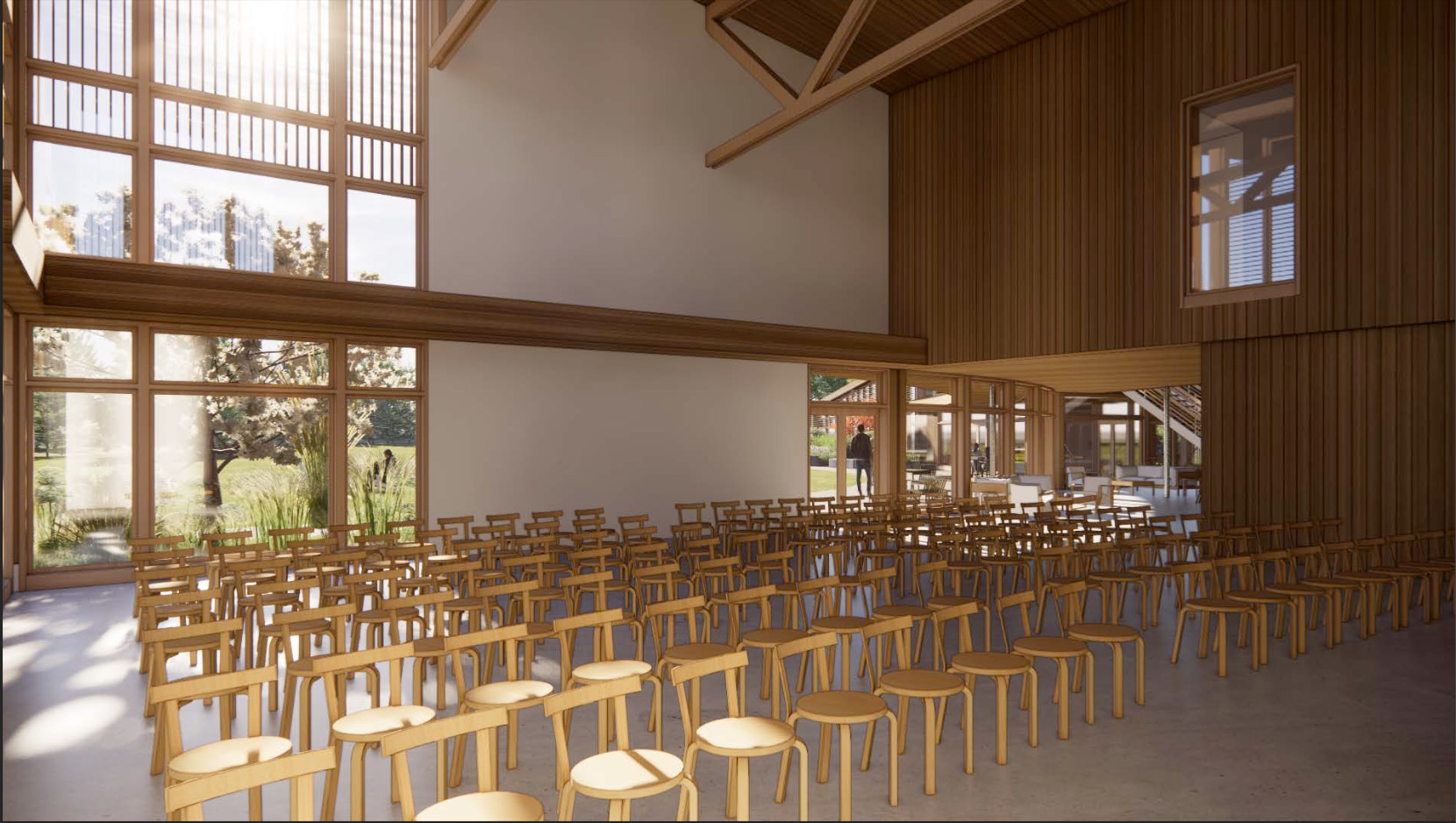 "The idea was not to mix the two departments together in the same space–they do function separately–but to have common spaces that they can both share," Marianne Begemann, Dean of Strategic Planning and Academic Resources, said. "Combining Admission with Career Education, I think, is a really novel approach, and it says a lot as to who we are as an institution; co-locating these departments speaks to the power of a liberal arts education and the building itself speaks to our values."
Each wing will have ample space for students to collaborate with each other and the Admission or Career Education teams. In the Center for Career Education wing, there will be rooms specifically for students to conduct interviews—virtually or in-person—giving them safe, comfortable, and quiet spaces outside of their dorm rooms. In the Admission wing, tour guides and student workers have a space of their own.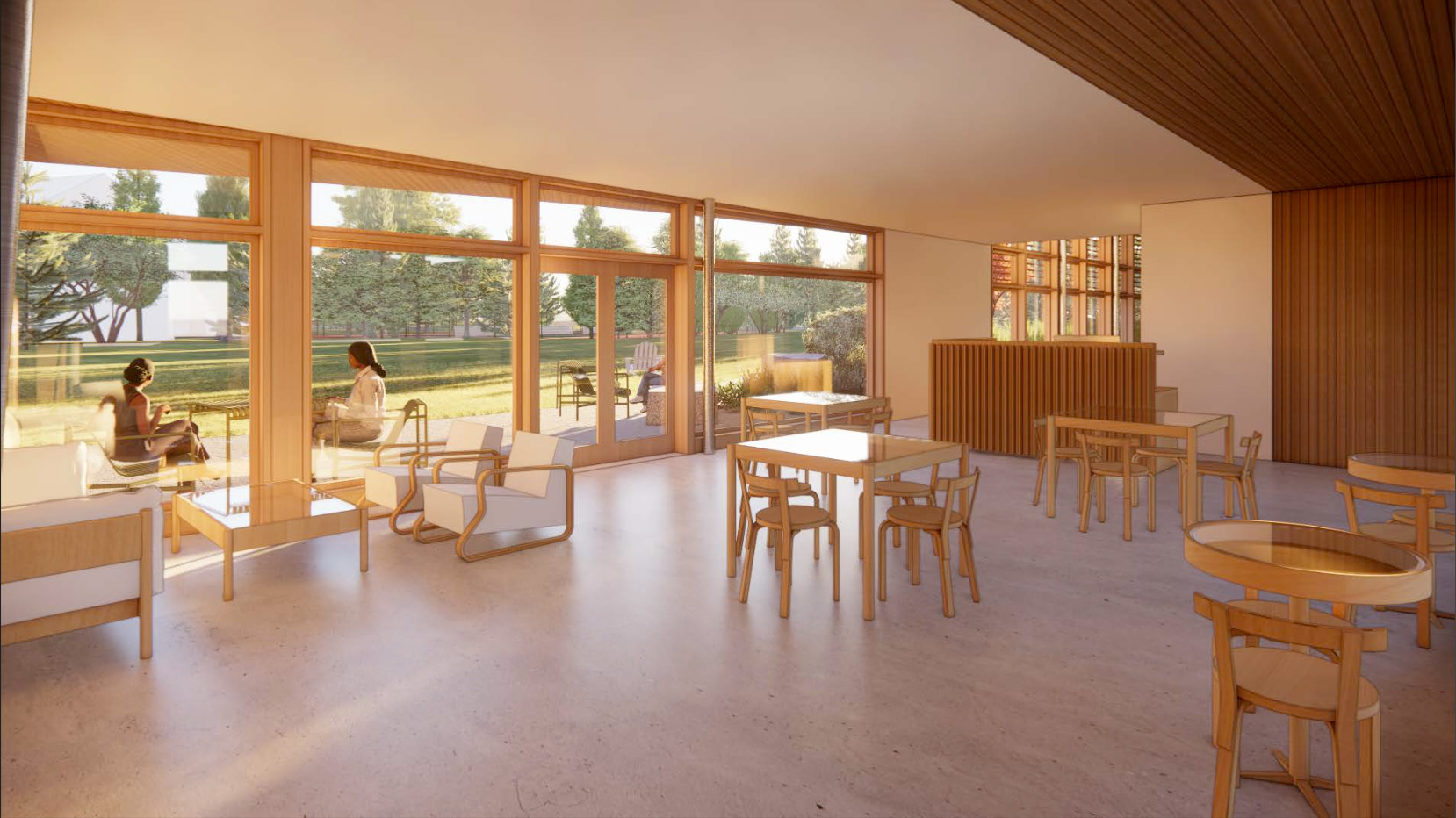 The building itself will enable both departments to emerge from the shadows of Main Building—quite literally in the case of the Office of Admission. Currently, Admission is located within the beautiful, but undersized and difficult-to-find Kautz Admission House, which stands behind Main where there is limited parking. Meanwhile, the Center for Career Education is in one of Main's back corridors, not necessarily front and center, and has limited space for programming or additional staff. The new building will bring them both to the North side of campus along Collegeview Avenue, abutting the Arlington business district, furthering the campus' connection with the Poughkeepsie community. Not to mention its close proximity to both the residential quad and Gordon Commons, which keeps the building within the students' sightline. 
"The location is ideal for visiting families," Smith said. "Not only will it be easily accessible, but if they arrive early, they can grab a cup of coffee or a bite to eat in Arlington. And after their visit, they can stop at the bookstore to pick up some Vassar gear."
"What we heard from community members in the early discovery phase of the project was that the building should feel homey, it should be welcoming and not imposing," Begemann said. "When people are coming in for Admission or when they are interviewing for jobs or thinking about careers, it can be kind of stressful. Spaces that feel homey, warm, and inviting, not scary or sterile, reduce that stress."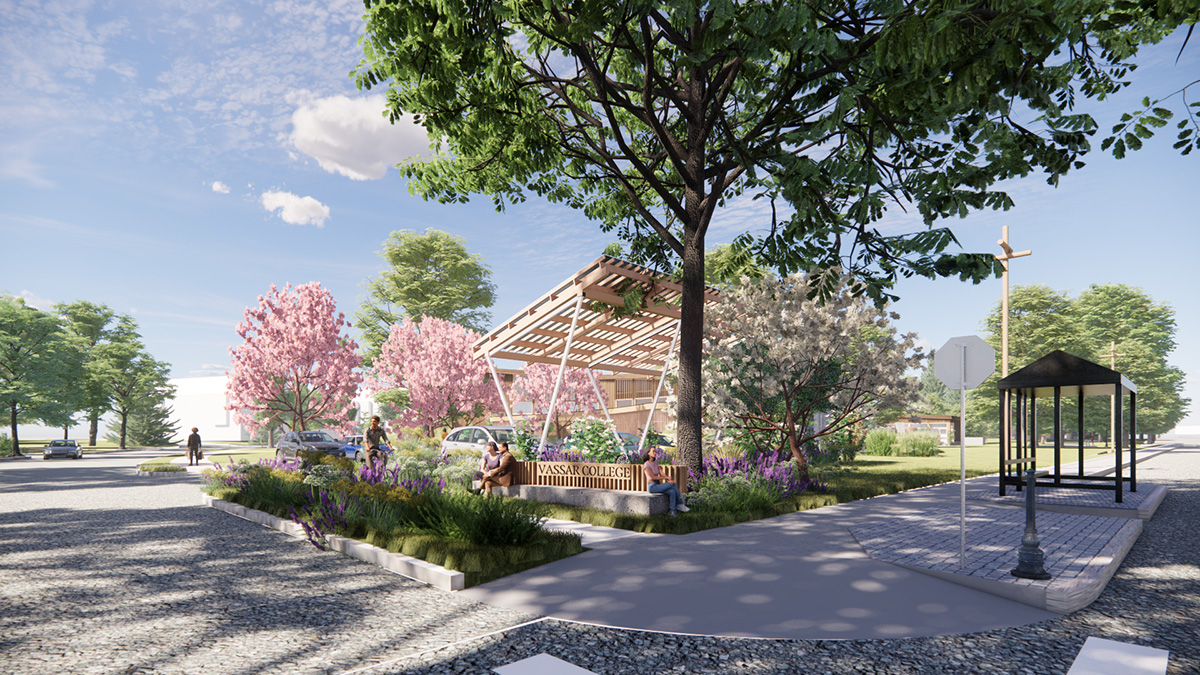 The building will also be a sustainable one. It will be all-electric, highly efficient, and built with triple-glazed openable windows and ceiling fans to allow cross ventilation, limiting the need for air conditioning. The roof will be topped with solar panels, and there will be a parking lot with permeable paving in order to help with stormwater management. 
"I would expect nothing less of Vassar than to build the greenest building humanly possible in this space," Bingham said. "We know sustainability is deeply important to our students and community. Students are interested in careers in sustainability, and these are issues and causes that matter to students and beyond."
Begemann notes that the building's sustainable nature starts with the location.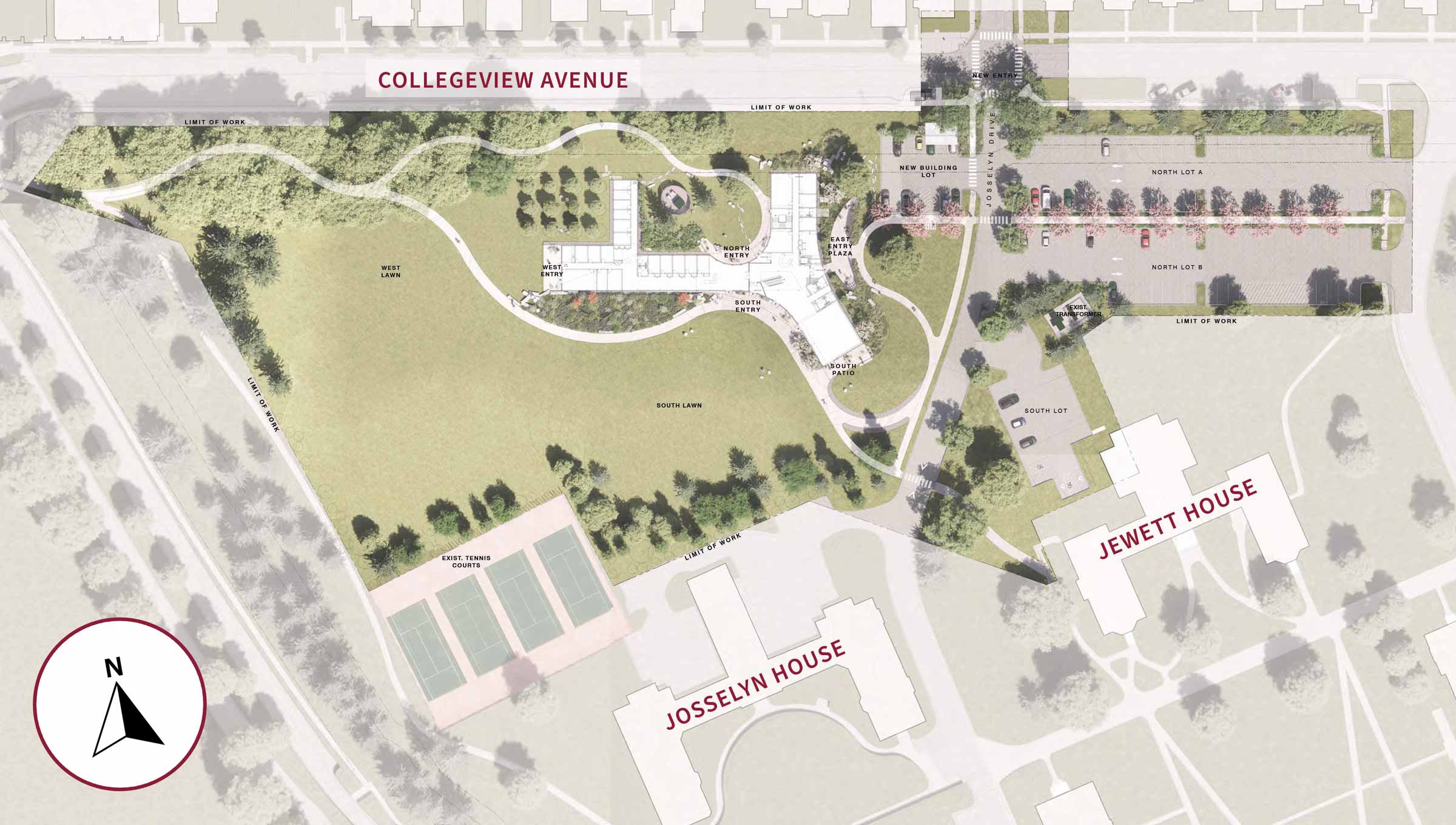 "The way you choose your site and orient the building on it, is one of the most sustainable things you can do in terms of how you utilize natural light, the warmth of the sun, passive solar approaches, etc.," Begemann said. "It's one of the reasons people say building sustainably can't be an afterthought."
When Maryann Thompson, the architect behind the building, took a visit to Vassar, she noted the grid-like nature of the campus' center, but as you stray from the central campus, the buildings run with the landscape. In designing the Dede Thompson Bartlett Center for Admission and Career Education, the landscape takes center stage. It boasts large courtyards as well as outdoor balconies and patios. Trees and other shrubberies will be planted around the building, including a cherry tree allée that will welcome visitors upon arrival. 
"There's going to be so much beautiful green space around it," Bingham said. "It's going to be a place where people are laying in the grass and playing frisbee or enjoying a concert. I have no doubt that students will find their way here." 
The building is made possible by Vassar alum Dede Thompson Bartlett '65, who, in 2021, graciously donated $10 million to kickstart the project.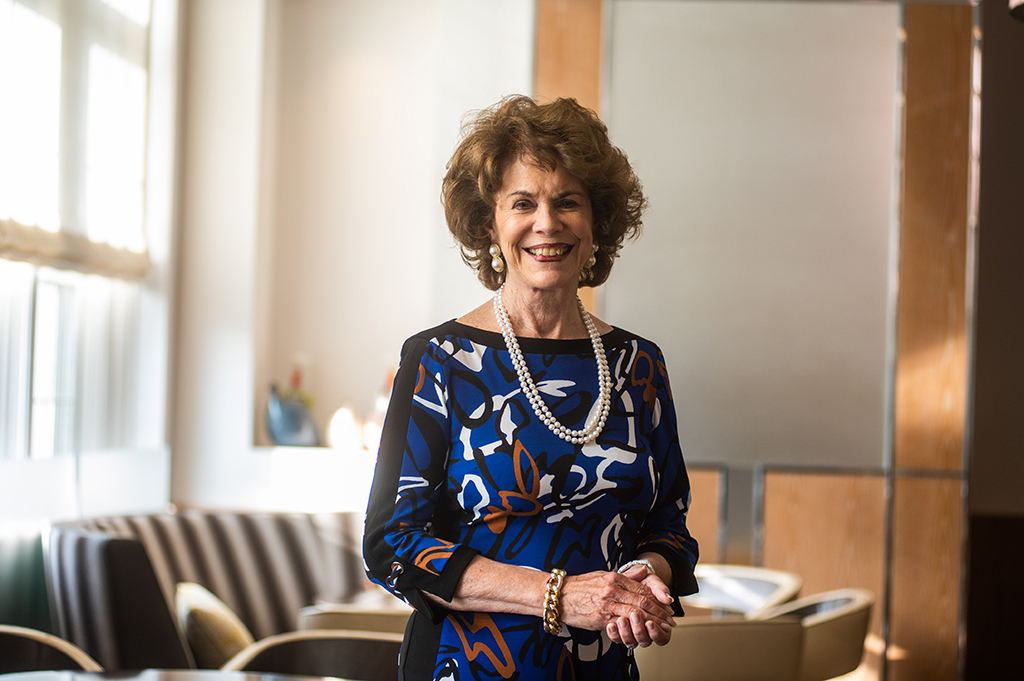 "This exceptional building ushers in a new era at Vassar," Bartlett said in 2021. "Two of the most important tasks facing world-class liberal arts colleges are recruiting the best students…and providing them with a lifetime of educational career opportunities. The staffs of the Office of Admission and Career Education will have a welcoming, superb facility to enable them to carry out their critical missions." 
Dede Bartlett is no stranger to helping Vassar and its students achieve success. In 2021, Vassar College President Elizabeth H. Bradley noted that Bartlett has "been helping Vassar students and graduates carve their career paths by funding paid fellowships and other initiatives through the College's Center for Career Education."
"My hope is that the building and the work that's happening inside it will serve as an inspiration to Vassar students about what is possible with their degree in the world beyond Vassar," Bingham said. "The size, scope, and design of the building is such that we can grow in both staff as well as our program, which means more support for students." 
To learn more about the Dede Thompson Bartlett Center for Admission and Career Education, as well as other initiatives in Vassar's Fearlessly Consequential campaign, visit campaign.vassar.edu.