Nine Students Awarded Miringoff Prizes for Community Service
Photos courtesy of the recipients
Two graduates of the Class of 2021 and seven other students have been honored for making substantial contributions to the community during the past year at Vassar. The students were named recipients of the 2021 Helen Miringoff Prizes. Established in 1984, the annual awards serve as recognition of the career of Helen Miringoff, who served in Vassar's Field Work Office (now the Office of Community-Engaged Learning) for 30 years.
This year's recipients are: Keara Ginell '22, Susannah Karron '21, Tiana Headley '22, Amelia Boyd '22, Alexander Wolstenholme-Britt '22, Kevin Vo '21, Miriam Rovin '23, Eleanor Carter '22, and Vivika Sheppard '22.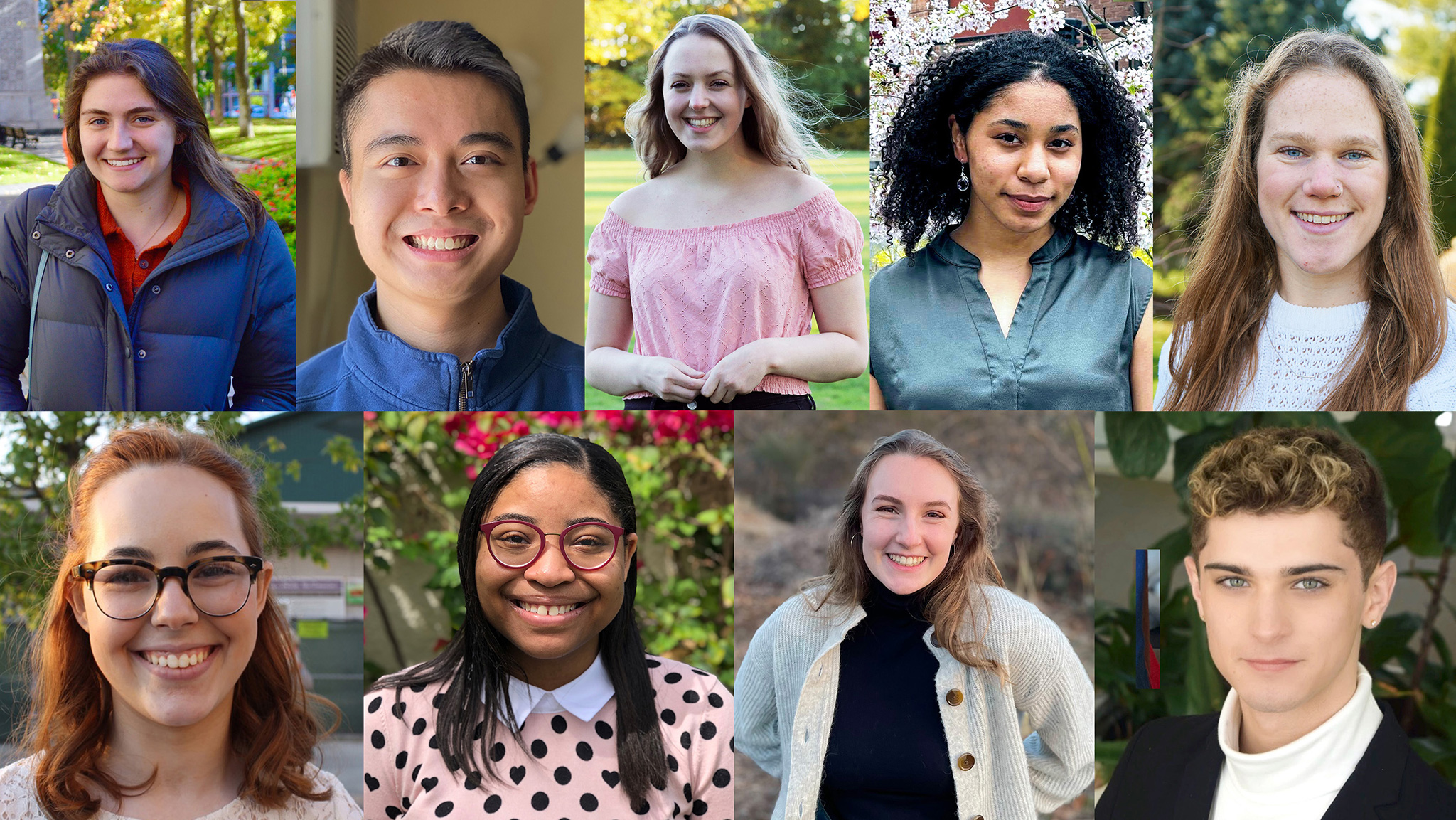 Ginell, a cognitive science major, served as scientific editor of the VC Grey Matters Neuroscience Journal, is a member of the varsity Cross Country and Track and Field teams and an oboist in the Music Department. She received the Miringoff Prize for her work with architects and neuroscientists at the Centre for Conscious Design, an international think tank that engages local residents in community design projects.
Karron is majoring in philosophy with a concentration in voice and music theory. Her academic work led her to become an intern at Park Avenue Artists, a music artist management firm in New York City. She helped the firm identify health care workers who were on the front lines during the pandemic and who also played musical instruments and created a chamber music orchestra that performed at Carnegie Hall.
Headley, a political science major, spearheaded the Miscellany News's reporting on issues affecting the people of the Mid-Hudson Valley, including race, criminal justice, and grassroots activism. As a writer for the River, a digital news magazine, she reported on disputes between the City of Poughkeepsie police union and city government officials and COVID-19 vaccine issues affecting inmates at local jails and state prisons.
Boyd, an environmental studies major, was a volunteer for NGO Sustainability, a nonprofit agency that promotes renewable energy projects in Connecticut. She managed the organization's social media and other public outreach initiatives. At Vassar, Boyd is a member of the dance team VASS Shakers and served as new member liaison for Vassar SEED (Students for Equitable Environmental Decisions).
Wolstenholme-Britt, a political science major, created a youth outreach group, Students for a Brand New Congress, to involve young people in the initiatives of Brand New Congress. The organization was founded in 2016 by Sen. Bernie Sanders to identify and support progressive candidates for the U.S. Congress. On campus, Wolstenholme-Britt collaborated with three fellow students to create "The Vassar Brew," a coffee shop in the sculpture garden of the Frances Lehman Loeb Art Center.
Vo, a history and Hispanic studies major, was honored for his work with the Human Rights Campaign, the largest LGBTQ advocacy group in the United States. Over the past year, he conducted legal research for the organization, helping to rank 506 cities on their LGBTQ policies.
Rovin, an international studies major, was cited for her work with the United States Embassy in Berlin, assisting public education officers there. On campus, she is a member of the dance team Vassar on Tap, the Vassar Alliance of Women in Foreign Affairs, and the Lathrop House Team.
Carter, a history major, served as a member of the Dutchess County Democratic Caucus. On campus, she worked as a tutor at the Writing Center and was a DJ for WVKR. She also served as a lay review senior editor for Vassar's Grey Matters Journal. She was nominated for the award for creating Vassar Vaccine Finders, an organization that provided information to residents of the local community on how to locate COVID-19 vaccination sites and schedule appointments.
Sheppard, a psychology major, volunteered for Exodus Transitional Community, a local organization that provides support for those returning from jail or prison. She is a member of the women's rugby team and Vassar Christian Fellowship.