From Poughkeepsie to Rwanda
Vassar and a Rwandan medical school share a common vision—the liberal arts
Their campuses are more than 7,000 miles apart, but the two colleges share a common vision: Whatever they do later in their lives, leaders of the two institutions firmly believe, students benefit significantly from a liberal arts education. That's why Vassar and the University of Global Health Equity (UGHE), a recently established medical school in Rwanda, have been engaged over the past three years in initiatives that benefit both institutions.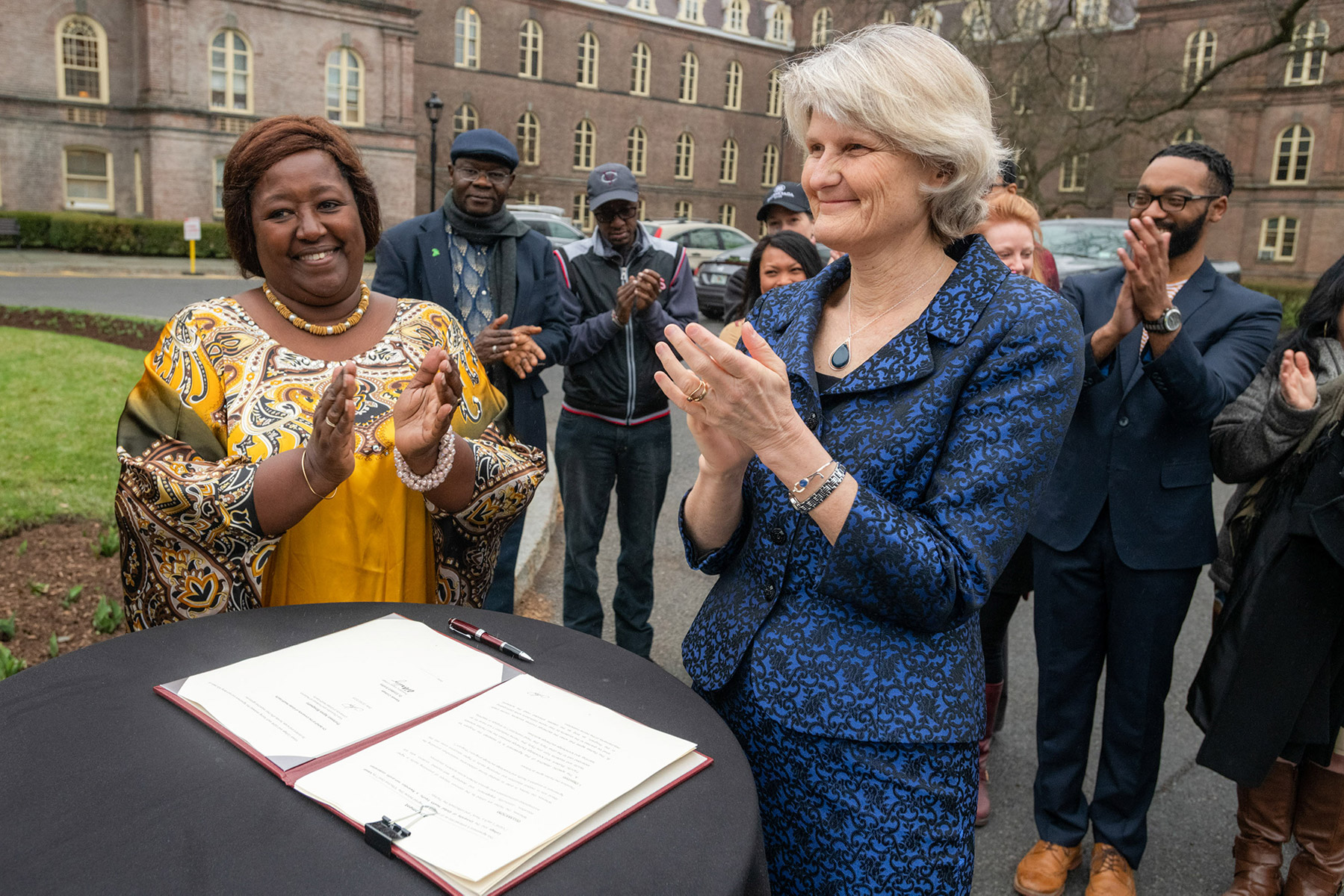 An initiative of Partners In Health (PIH) and led by internationally recognized faculty and staff from around the world, UGHE is an independent university that builds on PIH's three decades of experience in delivering health services to some of the world's poorest communities. In exchange for free tuition, UGHE students make a commitment to serve as doctors and health care professionals where their government asks them for at least six years following their graduation.
Professor Abebe Bekele, Dean of UGHE's School of Medicine, said he and his colleagues have taken these steps to include the liberal arts in the curriculum because they are convinced that today's health care professionals can't succeed without such training. "A 21st century medical education is not complete without a grounding in the humanities, social sciences, and social justice," Bekele said. "Doctors don't just treat diseases; they treat the whole patient, so they need to understand social contexts, and to do this you need a grounding in the liberal arts."
President Elizabeth H. Bradley, who collaborated with UGHE faculty to teach portions of a course this semester, said she and others at Vassar have embraced the partnership. "A liberal arts approach to medical education can be so helpful for physicians who have to address technical, social, political, and historical issues when they work to improve individuals' and communities' health," Bradley said. "Students at UGHE have really enjoyed the breadth of topics and humanistic approach that the liberal arts components have brought to their curriculum, and our faculty have also learned substantially by engaging with faculty and students from a very different setting."
UGHE's Vice Chancellor, Professor Agnes Binagwaho, said that Vassar's partnership with UGHE will go a long way in empowering students from both universities to be able to deal with the complexity of our ever-changing global context. "The knowledge and skills gained from a liberal arts education will enable UGHE's graduates to look beyond the bedside and understand the multidimensional socioeconomic factors that cause and exacerbate illness. As global health professionals, they will be able to deliver more accurate, quality, and equitable clinical and non-clinical healthcare services that leave no one out," Binagwaho said. "This well-rounded education coupled with quality clinical education and the management, leadership, and communication skills emphasized at UGHE will prepare them to better build, manage, and repair equitable health systems."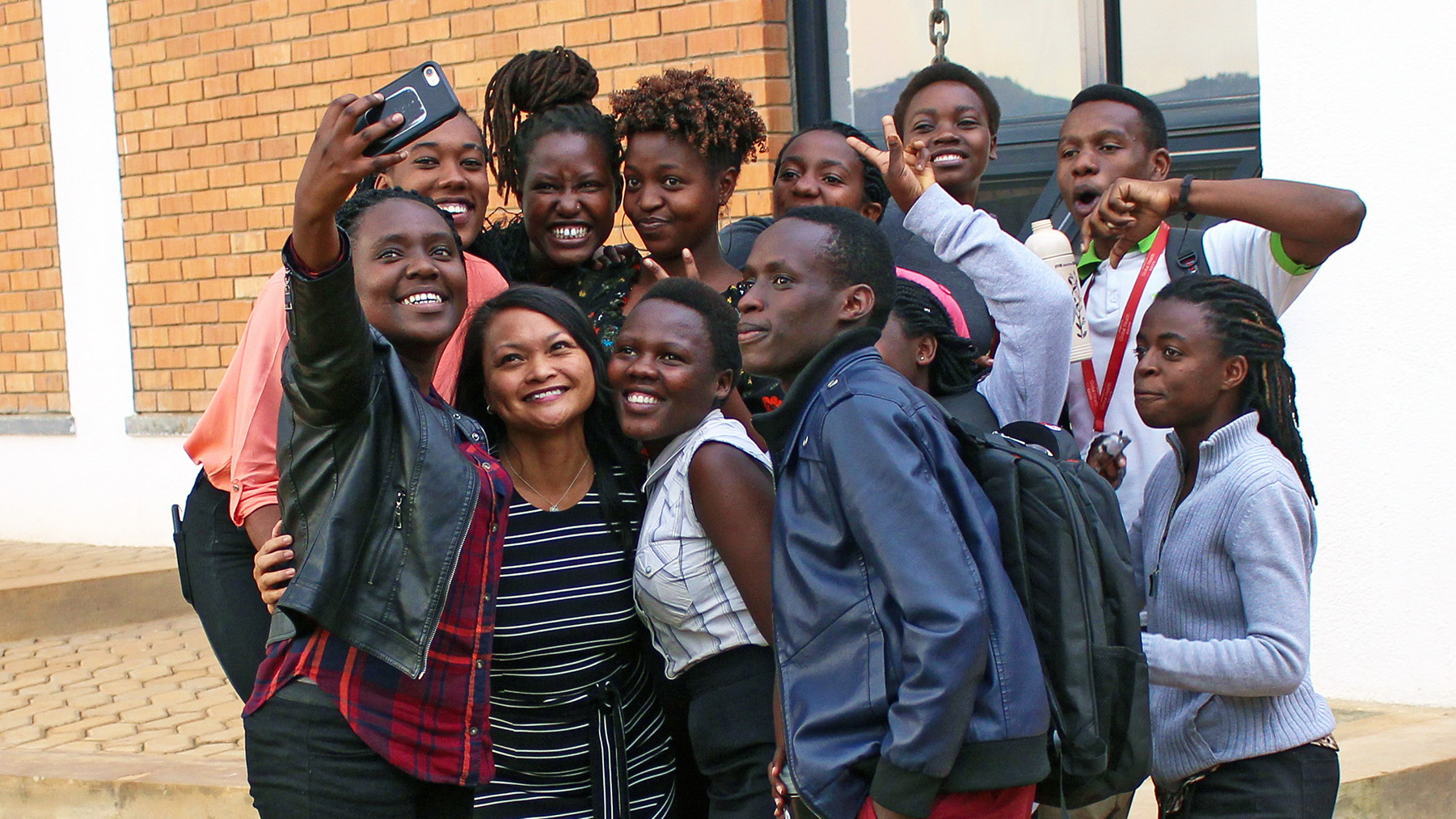 Vassar's partnership with UGHE was forged in April 2019, shortly after the medical school's founding, to enable UGHE to blend the liberal arts into its curriculum. Professor of History Ismail Rashid, Associate Professor of Political Science and Africana Studies Samson Opondo, Professor of Psychological Science Michele Tugade, and LaTasha Smith, a staff therapist in Vassar College's Counseling Service, taught the first cohort of students and set the stage for the collaboration. More recently, the teaching has been via Zoom due to the COVID-19 pandemic. This year, in addition to Bradley, Tugade and Associate Professor of Biology Kelli Duncan are collaborating with UGHE faculty to teach several other courses in the Spring Semester.
Over the past year, the partnership has expanded beyond academics to include other initiatives. Under the leadership of Wesley Dixon, Special Assistant to the President, and Wendy Maragh Taylor, Dean of Student Growth and Engagement, administrators from the two colleges discuss the delivery of student-related services and programs, including career development, student government, mental health services, and more. "COVID has prevented us from visiting the campus, but Dean Maragh Taylor and I have been leading some working groups of people from Vassar who are involved in student services and connecting them with UGHE student affairs administrators," Dixon said.
Shortly after Vassar's partnership with UGHE began, Maragh Taylor shared information about the College's orientation and First Year Experience programs. More recently, she connected UGHE administrators with Vassar staff in several student-facing offices. "We shared our thoughts about the efforts, challenges, and innovations being done in their respective areas, and we appreciated having the UGHE Student Affairs team similarly share with us," Maragh Taylor said. "It was a wonderful learning opportunity for us in the Dean of the College area, and based on their positive feedback, for UGHE as well."
Charlene Mukondwa, UGHE's Manager of Admissions, Records and Student Services, said the quarterly meetings with Vassar administrators have helped her and her staff develop tangible programs and protocols to help their students thrive. "I am grateful to Dean Maragh Taylor and Wesley Dixon for setting up these meetings with our student services team," Mukondwa said. Since those sessions began, UGHE's application forms have been modified to enable UGHE to collect more data about the backgrounds of their applicants. UGHE has also developed training sessions for students on how to engage successfully with the faculty, and a mental health specialist has been hired to help students cope with the stress that often accompanies a rigorous academic schedule, especially for students who have left home for the first time.
Wendy Freedman, Director of the Psychological Services for Vassar Counseling Service, said she had spoken to UGHE staff both before and after the UGHE mental health specialist was hired. "We spoke about the set-up of our counseling service and what approaches were working with our students," Freedman said. "But I was impressed with how much work is already being done there to help their students cope, and what they are doing gave us an added perspective about our own work."
Stacy Bingham, Associate Dean of the College for Career Development, said she and others on her staff were benefiting from the collaboration. "The UGHE student population is very different from ours, and they are all planning medical careers, but we chatted about the nuts and bolts of setting up connections with alums and others in the field," Bingham said. "It was rewarding to collaborate with them as they developed their structures and procedures."
Mukondwa noted that not all of Vassar's student service policies and procedures are directly transferable to UGHE. For example, since the medical school population is much smaller than Vassar, the funding structure for the student government had to be developed differently. Nevertheless, former Vassar Student Association President Prashit Parikh '21 said he had discussed various aspects of student government elections and procedures with UGHE staff after Dixon asked him to participate. "There were some differences in how the student government there would function," Parikh said, "but it was rewarding to be able to share my experience."
Vassar's Office of Communications is also working with counterparts at UGHE, and will be hosting working sessions on social media, publications, and overall communications. "We're excited not only to help tell the story of the partnership between our two institutions, but to have a formal dialogue about best practices with their internal teams. I am certain we will all learn from the experience," said Vassar Vice President for Communications Amanita Duga-Carroll.
Dean Bekele said he and others at UGHE were very excited about the partnership that had been forged with Vassar. "Our mission is ambitious; we are here to train the next generation of doctors and other health professionals by radically changing health education practices," he said. "We are here to make sure quality medical education and medical care is available in Rwanda, and many people, including many at Vassar, are working to help us achieve this."
As she prepared to teach later this semester, Tugade said Vassar's partnership with UGHE has been a two-way street. "My experience has been transformational—life-changing," she said. "The students have truly energized me. They're excited to give back to their communities. My experience has taught me so much about how to be a teacher and how relevant and important my work is."
A visit to the Vassar campus by a founder of Partners in Health, Dr. Paul Farmer, chair of the Department of Global Health and Social Medicine at Harvard Medical School, led to the partnership with UGHE. Farmer recently died in Rwanda. President Bradley had worked with Farmer on global health issues in the past, and the two renewed their acquaintance when he came to the campus to visit Professor of History Ismail Rashid. "It was a wonderful visit," Bradley recalled, "and at the end of the dinner in the President's House, Paul said out loud to the assembled group of students and faculty, 'Vassar should work with UGHE!' And the partnership was formed."
Alice Kerr Moorhead '65 provided the principal funding for Vassar's partnership with UGHE.