Four Faculty Members Appointed to Endowed Chairs
Photos Photos by Karl Rabe and John Abbot
Four members of the Vassar faculty received appointments this fall to endowed chairs, Dean of the Faculty William Hoynes announced. Professor of English Eve Dunbar is the recipient of the Jean Webster Chair; Professor and Chair of Drama Shona Tucker was awarded the Mary Riepma Ross '32 Chair; Assistant Professor of Biology Myra Hughey was appointed to the Mary Clark Rockefeller Chair; and Professor of Psychological Science Michele Tugade '95 was named the recipient of the William R. Kenan, Jr. Chair.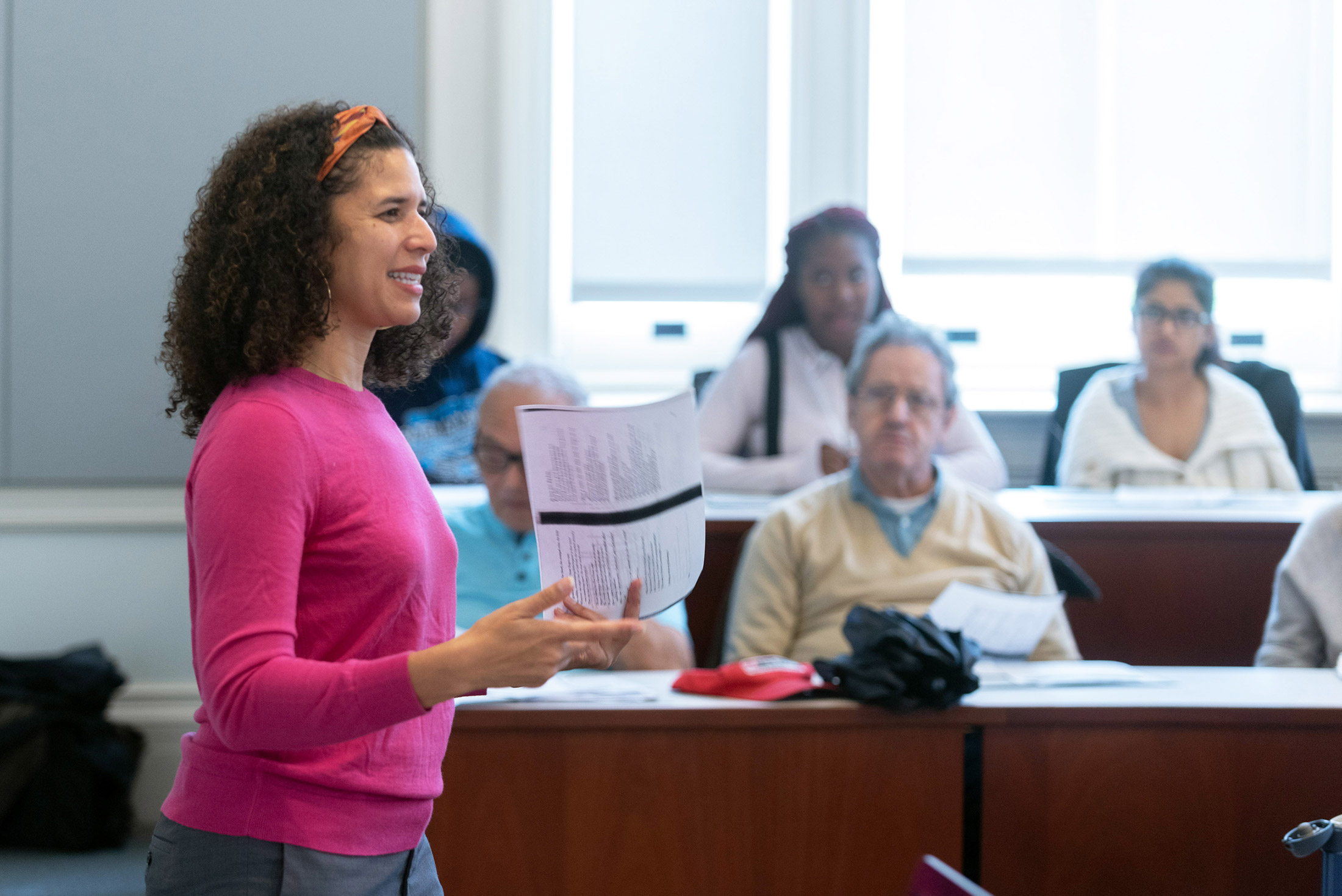 The Jean Webster Chair recognizes a faculty member whose scholarship and teaching interests focus on American literature, creative writing, or drama. Dunbar, a member of the faculty since 2004, teaches courses on the African American literary tradition and is an acclaimed scholar of mid-20th Century and contemporary African American literature. She is the recipient of two national fellowships: the American Council of Learned Societies Burkhardt Fellowship and the W.E.B. Du Bois Fellowship at Harvard University's W.E.B. Du Bois Research Institute at the Hutchins Center for African and African American Research.
The Mary Riepma Ross '32 Chair was established in 2014 with a gift of the estate of Mary Riepma Ross, an alumna of Vassar who died in 2013 at the age of 102. It is awarded to a distinguished faculty member in the Department of Drama. Tucker, who has served as Chair of the Drama Department since 2017, began teaching at Vassar in 2008. She is an accomplished actor, director, and writer with credits in theater, television, and film. Most recently, she won rave reviews for her portrayal of Calpurnia in the origin al cast of the Broadway production of To Kill a Mockingbird.
The Mary Clark Rockefeller Chair, established in 2001, rotates among junior faculty members to provide sustaining support for the Environmental Studies Program at Vassar. Hughey joined the faculty in 2017. She studies microbiome diversity and disease and teaches courses on evolutionary genetics, ecology, and ecosystem ecology. She has mentored student research in microbial ecology and disease ecology.
The William R. Kenan, Jr. Chair, established in 1968, is awarded to a member of the faculty who aims "to support a College teacher whose enthusiasm for learning, commitment to teaching and intertest in students make a notable contribution to the College's undergraduate community." Tugade joined the faculty in 2004 and has taught a wide range of courses in health psychology. She has served on the Faculty Appointment and Salary Committee, has been a Class Advisor in the Dean of Studies Office and taught medical students at the University of Global Health Equity in Rwanda. Her research focuses on psychological resilience, and she directs Vassar's Affective Science Laboratory. 
Posted
September 29, 2021