Ford Scholar Probes Effect of Immigration Law on Immigrant Families
The Secure Communities program, launched by U.S. Immigration and Customs Enforcement (ICE) in 2008, led to a large rise in deportations. The law was intended to protect the public from potentially dangerous non-citizens by increasing information sharing between local law enforcement agencies and ICE, but studies have shown that many immigrants were deported after they had committed minor offenses, including traffic violations.
The vast majority of those who were deported-about 96 percent-were young and middle-aged men, many of whom probably left wives and children behind in the United States. For eight weeks this summer, Vassar Ford Scholar Anastasia Koutavas '22 worked with Associate Professor of Economics Sarah Pearlman to assess the social and economic impact of these deportations on the immigrants' families. "Ultimately," Pearlman said, "we are looking for answers to the question of how these families' lives were affected. This is a federal law, but it impacts local communities and it was implemented un-evenly, so we are trying to assess how this played out in communities across the country."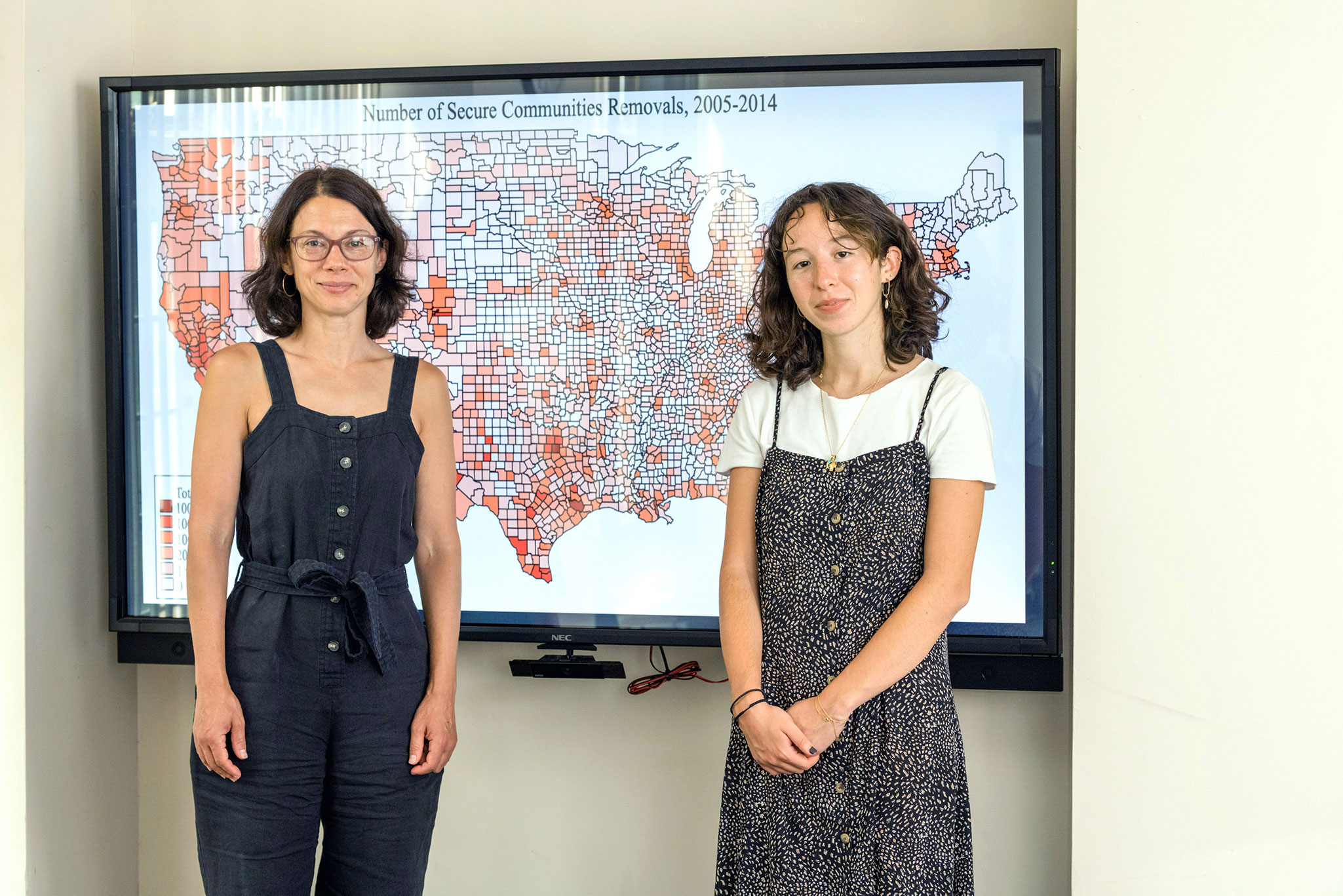 Koutavas, an economics and international studies major from New York City, said her first task was determining what information was available on state and federal databases that could shed light on the impact of the Secure Communities program. "We reviewed research others had done on the topic to determine what data were available," she said. "We found that there were no specific data sets that answered the questions we were asking, so we had to piece together census data and other information. Then we translated that data into usable information, such as maps that show what happened to these families in specific regions of the country."
While Pearlman and Koutavas still have work to do before they can publish a paper on their findings, Koutavas said she had had some satisfying discoveries along the way. One of them was learning that section 287 (g) of the Immigration and Nationality Act allows state and local agencies to assist in enforcing federal immigration laws. "Learning about the intersection of the Secure Communities Program and 287 (g) was an important part of my research," she said.
Koutavas said having the opportunity to concentrate on a single project throughout the summer had enabled her to gain a better understanding about how scholarly research in the field is conducted. "Studying one topic over a prolonged period of time has reinforced that the social sciences are multi-dimensional-in this case encompassing economics and political science," she said. "It's a kind of learning you can't get in a single course during the school year."
Pearlman said all Ford Scholars who have taken part in summer research projects with her learn one valuable lesson: Learning doesn't take place in a straight line. "Research involves hitting a lot of dead ends, and you don't always know what road to go down until you hit one," she said. "I tell my students that's why they call it 'RE-search.'"
About The Ford Scholars Program
The Ford Scholars Program supports Vassar faculty and student collaboration in 18 to 20 research projects every summer in the humanities and social sciences. Established in 1988 with a grant from the Ford Foundation, the program encourages students to explore life in the professoriate through an intensive academic experience with a Ford Faculty mentor. Students earn a stipend to support their participation in the program. Students who are members of groups historically underrepresented or underserved are particularly encouraged to apply.
Open to rising sophomores, juniors, and seniors, faculty-proposed projects are between four to eight weeks in length and represent a diverse array of research areas. A typical project supports one faculty member and one or two students to engage in rigorous scholarship, teaching preparation, or course development. Students present their work at a public symposium with the potential for continued engagement throughout the academic year.