Five Honored with 2021 AAVC Awards
The Alumnae/i Association of Vassar College (AAVC) has announced its 2021 awardees: a professor emerita and four alums who have all had a lasting impact on the College and beyond. As of press time, four of the five had received their awards. The remaining one, an eminent performer known to all, will be honored in the spring.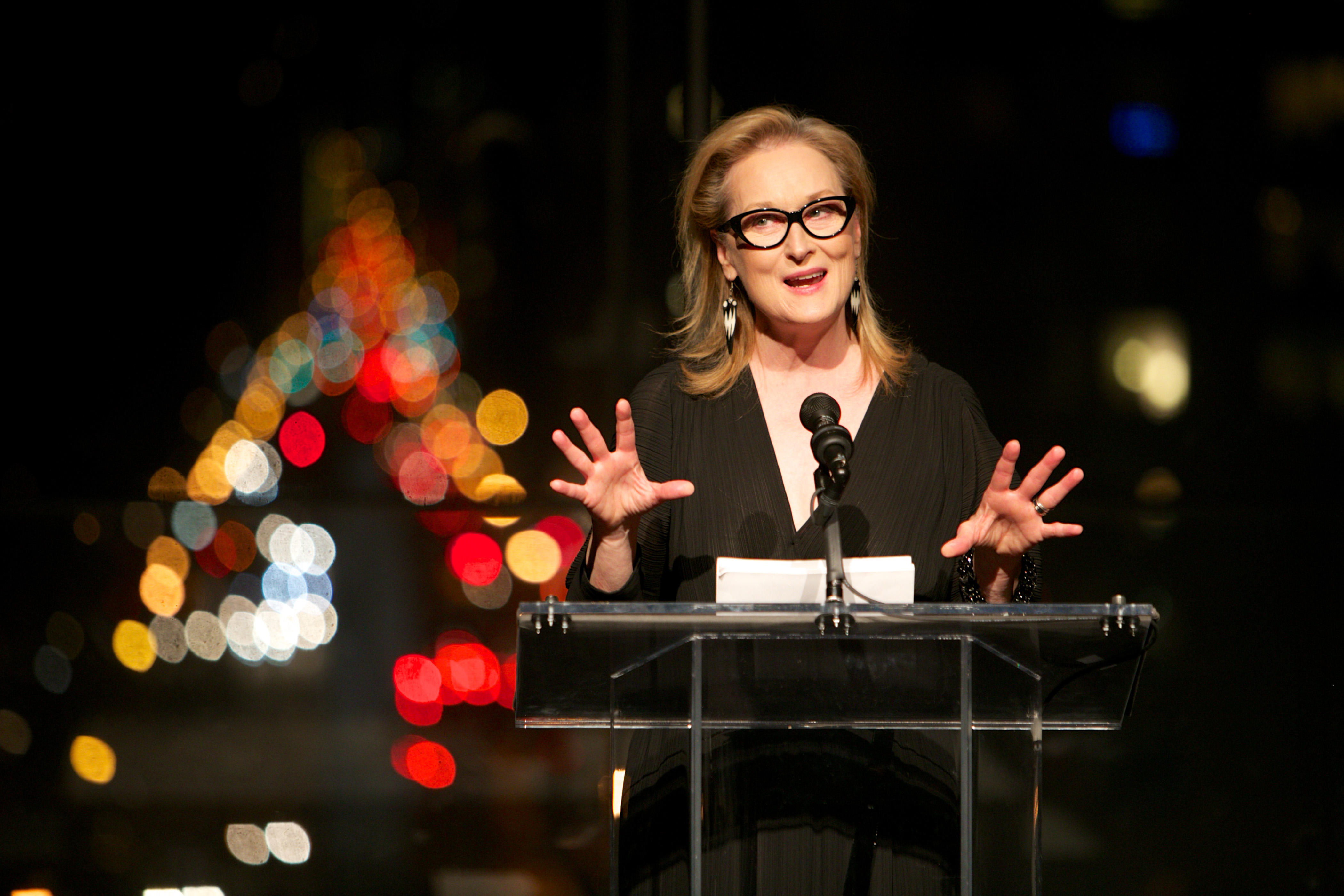 Meryl Streep '71, P'08, '13, a former College trustee, will receive the Distinguished Achievement Award. The award is presented to an alumna or alumnus who has reached the highest level in their field. While demonstrating exceptional talent, application, creativity, and skill within a certain career, this individual must at the same time exemplify the ideals of a liberal arts education and have used her or his position of visibility, power, or leadership to better the human community and serve the wider goals of society. The three-time Academy Award winner is not only one of the most decorated actors of all time, she is also an ardent supporter of Vassar and an effective advocate for women, education, and the arts. In 2014, President Obama awarded her the Presidential Medal of Freedom—the nation's highest civilian honor.
"She was amazing even as a student—people would flock to her productions," recalls Amy Pullman '71, who chairs the AAVC's recognition committee that administers the awards—and who is also a classmate of Streep's. "We would say, 'Someday she's going to get an Academy Award,'" she added with a laugh. "She was a very unassuming person then, and that's how she is now."
Pullman said the award coincides with the 50th Reunion of their class and will be presented to Streep on the same weekend as the celebration of their class gift to Vassar: The Class of 1971 Gateway to the Old Vassar Farm.
In conjunction with the award presentation, Streep is expected to deliver a talk to the Vassar community in April 2022. Details are forthcoming.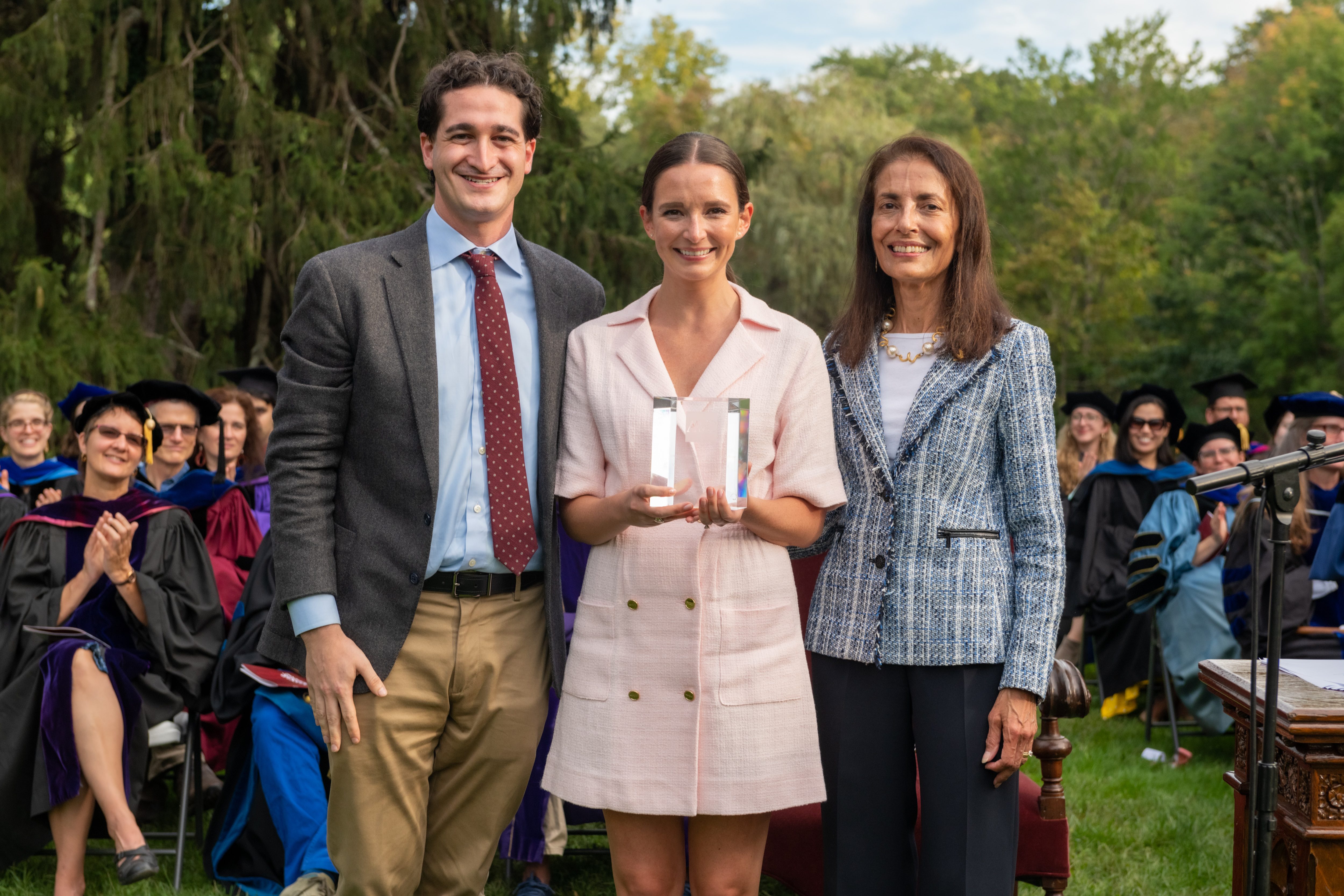 Marie (Dugo) Dilemani '11 received the Young Alumnae/i Service Award during Vassar's in-person 2021 Fall Convocation Ceremony in September. This award recognizes "extraordinary service to Vassar in any aspect of alums engagement." Dilemani, Brand Marketing Director at MSNBC, began her service to the College's alums community before she had even graduated—serving as Reunion Intern in the Office of Alumnae/i Engagement for four years. Upon graduating, she immediately began volunteering for her class and eventually became President of the Vassar Club of New York (VCNY).
Monica Vachher '77, P'23 and Brian Farkas '10, Vassar trustees who serve as the AAVC vice presidents presented the award to Dilemani, praising her for her leadership skills, exacting standards, and ability to bridge generational differences among alums.
As a fellow leader in VCNY, Farkas has worked with Dilemani on countless alum events over the last decade. "Marie models the professionalism, poise, and perfection that we expect from our Vassar graduates," he reported. "In situations that would stress or fatigue others, she's unbothered. In moments when others might pass responsibilities off, she assumes more. Marie embodies tireless, full-bodied, full-throated, joyful advocacy for Vassar College."
In a interview before the award ceremony, Dilemani said that she had chosen Vassar not only because it had been recommended by an alumnus who was one of her mother's closest professional colleagues but also because it had offered her the substantial financial aid she needed to attend.
Dilemani says, "Vassar has given me so many opportunities, and I want to make sure these same opportunities are given to the students who come after me." She enjoys bringing Vassar students and alums together for friendships and career networking, and her role in VCNY provides a perfect platform.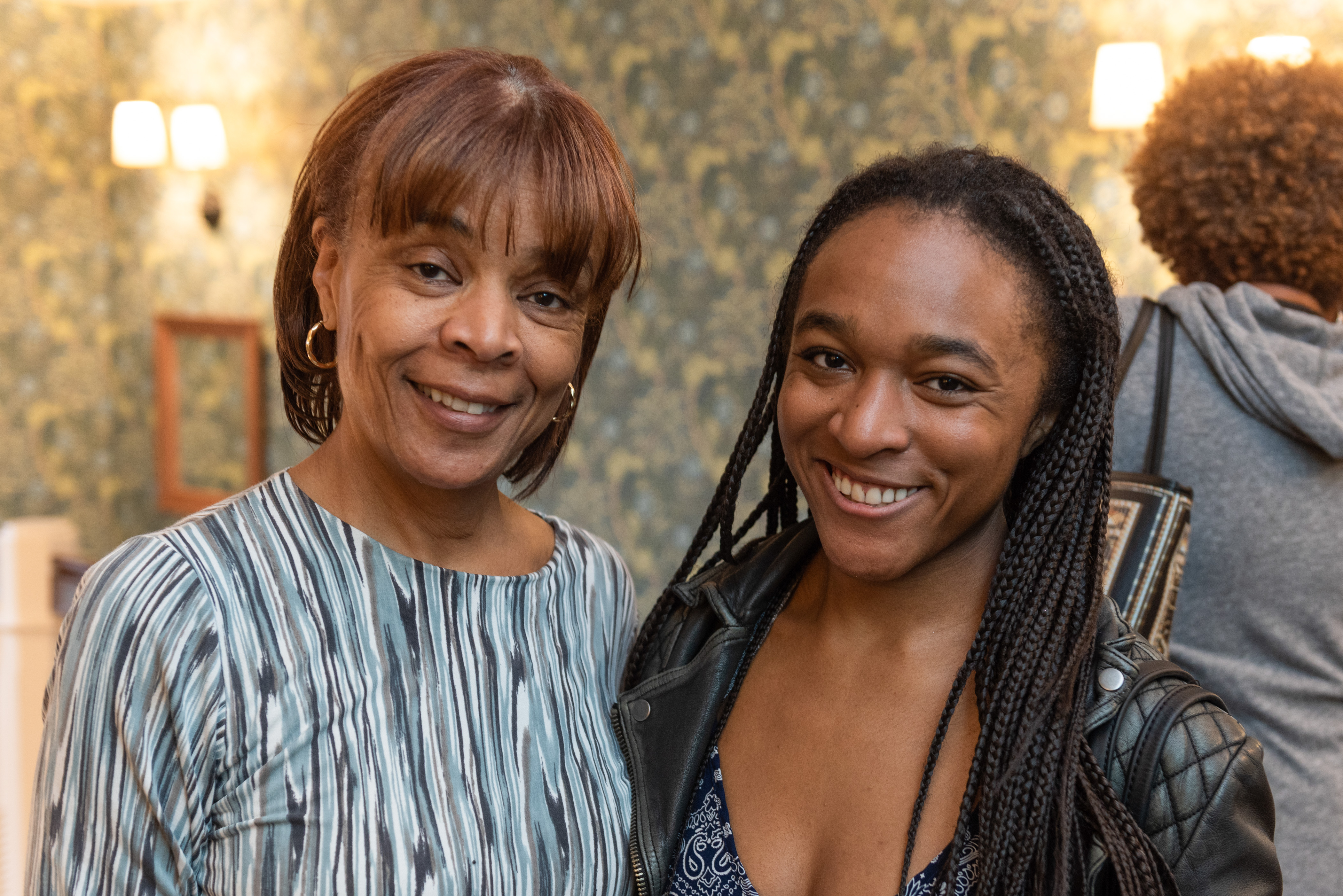 Dr. Patricia James Jordan '72, P'17 accepted the AAVC Outstanding Service Award during virtual Reunion in June. This award is presented in recognition of an alum's "extraordinary commitment, leadership, and service in promoting the goals and highest interests of Vassar College and the AAVC" over a number of years. Jordan, a clinical psychologist and retired educator, has received some of the highest honors in the teaching profession: During her three-decade career as a high school math teacher, she was named 1993 New York State Teacher of the Year. And in 2015, she was inducted into the National Teachers Hall of Fame. Jordan established the Juanita James Memorial Scholarship Foundation, which supports college students from housing projects in the Bronx, in honor of her late mother. At Vassar, she has long been known for her service to the College—as a tireless fund-raiser, driving force of the African American Alumnae/i of Vassar College (AAAVC), and an all-around Vassar ambassador.
During the virtual Reunion awards presentation, AAVC President Stephen Hankins '85, P'13,'17 praised Jordan as "a blend of brilliance, dedication, and pure energy" who always had more to give. "Pat, you have been an enthusiastic champion of Vassar from your first days," Hankins said. "You have been an outstanding member of our community, a cheerleader for our College; you have had boundless energy, even when times are difficult." Hankins also noted that many of Jordan's classmates had declared her "the best 1972 class party host," both in person and on Zoom.
Jordan lived up to this reputation during her virtual acceptance speech by dancing with her award to Sly and the Family Stone's "Thank You."
"The Bible says, to whom much is given, much is required; Patti LaBelle sings, 'When you've been blessed, pass it on,'" said Jordan. "By working with my class and with AAAVC, I'm simply giving back to Vassar as one should. And I'm also having a good time doing it!"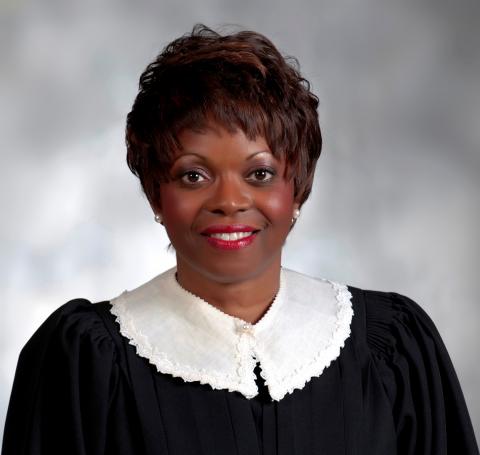 Judge Vicki Miles-LaGrange '74 received the Spirit of Vassar Award during the virtual October 2021 AAVC Board meeting. This award is presented to an alum who has demonstrated extraordinary and distinguished leadership, contribution, and commitment to serving a community in which they effect positive, transformative societal change. The award recognizes "the values of service and civic responsibility that are fundamental to a Vassar education."
Miles-LaGrange, now retired, dedicated nearly her entire legal career to public service. As the first Black woman elected to the Oklahoma State Senate in 1986, she championed the causes of children, civil rights, and social justice. In 1993, President Bill Clinton appointed her the first woman U.S. Attorney for the Western District of Oklahoma. A year later, President Clinton tapped her for a federal judgeship. From 2008 to 2015, she served as Chief Judge of the United States District Court for the Western District of Oklahoma. Her service and impact, however, extended far beyond her home state.
Appointed to the U.S. Judicial Conference Committee on International Judicial Relations by then–U.S. Supreme Court Chief Justice William Rehnquist, Miles-LaGrange worked on rule-of-law initiatives to improve judicial systems around the world. Her numerous awards and honors include induction into the Oklahoma African-American Hall of Fame, the Oklahoma Women's Hall of Fame, the Child Advocates Hall of Fame, and the Mid-America Education Hall of Fame. She also earned the Meritorious Service Award for Leadership from the American Bar Association's Commission on Racial and Ethnic Diversity in the Profession and the Federal Bar Association's Sarah T. Hughes Civil Rights Award.
"For a kid who loved social studies and government as much as I did, the chance to serve others has been the opportunity of a lifetime," Miles-LaGrange once told VQ. "Vicki Miles-LaGrange exemplifies the values of the Spirit of Vassar Award by her life dedicated to promoting justice for all," said committee chair Amy Pullman '71. "Facing racism in Oklahoma at an early age in the 1950's, she went on to graduate with honors from Vassar and pursue a career in law, rising to Chief Judge of the U.S. District Court for the Western District of Oklahoma. During her distinguished career, she advocated on behalf of victims of sex crimes, drunk drivers, racism, and pedophilia. She was active in international law and fought for legislation to improve the welfare of women and children. The committee was overwhelmed by her amazing career and unanimously voted for her."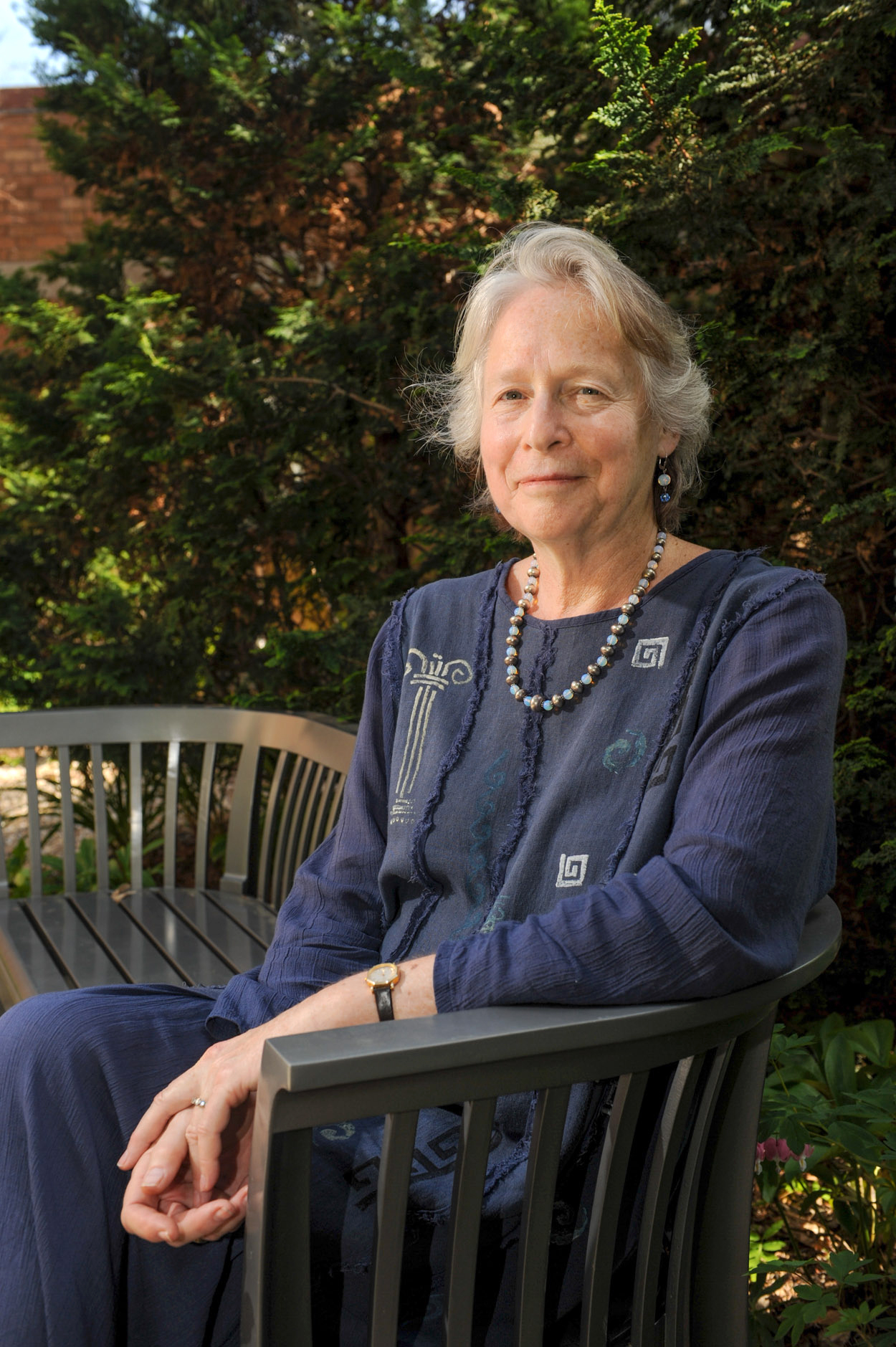 Professor Emerita of Greek and Roman Studies Rachel Kitzinger received the Outstanding Faculty Award at the same AAVC Board meeting. This award goes to a faculty member who has demonstrated exemplary service, leadership, and commitment to engage with alums and current students over a period of years. At Vassar from 1981 to 2014, Kitzinger occupied the Matthew Vassar Jr. Chair in Greek and Roman Studies and also was the first faculty member to serve as Dean of Planning and Academic Affairs (now called Dean of Strategic Planning and Academic Resources). For decades, she has traveled the country and the world to present engaging lectures to alums on a multitude of topics.
"There pretty much isn't anything Rachel hasn't done," said Willa Vincitore '92, Senior Director of Alumnae/i Engagement. "She's helped with fund-raising, she's helped with regional Vassar clubs, she's gone on the road as part of the international travel program—she's done it all. She so understood the importance of maintaining lifelong relationships with the College that she went above and beyond regularly."
Kitzinger said she felt it was important to stay deeply connected to an institution that has meant so much to her over many years. "If you value Vassar as a place that enriched your life intellectually and emotionally, you want to know how the values that have been there since its founding continue despite change, and how it copes with the challenges to those values," she said. "With that knowledge—and as a continuing member of the larger Vassar community—you then have an informed voice to support and offer constructive ideas to the institution as it is today and to help ensure that it remains a great place to learn for the people who are there now."