Fighting Childhood Brain Cancer
MacArthur "Genius Grant" Recipient Dr. Michelle Monje-Deisseroth '98 is making progress in the battle.
Photos courtesy of the MacArthur Foundation
Neuroscientist and neuro-oncologist Dr. Michelle Monje-Deisseroth '98 has spent her career thinking about the nervous system, which is responsible for thought, learning, and memory. She finds it beautiful and mysterious. "The nervous system has so much to be uncovered and it's so central to everything that matters in human experience," she says. "This incredibly complex orchestra of cells work together to achieve beautiful things, like poetry and music. It's just stunning."
So when she sees diseases impairing that system, Monje-Deisseroth, a 2021 MacArthur Foundation "genius grant" recipient, feels compelled to preserve it. In her lab at Stanford, she and the two dozen or so postdoctoral fellows, graduate students, and undergraduates she leads study brain tumors relatively common in children to determine better therapies to treat them.
Monje-Deisseroth says she fell in love with neuroscience as a student in the Vassar lab of Kathleen Susman, Associate Dean of the Faculty and Professor of Biology. "She was one of the real superstars of the biology department," recalls Susman. "She had the confidence to stand up for her ideas and figure out ways to explore them." Susman and Monje-Deisseroth worked on a paper together when the latter was a senior. They explored how certain vitamins diminished the damage caused by experimental stroke when the calcium level was reduced. "That interest in antioxidants and interrupting cellular pathways, she's taken that in her own direction in this really wonderful trajectory of her career," Susman says.
At Vassar, Monje-Deisseroth had an intensity and a sense of purpose that set her apart from other students, recalls her friend Dr. Bianca Shagrin '98. "Where most people would do what they needed to get a good grade and know that they had learned the material, Michelle would do 150 percent," says Shagrin, a pediatrician affiliated with Harvard Medical School. The two pre-med students still found ways to make studying fun. "I remember once she wrote me a note saying something like, 'An afternoon of tea and alkenes?'" referring to a type of molecule, Shagrin says. "There's a certain, just, enjoyment of science that came across from Michelle."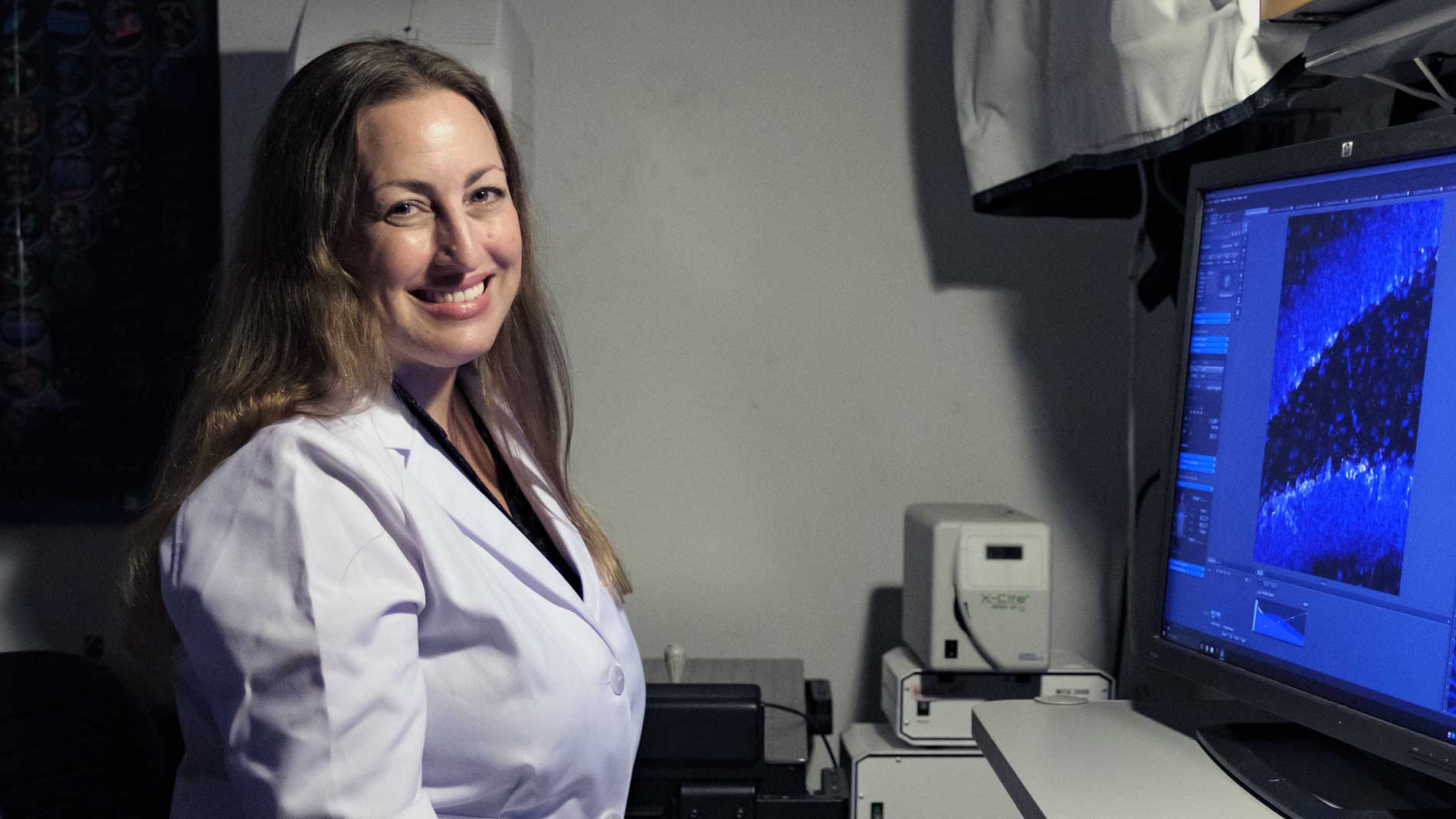 Monje-Deisseroth went on to get her medical degree and PhD from Stanford. She did her residency at Harvard Medical School before returning to Stanford for fellowships and to teach. Meeting patients along the way shaped her focus. "It just became really clear to me that I wanted to study the nervous system, that I wanted to take care of people's neurological diseases," she says. "I was really just profoundly compelled by the neurological challenges that people with cancer face." Those challenges included the cancers themselves and the cognitive impairment that happened after cancer therapies.
She decided to go after a brain tumor called diffuse intrinsic pontine glioma (DIPG) after caring for a child patient with it while doing her PhD. DIPG is almost always fatal and for children is the leading cause of brain tumor-related death. It more commonly occurs in children between ages 5 and 10. "All brain cancers are compelling and terrible; this one was the worst thing I'd ever seen," Monje-Deisseroth says. "It was the most poorly understood disease I had encountered at that time, and I just felt that I could understand it if I focused on it."
As Monje-Deisseroth dug into DIPG, she felt that what she had been taught about cancer didn't apply. She decided to look at the disease through a neuroscience perspective. Cancer biology often focuses on the genetic mutations that deregulate cell growth. But she believed that changes within the cancer cells were only part of the problem, and that the nervous system played a powerful role in the growth of those cells.
Thanks to the donation of a DIPG tumor that had been in the brain of another patient of hers, Monje-Deisseroth created the first cell culture and mouse model of DIPG and began to study the disease. Now there is a greater understanding of how cancer cells hijack interactions with other cell types in the brain to drive cancer growth, according to Monje-Deisseroth. "It was a newly recognized dimension," she says.
In the Monje Lab, she and her team continue to focus on DIPG, along with other forms of brain cancer in children and adults. The lab has 12 to 18 projects at any given time. Using human cell cultures and mice, the team grows tumors and studies how tumor cells interact with normal cells in the brain to figure out how to better treat them. If a potential therapy seems promising, Monje-Deisseroth might develop it to see if it would be safe and work for children. So far, she's brought three therapies from her lab to clinical trial.
She also continues to see patients. "Each career focus and turn has come from patient experiences, seeing people struggling," she says. Taking care of young patients can still be emotionally draining for her. She says she gets through it by keeping in mind the potential for new therapies. "It's a gut-wrenching disease to treat," she says. "But I really focus on the hope that comes from the research work, that we're going to figure this out. And it needs to be yesterday, but I know we're going to get there."
Max Kutner '11 has written for Newsweek, the Boston Globe, and Smithsonian.