Feminist Legend Brenda Feigen '66 Accepts Spirit of Vassar Award, Tells Students to Embrace Activism
Brenda Feigen '66, a fierce advocate for women's rights for more than 50 years, was honored for her work by her fellow alums at an event on the Vassar campus on September 29. But as she accepted the Spirit of Vassar Award from the Alumnae/i Association of Vassar College (AAVC), Feigen said other pressing issues such as racial injustice and global warming were equally as important.
"There are so many issues that matter—women's rights, climate change, racial inequality, disability, LGBTQ, and others—and I compare them to spokes on a wheel," the Los Angeles attorney said during the hour-long event in Rockefeller Hall, "and to be a feminist, you have to embrace them all." The 12 spokes of Feigen's "Feminist Wheel" are: women's rights, anti-racism, gender violence, voting rights, anti-Semitism, gun violence, LGBTQ+ rights, climate crisis, disability rights, reproductive choice, and immigrants' rights, and family rights.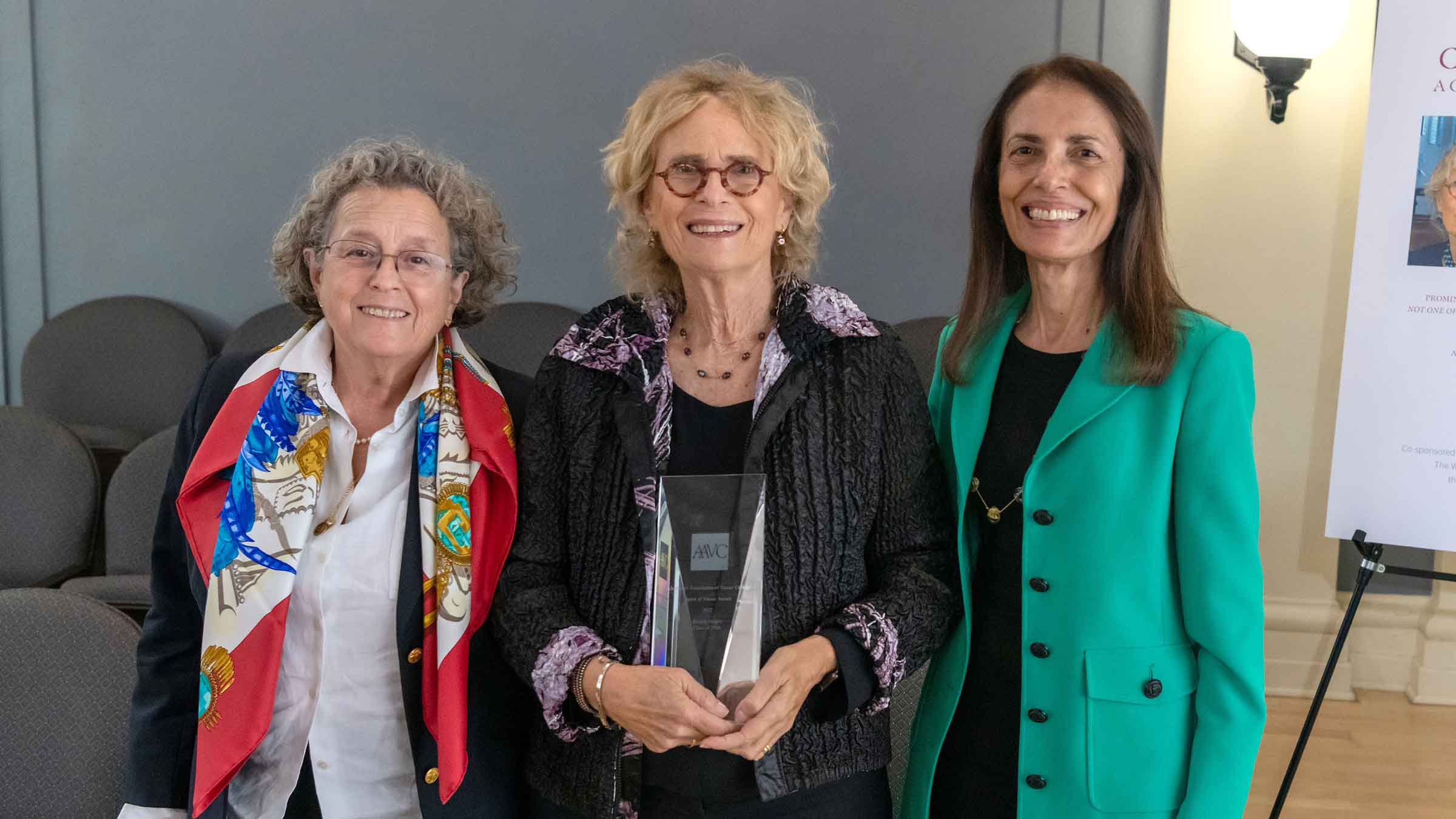 Brenda Feigen '66 (center), co-founder of Ms magazine and a women's rights advocate for more than 50 years, accepts the Spirit of Vassar Award from Amy Pullman '71 (left), chair of the AAVC Recognition Committee, and AAVC President Monica Vachher '77.
About 75 members of the Vassar community—students, faculty, and administrators, as well as five members of Feigen's Vassar Class of 1966—attended in person, and more than 100 others, including 33 of her classmates, registered to view the event via Zoom.
In her welcoming remarks, Vassar President Elizabeth H. Bradley described Feigen as a "feminist legend who has made a significant impact on the women's rights movement almost from the moment she had her law degree in hand at Harvard." Feigen later launched a successful class action lawsuit against the Harvard Club for barring women from membership. In 1970, as Vice President of the National Organization for Women, she testified in Senate hearings to advocate for the adoption of the federal Equal Rights Amendment. A year later, she co-founded Ms. magazine with Gloria Steinem, and a year after that she joined Ruth Bader Ginsburg as litigators for the ACLU's Women's Rights Project. During her tenure there, she worked with then-Senator Birch Bayh of Indiana to ensure the adoption of Title IX, the law that prohibits sex-based discrimination in any school that receives federal funding.
Before receiving the AAVC award, Feigen engaged in a conversation with AAVC President Monica Vachher '77, discussing some of the events that had shaped her career. Vachher described the AAVC's decision to bestow the Spirit of Vassar Award on her as "an acknowledgement of your decades of activism and what that means to us here at Vassar…You have shown us what is possible, and that is something every student here can aspire to."
Responding to a student who said she felt "lost and hopeless" in the face of the recent Supreme Court decision overturning Roe v. Wade, Feigen said the best remedy for despair is to get involved in the fight. "Figure out what you believe in and stand up for it," Feigen said.
Feigen described the decision overturning Roe v. Wade as "cruel and mean" and said she was "delighted to see so many women—and men—in the streets fighting for change. Some people say they're fed up and don't want to engage, but that doesn't work for me."
At the conclusion of the event, Amy Pullman '71, Chair of the AAVC Recognition Committee, presented Feigen with the Spirit of Vassar Award. "You began to make an impact in the world almost from the moment you walked out of Vassar's Main Gate, and you've never stopped," Pullman said.
Feigen said she was "blown away" to receive the honor. "I've never got an award like this before, and it's inspiring to see (the AAVC) leading 41,000 of us alums," she said. "I love Vassar, and I'm thrilled every time I come here."
Turning to the students in the audience, Feigen said, "My only advice is to please take life seriously, and when you do something spunky, that's the spirit of Vassar."